Is Ford about to change derailleurs forever?
The automotive giant has a genuinely interesting patent surrounding automated shifting using electrical currents and Nitinol wires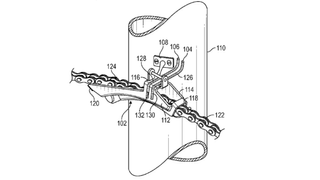 (Image credit: United States Patent and Trademark Office)
Ford Motor Company has registered a US patent for what it calls a 'bicycle derailleur apparatus for controlling bicycle speed', and it is a genuinely intriguing idea that was first reported by Wheelbased.com (opens in new tab). Filed on 22nd April 2019 and finally made public in late September, the patent depicts a front derailleur for a bicycle, devoid of cables, and instead, uses two Nitinol wires to provide the movement needed to shift gears.
So how does it work?
The traditional front derailleur design relies on cables, which move the derailleur cage back and forth as they are tensioned and de-tensioned. Ford's design is genuinely unique, applying an electrical current to two metal wires made of Nitinol — a metal alloy of nickel and titanium — to create the shifting action.
Nitinol is an example of what's called a 'shape memory alloy', because it has super-elastic properties that allow it to deform under heat, retain its new shape, then return to its original state with further heating afterwards. The patent claims that the current will heat the wires to 100 degrees Celsius, however, the mechanism will be insulated and covered for safety.
The mechanism works by applying an electrical current to one or both Nitinol wires, causing them to heat up and change shape. What's unique about this is that Nitinol, when deformed, can take a predetermined shape, and then shift back and forth between this and its original shape.
Image 1 of 2
Ford's patent indicates that the wires form a bridge between the seat tube of the bicycle frame and the front derailleur cage. When the electrical current passes through, the wires deform in a way that moves the cage outwards — shifting up a gear — and remains in place as the current subsides and the Nitinol cools down. When it comes time to shift back down again, the current is once more applied, pushing the Nitinol over its 'transformation temperature', causing it to retract to its original position.
What's more, Ford intends for the entire process to be automatic. The patent indicates that the current will likely come from an e-bike motor, and that there will be a bar-mounted control system. By entering your preferred cadence into the controller, it will use cadence data from sensors in the motor and automatically releasing the current when it senses a change in gear is needed to maintain the preferred cadence at all times.
Automatic gear shifting isn't a new phenomenon. Several companies have tried and failed to bring them to the mainstream market with lasting effect (remember ProShift (opens in new tab)?), however some of the key reasons for these predecessors not being accepted widely were due to them being heavy, overly complex in design, and costly. Ford's rather unique patent shows the automotive giant attempting to address these issues in order to potentially bring an automated derailleur to market that might actually achieve widespread adoption one day.
We're not sure if anything will come of this patent, or whether Ford's 'bicycle derailleur apparatus for controlling bicycle speed' will even be made, but either way, it is good to see global automotive companies recognising the value in the current cycling boom.

Thank you for reading 5 articles in the past 30 days*
Join now for unlimited access
Enjoy your first month for just £1 / $1 / €1
*Read any 5 articles for free in each 30-day period, this automatically resets
After your trial you will be billed £4.99 $7.99 €5.99 per month, cancel anytime. Or sign up for one year for just £49 $79 €59

Join now for unlimited access
Try your first month for just £1 / $1 / €1
Get The Leadout Newsletter
The latest race content, interviews, features, reviews and expert buying guides, direct to your inbox!
Mildred joined as Reviews Writer for Cyclingnews and BikePerfect in December 2020. She loves all forms of cycling from long-distance audax to daily errand-running by bike, and does almost everything on two wheels, including moving house, and started out her cycling career working in a bike shop. For the past five years she's volunteered at The Bristol Bike Project as a mechanic and session coordinator, and now sits on its board of directors.
Since then she's gone on to write for a multitude of cycling publications, including Bikeradar, Cycling Plus, Singletrack, Red Bull, Cycling UK and Total Women's Cycling. She's dedicated to providing more coverage of women's specific cycling tech, elevating under-represented voices in the sport, and making cycling more accessible overall.
Height: 156cm (5'2")
Weight: 75kg
Rides: Stayer Groadinger UG, Triban RC520 Women's Disc, Genesis Flyer, Marin Larkspur, Cotic BFe 26, Clandestine custom bike