Colnago embraces endurance with the new C68 Allroad
Comfort on anything from smooth tarmac to 'light offroad', but it's no gravel bike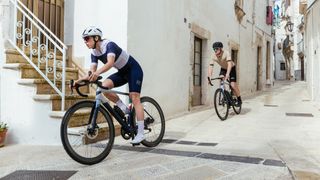 (Image credit: Colnago)
Colnago doesn't launch bikes quite so regularly as some other brands. It has, until now, had two high-end road bike models for riders to choose from (assuming you mean carbon): the new Colnago V4Rs, and the C68, which utilises a lugged carbon fibre construction. Now though, the historic Italian brand has released an all-road version of the C68, imaginatively dubbed the C68 Allroad, hoping to capture the hearts of riders who want the Colnago experience, with a little more capability.
All-road is a booming discipline, though it's hard to define. Larger tyres and more relaxed geometry seem to be the hallmarks, but nothing so extreme as you'd expect from something gravel specific. Basically, they sit between the best road bikes and the best gravel bikes.
What can we expect from Colnago's first foray into all-road then?
The same C68 construction, just more capable
The unique thing, at least outside of bespoke carbon offerings, is that the Colnago C68 is constructed using carbon lugs, and carbon tubes that are bonded into them. This harks back to the days when lugged steel racers were the norm for the peloton, except now it doesn't have quite the same weight penalty.
The new C68 Allroad continues with this method of manufacture and is still made in Italy. Some of the joins, such as at the head tube and the seat tube/top tube interface are clearly visible, whereas others, like where the seatstays join the seatpost, have been masked by adding additional carbon to smooth the joins to create a more seamless transition.
The similarity to the dedicated road C68 is clear, both visually and from a manufacturing standpoint, though there have been some noticeable tweaks. As is to be expected, the geometry is different, with the Allroad being shorter in the reach and higher in the stack. This aims to improve comfort, especially for long days in the saddle. Geometry charts aren't available just yet, but we expect to see slight tweaks to make the head angle slacker and the wheelbase longer too. In any case, a higher stack and shorter reach should serve to shift the rider's weight rearwards, making handling on broken or loose surfaces a little easier.
As with the C68, there hasn't been any real focus given to aerodynamics. Colnago here too is prioritising ride feel, handling, heritage, and, to use modern parlance, 'vibes'. That being said there have still been modifications to tubing shapes, more for reinforcement than speed. The down tube is square at the base, and enlarged compared to the C68 where it meets the bottom bracket, and at the halfway point heading up towards the head tube it transitions to an octagonal cross section. The stays too have been reinforced for better protection over harsh, uneven surfaces.
Tyre clearance is 35mm, again indicating that this is still very much a tarmac-focused bike with perhaps half an eye on the white roads of Tuscany (Strade Bianche, anyone?), but definitely not one that dreams of rocky singletrack. For actual gravel, customers still have the G3X to choose.
Colours, pricing, and availability
Unlike the C68, the C68 Allroad isn't available in the full suite of custom colours under the "Studio" banner and is instead only available in either all black, or black with a white top tube. Confusingly, the images we've been given access to show a navy and white option, but this doesn't appear to be commercially available.
Full specs are still to be forthcoming, but the cockpit appears to mirror that of the V4Rs, and we suspect the seatpost will undoubtedly be a proprietary model, or one shared with the C68 at least.
As well as the two colour options, customers can opt for Campagnolo EPS, Dura-Ace or Ultegra Di2, or Red and Force from SRAM. We presume the new Force groupset will be available. For wheels, again there is a choice to be made between Enve WS SES 3.4C, Campagnolo Bora Ultra 45, Dura-Ace C50 or C35, or Wind 400 and Racing 600db from Fulcrum.
As per the specs, prices are thin on the ground for now, but the suggested RRP for a build featuring a Shimano Dura-Ace Di2 groupset and Shimano C50 wheels will set you back €15,335 (approx £13,635 / $16,330).

Thank you for reading 5 articles in the past 30 days*
Join now for unlimited access
Enjoy your first month for just £1 / $1 / €1
*Read any 5 articles for free in each 30-day period, this automatically resets
After your trial you will be billed £4.99 $7.99 €5.99 per month, cancel anytime. Or sign up for one year for just £49 $79 €59

Join now for unlimited access
Try your first month for just £1 / $1 / €1
Get The Leadout Newsletter
The latest race content, interviews, features, reviews and expert buying guides, direct to your inbox!
Reviews Writer, Cyclingnews
Will joined the Cyclingnews team as a reviews writer in 2022, having previously written for Cyclist, BikeRadar and Advntr. There are very few types of cycling he's not dabbled in, and he has a particular affection for older bikes and long lasting components. Road riding was his first love, before graduating to racing CX in Yorkshire. He's been touring on a vintage tandem all the way through to fixed gear gravel riding and MTB too. When he's not out riding one of his many bikes he can usually be found in the garage making his own frames and components as a part time framebuilder, restoring old mountain bikes, or walking his collie in the Lake District.
Height: 182cm
Weight: 72Kg
Rides: Custom Zetland Audax, Bowman Palace:R, Peugeot Grand Tourisme Tandem, 1988 Specialized Rockhopper, Stooge Mk4, Falcon Explorer Tracklocross