Southam's Sounds: Tom Southam selects his favourite tunes for training indoors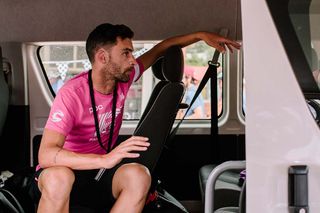 (Image credit: Jojo Harper)
I should probably clarify that these choices are my own and don't represent the organisation I work for (EF Pro Cycling). There is a pretty broad scope with our lot, at races (remember them) the music on the bus is up to the riders, of course, and I would say that usually when Alberto Bettiol takes control of the bus stereo things generally go in the right direction.
At Paris-Nice recently I got an unsolicited lesson in East German hip-hop from our other DS Andreas Klier, it's normally a lot of hits from the 1980s with that guy, so it made a nice change.
Anyway, when it comes to my playlist for time riding indoors, it would be as follows.
Time - Pachanga Boys. I mean, what better way to start off than with a track that will kill fifteen glorious minutes? I would start off with something heading towards euphoric as you need to start off on the right foot before you get into the real gritty bits later on.
Heaven - The Blaze. First heard this at Gus Morton's house last year when we were doing the Girona MTB 3 day. Goes in the right direction this one.
Ladders - Mac Miller & All Night - Chance the Rapper. These two for the good times: endorphins bouncing about, lactic acid build-up minimal. It won't last. 'Can't no-one get in my car, I don't even valet'. hah.
Banquet - Bloc Party. Heard this on 6 Music the other night and remembered what a great tune this is.
All I Need - Radiohead. I haven't listened to Radiohead since Amnesiac in 2001 but I just started listening the other day and it's all I listen to at the moment. This is dark and kind of stalker-esque but the trainer isn't always a fun place, and I guess things can get a little dark for a moment.
Dead Editors - Massive Attack. Can't get much darker (or better) than Massive Attack & Roots Manuva.
All My Friends - LCD Soundsystem. Out of the darkness and into the (early morning) light. Great build into the real pain about to come. 'If I could see all my friends tonight', well, you can't.
Keep the Car Running - Arcade Fire. I could listen to this on repeat for hours. Sounds like something off Born to Run, and if you go looking on Youtube there is a version of this with The Boss which is spine-tinglingly good.
Lonely Boy - The Black Keys. Nothing quite like the power of a rock band going at full bore to move you at high speed down some imaginary highway. Apt title too.
Sweet'n'Sour - The Jon Spencer Blues Explosion. THE BLUES ARE NUMBER ONE! Now we are deep in rock band territory. I love this tune: guitars sound as crunchy as a crisp sandwich.
Danny Nedelko - IDLES. In case things finish on a riotous note: some Bristol punk rock, not to mention a nice lyrical reminder that we are all in this together.
You can find Tom's selection on iTunes or listen to the playlist we've created below.

Thank you for reading 5 articles this month* Join now for unlimited access
Enjoy your first month for just £1 / $1 / €1
*Read 5 free articles per month without a subscription

Join now for unlimited access
Try your first month for just £1 / $1 / €1
Former professional rider and now Sports Director at Drapac Professional Cycling, Tom Southam writes exclusively for Cyclingnews during this year's
Follow him and his Pro Continental riders as they take on the elite from the WorldTour in Australia.
Sign up to the Cyclingnews Newsletter. You can unsubscribe at any time. For more information about how to do this, and how we hold your data, please see our privacy policy
Thank you for signing up to Cycling News. You will receive a verification email shortly.
There was a problem. Please refresh the page and try again.