Fixing backs and bottles
The job of team physiotherapist means more than just massaging riders after a tough day in the...
Image 1 of 2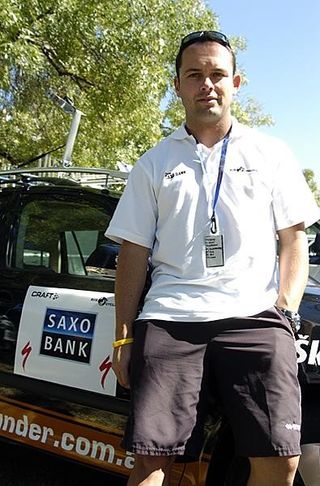 Image 2 of 2
Tales from the peloton, March 13, 2009
The job of team physiotherapist means more than just massaging riders after a tough day in the saddle. Team Saxo Bank masseur, Jens Tummeleer, tells Cyclingnews' Les Clarke the job is two parts physio, one part therapist and a bit of anything else required by the troops.
They're the guys you see on the side of the road, in all weather conditions, wearing a team vest and holding out musettes as riders come through the feed zone. They're also the guys at the finish who whisk away the riders to team buses. Add to that the fact that they're up before most of the riders and staff and don't go to bed until everyone is satisfied, being a physio for a professional cycling team doesn't exactly sound like fun.
Glamour? Forget it. Groupies? Fat chance. Lots of hard work? Now you've got it.
"My day starts with breakfast at 7.30am, and at eight we start mixing all the bottles for the race," begins Tummeleer, who was born in Germany to Belgian parents, so through the dual processes of nature and nurture, he's definitely passionate about cycling.
"We make sure the race car is full of bottles, the soigneur's car is full of bottles and that there's enough food for the riders. When we finish for the day depends on when the race finishes. We get back to the hotel at 5.30 or 6pm, and by the time we 'do' three riders it's 9 or 9.30pm. It's a long day, but if you love cycling it's a fun day, too."
The phrase, "by the time we do three riders" refers to Tummeleer's trade, which is physiotherapy. He says, "In a tour we normally have three physios, so at the end of each day we take three guys for a massage and check their back for any problems, etc. If you do a thorough job on them and check their back, it normally takes about an hour."
During the Tour Down Under for example, Tummeleer worked with Matt Goss, Nicki Sørensen and Frank Hoj, and while none of this trio crashed during the week-long race, fixing up riders when they do forms a lot of the work for Saxo Bank's physios.
"Most of the time they crash on their hips, so the problem area is the lower back. We check it and make sure they're [adjusted] right on the bike and sitting straight," he explains. "We always need to make sure this is the case, otherwise they get problems with their knees."
Mental help for riders
It's a big responsibility, but Tummeleer says that there are other tasks that may be even more important than helping repair bodies - aiding in the riders' state of mind. "That's what I like about being a physio in cycling - you work with the rider on the table for just one hour and have very close contact. You can achieve a lot mentally with the riders if you talk with them the right way. It's fun."
He's quick to add, however, "I'm not saying I'm a psychologist, but if you can help, it's nice. I try to talk as little about cycling as possible because they're on the bike all day. If you feel they need it, you just do it."
To be able to do that, however, the language barriers in what is a global sport must be overcome. With German, French, English and Dutch under his belt, Tummeleer is able to communicate with all the riders in the Saxo Bank squad.
He's also becoming one of the more experienced physios amongst professional teams. "I worked for Predictor/Silence-Lotto for two years and before then I had done two years with the Fidea cyclo-cross team. And before Fidea I worked for Predictor-Lotto's junior squad. Now I'm in my sixth year of working with cycling teams. I like it, so for me it's not a tough job."
That depends on what your definition of 'tough' is. It's certainly not an occupation that suits most people, even if they are the most ardent cycling fan. While not a '24/7' job, it's not far from it.
The occassional treat
"After the race you look after the riders, and before the race you ensure that all the bottles are good, checking the weather and deciding if you have to make up more bottles. We also do the food."
It's a task that Tummeleer performs while we speak - packing food for the day's stage. I spot some sustenance that doesn't concur with most fans' idea of what a rider eats in a race. He assures me that it's a 'treat', rather than the norm. "We also take some cakes, like apple cakes or the like, so they have something different. We always make sure that there's a lot of energy in the food. We don't just give them anything," he explains.
"Most of the time the guys eat energy food from our sponsor - Science In Sport, in our case - which includes gels and energy bars."
Surely they're human like the rest of us, and would prefer a tasty treat rather than another high-protein, high-carbohydrate concoction? "I think the cake tastes better," agrees Tummeleer. "The energy bar has a lot more energy in it, however. Most of the time they don't taste too bad, but sometimes you need something different.
"You have to remember that they do 90 races a year, so they're eating energy bars for 90 days a year. They need something a bit different."
It sounds tough and it is, but Tummeleer says several times how much he enjoys the myriad tasks required by the team. It's a pretty simple formula for those wanting to practice in the same line of work, too. "First of all, get your physio degree. From there you can choose what you want. If you're a physio you can do work in football, in cycling... whatever you prefer," he says.
See also:
Team presentation: Beginning of battle for Riis
Team CSC: Boonen simply too good
Predictor-Lotto: Pink knights ready for the battle

Cyclingnews Newsletter
Sign up to the Cyclingnews Newsletter. You can unsubscribe at any time. For more information about how to do this, and how we hold your data, please see our privacy policy