Best saddle bags 2023: Secure, minimalist storage for your on-bike essentials
The best saddle bags provide secure, stable, and subtle storage, and have enough room for your ride essentials such as spare tubes, levers, tools, and that emergency gel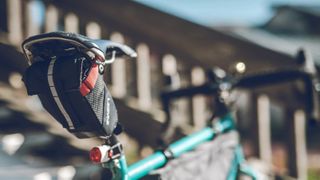 (Image credit: Lezyne)
The best saddle bags, saddle rolls and seat packs will let you carry your essentials with you on your bike. They will keep your spare tube, CO2 canister and inflator, patch kit, tyre levers, tyre boot, multi-tool and a few other bits and pieces organised and together to make sure you aren't left stranded on the side of the road, calling a friend to come to pick you up.
If you like to travel light, you can fit the majority of this into a jersey or jacket pocket, but that means less room for food and a packable waterproof jacket or other things you might need during your ride. Having your essentials in one place and attached to your bike means that there's less risk of forgetting something on the way out of the door as well. It's all well and good buying the best bike multi-tools and a brand new Co2 inflator, but they'll be no use if you leave them on the kitchen table.
The best saddle bags come in various shapes and sizes and are attached to your bike via the saddle rails and sometimes the seatpost. Some use simple Velcro straps, while others employ Boa dials or more permanent clip-on attachments and some systems make it easier to unclip your saddle bag and take it with you when you park up.
Here at Cyclingnews, we spend our lives on two wheels so we know a thing or two about what attributes a saddle bag needs to make it useful. We've tested dozens of them to find ones that provide ample storage, easy access and secure fitment while also standing the test of time. Read on to see which we recommend.
The best saddle bags you can buy today
You can trust Cyclingnews Our experts spend countless hours testing cycling tech and will always share honest, unbiased advice to help you choose. Find out more about how we test.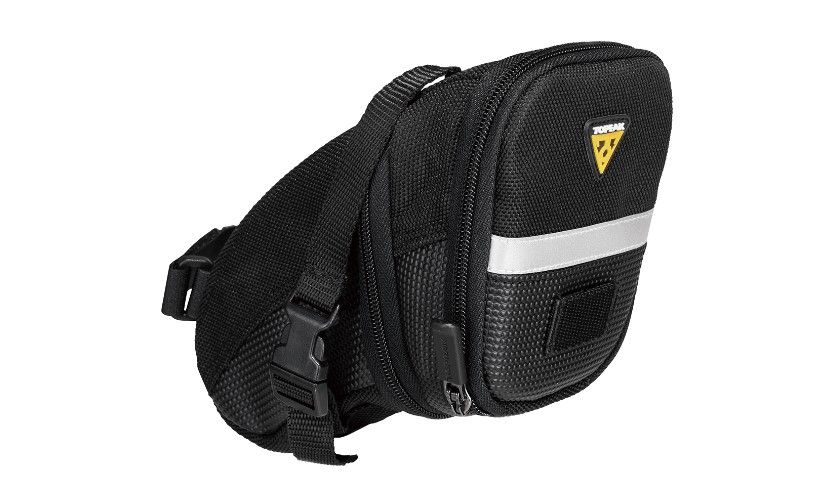 Topeak Aero Wedge seatpack
Best for size and fixing options
Specifications
Attachment:
Velcro or clamp
Reasons to buy
+
Four different size options
+
Larger sizes can be expanded
+
Two different fix systems
Reasons to avoid
-
Zipper is not waterproof
Whether your saddle bag needs are big or small, Topeak has you covered with its Aero Wedge Seatpack range. There are four sizes from Micro up to Large, with the Medium and Large options letting you expand their volume via a zipped mid-section that adds a third to their volume.
In addition, you get a choice of mounting options: you can have the aero wedge with a strap secured with a plastic buckle clip or with Topeak's easy-off QuickClick system. In all cases, there's a small mesh pocket in the zipped door which we find is a good place to keep a house key, and there's a reflective strip and a light loop on the outside which add to the safety and offer a secure fixing point for clip-on lights.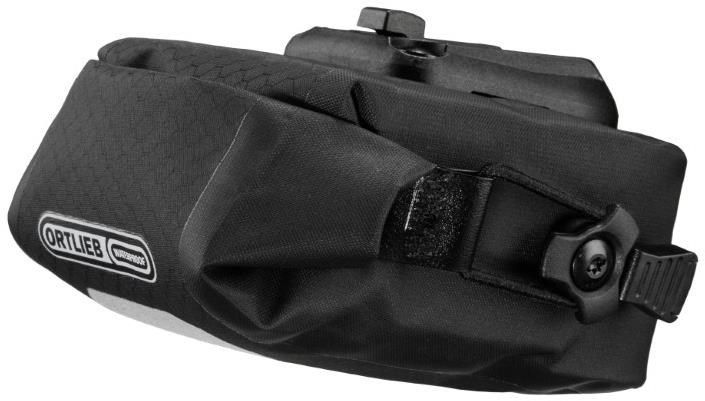 Ortlieb Micro 2 saddle bag
The best saddle bag if you need quick removal
Reasons to buy
+
Good volume for day rides
+
Waterproof
+
Easy clip-based attachment
Reasons to avoid
-
Not for carbon saddle rails or seatposts
In our testing, we found the Ortlieb Micro 2 saddle bag met Ortlieb's claim that it's 100% waterproof, so you don't need to worry about multitools rusting. It has a roll closure, and it attaches to your bike with a clip system that's screwed onto your saddle rails, making it easy to unclip your pack and take it with you once you've parked up.
Ortlieb says that the Micro 2 isn't suitable for bikes with carbon seatposts or saddle rails though, ruling it out for more performance-oriented bikes.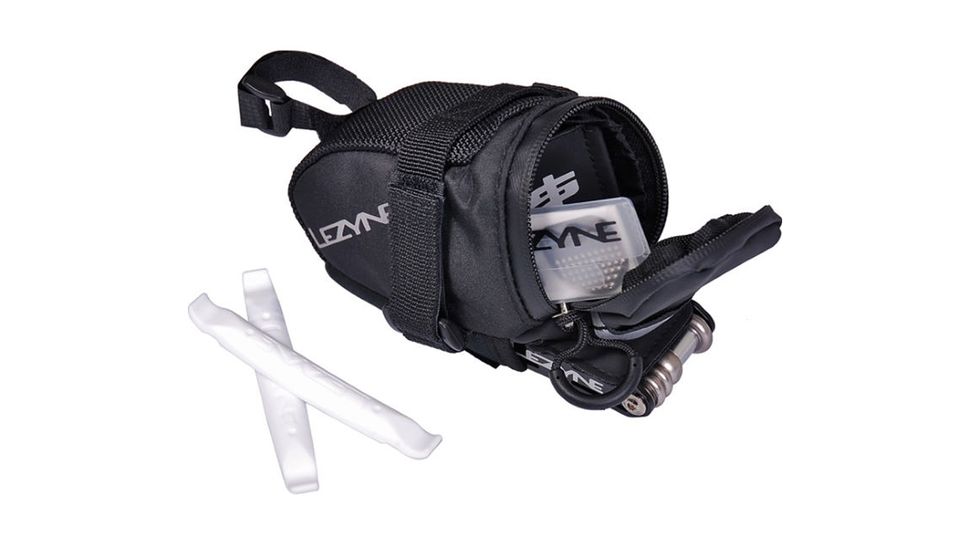 Lezyne Loaded Caddy Saddle Bag
Best saddle bag if you also need to buy tools
Specifications
Attachment:
Velcro and webbing
Reasons to buy
+
Tools included
+
Internal organizational pockets
Reasons to avoid
-
Outer tool storage
-
Small size
Lezyne offers a couple of different seatpack options but if you are looking for a complete set with the tools included, the Lezyne Loaded Caddy Saddle Bag comes with a multi-tool, tyre levers, patches and a tyre boot. Just pop a pump in your pocket and you are ready to go.
The pack itself secures to the saddle rails and seatpost using velcro straps. The pack uses a woven nylon construction and a water-resistant zip to keep wheel spray at bay. Reflective logos add a visibility detail for when being used on dusky rides or commutes.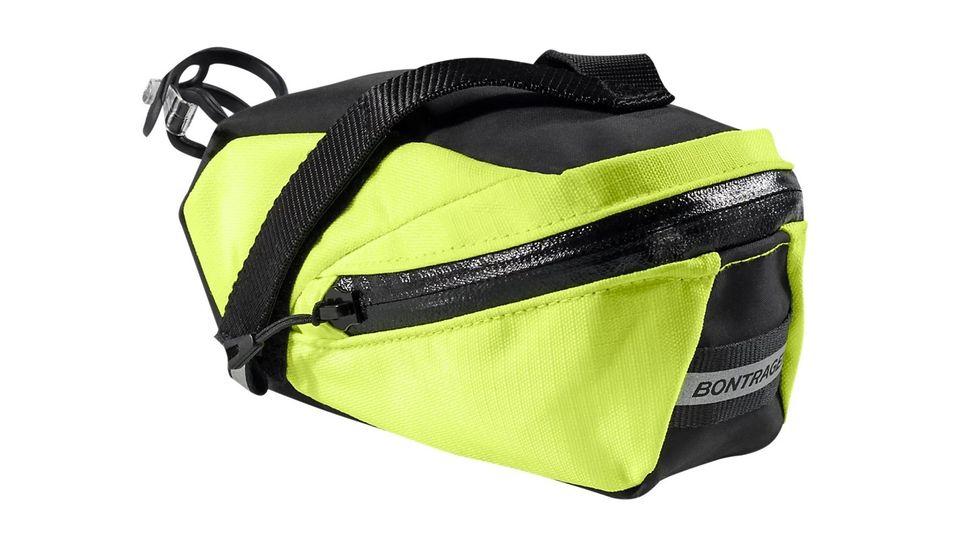 Bontrager Elite seat pack
Best for internal organisation
Reasons to buy
+
Lots of volume options
+
Simple design and fixing
+
Internal dividers
Reasons to avoid
-
Hook and loop straps may not be robust enough if you're using the largest option with a heavy load
Like the Topeak bags, the Bontrager Elite saddle bag comes in a range of sizes; everything from 0.3 litres for the minimalist to a 1.7 litre option that's expandable to a huge 2.3 litres. All are attached using hook and loop straps and there are internal pockets to help keep things from abrading each other.
You get a waterproof zip, reflective elements and a light loop, plus you can have the bag either in black which won't show the dirt or hi-viz yellow which will up your visibility.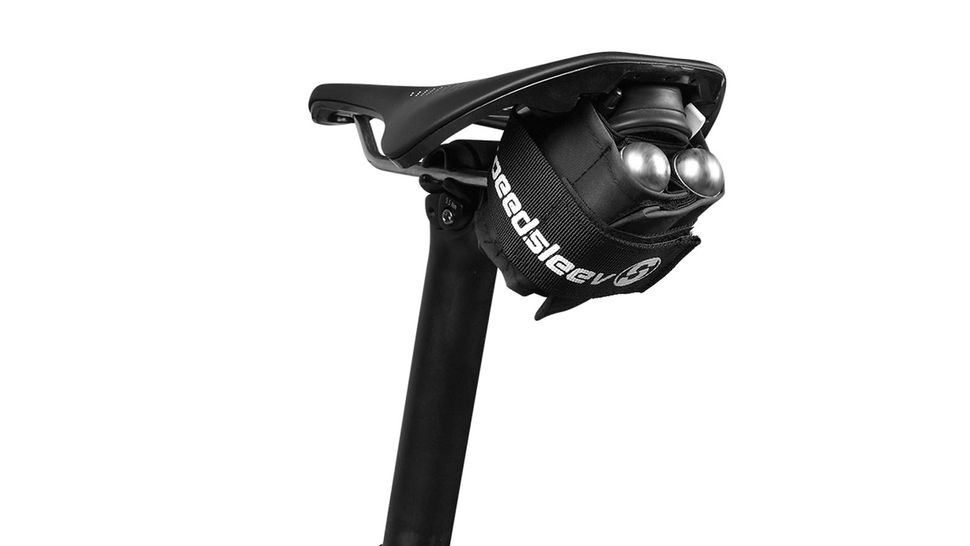 Speedsleev Ballistic Nylon Seatsleev
Minimalist alternative to a traditional saddle bag
Reasons to buy
+
Made of Ballistic Nylon
+
Sleek and compact when rolled up
Reasons to avoid
-
Included rain-cover seems like an afterthought
The Speedsleev Seatsleev is not your traditional saddle bag; instead, it's a velcro compression strap with slots for all your essentials. It's actually made up of three velcro straps, with the innermost used to create a pocket for a tube, the middle strap has sleeves for tyre levers, CO2 canisters and the like and the outermost hook and loop secures the whole thing to your saddle rails.
It all lays out flat for easy access to everything and comes with a rain cover to keep your spare tube grit-free. Even though it only attaches to your saddle rails it hangs on tight and is swing free.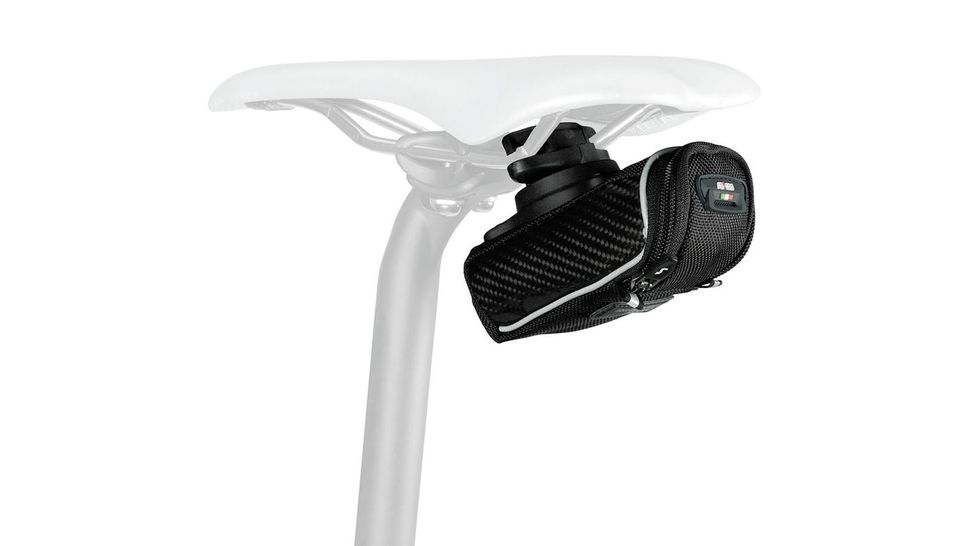 Scicon Phantom 230 Roller 2.1
Best for swapping between bikes
Reasons to buy
+
Easy swapping between bikes
+
Large opening
+
Tyre levers included
Reasons to avoid
-
The initial install is fiddly
Scicon's Roller 2.0 system uses a bracket attached to your saddle rails and the bag clips on with a quarter-turn mount - similar to the best cycling computers. The hold is secure, provided the bracket is tight and the Phantom 230 Roller 2.0 is one of the easiest bags to swap between bikes. To free up a bit of space inside the bag, the Phantom 230 features mounts for two tyre levers on the exterior of the pack.
A zip runs two-thirds of the way around the bag so you don't have to pull everything out in search of a quick link, though the interior doesn't feature any pockets to keep things separate. The majority of the bag is made from nylon, while the mounting base is 'carbon optic'.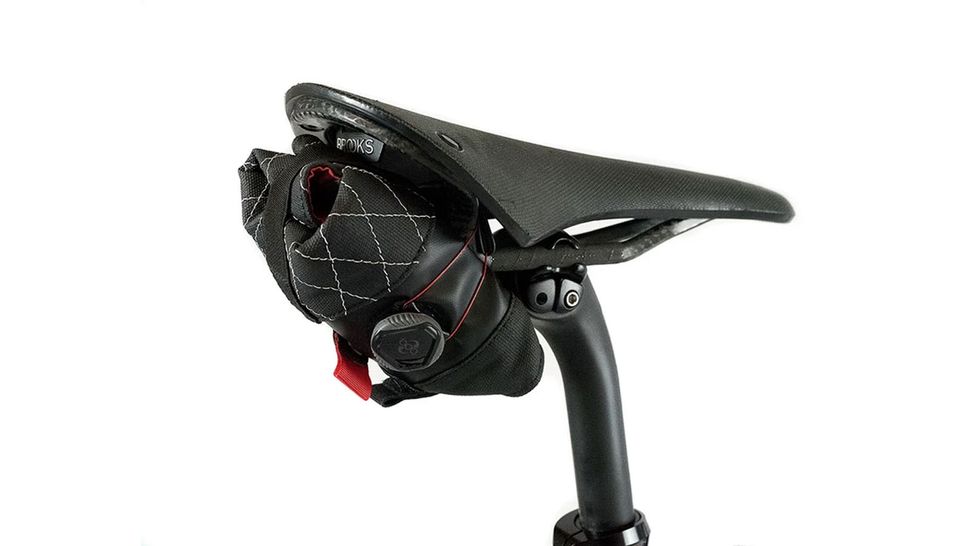 Silca Seat Roll Premio
Great-looking, super-secure Boa-fastened saddle roll
Reasons to buy
+
Great looking
+
Clever design
Reasons to avoid
-
Not quick to access contents
-
Price
Silca is known for its extremely high-quality (and expensive) gear and the Seat Roll Premio is no exception. Made from waxed canvas, the Silca seat roll has three internal pockets, with enough room for a tube, tyre levers, a multi-tool and a small patch kit - although you'll have to pack carefully to make it all fit.
The pack rolls up and is attached to your bike using a Boa dial, with the cable looping through the seat rails - Silca has included a rail guard to protect lightweight carbon rails.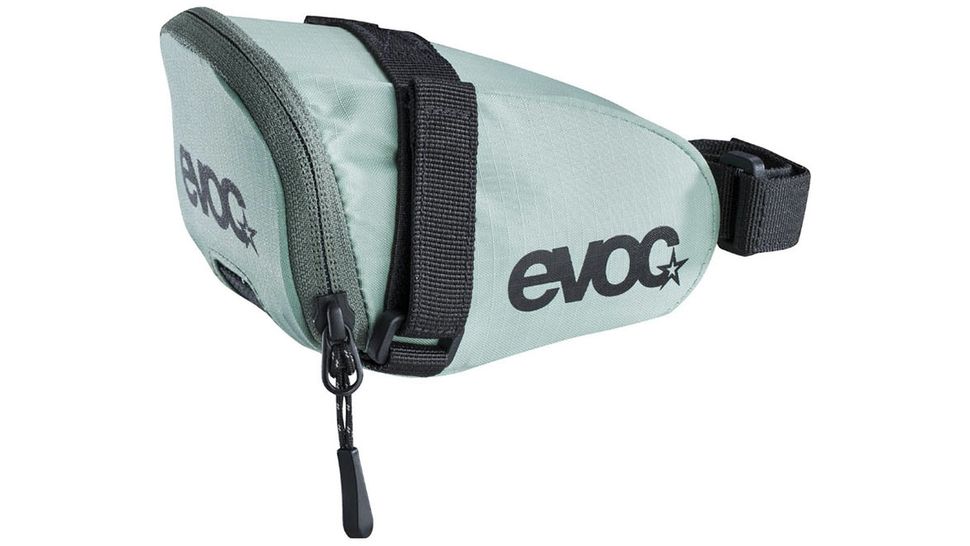 Evoc Seat Bag
Best saddle bag for well-made simplicity
Reasons to buy
+
Perfect size for a road bike
+
Clip for rear light
+
Individual straps make for easy setup
Available in a few different sizes, our preferred Evoc Saddle Bag is the middle-volume version with 0.65L of internal capacity. The exterior is made from the same PU-coated ripstop nylon used in the brand's backpacks, which is durable and has a bit of weather resistance, too.
Inside, there are mesh pockets to keep your gear organised, and the bag is held in place with three velcro straps, making for faff-free mounting. Beyond the quality finishing, we love the Evoc seat pack because it comes in bright colours rather than the stock standard black or flash yellow.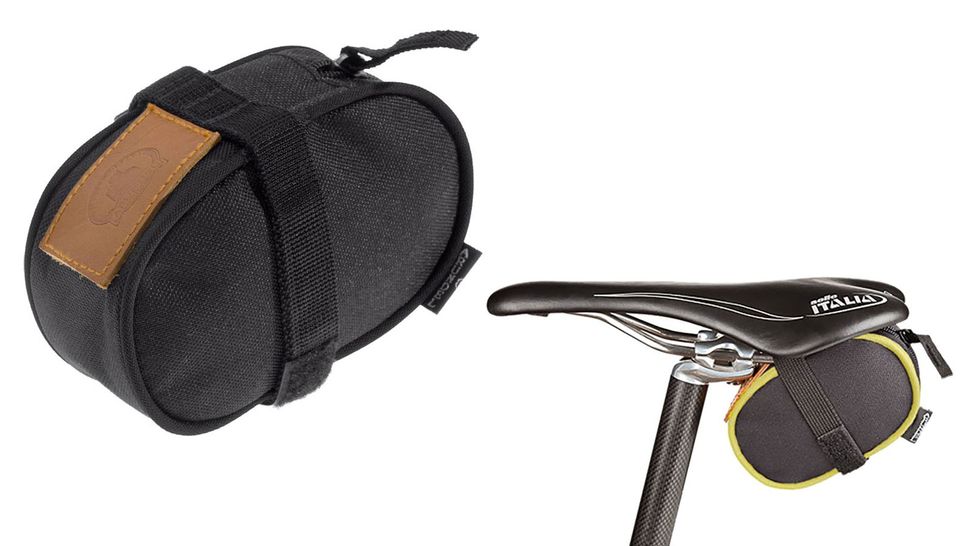 Arundel Dual Seat bag
Traditional bag with heaps of space
Reasons to buy
+
Old school aesthetics
+
Capacity
Arundel calls this bag the Dual because it's designed to carry two tubes, in addition to the other essentials you need to fix a flat. A single strap loops around the saddle rails and the bag without needing to be anchored to the seatpost.
The zip runs up the middle of the bag and the carrier sits up almost underneath the saddle to offer a small degree of protection from water and grit being flung off your rear wheel. That said, the bag could benefit from a DWR coating or a waterproof exterior fabric.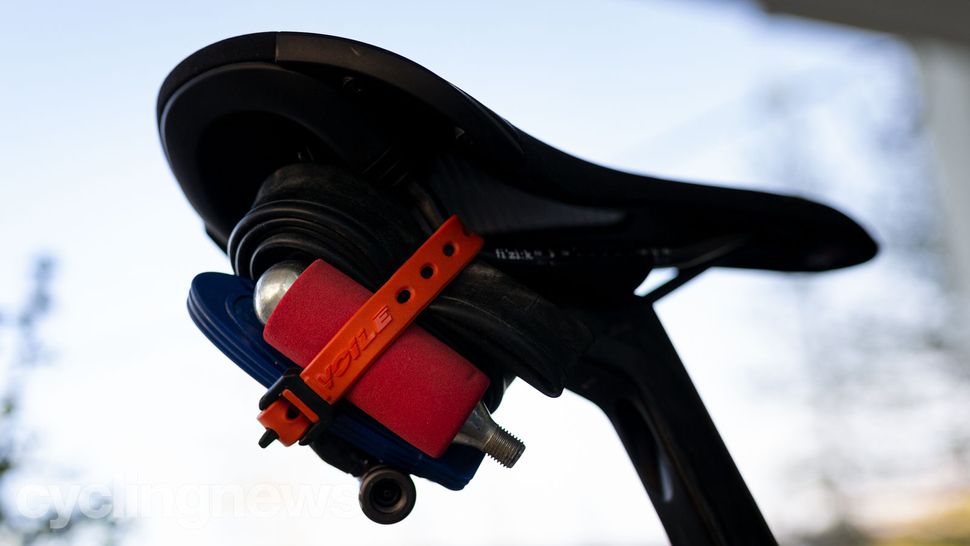 Voile Strap 12in Nano series
Like a toe strap but considerably more useful
Reasons to avoid
-
Inexpensive and extremely durable
-
Must be packed correctly not to lose all your gear
Voile is actually a ski brand based in Utah and its trademark orange straps were invented more than thirty years ago as a unique way to keep skis together and attach glueless climbing skins. They are also this writer's preferred way to attach spare tyre kit to his bikes.
Traditionally, roadies have used a toe strap to attach spares to the underside of their saddle; a Voile strap performs the same task but does the job better - they work so well, in fact, competitor brands sell logo-licensed versions. Made from UV-resistance-tested rubber, these things are tough and neither the strap nor the glass-filled nylon buckle scratch carbon components, meaning they can be used to strap things to your frame, too.
They come in lengths from six to 32-inches, two widths and enough colours to match any bike.
How to choose the best saddle bag for you
Here are a few things to consider when looking for the best saddle bag for your needs.
How much do you need to carry?
How much stuff are you going to need on a ride? Are you headed out for a few hours, or a week riding the entire Colorado Trail?
The former is what applies to most of us and a 0.5-litre bag will fit two road tubes, CO2 canisters and an inflator, a small multi-tool and some tyre levers with a bit of Tetris. Pro tip: re-roll your innertubes with the valve in the middle and squeeze out as much air as possible (replace the valve cap), it will be about half the size it was when you started.
If you're really going long, check out our guide to the best bikepacking bags for some high volume options.
Can you cut down on stuff?
There are options to reduce the size and weight of items you're carrying. For example, Tubolito inner tubes are much smaller and lighter than a conventional butyl rubber inner tube. They're expensive, but you're probably only ever going to need one or two and if you do have to use them, you can swap them back when you get home, particularly if you're running tubeless tyres.
Likewise, you can shed some weight by opting for a more compact multitool. The best bike multitools can pack a lot of tools into a compact device. It's worth doing an inventory of the bolts on your bike; there's no point in carrying a tool with Torx heads if you don't have any Torx bolts on your bike. Don't go too small though or you might not have enough leverage for some bolts.
Do you need a chain breaker on your tool? Chain problems are rare, so you might be prepared to risk not having one or if you usually ride with mates, you may only need one between you. Some seat packs have tyre levers built into them, so you may not need to carry separate items.
How do you want to attach your saddle bag to your bike?
Many saddlebags use basic velcro straps attached to your saddle. This is the lightest weight and arguably the most secure option - just make sure to watch where the loop goes round your seatpost and where the rough side of the hook and loop ends. If it's in a bad spot or peels up a bit you may wear a hole through your shorts, or an expensive carbon seatpost.
Of course, every brand in the bike industry is continually searching for a point of difference, and thus seat packs that use a bracket on the seat post or saddle rails also exist. These are often a bit heavier, and we have seen a few hit the eject button over rough sections of road.
Often, they'll have a quick release system though, making it easy to take your bag and its (often pricey) contents with you when you leave your bike. Get a second clip and you can quickly swap your bag between bikes.
Regardless of how they attach to your bike, most bags will utilise a zip to keep everything inside, while strap-on tool rolls may use buckles or even Boa dials.
How weatherproof do you want your bag to be?
If you live somewhere dry, a saddle roll or a strap is a nice, cheap easy option. It also looks a bit cooler than a pack and has a retro vibe of a racer on tubs with a spare lashed to the seatpost.
Even if the roads are dry, you're likely to attract a layer of dust to your saddle roll though. If the roads are often damp or you're heading off road, a saddle roll isn't the most practical option though. You don't want to have to fit an inner tube that's coated in a layer of mud or road grot and most multitools will rust if they get wet.
It may not be chic, but a waterproof saddle bag is likely to be a better option for most riders.
Do you need internal dividers?
Internal dividers can be useful to prevent items rubbing against each other. Over many miles of being bumped up and down, items can rub against each other. You don't want to come to fix a puncture and find that your multitool has worn a hole in your spare inner tube.
On the other hand, you'll probably not be able to pack things so neatly if there are dividers, so a multitool with a sleeve is worth considering. Otherwise, wrap items so hard ones can't rub against softer ones and check their condition regularly.
Get The Leadout Newsletter
The latest race content, interviews, features, reviews and expert buying guides, direct to your inbox!
Paul has been on two wheels since he was in his teens and he's spent much of the time since writing about bikes and the associated tech. He's a road cyclist at heart but his adventurous curiosity means Paul has been riding gravel since well before it was cool, adapting his cyclo-cross bike to ride all-day off-road epics and putting road kit to the ultimate test along the way.