Best women's road bike saddles 2023 - support specific to the female anatomy
The best women's road bike saddles are engineered to give your anatomy the support it needs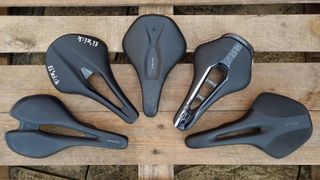 (Image credit: Mildred Locke)
Choosing the best women's road bike saddle can make all the difference to your ride. Of all the components on your bike, the saddle is the most crucial contact point with your body, with all your body weight resting on the delicate soft tissues of the vulva. It's very common for women - whether they're only just getting into the sport, or are seasoned ultra racers - to experience severe discomfort and damage to the labia. Even if you've already invested in one of the best road bike saddles on the market, if it's not designed with your anatomy in mind, you could run into trouble.
That's why getting the right women's saddle is not just important, but crucial to your ability to enjoy long periods of time on your bike. Even the best women's road bikes, no matter how well sized, could have you cutting your ride short if the contact points aren't set up properly.
Thankfully it's very easy to keep your nether region happy. Combining the best women's cycling shorts with a great women's specific saddle can go a long way towards improving your on-bike comfort and reducing the risk of developing saddle sores. If this is an issue you often face, be sure to check out our Saddle sores 101 feature.
As with many other bike components and kit, saddles come in all shapes and sizes, and even when you narrow them down to women's specific, the sheer amount of choice can feel overwhelming if you're not sure what you're looking for.
To save you time, we've rounded up our picks of the best women's road bike saddles. However, if you feel like you need a bit more guidance on what to look for, then you'll find some buying advice towards the bottom of this page.
Once you've mastered your saddle setup, be sure to check out the best women's cycling shoes for another contact point that could make or break your ride.
Best women's road bike saddles
Why you can trust Cyclingnews Our expert reviewers spend hours testing and comparing products and services so you can choose the best for you. Find out more about how we test.
The creme de la creme of women's saddles with tons of tech built in
Specifications
Sizes available:
143mm, 155mm
Reasons to buy
+
The Power saddle shape is perfect for almost any ride position
+
Elaston technology feels incredibly comfortable to sit on and springs back after use for longevity
+
Mimic foam perfectly imitates the density of soft tissues, helping to support the undercarriage without crushing delicate parts
Reasons to avoid
-
Requires an investment (but it's worth every penny)
-
Slightly heavier than competitors with less comfort technology built-in
Specialized's Power saddle shape has been a firm favourite among cyclists of all genders for many years now. When the brand introduced its Mimic technology back in 2018, it made quite a splash, thanks to the multi-layered foam elements that mimic the density of soft tissue to minimise swelling.
If that wasn't enough, it then combined all this goodness with its Elaston technology, which it describes as "1,000 miniature pillows", and it's easy to see why. Looking closely at the surface, you'll soon see a mottled texture, signifying the small beads expanded into the foam.
Combining these two technologies with the truncated nose and wide wings of the Power saddle shape, this saddle is a winner in our books, with our reviewer awarding it a full five stars. Head over to our Specialized Power Pro Elaston with Mimic review for a full breakdown on what makes it so good.
It is pricey, we'll admit, but we think it's worth every penny and is a valuable investment in your saddle health.
Best all-rounder for those who dabble in racing
Specifications
Sizes available:
142mm, 152mm
Reasons to buy
+
Lightweight and stiff but surprisingly comfortable
+
Women-friendly short nose design
+
Tail-up design offers more stability and power transfer through climbs
+
Very versatile design works for most riding positions
Reasons to avoid
-
Wide nose can cause inner thigh rub
Whether you're new to road racing, a serious competitor, or a do-it-all cyclist who wants to dabble in a bit of everything, the Pro Stealth Carbon saddle has proven itself to be surprisingly versatile. In our review, we found it to offer the perfect balance between stiffness and compliance. What this translates to on the bike is a comfortable ride for several hours, alongside efficient power output. We recommend this saddle for racers, time-trialists and casual riders alike.
The shape is similar to the Specialized Power listed above, with a short nose and wide rear, however the nose is noticeably wider, while the cut-out is significantly larger. This is to both support the pelvis while riding in a more aggressive position, and to alleviate pressure on the perineum. The huge opening also provides lots of airflow, which can really help with maintaining good saddle health.
The padding is minimal and the PU cover helps to reduce friction between the saddle and your shorts, while the all-carbon tails and shell make it a super lightweight addition to your setup.
For more, check out our review of the Pro Stealth Carbon saddle.
Fizik Luce R5
Best for those who experience thigh rub
Specifications
Sizes available:
144mm, 155mm
Shell:
Carbon reinforced Nylon
Reasons to buy
+
Narrow nose frees up some room for thighs and reduces chafing
+
Firm support that remains comfortable over long distance rides
+
Flexible rear end makes it good for multiple riding positions
Reasons to avoid
-
Long nose may not work for all
-
Cut-out is more narrow than others listed here
When Fizik redeveloped its women's saddle line several years ago, it introduced the Luce Saddle to its range. The outer is made up of a three-section construction, with nylon, carbon and thermoplastic elastomers, while the inner features a narrow long cut-out, and flexible support for under the sit bones.
There is a generous curve to the rear, while the rear wings have a fair amount of flexibility, which is great for comfort when sitting more upright. Meanwhile the nose, while longer than some others listed here, is very narrow which could help anyone who currently experiences thigh chafing while pedalling.
The Luce saddle is designed for longer rides, and like most saddles, it will take a few rides to break it in. It's a great option for someone who is looking for comfort in multiple positions on the bike, though for some the narrow cut-out might not provide enough relief.
Liv Approach
Best for those on a budget
Reasons to buy
+
Versatile and comfortable
+
Excellent value for money
Reasons to avoid
-
Only one width available
Liv Cycling is better known for its women's specific bikes, but it produces women's components and kit as well. If any brand understands the specific needs of women, it's Liv, who draws upon global female body dimensions data to design and engineer all of its wares from the ground up. What's more, all of its designers and engineers are women themselves.
The Approach saddle was launched at the same time as the Liv Devote, on which it came as standard. It has a short and narrow nose, plus an ergonomic cut-out, and in shape it has many similarities to the Specialized Power but is slightly more elongated to offer room to shift around. According to Liv, the Approach saddle's rail joins were positioned further forward towards the front of the saddle in order to ease weight on the rear pressure points. This complements the wide and short nose design that's proven to be a versatile and comfortable shape for many cyclists regardless of gender. Our reviewer was happy to report no sore spots or chafing during her time with this bike and saddle.
Fizik Tempo Argo R5
Best for endurance riders
Specifications
Sizes available:
150mm, 160mm
Shell:
Carbon reinforced Nylon
Reasons to buy
+
Vulva-friendly short nose design
+
Large cut-out for perineal pressure relief
+
Type 2 foam offers all-day comfort
+
Does a great job of absorbing road buzz
Reasons to avoid
-
Cover material becomes slippery when wet
Designed specifically with endurance riders in mind, the Tempo Argo saddle from Fizik adopts the short-nose-wide-back design that you're now probably very familiar with, and combines it with the brand's own 'Type 2' foam. This foam formulation is slightly thicker around the rear - where the sit bones need the most support - to help the rider maintain the more upright posture needed for comfortably long-distance cycling. The rear of the saddle also boasts Fizik's Wingflex technology, whereby the side edges of the carbon-reinforced nylon shell have some flexibility to them in order to adapt to your leg movements as you pedal.
Unlike the Fizik Luce listed above, which is very firm and geared towards racing performance, the Tempo Argo has more give to it for added comfort. In addition to this, it boasts a sizeable cut-out in the centre, which not only helps to alleviate pressure on the perineum, but also delivers decent airflow.
Incredible comfort, performance and value for money
Specifications
Sizes available:
142mm, 155mm
Reasons to buy
+
Increased support and reduced pressure
+
Well-judged flex and padding for all surfaces
+
No intrusive edges
+
Full range of prices and options
Reasons to avoid
-
Some riders will still prefer narrow
-
Titanium version only saves 10g
-
£5-10 more than standard Line saddles
Fabric's Line-S Elite Flat saddle has a distinctive design, with a complete separation of its two sides by a straight trench in the middle. It may look intimidating, but this saddle has proven to be a game changer for some. Its flat profile and wide format stabilises you and plants you centrally in a way that does away with the need to continually shuffle back and forth. Though if you do slide backwards, the outside edges have a subtle curvature that prevents it from intruding on the inner thighs.
In stabilising your ride position, it enables you to maintain a powerful base from which you can accelerate and push higher gears. We've personally found the Line-S saddle range to be one of the best for alleviating pressure in the lower region.
For more detail, take a look at our Fabric Line-S Elite Flat Saddle review.
Selle San Marco Shortfit Supercomfort Open-Fit Dynamic
A race-ready short-nosed saddle with a large relief channel
Specifications
Sizes available:
134, 144, 155mm
Shell:
Carbon Fiber Reinforced
Reasons to buy
+
Short nose design
+
Gel inserts for added comfort
+
Large cut-out and relief channel
Selle San Marco is among the oldest saddle makers in the world, bringing with it a wealth of knowledge and heritage. Its Short-Fit Supercomfort Racing saddle is, as its name alludes to, short-nose saddle designed for an aggressive riding position, such as that you might adopt in a road race or a time trial.
For pressure relief, there's a 30mm wide cut-out channel. It can be difficult to find the sweet spot between a wide enough cut-out for comfort and enough surface area to perch on. The Short-Fit Supercomfort Racing saddle does a great job of meeting both those needs.
It's lightweight too, not just because of its size, but also thanks to the Xsilite magnesium rails and carbon fibre reinforced shell. Meanwhile, Biofoam and gel inserts are used to add extra comfort, and are cleverly deployed to produce a variable thickness for strategic support zones where they're needed most.
How to choose the best women's road bike saddle for you
What shape saddle do I need?
Women's road bike saddles come in various shapes as well as sizes. Some are long, some are short, some are wide, some are narrow. These variations will impact how the saddle feels throughout your ride, and can also affect your on-bike behaviour. For example, a longer saddle might encourage you to shift your position frequently for better leverage, while a shorter saddle will put you in a more planted position with better weight distribution and greater stability.
When choosing the best saddle for you, pay attention to the length and the curve towards the back of it. Some prefer a flat back whilst others prefer a sloped downward curve towards the edges.
How do I know what size road bike saddle I need?
If you've started shopping around for women's road bike saddles and noticed there are different size options available, you're not alone in being surprised by this. It's commonly thought that all saddles come in one size, but this couldn't be further from the truth.
Just as you wouldn't go running in a pair of shoes that don't fit you properly, you should expose this most delicate area of your body to hours on a saddle that doesn't fit it properly. That's why it's important to measure the distance between your sit bones, which will dictate the width of saddle you need. You can either have this done as part of a professional bike fit, or at your local bike shop, or you can do it yourself at home.
How do you measure yourself for a saddle?
You can roughly do this yourself with a piece of corrugated cardboard. Sit on it, and look for where the deepest indents are afterwards. Draw a vertical line down the centre of each indent and measure between those two points for a general reading. This will give you a rough idea of your sit bone width.
However, it's a better option to head to your local bike shop and be properly measured. Having a saddle too narrow for you will put pressure on your softer parts, an unpleasant experience for even the most seasoned of riders.
Should I use padded shorts with my saddle?
This is a very personal choice, with some women preferring the comfort and support of a chamois pad, and others preferring no padding at all.
There is no fool proof way to know which saddles will work with which shorts, as once again it is a really personal thing, but it's important to note that some combinations will work better than others. If you are testing a new saddle and wear multiple brands of padded shorts, make sure you test them all with it to get the best match. Shorts have different foam densities in different places and pads are all different sizes, so you really want something that works in cohesion. Check out our guide to best women's cycling shorts for more.
What is a good weight for a bike saddle?
Not everyone will care about how heavy their saddle is, but if you're racing, carrying your bike up and down stairs, or just generally wanting to shave a bit of weight off it, then you might prefer something on the lighter side. Generally, the more you spend, the lighter your saddle will be.
Most brands make a variety of levels for each saddle, saving weight by replacing cheaper materials with carbon or titanium rails. In saying this, the weight differences can be minuscule, so it really depends on what you want to spend.
Get The Leadout Newsletter
The latest race content, interviews, features, reviews and expert buying guides, direct to your inbox!
Mildred joined as Reviews Writer for Cyclingnews and BikePerfect in December 2020. She loves all forms of cycling from long-distance audax to daily errand-running by bike, and does almost everything on two wheels, including moving house, and started out her cycling career working in a bike shop. For the past five years she's volunteered at The Bristol Bike Project as a mechanic and session coordinator, and now sits on its board of directors.
Since then she's gone on to write for a multitude of cycling publications, including Bikeradar, Cycling Plus, Singletrack, Red Bull, Cycling UK and Total Women's Cycling. She's dedicated to providing more coverage of women's specific cycling tech, elevating under-represented voices in the sport, and making cycling more accessible overall.
Height: 156cm (5'2")
Weight: 75kg
Rides: Stayer Groadinger UG, Triban RC520 Women's Disc, Genesis Flyer, Marin Larkspur, Cotic BFe 26, Clandestine custom bike
Get The Leadout Newsletter
The latest race content, interviews, features, reviews and expert buying guides, direct to your inbox!
Thank you for signing up to The Pick. You will receive a verification email shortly.
There was a problem. Please refresh the page and try again.