Best women's cycling jerseys: Comfortable kit that performs and looks great
The best women's cycling jerseys for warmth, aerodynamics, comfort and price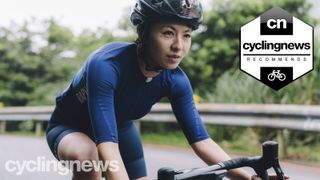 (Image credit: Rapha)
The best women's cycling jerseys have come a long way from the 'shrink it and pink it' approach of decades past, with companies and designers finally giving some time and care into the development of women's-specific kit. With a variety of options available to tackle all the seasons, we've taken a closer look at the best jerseys to use throughout the year. This includes options for warmth, aerodynamics, comfort or price, since the market is broad and there really is a jersey to fit any need now.
For warmer days, a lightweight jersey with short sleeves can play an important role in moisture management, helping to wick away sweat from the skin and keep you feeling cool. Thicker jerseys, on the other hand, are better suited as a layer of insulation paired with the best women's waterproof cycling jackets, but whatever the weather, we recommend starting your layering with one of the best women's cycling base layers.
Keep reading for our selection of the best women's cycling jerseys available to buy. If you're not sure what to look for, then at the bottom of the page we have a detailed buyer's guide to help you narrow down your options.
When you're done, don't forget to check out our guide to the best women's cycling shorts to complete your wardrobe.
Best women's cycling jerseys
Best overall thanks to recycled fabrics and figure flattering design
Specifications
Material:
86% recycled polyester, 14% elastane
Reasons to buy
+
Eco friendly
+
Figure-flattering shape
+
Recycled materials
+
Breathability
Velocio, the women's born brand has a reputation for great products and the Concept jersey lives up to it. Created with recycled fabrics, the low profile collar sits away from the neck, ensuring no fabric rubbing on any rides. This jersey is advertised as race fit and lives up to its category. Three different fabrics are used in the jersey; The main body and shoulders were slightly textured, while a membraneous breathable material was used throughout, including a more robust material on the back pockets, and a smooth offering over the back.
The pockets are well placed, with a protected zip pocket, and the bonded hems gave us a chafe-free ride. The zipper is actually protected/covered at the bottom waist area, a detail often overlooked.
Beyond the technical aspects, what really stood out on the jersey was how flattering it was. The use of black on the side panels and the shape of them created a brilliant illusion through the waist-to-hip area, that can be a sensitive fitting point, especially on curvier figures. The sleeves are long and snug without being too tight. It's priced on the premium side, but the value is there.
Take a look at our review of the Velocio Concept jersey and shorts for more.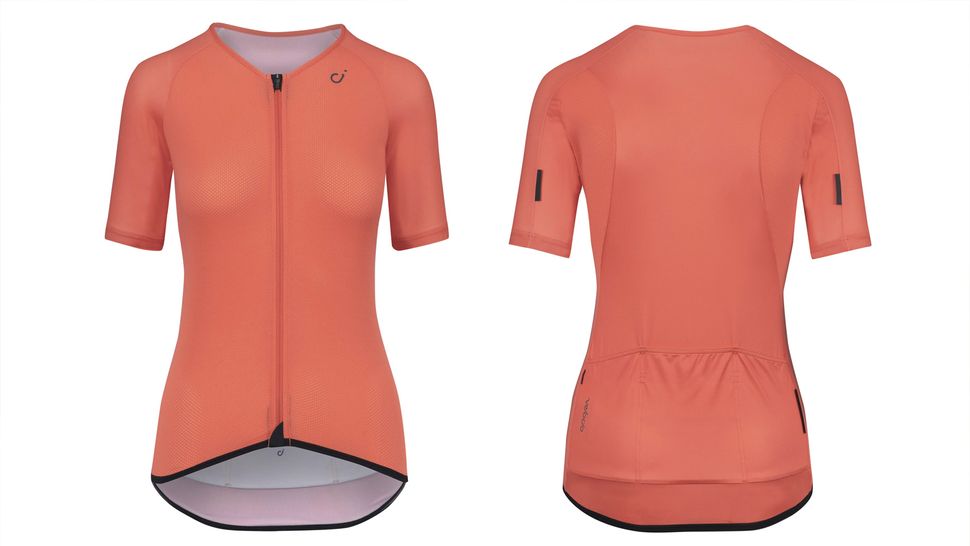 Best women's cycling jersey for warm weather riding
Specifications
Material:
50% Recycled Polyester / 40% Tencel / 10% Elastane
Reasons to buy
+
Radiator fabric has magical heat dissipation
+
Light, comfortable form-fit
Reasons to avoid
-
Crew collar makes for issues with upper zipper garage
For the hottest rides of the year, the Radiator Mesh jersey from Velocio does an excellent job of shedding heat, thanks to the Polartec Delta fabric. Described by both the brand and our reviewer as 'magical', the fabric is super lightweight and thin, soft against the skin, and perforated to help with channelling air flow and releasing heat from the body.
Half the polyester in its construction is recycled, making it a more environmentally friendly option for those who wish to reduce the amount of new plastics they consume. The fit is close, but stretchy and comfortable, and the fabrics are claimed to offer UPF30 sun protection.
One thing to bear in mind is that in order to be so good at shedding heat, the Radiator Mesh Jersey fabric comes up semi-translucent, especially in the lighter colours (of which there are eight to choose from), so it's worth considering this if you'd prefer something opaque.
For more detail, read our Velocio Women's Radiator Mesh review.
Machines For Freedom Summerweight Cycling Jersey
Best long-sleeve summer option for all-day protection
Specifications
Material:
86% polyester/14% elastane
Reasons to buy
+
Lots of beautiful colours and patterns to choose from
+
Wide range of sizes available
+
UPF 50+ protection
Reasons to avoid
-
Difficult to buy outside of the US
While it might seem a little counterintuitive to wear a long sleeve jersey in the summer, MFF's Summerweight Long Sleeve Jersey is a great option for those extra long days on the saddle, when your skin's going to be exposed to harmful UV for hours on end.
Made from a super lightweight and thin fabric, this jersey feels incredibly comfortable and fits like a second skin, regardless of body shape or size, thanks to its super stretchy nature and the wide range of sizes on offer.
The fabric is said to provide UPF 50+ protection, and with an array of gorgeous colours and patterns to choose from, you're spoilt for choice. Despite having full sleeves, with the fabric as lightweight as it is, it breathes so well that you'll actually feel cooler even while riding on a hot day.
Isadore Women's Signature Climber's Jersey
Best for material softness
Specifications
Material:
Fabric 1: 23% Merino Wool / 77% Polyester, Fabric 2: 14% Elastane / 86% Polyester
Reasons to buy
+
Great for intensive workouts
+
Merino moisture management
Reasons to avoid
-
Begins to overheat after sustained efforts at 30C (86 F) and above
The Isadore Climber's jersey is a super lightweight Merino wool blend offering, and it's a great option if you prefer natural fibres but are looking for something that can carry through hot summer days. Although this isn't specified, we also found on our tests that we were comfortable in the kit down to a 15-degree (59 F) day, due to the natural thermoregulatory ability of the wool. The wool body of the jersey has a small thin ribbed texture to it, a unique weave we have only seen from Isadore. The ribbing creates movement and stretch without needing elastane: in layman's terms: the jersey is woven to be stretchy and form-fitting, it's not just a result of the materials used. Although it is wool, the fabric is thin and supple, lightweight but strong.
The fabric pulled sweat away and stayed breathable and comfortable both up- and downhill. The sleeves are a bit looser cut than others, so if you have very thin arms this could be an issue. The fully lined zip feature is a plus along with the microdot waist and arm grippers to keep everything in place. The jersey came up a bit big on us, if you are in-between sizes, size down for a snug race fit.
Rapha Women's Classic jersey II
Best casual fit jersey for roominess and comfort
Specifications
Material:
64% polyester, 36% merino wool
Reasons to buy
+
Casual aesthetic
+
Zippered pocket
Reasons to avoid
-
Size range could be more inclusive
The Rapha Classic jersey was the first product Rapha launched over a decade ago, and to this day remains one of its best offerings. The merino blend jersey pairs refined and vintage styling with high-performance features. The fit on the classic jersey is relaxed (not a race fit) with more room through the waist area. This means the jersey is relaxed, without hugging the figure, and it did sit loosely as advertised around our abdominals. With one zip pocket and a longer fit, the Classic jersey is a great option for longer rides where comfort is key. It isn't the best option for the hottest of summer days, but its a great three-season jersey, with a broad range of temperatures, and stays warm in early Spring and Autumn. The bonded seams reduce chafing points. The only note is the roominess in the waist can make the pockets feel a bit on the loose side, so be sure to stash valuables in the zip compartment. Because of the relaxed sizing on this, if you are in-between sizes or unsure, size down.
The forward-fit cut has been tweaked to be more comfortable and a new softer RPM150 Rapha Performance Merino material is now bonded rather than stitched to make the jersey more streamlined.
Castelli Perfetto Light RoS W
The best for wind and water resistance
Specifications
Material:
100% polyester (Gore-tex front panels)
Although technically the Perfetto Light from Castelli falls into the jacket category, this short-sleeved mid-weight offering from the Italian brand can also be worn with just a base layer and is really a great women's Autumn cycling jersey as well.
With a 4/5 rating on both windproofing and waterproofing, the Perfetto is the perfect choice for mixed weather days without being too warm. Premium Gore-Tex fabric is used on the front panels and the dropped tail provides extra protection on wet or muddy days. The back panels use their Nano fabric, a water-resistant but breathable tech material incorporating silicone filaments to give it the water-repelling qualities.
The Gore Windstopper fabric is light and stretchy enough to fit as a jersey should and keeps the wind out whilst still letting body moisture release. The two rear pockets are generously sized and well-positioned, with an additional pump pocket. Castelli was one of the first brands to create this hybrid jacket/jersey with the Gabba a decade ago, and the Perfetto has refined that technology into a streamlined package. If you are looking for an all-round jacket/jersey hybrid for 10-18 degrees, the Castelli Perfetto the right choice.
dhb Aeron
Best value women's cycling jersey
Specifications
Material:
Main: 100% polyester | Mesh: 94% polyester, 6% elastane
Reasons to buy
+
Great value for money
+
Range of colours
dhb is Wiggle's in house apparel brand, offering direct to consumer pricing on the behemoth online retailer's website. The Aeron jersey is an all-rounder – designed to be versatile and work for all types of cycling. It is lightweight and durable, with mesh on the back panel to wick away sweat. The wide armbands keep the sleeves snug alongside the silicone bottom grippers.
dhb treats the Aeron with an anti-bacterial treatment, which will also keep the jersey fresh between washes. The zip, although standard YKK, isn't covered or lined, which can be expected at this price point, but it does include the three rear pockets and a fourth zippered pocket.
The jersey is a snug fit, without being constrictive and is a great value-for-money choice, with a variety of colour and pattern options to suit everyone's taste.
How to choose the best women's cycling jersey
What are the best jersey materials?
Most performance jerseys are constructed from a synthetic material such as nylon or polyester. These materials offer superb wicking and breathability to move sweat away from the body so it quickly evaporates leaving you dry and comfortable when you are working hard. Thin mesh style materials are incorporated to maximise breathability where it is needed the most, such as under the arms, which further helps with cooling. High levels of stretch both two-way and four-way can be engineered into synthetics for a perfect close fit to reduce bunching and maximise aerodynamic properties.
That's not to say natural materials such as merino don't have their advantages and companies like Rapha and Isadore have been developing high-performance merino-based materials that are still extremely breathable and well-fitting. Both soft and hardwearing, merino will keep you warm even when soaked and the natural material resists odour build-up. Thanks to these properties, natural fibres lend themselves well for long days in the saddle where comfort trumps super aggressive aero designs.
How should a women's cycling jersey fit?
Fit is key so it is important to choose a jersey that suits your intended style of riding. An aggressive race fit is designed to be ridden in the drops and to cut through the air with maximum efficiency. They feature shorter torsos and longer arms to optimise fit while in a more aggressive position. Slim-fit jerseys are a little looser and longer to improve comfort for longer rides or relaxed coffee runs.
While women's specific jerseys aren't a must for all cyclists, many will appreciate the cut with a relatively narrower waist area, and more room in the bust and the hips.
What extras should I look for in a jersey?
Almost all jerseys use a full-length zip so when it's very warm the front can be unzipped to help regulate temperature. To reduce irritation a flap on the collar houses the zip so it doesn't rub while riding.
Three rear pockets are the standard for storing multi-tools, snacks and anything other mid-ride essentials. There are variations on this with some companies adding a loop to secure a pump or a handy fourth secure zipped pocket to keep valuables.
Finally, reflective details improve visibility when riding in poor light. This might not be a consideration when choosing race orientated wear, but for riders who are going on all-day epics and training rides, this is an important aspect to consider to help keep you safe on the road.
Of course, having a well-fitting jersey is key, but looking good is also important. Jerseys are available in a wide range of colours and patterns to suit all rider's style whether you want a subtle classy look or want to stand out from the crowd.
Get The Leadout Newsletter
The latest race content, interviews, features, reviews and expert buying guides, direct to your inbox!
Mildred joined as Reviews Writer for Cyclingnews and BikePerfect in December 2020. She loves all forms of cycling from long-distance audax to daily errand-running by bike, and does almost everything on two wheels, including moving house, and started out her cycling career working in a bike shop. For the past five years she's volunteered at The Bristol Bike Project as a mechanic and session coordinator, and now sits on its board of directors.
Since then she's gone on to write for a multitude of cycling publications, including Bikeradar, Cycling Plus, Singletrack, Red Bull, Cycling UK and Total Women's Cycling. She's dedicated to providing more coverage of women's specific cycling tech, elevating under-represented voices in the sport, and making cycling more accessible overall.
Height: 156cm (5'2")
Weight: 75kg
Rides: Stayer Groadinger UG, Triban RC520 Women's Disc, Genesis Flyer, Marin Larkspur, Cotic BFe 26, Clandestine custom bike