Best commuter bike tyres: Rubber for riding around town
Avoid flats and make the ride to work a pleasure by choosing the best commuter bike tyres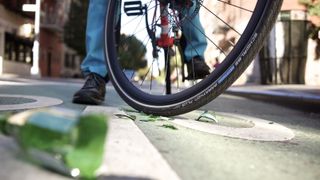 (Image credit: Schwalbe)
With the world mostly back open for business, now is the time to get your trusty commuter bike back into action, and a fresh set of the best commuter bike tyres is a great first step. Getting a puncture on your way to or from work can really put a spanner in your plans and mar an enjoyable part of your day. Choosing the correct tyres will not only help protect against punctures, but can also give you better grip and a more comfortable riding experience.
Most companies use stock tyres to help keep the cost of new bikes low, however these are often entry-level quality and offer little puncture protection. Upgrading to some of the best commuter bike tyres will have a profound effect on how your bike rides, and save you both money and stress in the long run. Though some tyres can seem pricey at first glance, when compared against the cost of regular puncture repairs, the true value will become apparent. Not only can an upgrade offer better protection, but you can tailor your choice to the length, terrain and weather conditions of your commute.
So whether you're heading to work on one of the best commuter bikes, best hybrid bikes, best folding bikes, or best electric bikes for commuting, we've gathered our picks of the finest rubber to bolt on as an upgrade. Scroll on for these, or head to the bottom for our buyer's guide and FAQs to help you get the right ones for you.
Best commuter bike tyres
Why you can trust Cyclingnews Our expert reviewers spend hours testing and comparing products and services so you can choose the best for you. Find out more about how we test.
Schwalbe Marathon Plus Smart Guard
The gold standard of commuter bike tyres
Specifications
Diameter:
16in, 20in, 24in 26in, 650b, 700c
Reasons to buy
+
Excellent puncture protection
+
Anti aging sidewall
The Schwalbe Marathon is arguably the gold standard of commuting tyres. They come in a range of tread patterns, levels of puncture protection and are even available in tubeless-ready options; but the Marathon Plus road tyres with Smart Guard are the best all-rounder tyres for getting you from A to B. Also suitable for use on e-bikes, the Marathon Plus aren't going to be the fastest rolling tyres you can buy, but they are Schwalbe's most puncture-resistant tyres.
The hallmark feature of the Marathon Plus is the Smart Guard puncture protection belt, which puts 5mm of rubber between the tread and the carcass of the tyre. Combined with the brand's unique blend of 'India Rubber', this will prevent this would-be culprits from making its way through to your tube. The tyre also features Schwalbe's anti-aging side wall, which extends the life of the tyre through resistance to developing cracks.
Continental Gatorskin
Best for budget-friendly road bike commuting
Specifications
Diameter:
26in, 27in, 700c
Reasons to buy
+
Low rolling resistance
+
Reinforced sidewall
We've long used Continental's Gatorskin as a winter training tyre because of its puncture protection, reinforced sidewall and limited rolling resistance. While it won't stop a shard of glass dead in its tracks the way the Schwalbe Marathon does, the PolyX Breaker belt finds the right balance between rolling resistance and puncture protection.
The sidewalls are made from what Conti calls Duraskin anti-cut fabric, a polyamide mesh bonded to the sidewall that not only staves off damage but also limits how far a cut spreads should one occur, in a similar way to ripstop nylon. All of this, combined with the beefy tread makes for a heavy-duty tyre that doesn't feel like your pedalling while squeezing your brakes.
Schwalbe Marathon Supreme Evolution
Best for comfortable tubeless commuting
Specifications
Diameter:
26in, 27.5in, 700c
Reasons to buy
+
Low rolling resistance
+
Low weight
+
Tubeless compatible
+
General puncture protection
Reasons to avoid
-
Little sidewall puncture protection
With an upgrade in tread pattern and tubeless compatibility since the first generation, the Marathon Supreme Evolution tyres are a commuting take on Schwalbe's popular Pro Ones. Utilising V-guard technology and One-Star Triple rubber compounds, they are designed to be lighter whilst maintaining high levels of puncture protection.
By incorporating tubeless compatibility, the tyres can be run at lower pressures without the risk of pinch punctures which can absorb some of the impact from road debris and potholes. The Supreme Evolutions also include a wide range of sizes all the way from 26x1.60 to 28x2.00.
Schwalbe Durano Plus Addix
Best for wet weather commuters
Reasons to buy
+
SmartGuard protection
+
Rolling resistance
+
Good grip whilst cornering
Reasons to avoid
-
Heavier than alternatives
-
Tight to fit
The Schwalbe Durano Plus Addix are almost in a category of their own as road tyres that focus heavily on puncture protection. The SmartGuard technology, as featured in the Marathon Plus', aims to give the maximum puncture resistance, though does make them slightly heavier than other road alternatives. The sidewalls also offer the same level of protection.
The Addix dual layer compound and tread pattern is designed to focus on grip, even whilst cornering. Schwalbe claims that the tyre lifespan is around 10,000km, and is focussed on all-weather road commuting.
WTB Thickslick
Best for those who want a pure slick tyre
Specifications
Diameter:
26in, 650b, 700c, 29in
Reasons to buy
+
Double thickness slick tread
+
29in option
+
Looks
While WTB is best known for its off-road and mixed-surface tyres, the Thickslicks are its take on an urban tyre. Based around a burly casing, the tread is thick and free of any grooves or knobs as the name suggests.
WTB makes the ThickSlick in Comp level and Flat Guard casings. The Comp tyre features the brands 60A durometer rubber, a 'durable impervious casing' and a wire bead. The Flat Guard sees a second layer of rubber throughout the entire casing, as well as an extra layer of rubber beneath the whole width of the tread to provide extra thickness where the tyre is likely to encounter sharp road debris.
Vittoria Zaffiro Pro
Fast and sturdy road tyres that will get you through your commute with ease
Reasons to buy
+
Graphene 2.0 compound
+
Fast rolling
While Vittoria's Zaffiro Pro tyres fall more into the road category, they are incredibly hard-wearing, fast rolling, and don't succumb to many punctures; which in our book makes them an ideal candidate for everyday use on your get-around-town bike.
They feature a paired down version of the brand's Graphene 2.0 compound which makes big claims about improvements to durability, cut resistance and grip, and in the real world, seems to deliver on both of these claims to a certain degree. With a folding bead, they shed serious weight over their metal beaded compatriots and feature a full-width nylon casing and a breaker belt under the tread.
How to choose the best commuter bike tyres for you
What are commuter tyres?
The best commuter bike tyres are designed to cope with daily wear and tear, focussing on good puncture protection and grip, to get you from A to B as smoothly as possible. This can be achieved in a number of ways, but is typically done through use of high-quality rubber compounds, reinforced sidewalls and bespoke tread patterns.
What is the difference between 'folding' and 'wire' bead?
Commuter tyres will come with either a wire bead or a folding bead; the difference is that one utilises a steel wire to engage the rim ("wire"), while the other will use a flexible fibre like Kevlar ("folding").
Wire bead tyres will be noticeably cheaper than folding bead tyres, and considerably heavier too.
Are tubeless tyres good for commuting?
Tubeless tyres have been popular on mountain bikes for quite some time, and they are gaining popularity across other disciplines. They must be used with tubeless-compatible wheels, and are set-up by fitting sealant inside of the tyre, rather than an inner tube. If the tyre is punctured, the sealant will clog up the hole, though large cuts may require a tubeless 'plug'. They can be run at lower pressures, as they cannot get pinch punctures.
Though great in theory, tubeless tyres can be difficult to repair when something goes wrong, requiring different tools such as a tubeless plug kit and occasionally a CO2 canister. As such, they aren't designed to be beginner-friendly, and are a matter of preference when it comes to commuting.
Are solid or "airless" tyres better for commuting?
Solid, or "airless", tyres do what they say on the tin: they are made of solid material, so require no air pressure to keep them hard and thus cannot get punctures.
Though this sounds like a perfect solution, there are two big problems with these sorts of tyres. Firstly, they are extremely slippery in the wet and do not provide good grip on concrete or metal. Secondly, they can cause major damage to your wheels, as there is no air to act as shock absorption. This means that the impact goes straight to the rim and can cause them to buckle quickly.
For smaller wheels, such as 16", this risk is significantly reduced due to their size.
What is puncture protection?
Puncture protection is based off of a tyre's ability to withstand penetration by sharp or solid objects. This is done through the use of different rubber compositions, tyre thickness, and layering of materials. It is important to note that, though tyres may be said to have "high puncture resistance", no standard tyre is fully puncture-proof.
How do I choose the correct tread pattern?
As a rule, if a tyre can't dig into a surface (like pavement) then the tread on bicycle tyres doesn't add much if any grip. While most bike tyres have some form of tread, when choosing a tyre for a commute, think about the surfaces you will be riding on. If it's paved all the way, a slick or lightly treaded tyre will be your best pick, while if there is some gravel or dirt on your commute a bit of tread might just be the ticket — prioritise shoulder tread as this is what provides grip in the corners.
Why are commuter tyres often wider than road tyres?
Most commuters will have tyres between 28mm and 42mm, and when it comes time to replace the tyres on your bike, the width can have a major impact on the way your bike rides. Wider tyres offer increased grip and comfort as they have a larger air volume and lower tyre pressure can be run.
But, don't go out and buy the fattest tyres you can find as they may not fit in your frame, and maybe too broad for your rim to provide sufficient sidewall support. Fenders and brakes can also limit the size you can run.
The latest race content, interviews, features, reviews and expert buying guides, direct to your inbox!
The latest race content, interviews, features, reviews and expert buying guides, direct to your inbox!
Thank you for signing up to The Pick. You will receive a verification email shortly.
There was a problem. Please refresh the page and try again.