Best commuter bikes: Hybrids, folding bikes, electric bikes and everything in between
Our pick of the best commuting bikes to get you to work and around town in comfort and style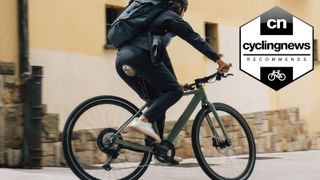 (Image credit: Orbea)
The best commuter bikes can come in all shapes and sizes. There are folding bikes that you can take on the train and flat-bar hybrid bikes you can attach all manner of accessories to. Some options are about being practical and some are about finding the fastest commuter bike. There are even pedal-assist e-bikes options that can help you get to work without breaking a sweat.
The pandemic led to more people working from home. It also prompted many to stop using public transport and make their own way to work and into town for their errands. Now that we're heading back to some form of normality, with most offices reopened, commuting can once again be a thing to enjoy rather than loathe.
Post COVID, the world is a different place. There will be some people who are getting back to an old routine of two-wheel commuting. There will also be lots of people looking at starting a new bike commute routine. Depending on the length of your commute, the surfaces you cover, and whether you ride the whole way or use a mix of travel options, you will have different needs. It's also worth considering what kind of rider you are. Maybe you are looking for the fastest commuter bike or maybe thinking about the best commuter bicycles is more about taking your time. A bike that makes a great option for you might be useless to someone else, and vice versa.
Whatever you are looking for, it's a daunting task. To save you some time, we've rounded up our choices of the best commuter bikes. With so many to choose from we looked at making a well-rounded list however there are plenty more on the market. If you know you're going to be doubling up with public transport, or you need a bike you can stow in a cupboard or under a desk, perhaps check out our best folding bikes guide once you're done here. Likewise, if you're on a tight budget be sure to take a look at our list of the best hybrid bikes under £500.
Likewise, if your commute involves some steep hills, covers a lot of mileage, or you just need to arrive to work without needing to change out of sweaty clothes, be sure to consult our more comprehensive list of the best electric bikes.
If you're new to cycle commuting, we've put together a handy commuter bike accessories checklist, so you can grab yourself one of the best commuter helmets for safe cycling, and best bike locks to deter thieves.
Best commuter bikes
Why you can trust Cyclingnews Our expert reviewers spend hours testing and comparing products and services so you can choose the best for you. Find out more about how we test.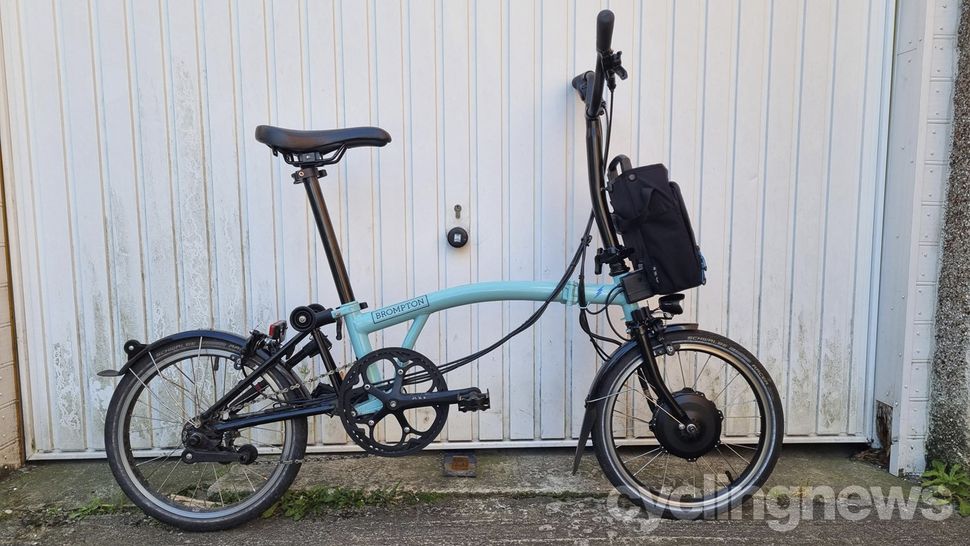 The best commuter bike for those who use more than one type of transport
Specifications
Sizes available:
One-size fits all
Reasons to buy
+
Super compact when folded
+
Lightweight for an e-bike
+
Elastomer vibration-dampening
+
Removable battery
Reasons to avoid
-
Front-wheel drive systems can be a handful to control
-
No luggage rack as standard
For a long time, Brompton bikes have been the gold standard in folding bikes. Their reputation for reliability, handling, and how compact they are when folded away is second to none. This electric version takes everything we know and love about these quirky little bikes, and adds a 250-watt front-hub-based pedal-assist motor, complete with a removable 300Wh battery pack.
Even with a low 14.5kg weight claimed range doesn't suffer. Depending on how you ride, and the assist level chosen, you can expect as much as 80km. When you aren't riding, the battery is easy to carry in the included bag and there's even USB charging for phones and tablets as you move from riding to transit and back again.
Vitus Mach 3 VRS
Best fast commuter bike for those who enjoy the thrill of the ride
Specifications
Claimed weight:
11.24kg (M)
Reasons to buy
+
6061 alloy frame
+
Shimano Sora groupset
+
Mounts galore
+
Lively handling
+
Decent weight
Reasons to avoid
-
Slightly unconventional looks may be divisive
Coming out of Wiggle/Chain Reaction Cycles' in-house brand Vitus, the Mach 3 VRS is a flat bar road bike, said to be for the "urban adventurer". Marketing speak aside, the Mach 3 VRS has dropped chainstays and rolls on 38mm Vee G-Sport skinwall tyres. It will be a comfortable ride, even over rough roads.
The 6061 ATC aluminium frame is heavily hydroformed for sharp handling and efficient pedalling. There is internal cable-routing and heaps of mounting points for mudguards, racks and water bottles. That focus on efficient pedalling will continue to pay dividends even when taking advantage of all the mounting points and the fork has a tapered steerer tube for increased front-end stiffness. Vitus has specced a Shimano Sora R3000 9-speed drivetrain and hydraulic stoppers for confident braking, regardless of the weather.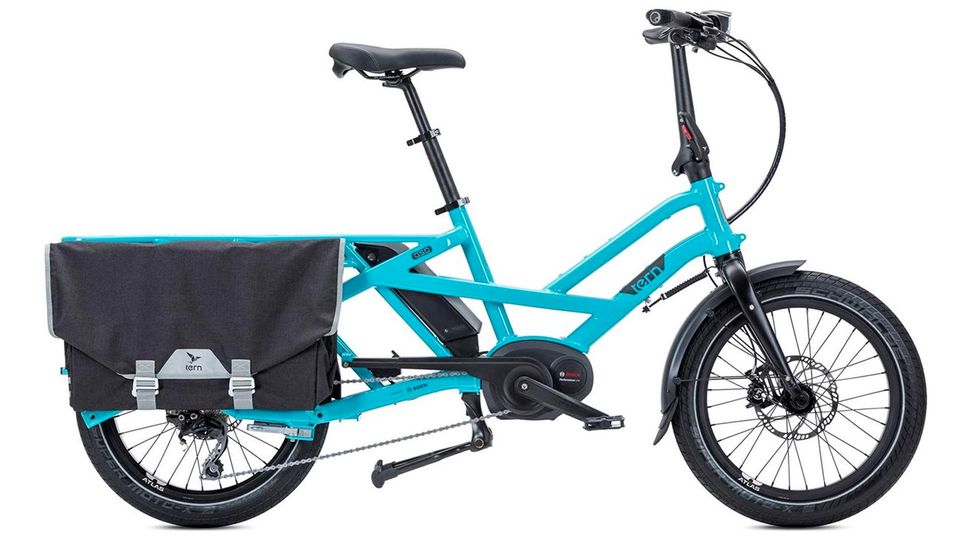 Tern GSD S10
The best commuter bike for heavy-haulers
Specifications
Sizes available:
One Size
Reasons to buy
+
200kg carrying capacity
+
Bosch Cargo Line motor with 85Nm of torque
+
Four-piston brakes
+
Folding handlebar
Reasons to avoid
-
Heavy but motor helps offset the weight
-
One size only
While Tern is best known for its folding bikes, the GSD S10 doesn't fold in half, but the handlebars do fold to make it a bit smaller for storage. It also uses a Bosch Cargo Line motor with 400 per cent assist support, essentially turning it into a pedal-assisted pick-up truck.
With a max load of 200kg, the low-slung aluminium frame can haul kids, groceries, cases of beer, and whatever else you want without sacrificing stability. The included 400Wh battery is said to have a range between 50-110km, depending on how much stuff you're carrying, and can be upgraded to a 900Wh power pack for additional range.
The bike rolls on 20in wheels and the frame uses stout tubing and boost hub spacing. Between the 1x10 Shimano Deore drivetrain and 85Nm of torque on offer from the Bosch drive unit, you should be able to push the GSD up any hill, fully loaded. When you crest said hill and start to gain speed going down the other side, the four-piston Magura MT5 brakes and 180mm rotors will easily bring you to a safe stop.
Specialized Sirrus X 3.0
The best commuter bike for those that worry they won't be comfortable
Reasons to buy
+
High-end aluminium frame
+
Gravel-capable with 700x42mm tyres
+
Hydraulic disc brakes
Reasons to avoid
-
Frame lacks stiffness
-
Gear shifts can be a bit clunky
Made with Specialized's high-end A1 aluminium, the Sirrus X is a lightweight, capable, hybrid bike that borrows plenty of technology from its more performance-driven family members. Based around upright geometry, the dropped chainstays, 27.2mm seatpost and 42mm tyres do well to absorb impacts, while the Body Geometry touch-points are specially designed to maximise comfort.
The Sirrus X is equipped with a MicroShift Advent 1x9 drivetrain, and the rear derailleur has a clutch to hold the chain taut, even over the bumpiest of road surfaces. With an 11-42T cassette at the back, the 40T narrow-wide chainring will not only help you ascend any grade, but also prevent the chain from falling off.
Orbea Vibe H30
The best commuter bike for subtle electric assistance
Reasons to buy
+
10 speed gearing
+
Mahle X35 electric system
+
Optional range extender available
Reasons to avoid
-
Battery can't be removed for charging or be replaced
The Orbea Vibe H30 is one inconspicuous-looking electric bike. Using the Mahl X35 drive system, the battery isn't visible inside the frame. There's plenty of electric power on tap but it looks identical to a standard bike frame. The rear-hub-based drive unit keeps the power coming from exactly where you expect and there is up to 40Nm of torque and 250 watts of pedal assist hills available.
To make the frame, Orbea turned to hydroformed aluminum and paired it with a carbon fork. There are short chainstays for a nimble feeling bike and extra bracing where necessary. Forged dropouts help keep the rear hub motor contained and a two-piece forged bottom bracket handles the weight of the battery. There's room front and rear for up to 45mm of tyre clearance for a comfortable ride and you'll find mounting for fenders and racks.
Kona Dew Deluxe Urban Bike
The best commuter bike for rough roads
Reasons to buy
+
Road plus 650b wheels and tyres
+
Comes complete with mudguards
+
Mounts galore
+
Sizeable gearing
+
Kickstand
Reasons to avoid
-
Lighter hues prone to showing up dirt and grime
The Kona Dew Deluxe Urban Bike is an incredibly versatile and practical option for anyone looking to do most of their travelling on two wheels. It comes complete with mudguards, and sports 47mm WTB Horizon Comp tyres on 650B wheels, delivering a comfortable and smooth ride even on some of the rougher roads found in towns and cities.
It comes equipped with a 1x11 Shimano Deore drivetrain, including a massive 11-51T cassette paired with a 38T chainring at the front, making for some incredibly spinny gears for getting you up the biggest hills. Hydraulic Tektro disc brakes provide ample stopping power, while the 6061 aluminium frame carries copious mounting points for racks, bottle cages and even a top tube bag.
Meanwhile, at the rear you'll find a kickstand, making the Kona Dew Deluxe a top choice if you're planning to load up on groceries, or need to cart a lot of cargo to and from work.
Cannondale Quick 4 Disc
The best commuter bike for high visibility
Reasons to buy
+
Lightweight frame
+
Micro Suspension
+
Reflective logos
+
XXL for taller riders
The Cannondale Quick 4 Disc is a versatile flat-bar road bike that is perfect for running errands, or as a tool to help you get fit. Made from Cannondale's SmartForm C3 alloy, there are loads of rack and fender mounts, and the rear end sees the brand's SAVE micro-suspension.
All of the cables on the Quick are hidden out of harm's way inside the frame, and the Tektro hydraulic brakes provide superior power and modulation to their rim-brake counterparts, with less maintenance. Cannondale has specced the Quick 4 with a MicroShift nine-speed drivetrain, complete with a clutched rear derailleur. The ultra-wide-range 11-42T rear block is mated with a 38T wide-narrow chainring for ultimate chain security and plenty of gear range.
And to keep you lit up in low-visibility conditions, all the logos on the bike are reflective, and both tyres feature a reflective stripe on the sidewall.
Aventon Level
The best commuter bike for American riders
Reasons to buy
+
28mph top speed
+
inexpensive
+
front suspension
+
Included rack with high carrying capacity
In the US you can use much more powerful electric bikes without any special licensing. The Aventon Level Commuter maxes out what's possible with a 750 watt (peak) rear hub motor and a throttle for easy stop and start or more help when you need it. Power for the motor comes from a lithium-ion 48V, 14Ah (672Wh) battery that looks integrated but remains removable. There's power on tap for a 28mph max speed, up to 40 miles of range, and carrying capacity for up to 300lbs including the rider and anything on the included rear rack.
Even with all the power Aventon keeps things smooth. The big 27.5" tyres go a long way but there's also a front shock with 75mm of travel. When you need to fill up the tires the level makes it easy by sticking to the more common schrader valve and when it's time to stop the big 180mm disc brakes are up to the task.
How to choose a commuter bike
Which bikes are low-maintenance?
Moving parts need to be maintained, and bikes have a lot of moving parts that can wear out and/or fail. Unless your destination has some sort of bike-parking facility, it's more than likely that your bike will spend extended periods locked to a rack at the mercy of other commuters, passers-by, and the elements – so on a commuter bike, the fewer moving parts, the better.
First and foremost, we would recommend avoiding suspension forks on commuter bikes unless they're high quality units. While they will be listed as a stand-out feature as you scroll through a bike's description, the forks specced on commuter bikes are usually cheap and don't offer much in the way of shock absorption. They are heavier and more expensive than a rigid fork, and are in danger of seizing over time anyway without regular maintenance.
Gears, shifters and derailleurs are also moving parts that need to be maintained. If you live somewhere flat and can get away with a single-speed, you have fewer parts to fail or look after. Internally geared hubs are a great solution, but they do add to the weight and price tag. If you think you will need gears, look for grip shifters instead of trigger shifters; again, they are simpler and have fewer moving parts.
Are e-bikes worth it?
E-bikes have made commuting more accessible to the masses because the bike will offer a bit of extra oomph to help you get to your destination faster, or up over that big hill at the end of your street. The drive unit and battery add weight and cost to a commuter bike and can be hard on drivetrain components, too. The additional power also adds another level of utility to your bike, though, meaning that you can carry much heavier loads – or zip around without breaking a sweat.
How much does a decent bike cost?
Price is always a bit of a contentious topic when it comes to commuter bikes, because most people don't want to drop a big wad on a bike that's likely to have a tough life. Still, if you buy a super-cheap bike, don't be surprised when parts break.
At the same time, spending a couple of grand on a commuter bike is probably overkill – unless you're looking at an e-bike because the drive unit and battery add a significant cost.
As a ball-park figure, spending between £500 and £800 can get you a decent quality commuter hybrid bike with disc brakes, decent gearing and good quality finishing kit. Just be sure to keep it well maintained and get it serviced regularly.
Which frame material is best?
Steel, aluminium and carbon fibre will be the main three materials you will come across when looking at commuter bikes. Steel is tough, and usually relatively inexpensive, but it's also subject to corrosion. Aluminium is lighter, durable and not subject to corrosion, but it's also more expensive and can have a harsh ride quality. Carbon is the premium frame material of all bikes, but for commuters, we would recommend you steer clear. While it's light and stiff, it's comparatively fragile and could be damaged by locks, racks or other commuters.
The latest race content, interviews, features, reviews and expert buying guides, direct to your inbox!
Based on the Gold Coast of Australia, Colin has written tech content for cycling publication for a decade. With hundreds of buyer's guides, reviews and how-tos published in Bike Radar, Cyclingnews, Bike Perfect and Cycling Weekly, as well as in numerous publications dedicated to his other passion, skiing.
Colin was a key contributor to Cyclingnews between 2019 and 2021, during which time he helped build the site's tech coverage from the ground up. Nowadays he works full-time as the news and content editor of Flow MTB magazine.
The latest race content, interviews, features, reviews and expert buying guides, direct to your inbox!
Thank you for signing up to The Pick. You will receive a verification email shortly.
There was a problem. Please refresh the page and try again.