Best indoor cycling shoes
Keep your feet cool during indoor efforts with our pick of the best indoor cycling shoes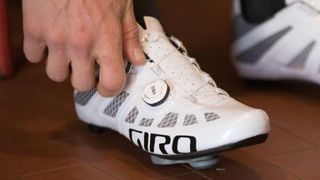 (Image credit: Giro)
Riding inside brings with it a whole new set of rigours and, while your current shoes will probably work just fine, you might be more comfortable in something else. 
Whether you're looking to prolong the life of your high-end kicks, or maybe you're after something a bit more forgiving as you plug away at indoor miles, a second pair of shoes may improve your indoor cycling experience.
Read on for Cyclingnews' picks of the best indoor cycling shoes, as well as a rundown on what you need to know. 
Two- or three-hole cleats
For the most part, road shoes use a three-bolt mounting system (unless you're using Speedplay), and mountain-bike shoes will use a two-bolt setup. If you're looking to get shoes for a spin class or something like a Peloton bike, all spin bikes have pedals that work with two-hole SPD cleats, while some will also have a Look Delta pedal on the underside. 
Your road bike will already have pedals screwed into the cranks, but if you're putting together a dedicated indoor setup, it might be worth looking at a pair of MTB shoes. With lugs designed for scampering up steep inclines, and over rocks and roots, MTB shoes have considerably more traction than road shoes; something you're likely to appreciate if you've ever tried to run to the bathroom mid-workout and hit the tiles with a bit too much speed.
Sole 
It's well established that carbon-soled shoes are stiffer and lighter than their nylon or carbon-reinforced cousins. However, when you're spinning on the trainer, weight is hardly a consideration, but comfort should be. 
The vast majority of us can't flex the board-stiff carbon plate on a top-end race shoe, and shoes that are too stiff can cause undue stress on knees and ankles – especially when the bike is essentially bolted to the floor. A small degree of flex vastly improves comfort and helps alleviate overuse injuries without sacrificing much, if any, power transfer or efficiency. 
Nylon soles on offer today are plenty rigid enough to make for efficient power transfer, but, with a bit more flex than their carbon compatriots, they can offer improved comfort and don't leave quite as big a dent in your wallet. During long indoor sessions, you're not moving around on the bike the way you do riding outside, and so some areas that otherwise wouldn't bother you can get a bit irritated – which is something less-rigid shoes can sometimes help with.
Ventilation
Riding inside is a sweaty proposition at the best of times, and the airflow keeps your feet cool as you spin down the road is of course gone. A shoe that relies on pin-prick perforations, therefore, is going to become a sauna.
To keep your little piggies from becoming crispy bacon, look for shoes that have lots of mesh and an open design.
Sign up to the Cyclingnews Newsletter. You can unsubscribe at any time. For more information about how to do this, and how we hold your data, please see our privacy policy
Thank you for signing up to Cycling News. You will receive a verification email shortly.
There was a problem. Please refresh the page and try again.