Best GoPro cameras
Capture your adventures with the best GoPro cameras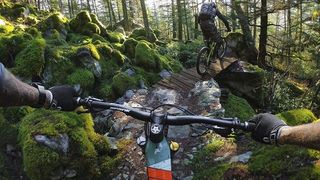 (Image credit: GoPro)
GoPro cameras offer a wealth of features beyond simply being a small, waterproof and crash-proof camera that can be mounted to anything. With all these extra features, choosing the best one for cycling is now a lot more complicated.
Not simply video, GoPro cameras come with photo and time-lapse features as well as live streaming and GPS, so that whether you are on a family holiday or shooting a tv show, you have everything required to capture amazing moments. However, a cyclist's needs from a GoPro is likely to be different to that of deep-sea divers or holiday adventurers. While depth rating is likely to be low on the priority list, things such as battery life, low-light picture quality and fitment simplicity will hold more weight in the decision-making process.
To help you choose which GoPro to buy, we've rounded up the reasons why we love them.
Best overall
A truly versatile action camera fit for cyclists
GoPro is the biggest name when it comes to action cameras, and the GoPro Hero 9 Black is its best action camera ever. It's one of very few action cameras capable of shooting 5K footage, which will be great for the more action-packed videographers looking for stunning imagery, but it will also benefit anyone simply looking for the best quality footage when mitigating against dangerous drivers. The front screen offers vloggers a new dimension, and the improved battery life will add another 20 minutes or so to your ride.
The Hero 9 is the pinnacle of what action cameras can do, so if you're looking for the absolute best action camera available, then this is your pick, but the fact of the matter is that if you can make do with 4K and a lack of a front screen, then the Hero 8 still packs a huge punch, and likely with a discount.
Runner-up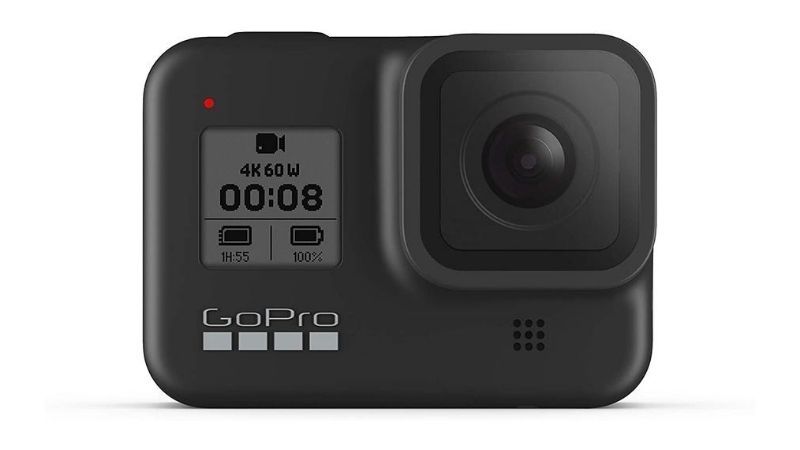 The feature-rich, range topping option is still at the forefront of what is possible
Packed with features, the Hero 8 is still at the forefront of what is possible from an action camera whether capturing action sports or vlogging.
Video quality has been upped thanks to Hypersmooth 2.0 and TimeWarp 2.0 as well as higher bitrates and 1080p live streaming. Photo quality has also seen a boost with an improved HDR mode.
While the form factor is almost visually identical to the previous three models, there have been some huge updates with the introduction of GoPro Mods. To meet the increasing demands of vloggers and home filmmakers GoPro's Mod features allow you to boost the capabilities of the standard camera. The most important Mod is a multi-directional mic with an additional 3.5mm external mic port for much better audio. The mic Mod features two cold shoe accessory mounts which can be used to attach a flip-up display for self-framing when talking to the camera or a 200 lumen LED light for dark conditions.
Hypersmooth
The Hero 7 may no longer be the top dog action camera but it still packs a punch
When GoPro launched the Hero 6 Black it received a mixed reception and cast doubts on GoPro's future at the top of the action camera market. GoPro's response was the Hero 7 Black and the naysayers were silenced.
The headline feature of the Hero 7 Black is Hypersmooth, previous GoPro models have featured image stabilisation but the Hero 7 Black is the first GoPro that performs well enough to ditch the gimbal. Not only this but Hypersmooth is even available when recording 4k footage at 60fps.
The Hero 7 Black also boasts TimeWarp stabilised time lapses, 12mp HDR photos and live streaming features. This is all controlled by a high-quality touch screen that uses swipe gestures to navigate modes and settings quickly.
Simple to use
An action camera suitable for those looking to create stunning footage with a less complex interface
For most, the professional features of the Hero 7 Black will be overkill, this is where the GoPro Hero 7 Silver comes in.
Stripped of features such as Hypersmooth, ProTune and the myriad of recording modes that feature on the higher tier model, the slimmed-down Hero 7 Silver still produces beautiful stabilised 4k footage at 30fps and Wide Dynamic Range (WDR) photos.
The Hero 7 Silver offers the same rugged waterproof exterior and intuitive touch user interface as GoPro's flagship model. The classic GoPro front status screen has been dropped instead relying on the rear touch screen, a range of beeps and LED flashes to let you know when it is recording.
Unique
A 360-degree camera that offers a range of post-processing options to make professional-looking video accessible to all
While creating 360-degree content can offer both immersive virtual reality content or super abstract angles, it's actually the GoPro Fusion's Overcapture and Max HyperSmooth Video Stabilization features that are the real selling points.
Recording full 360-degree video, you can reframe in post-production using the GoPro app to get the perfect shot. Gone are the days of poor framing and missed moments behind the camera. The footage is automatically stabilised in post-production using the Fusion Studio app and produces unrivalled gimbal like footage.
GoPro isn't alone in the 360-degree camera market but the Max manages to pack a bunch of features, extra sensors and voice control into a classically rugged waterproof GoPro design making it appealing for hectic action sports and creative filmmakers.
Sign up to the Cyclingnews Newsletter. You can unsubscribe at any time. For more information about how to do this, and how we hold your data, please see our privacy policy
Thank you for signing up to Cycling News. You will receive a verification email shortly.
There was a problem. Please refresh the page and try again.