Best cycling shoes
Our pick of the best road cycling shoes available, with designs that take into account stiffness, comfort, ventilation and style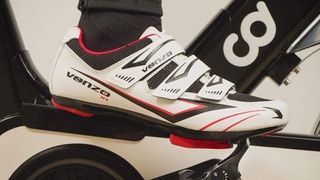 (Image credit: Venzo)
One of the key contact points between you and your bike is at your feet. In the 1970s and 1980s, companies like Cinelli and Look developed the first popular clipless road bike pedals, which allowed shoes to clip in and out of pedals without the need for the previously-common toe-clip. This was achieved using springs in the pedal and plastic cleats on the soles of the shoes, and it helped to improve pedaling efficiency and power transfer.
In the past three decades, clipless pedals and shoes have been used almost exclusively at the top of the sport and various shoe brands have emerged to further improve pedaling efficiency with the introduction of stiff carbon fiber soles and various fastening systems for improved power transfer.
Choosing the best road cycling shoes for you can be a difficult process, and if done incorrectly, it can be an expensive endeavor. So here's our guide on how to buy the best cycling shoes for you, followed by our pick of the best shoes.
Fit
When looking for the best cycling shoes, the most important factor is fit. The majority of cycling shoe manufacturers offer a wide range of sizes, often incorporating half sizes, with some brands also offering 'wide fit' options. We recommend you try before you buy, as various manufacturers have reputations for producing narrow or wider fits. Some brands, such as Bont, also allow home custom molding through careful heating of the shoes in an oven.
There's also a variance in the conversion across EU, US, and UK sizing with different brands - and sometimes even different models from the same brand. In our testing, we've found that an EU46 is usually a UK size 11, but it can and does vary.
Arch support is generally built into the shoe, with some offering a flatter base than others. Rapha, Shimano, and Giro offer an adjustable insole with their shoes, but for those with particularly high or low arches, different insoles can also be retrofitted to your shoe of choice, with various options depending on the arch of your feet. Specialized's Body Geometry footbeds are well renowned in this sphere, alongside its custom footbed option. This will not only improve comfort and pedaling efficiency but can also help to prevent injuries.
Construction
All of the best cycling shoes feature carbon fiber soles that help to simultaneously reduce weight and increase stiffness, creating an efficient pedaling platform to ensure all of your energy transfers through your pedal stroke to the drivetrain.
Uppers are often made with synthetic materials, although a few brands continue to use leather, and a number of shoes are now available with a knitted upper, which proposes greater comfort and breathability.
The construction and durability should play a part in your choice, as the longer a pair of shoes last, the better value they become. Even after they've become tattered and beaten, if they still stand up to the daily grind, then they can be paired with some overshoes and relegated to your pair of bad weather or winter shoes, which will be cheaper than buying dedicated winter cycling shoes.
Sidi shoes, for example, have a reputation for being heavy but have replaceable heel and toe pads and are known for their hard-wearing characteristics and longevity versus some other similarly priced shoes.
Other options from the likes of Specialized can be very lightweight and stiff but don't offer replaceable pads on the sole, which can be a put off for some.
Other considerations to think about when buying cycling shoes are weight and ventilation. If you're only going to be riding in the toasty summers of Southern Europe, then knit or a well-vented shoe will likely be a better choice. If you're racing predominantly in the North of England, then perhaps look for something with a bit more coverage, or expect to need overshoes.
Fastening
The choices here include traditional laces, velcro, Boa dials, or a proprietary variation thereof.
Laces tend to offer a good level of upper-foot comfort and adjustability at a low weight. However, it's not possible to adjust a lace without stopping at the roadside, and a white fabric lace will soon become grey and dirty if riding in bad weather.
Velcro or straps tend to offer a similar level of adjustability with on-the-fly adjustment available, but it's not uncommon for the hook-and-loop to lose its secure feel after a year or so of use.
Rotary dials, such as those from the market leader Boa, pull cables across the foot to secure the shoe. A single dial will often have routed cables in the fashion of lace, while two dials will offer separate forefoot and upper foot adjustability. They usually include a quick-release option and are quick and easy to fasten up both pre- and mid-ride. The small downside is that they tend not to play too well with overshoes.
Sign up to the Cyclingnews Newsletter. You can unsubscribe at any time. For more information about how to do this, and how we hold your data, please see our privacy policy
Thank you for signing up to Cycling News. You will receive a verification email shortly.
There was a problem. Please refresh the page and try again.