Best bike saddlebags
Store all your essentials in one convenient place, with our pick of the best bike saddlebags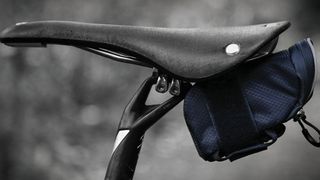 (Image credit: Lezyne)
Going on a ride is never as simple as just grabbing your bike and rolling out the door. However, a handy saddlebag will keep your spare tube, patch kit, tire levers, tire boot, multi-tool and a few other bits and pieces organized and together to make sure you aren't left stranded on the side of the road, calling a friend to come pick you up.
For the Velominati types, all of this can be stuffed in a pocket but will take up room that would otherwise be used for all-important snacks. For the rest of us, a saddlebag is the way to go. Here's our pick of the best.
How to choose a saddlebag for your bike
Saddlebags come in all different shapes and sizes and are attached to your bike via the saddle rails and sometimes seat post. Some use simple Velcro straps, while others employ Boa dials or more permanent clip-on attachments.
Size and shape
How much stuff are you going to need on a ride? Are you headed out for a few hours, or a week riding the entire Colorado Trail?
The former is what applies to most of us and a 0.5-litre bag will fit two road tubes, CO2 canisters and an inflator, a small multi-tool and some tire levers with a bit of Tetris. Pro tip: re-roll your innertubes with the valve in the middle (keep the valve cap on), it will be about half the size it was when you started.
Attachment
Many saddlebags use basic velcro straps attached to your saddle. This is the lightest weight and arguably the most secure option - just make sure to watch where the rough side of the hook and loop ends on your seat-post, if it's in a bad spot or peels up a bit you may wear a hole through your shorts.
Of course, every brand in the bike industry is continually searching for a point of difference, and thus seat packs that use a bracket on the seat post or saddle rails also exist. These are often a bit heavier, and we have seen a few hit the eject button over rough sections of road.
Regardless of how they attach to your bike, most bags will use a zip to keep everything inside, while strap-on tool rolls may use buckles or even Boa dials.
Sign up to the Cyclingnews Newsletter. You can unsubscribe at any time. For more information about how to do this, and how we hold your data, please see our privacy policy
Thank you for signing up to Cycling News. You will receive a verification email shortly.
There was a problem. Please refresh the page and try again.