Best bike multi-tools 2023: Brilliant roadside repair
Keep your ride going with our selection of the best bike multi-tools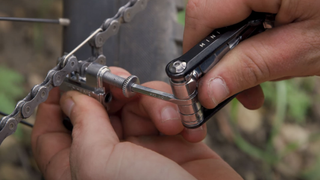 (Image credit: Topeak)
When it comes to addressing annoying issues like a rattling bottle cage, saddle adjustments, or fixing a broken chain, the best bike multi-tools can save you some frustration and those embarrassing "come rescue me" calls. Having the wrong multi-tool, on the other hand, can turn a simple fix into a disaster with stripped bolts and a few too many expletives uttered in a public space, followed by a humiliating ride home.
The best bike multi-tools come in a variety of shapes and sizes. Some of them are like mini workshops, packed with nearly every tool imaginable, while others take a more minimalist and lightweight approach, offering only the essentials. Striking the right balance between size and functionality is crucial, and making sure you always pack your multi-tool, alongside your best bike pump and a set of the best tyre levers will help you to remain self-sufficient on your rides.
The best bike multi-tools available today
They aren't meant to replace your toolbox, though. They're perfect for quick adjustments, testing out new components, or handling unexpected roadside repairs. Still, you don't want a poorly machined tool to strip the heads of your fixings, so the best bike multi-tools, while using lightweight materials for the body, are likely to use strengthened steel for the parts that interact with the bike.
That said, different cyclists have different needs – a commuter may want a simple tool that quickly and robustly adjusts a wheel nut, while a road cyclist with a high-end carbon frame will prioritise applying the correct torque to adjust their seat post. We've got you covered on both counts, and everything in between.
Read on for our pick of the best bike multi-tools our tech team reach for on the way out the door for a ride. Plus, if you're not sure which multi-tool is best for you, then scroll to the bottom of the page for our guide on how to choose the right one for you.
If you've taken a liking to fixing your bike yourself, be sure to also check out our roundup of the best torque wrenches and the best bike repair stands and, finally, don't miss out on our bike maintenance tips to reduce repair costs, which covers everything from tyre pressure to brake pad wear.
Topeak Mini PT30 multi-tool review
Best overall, like a mini toolbox
+ Super comprehensive tool selection
+ Quality tools
+ Includes tubeless tools
- Limited size
- Pricey at RRP
This is a genuinely brilliant piece of kit, more of a mini toolbox than a multi-tool, thanks to its wide range of really useful extras. This nifty little system will fit into even the smallest of saddlebags and, with help from the included neoprene pouch, it'll remain clean. It's pricier than some of its competitors but with Topeak's reputation for quality construction, it'll stand the test of time, making it an investment for the long term. Read our Topeak Mini PT30 review for more.
Best for a wide variety of tools
+ Valve core remover and quick link remover
+ Quick link holder
- L-Shaped keys complicate some jobs
Blackburn's Tradesman multi-tool has 18 built-in tools, with Allen heads from 2-8mm, two Torx bits, screwdrivers, a valve core remover and a disc pad spreader. There's also a chain tool with an integrated quick link splitter, and it even has a spot to store your quick link, so you don't have to dump out your entire seat pack to find it. It's heavy when you drop it onto a scale, and it's pretty big too, though this does give you a bit more leverage for loosening sticky bolts.
3. Fix-It Sticks Commuter Kit
Best for commuters
+ Versatile with replaceable bits
+ 15mm spanner for axle or pedal repairs
+ Different version for different needs
- Lots of pieces to keep track of
- Expensive when going beyond basic model
Fix-It sticks are a unique take on the multi-tool. The modular design features a T-handle wrench with a bit carrier on each end, to use it both as an L-handle wrench when you need some leverage or a screwdriver for hard to reach spaces. Alongside the usual bits, this version adds a 15mm spanner, a rarity among multi-tools, making it useful for running repairs on bikes with axle nuts. It could also be used as a pedal spanner in an emergency, and it also comes with tyre levers.
4. Topeak Ratchet Rocket Lite DX+
Best for getting into hard to reach places
+ Ratchet makes for fast use
+ Very compact design can get into small areas easily
+ Organised case
- Bits can be fiddly
- Not recommended for high-force tightening and loosening
- On the heavy side
Thanks to its low height and ratchet system, even the most awkward bolts can be tightened or loosened extremely quickly and easily with the Topeak Ratchet Rocket Lite DX+. There's a good range of bits as standard and the tool selection can be easily customised or replaced if one goes missing. There's a chain tool, a bit holder for extra leverage, and two slim but surprisingly effective tyre levers in its soft case. Magnets in the tool head securely hold the bits in place, stopping them from falling out and getting lost.
5. Birzman Feexman E-Version 5
Best minimalist bike multi-tool
+ Compact
+ Lightweight
+ Inexpensive
- Might not be enough tools to get the job done
Not everyone needs to carry an entire toolbox in their saddle bag. If you just need something small and lightweight that will get you out of a pinch, the Birzman Feexman E-Version 5 has three Allen keys, a T25 bit and a Phillips head screwdriver, and is certainly budget-friendly. Even so, it doesn't sacrifice any quality with an aluminium body and chrome vanadium hardened steel bits. It looks pretty slick as well, coming in silver and black versions.
Best for tubeless tyres
+ High-quality tools
+ Well-shaped plug fork
+ Blade is useful
- No 8mm Allen or chain tool
Offering the high quality typical of German brand Topeak, the Tubi 18 has the added extra of a well-equipped tubeless tyre repair feature. A nicely designed integrated fold-out compartment houses an air-stop tool to prevent further pressure loss and five repair plugs. As well as a thoughtfully designed fork tool to insert the plugs, it also has a serrated knife to trim away the excess, which can be locked in place to keep those fingers safe.
Best tool for stuck bolts
+ The best looking tool of the bunch
+ Case is functional
- Bits can come loose
Hidden inside a nifty magnetised metal case, the Crank Brothers F15 actually has 16 tools including Allen bits ranging from 2-8mm, a T25 Torx, Phillips and flathead screwdrivers, a removable chain tool and spoke wrenches. The case can also be used for additional leverage, which is handy to create extra torque if you're using the larger Allen bits. It's not light, but it slides into a pocket with ease, and there is an integrated bottle opener to help you with your post-ride mechanical work.
8. Silca T-Ratchet + Ti-Torque kit
Best for protecting carbon parts
+ 72-point ratchet works as T-handle or mini-ratchet
- RRP is rather high in comparison to traditional tools
- Torque markings are extremely close together and difficult to read
Saddle height adjustment is scary when you're working with carbon; over-torquing is always a danger. Silca's T-Ratchet and Ti-Torque bar mitigates that stress. It also has a 72-point ratchet, allowing the wrench to be used as a T-handle, a standard ratchet or even a screwdriver. The kit comes with 10 high-quality hardened bits made of S2 steel, which can be interchanged should you need different sizes, and it's all kept together in a waxed canvas wallet.
9. Park Tool IB-3 I-Beam Multi-tool
Best for something a bit different
+ Design allows for additional leverage
+ Fits into tight spaces
- Lots of pieces to keep track of
- Don't forget a real tyre lever
The Park Tool IB-3's unique I-beam design sheds some wasted space and material, allowing the tool to fit into tighter places. With 1.5-8mm Allen heads, T25 Torx head, flat head screwdriver, composite wrapped tyre lever complete with 8mm box wrench and spoke wrenches, and a chain tool, the IB-3 packs a lot of drivers into a surprisingly small space. Cleverly, the 8mm box wrench in the tyre lever is used to drive the plunger on the chain tool.
Best for space saving
+ Neoprene case
+ Compact
+ Tons of tools
- Not feathery light
- Metal, rather than plastic, tyre lever
The Mini 20 is Topeak's most fully-featured minimalist multi-tool, with 23 tools packed into a surprisingly small and compact package (and a nice neoprene case). Alongside the usual bits, it comes with a chain breaker with integrated spoke wrenches, while the pin is driven by the 3mm Allen head to give you extra leverage when trying to punch the pin out of a broken link. Metal tyre levers are also included, but best avoided if you have carbon rims.
How to choose the best bike multi-tools
What is a bike multi-tool?
A bike multi-tool is a compact and versatile tool designed specifically for carrying out emergency roadside repairs or quick on-the-fly adjustments during your ride. They're always portable, small enough to carry in a pocket or saddle bag, and combine various tools into a single unit, like a Swiss army knife.
Typically, a multi-tool will come with a range of Allen key heads in different sizes, which are used for tightening and loosening bolts and screws. These make it possible to adjust your saddle height, or tighten a loose and rattling bottle cage or mudguard, for example. They also tend to feature Philips and flathead screwdrivers, as a minimum.
Other tools included vary from model to model, making some better suited to certain uses than others. Whether or not you want a multi-tool that comes with tubeless tyre repair parts, a chain breaker tool, or Torx wrenches, is totally up to you and your individual needs.
What tools should I carry on my bike?
No one wants to be loaded down with a full tool kit while riding, so cyclists often carry a multi-tool that fulfils most of the duties that are likely to be required. More often than not these are small adjustments to seat posts or gear lever placements, but also you want cover for worst-case scenarios.
While many cyclists will also carry a puncture repair kit of sorts, some of the best bike multi-tools come with elements to help with this, such as tyre levers or even tubeless tyre repair kits.
Regular home maintenance can help keep your bike running smoothly, and hopefully prevent some of the most common issues from happening in the first place. If there is a specific component you have been having trouble with, you could always bring out the particular tool you know will help you to adjust it, rather than attempting to cover for all eventualities.
What do you need in a bike multi-tool?
The majority of your bike can be disassembled with a 4mm and 5mm Allen key so, at the very least, the best bike multi-tools should have Allen keys with these two sizes. It's also worth having a 6mm. While some tools may have an 8mm or 10mm bit, quite often they aren't much use because the tool doesn't offer enough leverage to break a bolt that size loose.
Some bikes also use Torx bolts, usually in a T25 and sometimes a T30, and a small Phillips head screwdriver also comes in handy for derailleurs.
The other tool we prioritise on a bike multi-tool is a chain splitter. Even if you have a quick link in your spare tyre kit, you'll need a chain tool to pop the old link off. Quite often the chain tool will also have spoke wrenches built into the lever.
And along with the rise of tubeless tyres comes the need for new tools. A valve core remover isn't something many will need to use at the roadside, but if you don't have one at home (or if you lost it again), then it's good to know there's one built into your multi-tool.
A recent en-vogue tool is the tubeless tyre plug and, as such, more and more multi-tools are adding these to the list. If you run tubeless on a gravel bike, then this will be a worthwhile addition, but if you're a roadie running latex tubes, then it's just unnecessary extra weight in your pocket.
Which bike multi-tool will last the longest?
A bike multi-tool might not be something you use all that often, especially if you have a tool kit at home, but it is probably going to spend a lot of time in your pocket or saddlebag exposed to the elements. The last thing you want is to pull your tool out to fix a roadside issue to find all the Allen keys have corroded into place, or have a cheaply made tool break when a little bit of pressure is applied.
It is a balance between convenience and durability, but it is wise to opt for a multi-tool with a strong build quality, using precision-machined, hardened steel for the tools, rather than solely making your choice based on weight or size.
Which extras should I look for?
Some more extensive bike multi-tools have extras such as tyre levers, torque wrenches and bottle-openers. While a torque wrench can be useful out on the road, primarily if you're dealing with carbon components, the rest is a matter of personal opinion – do you think it's worth carrying the extra grams?
Ultimately, tyre levers only weigh a few grams, and even an expensive set doesn't cost all that much or take up much space in your pocket. When it comes to multi-tools with fun additions such as knives, pliers and bottle openers, they might be used once in a blue moon but are they really going to be useful for your Sunday club ride? Once again, it all comes back to considering your own specific needs.
Get The Leadout Newsletter
The latest race content, interviews, features, reviews and expert buying guides, direct to your inbox!
Mildred joined as Reviews Writer for Cyclingnews and BikePerfect in December 2020. She loves all forms of cycling from long-distance audax to daily errand-running by bike, and does almost everything on two wheels, including moving house, and started out her cycling career working in a bike shop. For the past five years she's volunteered at The Bristol Bike Project as a mechanic and session coordinator, and now sits on its board of directors.
Since then she's gone on to write for a multitude of cycling publications, including Bikeradar, Cycling Plus, Singletrack, Red Bull, Cycling UK and Total Women's Cycling. She's dedicated to providing more coverage of women's specific cycling tech, elevating under-represented voices in the sport, and making cycling more accessible overall.
Height: 156cm (5'2")
Weight: 75kg
Rides: Stayer Groadinger UG, Triban RC520 Women's Disc, Genesis Flyer, Marin Larkspur, Cotic BFe 26, Clandestine custom bike