UCI Road World Championships Live - Elite-U23 Women's Time Trial
All the action from the opening event of the 2022 Worlds

UCI Road World Championships 2022 - Results and news
UCI Road World Championships 2022 - The Essential Preview
How to watch the 2022 Road World Championships – live TV and streaming
2022 UCI Road World Championships – 6 riders to watch in the elite-U23 women's time trial
Race notes
- 2022 Worlds kick off with women's time trial - elite and U23 categories
- Two laps of a technical 17.1km circuit for a total distance of 34.2km
- Ellen Van Dijk (Netherlands) the rider to beat as the 2021 champion
Refresh
Hello and welcome to Cyclingnews' live coverage of the 2022 UCI Road World Championships.
Worlds week kicks off here with the individual time trial for elite women and - for the first time ever - U23 women.
For the first time at Worlds, the women will cover the same distance as the men, sharing a 34.2km route that will run along two laps of a circuit starting at Market Street and ending on Marine Drive in Wollongong.
The technical circuit will start at Market Street and head past the Wollongong Botanical Gardens and into a climb as the course runs along a part of Mount Ousley Rd before shifting onto the adjacent Dumfries Ave. The ascent peaks at the 7.2km-mark, which is the first intermediate time check.
Riders then head back toward Towradgi before opening up into a less corner-heavy section along the coast and taking their first pass of what, at the end of the next lap, will be the finish line.
The route will demand a blend of technique and power, with the more skillful bike handlers enjoying the early technical aspects before the more powerful riders likely take advantage of the straighter coastal run-in to the finish along Wollongong Beach.
Spanish rider Lourdes Oyarbide Jimenez has taken off on the 34.2km course.
Now Grace Brown is taking off. The Australian is recent Commonwealth Games TT champion and she's greeted by a huge reception.
There are 35 riders left to take the start.
Ricarda Bauernfeind (GER) who riders with Canyon//SRAM has set the fastest intermediate time split at 10.48.
Belgian Lotte Kopecky is next up which concludes the first wave of riders.
Alison Jackson (CAN) is the fastest through the intermediate time check so far with a 10:38.
In total, we have three waves of riders, and in each wave, there are some medal contenders.
Ricarda Bauernfeind is the first arrival to the finish line. The German sets back out to start her second lap.
Grace Brown is the fastest through the time check with a time of 10.05. That's 33 seconds faster than Jackson.
The wind is definitely picking up on course and is turning a little gusty. The speeds are predicted to reach up to 40km/h.
Kopecky goes through the intermediate sprint second fastest at 10:35, not a challenge to Brown's time at this point.
In just about 10 minutes will have the next wave starting, with Wing Yee Leung (Hong Kong) kicking things off.
Now Brown flies through the finish line to head back out into Wollongong city which features the more technical part of the course.
Brown is about to catch Julie Leth who started 1.5 minutes ahead of her.
Shirin van Anrooij (NED) sets the fastest time in the second time check of 34.45.
22-year-old Ricarda Bauernfeind (GER) is the first rider to finish their effort and sets the benchmark time of 47.38.
And the second wave of riders is underway. Ashleigh Moolman (South Africa) is the second rider off.
Grace Brown is on her way to the finish. Just 3km left for the Australian.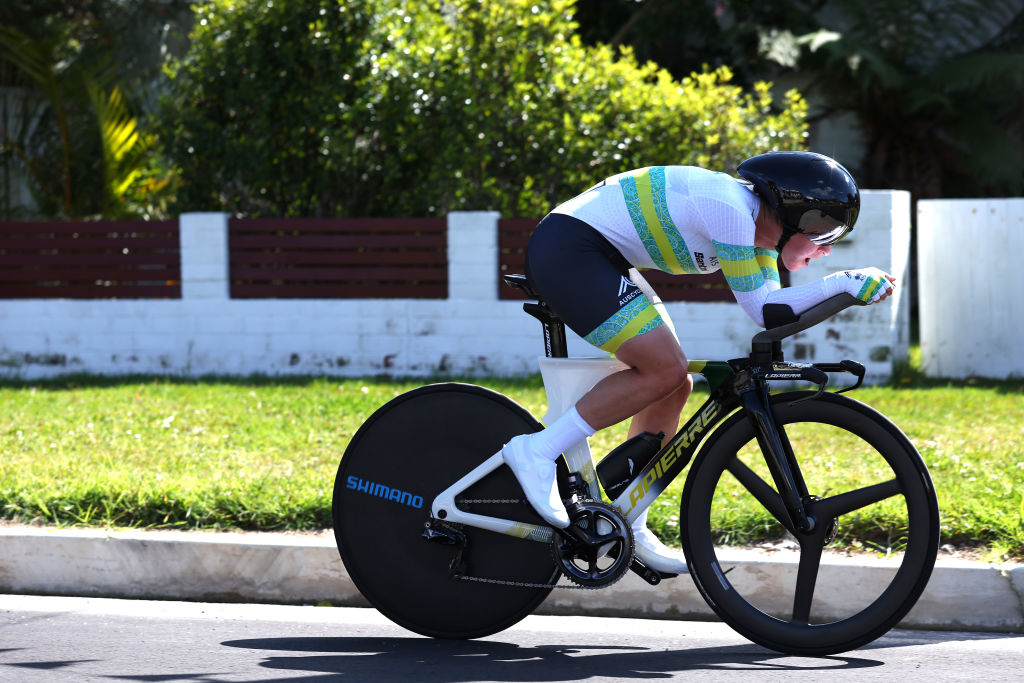 Lotto Kopecky: "I will start with a good pacing plan and I will see where that brings me. But I can tell you that I have no podium ambitions. I think that's way too high, but I just want to have the feeling that I can suffer and my numbers are good. That, for me, is more important."
And Grace Brown puts herself in the hot seat with a time of 44:41. Nearly 46kph average for the Australian.
For the first time in world championships history, under-23 women will compete for world titles as part of combined events held within the elite women's time trial and road race in Wollongong, Australia. Read about whether it's a step toward parity or a missed opportunity in this feature by Kirsten Frattini.
Annemiek van Vleuten (NED) is getting ready to set out in this wave. She's looking very focused.
Kristen Faulkner (USA) has taken the start.
The first rainbow jerseys will be awarded at the combined elite and under-23 women's time trial on September 18 at the 2022 UCI Road World Championships in Wollongong, Australia. Read more about who to watch while we're underway in this preview by Kristen Frattini.
Zainab Rizwan of Pakistan is currently on course. So far no one is troubling Grace Brown's time.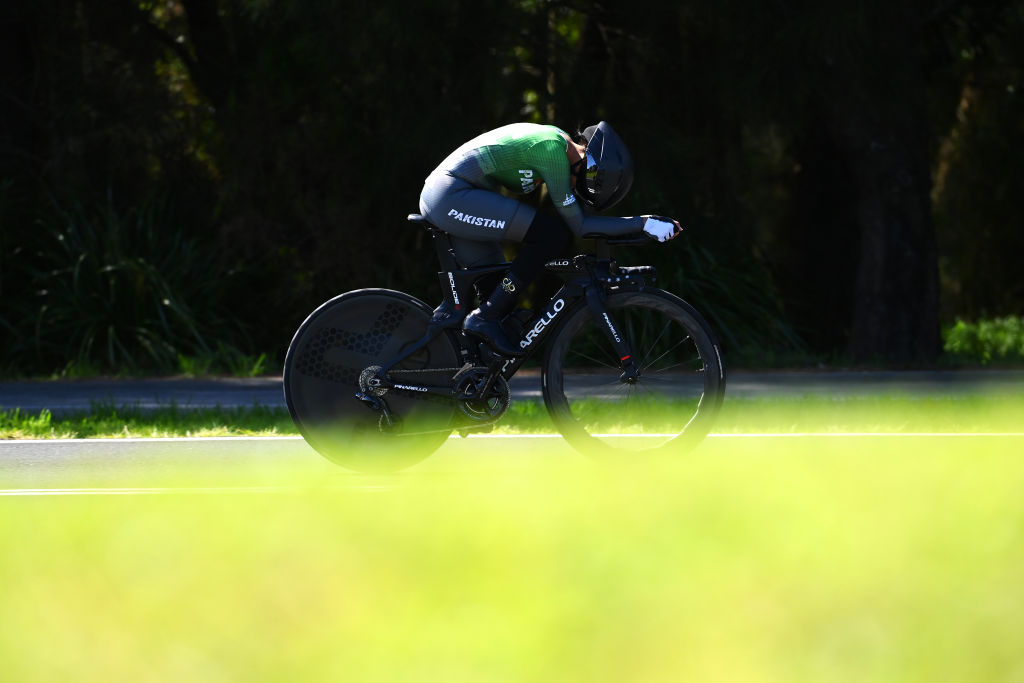 Van Vleuten comes through the intermediate time check down on Brown's time with at time of 10.31 to Brown's 10.05.
Van Vleuten is 20km to the finish. All the riders from this wave have started.
We're hearing that Alison Jackson (CAN) crashed during her race: "Coming from a tailwind downhill into a left turn, the wind blew me over a little bit more than I was expecting to and I got too close to the barrier. So yea, I slid out, but got back up pretty quick."
Moolman-Pasio will be the first rider to finish in this wave. She has about 1.3km to go.
Vittoria Guazzini is underway. The 21-year-old Italian is a contender for the U-23 category.
Kristen Faulkner (United States) comes through the second time check with a 33:54, which is more than a minute slower than Brown.
Van Vleuten is also a minute down on Brown! It's looking good for the Aussie at this point.
Faulkner is sitting in second. She's looking very smooth and is 12 seconds up on van Vleuten.
American Leah Thomas is about to take off. She's the current US national champion in this event.
Faulkner is just 1.2km from the finish and will likely be the second fastest rider in the race for a while.
And Faulkner is on the podium as she wraps up with 1:12 down on Brown.
Marlen Reusser (SWI) is off. She's a huge contender for the podium, after finishing second in the Olympics and World Championships last year.
And now we have defending champion Ellen Van Dijk (NED) setting off. She's the final rider to go.
Annemiek Van Vleuten (NED) had a disappointing TT which shall certainly fuel her motivation for the road race next weekend.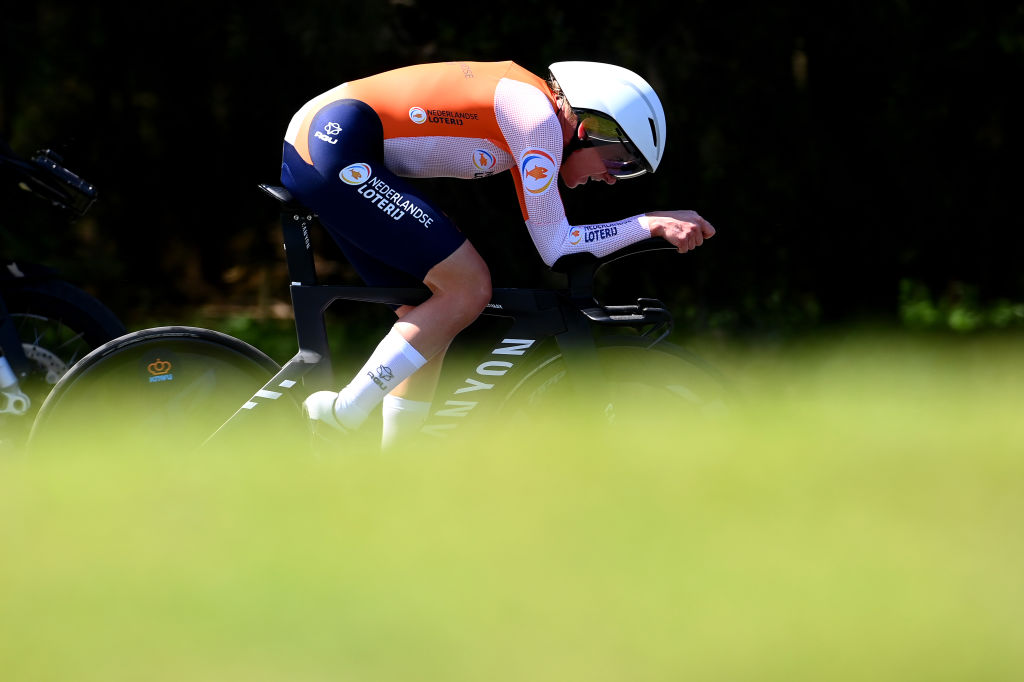 We have a new fastest time on the first time check. Reusser is 1.2 seconds faster.
And now van Dijk comes through the intermediate check 8.8 seconds faster than the Swiss rider.
Suddenly, the table is turning on Brown. We have two riders on par with her in the opening kilometres.
Van Dijk is the only rider to come across the first intermediate check at 9.55.
Reusser is looking really strong as she crosses the finish line for the first time.
Thomas is struggling with pace on this course. She's not really factored as she hits the 10km to go point.
Vittoria Guazzini (ITA) is coming through and will be the new second fastest. she's 39 seconds slower than Brown's time.
Reusser just overtook Emma Norsgaard and on her way to the second intermediate time check.
Van Dijk has 8.6km to go. She's looking very good at this point. But also, she's been forced to go out very hard because of Brown's time.
It's looking like the title could be van Dijk's. She's leading virtually with a massive advantage over Grace Brown.
Thomas comes across in provisional third and now there are five riders left on the course.
The conclusion of this time trial is almost in sight. Reusser is 1km to the line and it looks like silver will go to Brown.
And van Dijk takes the title with a time of 44.28. This was very close!
So the title goes to the Netherlands with Ellen van Dijk winning with a time of 44:28.60. Grace Brown (AUS) takes second at 12 seconds and Marlen Ruesser (SWI) will be third at + 41.6.
Ellen van Dijk (NED) on her way to another rainbow jersey.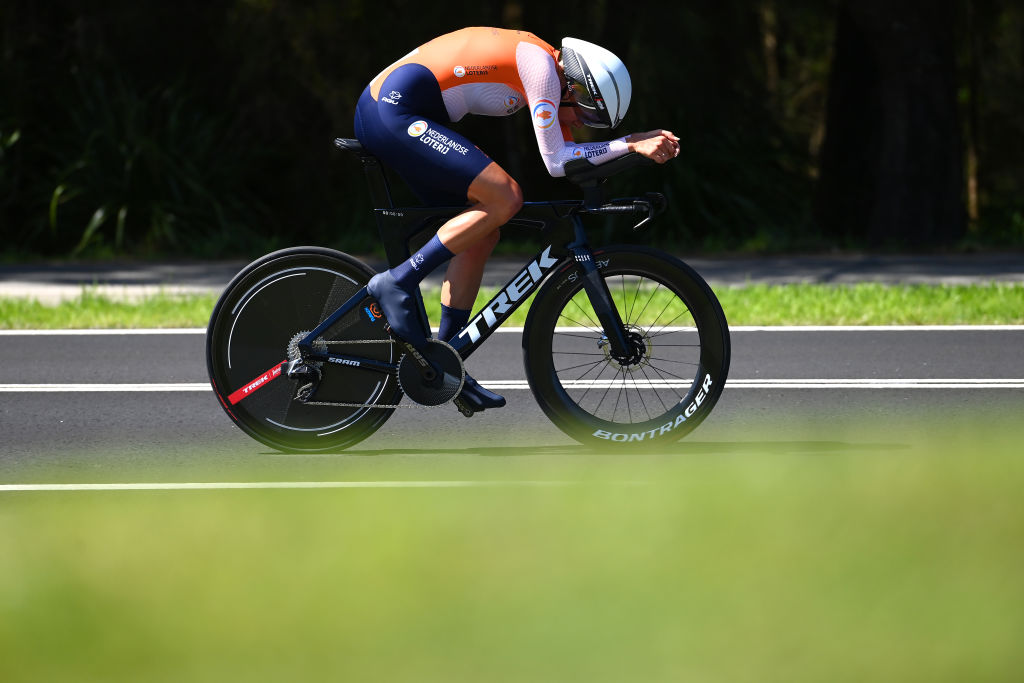 Van Dijk beats Brown to win third elite women's time trial title at World Championships - read about how it went down here.
Thanks for joining our live coverage of the Elite women's time trial. The men's TT will follow in 50 minutes.

Thank you for reading 5 articles in the past 30 days*
Join now for unlimited access
Enjoy your first month for just £1 / $1 / €1
*Read any 5 articles for free in each 30-day period, this automatically resets
After your trial you will be billed £4.99 $7.99 €5.99 per month, cancel anytime. Or sign up for one year for just £49 $79 €59

Join now for unlimited access
Try your first month for just £1 / $1 / €1