Paris-Nice stage 3 - Live coverage
By Patrick Fletcher published
All the action on a possible sprint day, but with more hilly complications
Refresh
Hello there and welcome along to our live coverage of Paris-Nice. We're two days in and what a two days they've been, with that extraordinary Jumbo-Visma 1-2-3 on the opening stage and then the crosswind/echelon drama yesterday.
Can today live up to all that? It's a largely flat stage and the last chance for the pure sprinters before things get much more GC-focused, with a time trial on Wednesday and hilly stages for the rest of the week. That said, this one is hardly a straightforward bunch sprint. The final 90km are rugged and undulating, while the final kilometre itself is gently uphill, opening the door to the punchier riders.
As we pick up the action, with 25km on the clock, we have a three-man breakaway with a lead of five minutes. All is calm.
The riders in the break are:
Thomas De Gendt (Lotto Soudal)
Owain Doull (EF Education-Easy Post)
Alexis Gougeard (B&B Hotels-KTM)
There's only a light breeze today and it doesn't look like we'll be getting the sort of chaos we saw yesterday. Alpecin-Fenix are working to control this breakaway at the moment.
You can catch up on all of yesterday's action, with report, results, and photos at the link below.
The breakaway trio have set out strong, covering 45.2km in the first hour.
Yesterday we saw Jakobsen and Van Aert battle it out and it could be the same again today. The QuickStep sprinter is faster in a pure drag race on the flat but Van Aert - for all his other qualities - isn't far behind and the 3% gradients in the final 2km today might just give him the edge.
Trek-Segafredo come to the front of the peloton. In Mads Pedersen they have a contender for today's draggy sprint.
120km to go
The gap still stands at 5 minutes.
The final 90km are where this stage start to get tricky. It doesn't look like much, and there may only be three categorised climbs - all cat-3 at that - but that constantly undulating terrain you can see in the stage profile adds up to nearly 2000 metres of elevation gain. It will sap the lags ahead of a final 2km on 3.5% gradients, where strength could end up being as important as speed.
Uphill sprints are always tricky to read, and the roadbook never gives a clear picture of how steep it actually is. The notion that sprinters can't climb doesn't really hold true on finishes like these because I've seen the biggest fastmen crunch what appear to be punchy finishes as if they were flat. It's probably down to the teams of the more versatile fastmen like Van Aert to put pressure on towards the end to soften the legs of Jakobsen and the rest.
It's International Women's Day today and, with the first Tour de France Femmes coming up this summer too, we've got a special feature today on the first ever women's Tour de France.
Featuring exclusive interviews with the winner, Marianne Martin, plus her US teammate Patty Peoples, alongside rarely-seen shots from photographer John Pierce, my colleague Kirsten Frattini unearths the story of the historic race and the trailblazers who raced it.
Marianne Martin: Remembering the magic of the 1984 women's Tour de France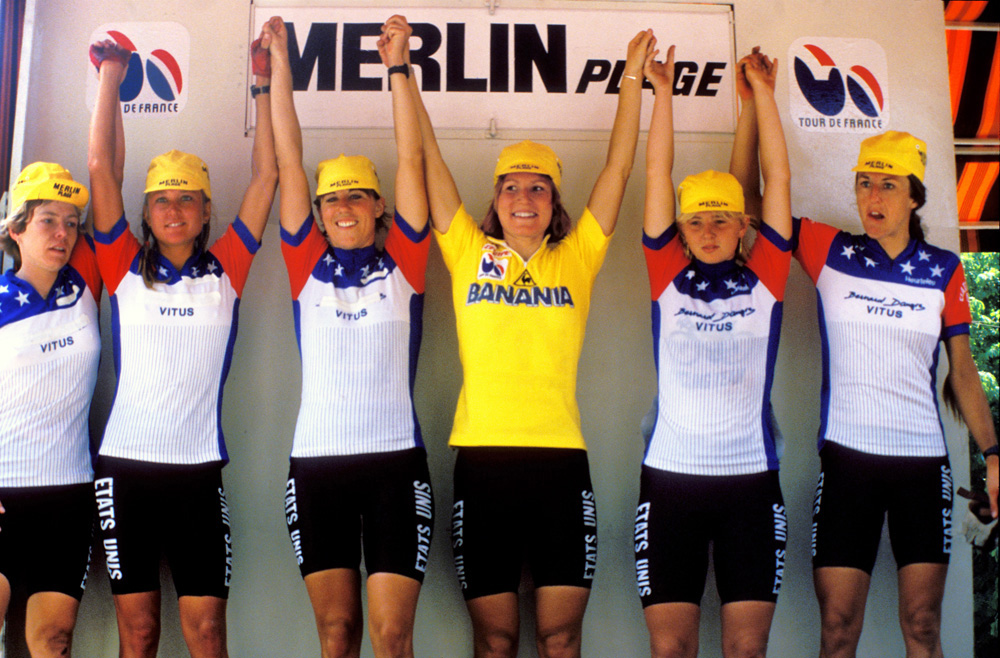 Here's a shot of our intrepid breakaway trio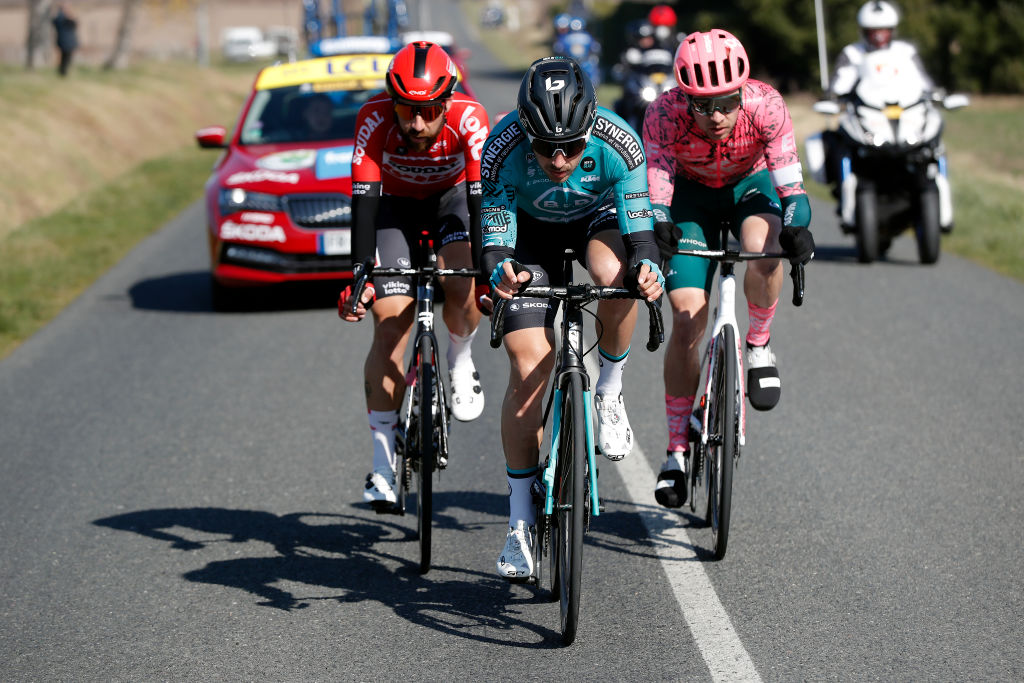 100km to go
Into the final ton and the gap is starting to come down now. It stands at 4:30 as Alpecin-Fenix and Trek-Segafredo continue to combine at the head of the peloton.
It's telling that QuickStep-AlphaVinyl aren't working today. They're never normally shy but this would indicate they don't believe wholeheartedly in Jakobsen's chances today.
And we can bring you some comments from Jakobsen himself now, on that very subject.
"If we look at the first stage, I would say today is too hard. On the other hand, we're now on the third day, you never know, we're going to try, but I'd say Wout van Aert and Christophe Laporte are the favourites," says the Dutchman.
"If it ends up being a bunch sprint, of course we will go for it. If there's a big breakaway we want to be in it but I don't think we're the ones to control the entire stage. It [the finale] is 1.7km at 4% - that's not something for a pure sprinter i think, so we have to gamble a bit and see in the end.
"It's an honest sprint. Probably the strongest guy will win today. Not a lot of tactics goes into that."
The average speed so far is a zippy 44.6km/h.
One of our top stories today concerns a car that was stacked with spare bikes. It was driving behind Filippo Ganna in yesterday's Tirreno-Adriatico time trial and was, we've discovered, giving him a slight aero advantage.
My colleague Daniel Ostanek got the lowdown from aerodynamics specialist Richard Kelso and has the full story here.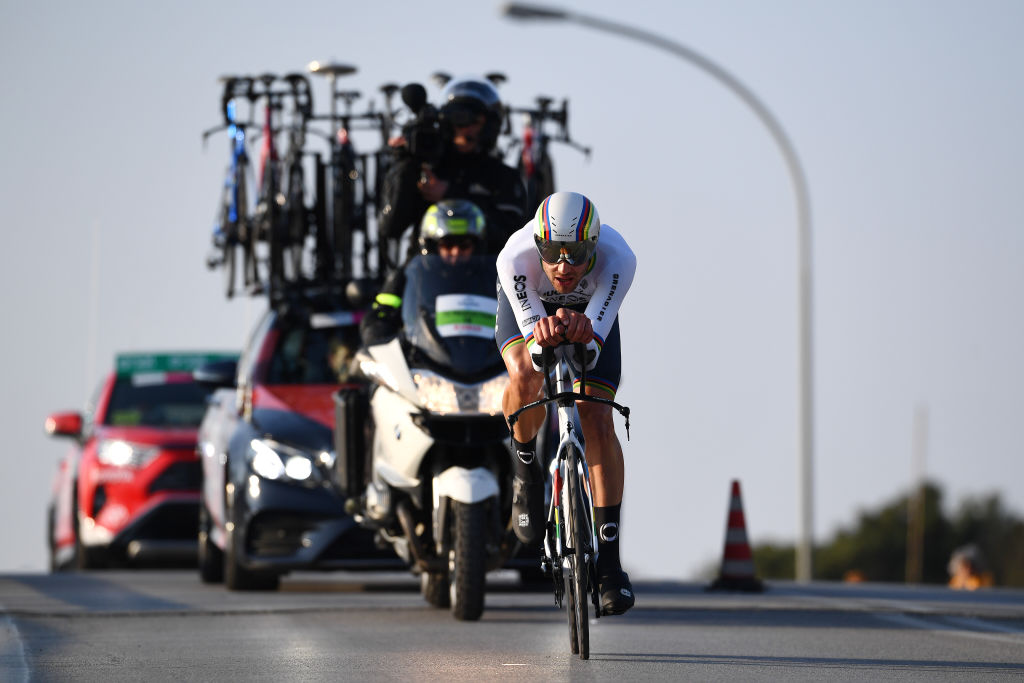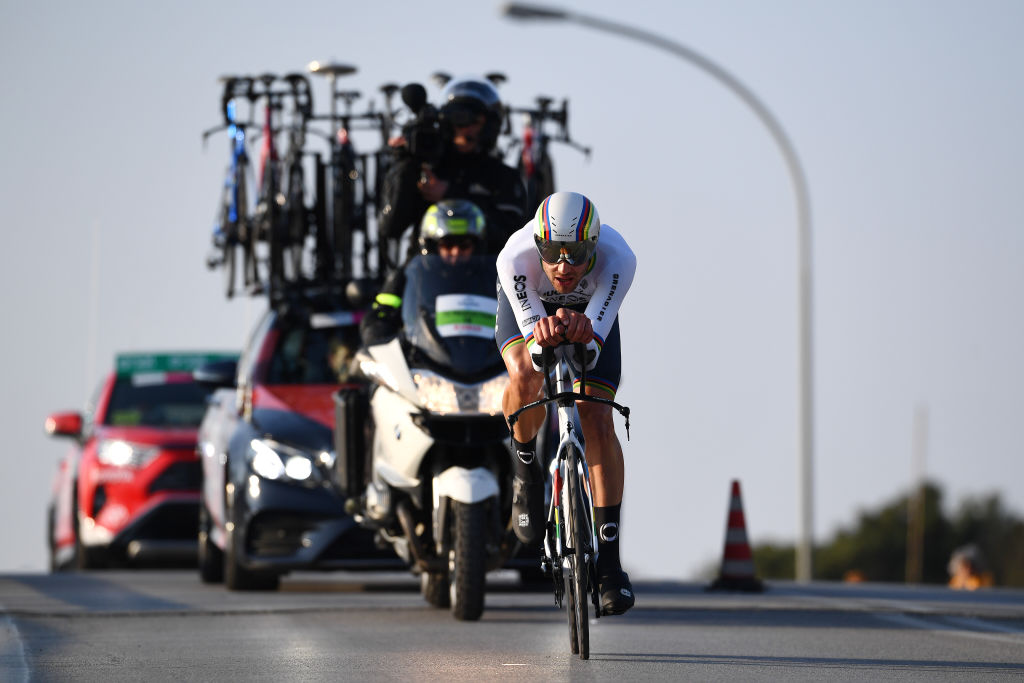 The hilly stuff has started and so begins a long wearing down process ahead of the finale.
It's not bad terrain for a successful breakaway but the fact that there are only three of them - and that they've been controlled fairly tightly so far - would point towards a bunch finish.
80km
That gap is down to four minutes now as we make our way towards the first of the day's climbs.
The breakaway hit the first climb. It's the Côte d'Eguzon and it measures 2.5km at 4.2%.
Race leader Christophe Laporte has confirmed that Jumbo-Visma are sprinting with Wout van Aert today. Laporte is in yellow after winning the first stage alongside Van Aert and Primoz Roglic in a team 1-2-3, and he led out Van Aert yesterday, even finishing third himself.
69km to go
De Gendt is first to the top of the climb to collect the maximum 3 mountains classification points. He's followed by Doull and then Gougeard.
The polka-dot jersey is on the shoulders of De Gendt's teammate back in the bunch, Matthew Holmes.
The gap continues to fall after the climb. It's down to 2:30 now.
58km to go
Up the Côte de Crozant (2.2km at 5%) now, and again it's De Gendt who takes the points at the top.
50km to go
Into the final 50 we go and the gap between our breakaway trio - Doull, De Gendt, Gougeard - and the peloton stands at 2:30.
We're nearing our finish town of Dun-le-Palestel and we're nearing the finish line. The riders will be crossing it shortly for an intermediate sprint and a preview of the uphill final straight, before setting out on a hilly 45km finishing loop.
De Gendt leads the breakaway through the finish line.
The peloton come through now and get their preview. It's a long and arrow-straight finish, with the dip down then making way for a steadily rising ramp.
43km to go
The peloton cross the line and take the bell, with the gap to the break down to 1:38.
Ineos hit the front as the pace intensifies on these narrow, twisting, and undulating roads.
Luke Rowe is looking to stamp his authority on this for Ineos, with Adam Yates tucked in behind. The pair of them, plus Dani Martinez, came through the crosswinds yesterday with flying colours.
DSM have posted a man to the front.
DSM have Cees Bol but this finish is probably more one for John Degenkolb.
Sam Bennett is right at the back. He'd ordinarily be the sort of sprinter you might expect to cope with a finish like today's but he's clearly far from his best shape.
The gap drops to 1:10 as we snake downhill, but the road will soon kick up for a sustained uphill section.
Ethan Hayter (Ineos) is dropped. He was 4th at Algarve but has been a shadow of himself since then and especially in this Paris-Nice.
32km to go
Attack! Soren Kragh Andersen (DSM) takes flight.
So that's what DSM were plotting. The Dane heads up the road but doesn't get any company for now.
Jumbo-Visma have come to the front to keep Andersen on a short leash.
It's Rohan Dennis on the front for Jumbo and he's pegging Andersen at 18 seconds.
There was a small crash just before and a few riders have been held up.
Trouble for FDJ. Both David Gaudu and Michael Storer are dropped and chasing together. It looks like they were held up by that small spill.
Brandon McNulty is dropped! He lost time in the crosswinds yesterday and it's looking like another miserable day for him here.
Soren Kragh Andersen has found 40 seconds on the peloton. He's only 20 seconds behind the breakaway now as the road continues steadily uphill.
27.5km to go
We're heading up towards the Côte de le Peyroux. The official climb measures 2.8km at 5.2% and will be starting in the couple of kilometres.
Kragh Andersen sits up, fiddles with his shoes, and starts to slide back towards the bunch. A strange move, that.
Cofidis have come to the fore now. They're working for Bryan Coquard - a sprinter, but a punchy one, as he showed at the recent Tour de la Provence.
Coquard has looked great since moving to Cofidis. He won in Besseges before taking that stage in Provence on an uphill finish, where he beat Julian Alaphilippe and Filippo Ganna in a sprint that also saw Nairo Quintana finish 6th.
Attack. It's a rider from FDJ.
The breakaway are already in sight as these attacks are launched.
24km to go
De Gendt, Doull, and Gougeard are caught. Breakaway done just as a new one is launched.
Quentin Pacher is the FDJ attacker. He's joined by Victor Koretzky (B&B Hotels)
Big development as Jumbo-Visma's pace-making proves too much for yesterday's stage winner. They're riding the fastest sprinter out of contention here.
But the pace is still not super strong. Kevin Geniets is able to launch a fresh attack for FDJ as the climb proper begins.
Geniets is joined by Mathieu Burgaudeau (TotalEnergies)
Geniets falls away and is caught. Burgaudeau carries on, 500 metres from the top of this climb.
22km to go
Burgaudeau springs out of the saddle and manages to hang on for the top of the climb, where he takes the maximum KOM points. The peloton follows just a couple of seconds later.
We dip downhill now and we're just a few kilometres away from Balsac, where we have a second intermediate sprint. Again, there are bonus seconds (3-2-1) on offer and this time we have no breakaway, so we could see Roglic and the other GC riders have a sniff.
Pierre Latour is interested. He gets a leadout from a TotalEnergies teammate.
It's Burgaudeau leading out Latour, and Roglic responds now. It strings out.
Latour hits out for it. Vansevenant is there and Roglic gets up there too. Adam Yates hits out too but doesn't collect any points.
Here's how the bonuses were divided up
Latour - 3 seconds
Roglic - 2 seconds
Vansevenant - 1 second
Gaudu is dropped again. He doesn't look right as he stretches his back. He finished dead last yesterday and was already well out of it.
17km to go
So, we now have a largely downhill run, plus a little lump, before our uphill sprint finish.
The yellow jersey is on the front. Laporte is the next man up to work for Roglic and Van Aert.
A few riders manage to get back in on the descent. Jumbo-Visma can call on Teunissen and Van Hooydonck once again.
AG2R and Movistar hit the front now alongside Jumbo.
Plenty of riders have got back in but haven't seen Jakobsen or Groenewegen yet.
Movistar have three riders in front of Ivan Garcia Cortina.
Bahrain are on the right but they've lost their rider who might have contended on a day like today - Sonny Colbrelli, who has bronchitis.
AG2R have put Damien Touze on the front with Clement Champoussin in his wheel.
8km to go
Attack! It's Soren Kragh Andersen again.
He already fired one bullet with his earlier attack but the Dane is on the move once more. Again, no response.
I spoke too soon. Olivier le Gac sets off. Groupama-FDJ are throwing in the attacks today now their GC is over.
Le Gac can't quite make it across to Andersen, who's going all-in.
They're not going anywhere here.
Le Gac is caught by the peloton. Andersen still dangling.
Movistar lead the chase and they're not letting this get away.
5.5km to go
Andersen is caught.
The attacks came on that little uphill kicker I mentioned but it's now downhill to the final 2km.
Here's a closer look at these final few kilometres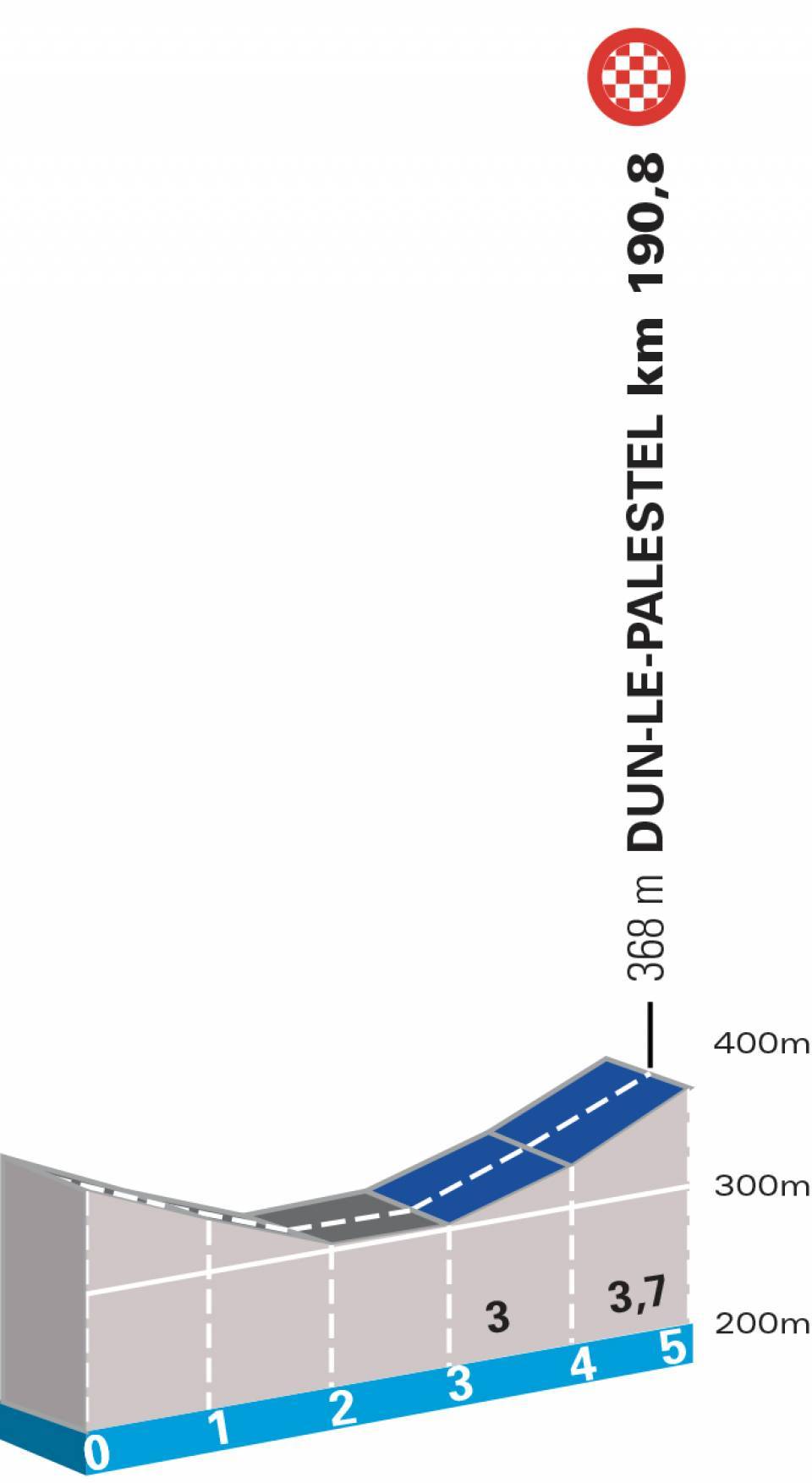 3.5km to go
Movistar have four on the front and are dominating this run-in
And now a DSM rider hits the front. They've attacked a couple of times but are now pulling. They still have Degenkolb.
But they pull off now and it's Movistar who pick it back up.
2km to go
Movistar lead us into the final 2. Jasper Philipsen is the fastest sprinter left but Wout van Aert should thrive on this uphill drag we have coming up
Here we go! The road starts to drag uphill
AG2R hit the front with three.
1km to go
And now an Alpecin rider takes over under the flamme rouge
Van Aert has two riders in front of him
An Intermarche rider takes it up for Girmay. Pedersen is well placed for Trek.
And now Pedersen is led out by Stuyven!
Crash behind! Laporte is down
Pedersen is hitting out though. Van Aert responds...
But Pedersen is holding him off!
Coquard also challenges but Pedersen wins convincingly
Mads Pedersen (Trek-Segafredo) wins stage 3 of Paris-Nice
Great lead-out from Stuyven, who launches Pedersen with 250 metres to go. Van Aert is in the perfect position on the Dane's wheel but simply doesn't have the power to compete. Coquard nips around Van Aert in the closing metres and Philipsen nearly does the same.
Laporte gets up and finishes, his shorts ripped, shaking his head. He'll be given the same time and will retain the yellow jersey by a single second.
Stage

| Place | Rider (Country) Team | Result |
| --- | --- | --- |
| 1 | Mads Pedersen (Den) Trek-Segafredo | 04:23:29 |
| 2 | Bryan Coquard (Fra) Cofidis | |
| 3 | Wout Van Aert (Bel) Jumbo-Visma | |
| 4 | Jasper Philipsen (Bel) Alpecin-Fenix | |
| 5 | Anthony Turgis (Fra) TotalEnergies | |
| 6 | Biniam Girmay (Eri) Intermarché-Wanty-Gobert Matériaux | |
| 7 | Fred Wright (GBr) Bahrain Victorious | |
| 8 | Danny van Poppel (Ned) Bora-Hansgrohe | |
| 9 | Ethan Hayter (GBr) Ineos Grenadiers | |
| 10 | Juan Sebastian Molano Benavides (Col) UAE Team Emirates | |
Let's hear from the winner
"We missed out yesterday with a bit of bad luck with [Alex] Kirsch having a problem and me losing the chain. We wanted to make it up today and the boys did a fantastic job the whole day to make it as easy as possible for me. It was a perfect lead-out from Alex and Jasper.
"It's my first WorldTour win in a long time and it's really nice to start out well. This is a good direction for the Classics coming up in a few weeks."
General Classification after stage 3
1 Christophe Laporte (Fra) Jumbo-Visma 11:34:44
2 Wout Van Aert (Bel) Jumbo-Visma 00:00:01
3 Primoz Roglic (Slo) Jumbo-Visma 00:00:09
4 Mads Pedersen (Den) Trek-Segafredo 00:00:29
5 Bryan Coquard (Fra) Cofidis 00:00:33
6 Pierre Latour (Fra) TotalEnergies
7 Zdenek Stybar (Cze) Quick-Step Alpha Vinyl Team 00:00:38
8 Jasper Stuyven (Bel) Trek-Segafredo 00:00:39
9 Aleksandr Vlasov (Rus) Bora-Hansgrohe
10 Florian Senechal (Fra) Quick-Step Alpha Vinyl Team