UK government considering e-bike trial scheme
Scheme would allow riders to test out an e-bike at popular holiday locations and events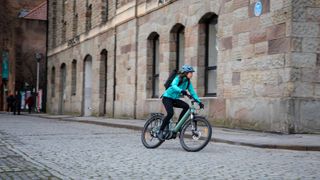 (Image credit: Continental)
The UK government wants to increase e-bike usage in England. The government is considering funding a scheme that would allow people to test ride e-bikes at events and popular holiday locations throughout the country.
The rationale is that once people experience an e-bike for themselves, they are more likely to buy one.
The Guardian newspaper recently reported that a business case was created about the plan for the Department of Transport, and the government will partner with a third party to purchase the bikes and run the events during the summer and autumn at yet to be determined locations.
E-bike sales have exploded in recent years, with bike brands offering multiple models across all categories, from road cycling to commuting and mountain biking. However, e-bike sales in the UK have lagged behind electric bike adoption in Europe, according to the article.
A similar plan in Switzerland reportedly led to an e-bike boom in the country.
Multiple countries are also considering subsidies or tax credits for e-bike purchases. In the UK, subsidies could knock a third off the retail price of an e-bike, but that plan won't be revealed until later this spring. In the US, the E-BIKE Act would create a 30 per cent tax credit, but the bill hasn't made any significant movement through Congress.
Recent moves by governments show how popular e-bikes have become, which are attractive due to the potential health and environmental benefits.

Thank you for reading 5 articles this month* Join now for unlimited access
Enjoy your first month for just £1 / $1 / €1
*Read 5 free articles per month without a subscription

Join now for unlimited access
Try your first month for just £1 / $1 / €1
Ryan Simonovich has been riding and racing for nearly a decade. He got his start as a cross-country mountain bike racer in California and quickly learned how fun road cycling can be. He has dabbled in road, criterium and cyclocross racing as well. He lives in Durango, Colorado, where there are endless mountain views and hilly gravel routes.
Sign up to the Cyclingnews Newsletter. You can unsubscribe at any time. For more information about how to do this, and how we hold your data, please see our privacy policy
Thank you for signing up to Cycling News. You will receive a verification email shortly.
There was a problem. Please refresh the page and try again.