Paolini puts in early effort
By Gregor Brown in Varese Alessandro Ballan may have taken all the headlines - as well as the...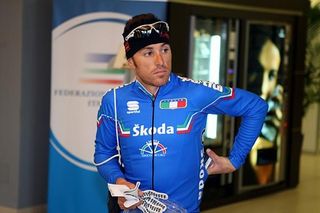 By Gregor Brown in Varese
Alessandro Ballan may have taken all the headlines - as well as the rainbow jersey – at this year's World Championships but it could have been so different if he'd not had the help of such a strong team.
Luca Paolini's work paved the way for a Team Italia win with Ballan profiting from the early efforts of his Milanese teammate to win the race solo ahead of Italy's Damiano Cunego and Denmark's Matti Breschel.
"I think I performed my work in the best possible way and I gave it everything I had." said Paolini, as he stood outside the team bus and the Italian festivities rang out around him. "With respect to the previous Worlds, I went into action right away this time and I tried to create escapes to wear out our rivals. I am satisfied, we won and we showed we deserved it.
Paolini's day ended on the penultimate circuit of the 15-lap, 260.2 kilometres course. His highest place came when he took the bronze medal at the 2004 Worlds in Verona. His goal this time was not to make the podium but to weaken the team's rivals midway through the race.
"My team role was to always be alert from the beginning," explained Paolini. "Specifically, I had to watch for escapes with the Spaniards or Belgians. If one of those escapes did not develop I had to attack and help form an escape."
Paolini joined the group of Andrea Tonti and Matteo Tosatto after initial work from Marzio Bruseghin and Gabriele Bosisio in the early stages of the race. An attack on the climb of Ronchi in lap 11 showed Paolini's aggression and brute strength. The main group caught the day's three-man escape soon after, which cleared the way for the move with Ballan.
"I was able to watch the last lap from TV after I pulled out in the penultimate lap but in my opinion Spain raced for an Italian loss, but not for the win," he said.
He saw the round of attacks on the final climb of Ronchi and noted the round of attacks from Ballan, Cunego and Rebellin. There seemed to be a pause in action after the other nine members nullified the attacks. "The power left is limited. Ballan was wise; he stuck behind and rested to attack in the right moment."
Paolini is racing with Acqua Sapone-Caffè Mokambo and he notched up wins at Trofeo Laigueglia and Coppa Placci this season. He explained that he is undecided which team he will race for next year.
Cyclingnews Newsletter
Sign up to the Cyclingnews Newsletter. You can unsubscribe at any time. For more information about how to do this, and how we hold your data, please see our privacy policy