Gutierrez defeats two Olympic champions in Italy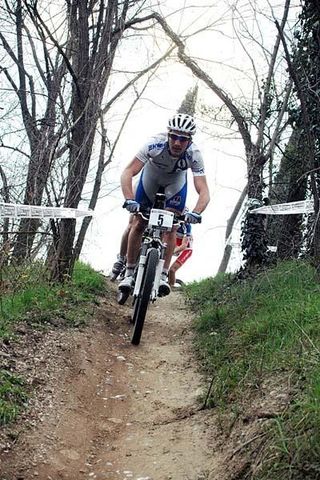 Initially, five racers led the men's race: Ralph Naef (Multivan Merida), Olympic champions Julien Absalon (Orbea) and Miguel Martinez (Felt), Marco Aurelio Fontana (Cannondale) and Alvarez. Martinez seemed to be able to go more quickly than the others on lap two, but Alvarez, Absalon and Fontana quickly caught him. Naef seemed to suffer and dropped off, leaving the four to compete for the victory.
On lap three, Alvarez increased his pace and gapped the others as he did last weekend in Banyoles. Absalon tried several times to join him and gained back about 15 seconds, but the Spaniard's pace could not be matched.
"I tried to follow him, but he was so strong today," said Fontana. "After almost two laps I had to slow down a little bit and Martinez passed me."
Alvarez took the win in 1:41:48 with Absalon second at 36 seconds. Martinez hung for third at 1:00 while Fontana finished fourth.
Colnago Cap Arreghini's Nathalie Schneitter won the women's race just ahead of Eva Lechner (Colnago Arreghini Esercito) and Marielle Saner Guinchard (Team Bikepark.Ch).
See Cyclingnews' complete coverage of the Internazionali d'Italia in Montichiari.
Cyclingnews Newsletter
Sign up to the Cyclingnews Newsletter. You can unsubscribe at any time. For more information about how to do this, and how we hold your data, please see our privacy policy