Ekimov to direct Armstrong's RadioShack in 2010
Former US Postal rider will follow Bruyneel to new squad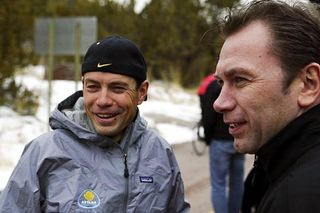 Viatcheslav Ekimov has confirmed he will join Lance Armstrong and Johan Bruyneel's newly formed RadioShack team as a directeur sportif next season. The news comes as no surprise given that the famed Russian spent over a decade of his professional career alongside the two prominent figures, while riding for the US Postal, Discovery Channel teams and now as one of Astana's on-road leaders.
"I'm going to the RadioShack team but I don't have a deal signed yet. I have a verbal agreement," said Ekimov, who is finishing up his season directing team Astana at the Tour of Missouri. "It will be Capital Sport and Johan Bruyneel Sports Management, which will manage the whole thing. Johan will be the sport manager of the team and I will be a sport directeur."
Ekimov's notable victories include two gold medals at the Olympic Games in the pursuit in 1988 as an amateur and a second in the time trial in 2000 as a professional. Despite his long list of personal achievements, Ekimov is better remembered for his near decade long efforts as a domestique for the famed American-based team US Postal turned Discovery Channel team that was directed by Bruyneel. He started and finished 15 Tour de Frances and played a key role in six of Lance Armstrong's seven victories.
"I'm happy working with these guys and if you are happy then why do you need to change something," said Ekimov, who would like to manage his own team someday. "If it isn't broken then don't fix it. I like this job and it's nice to be on the road again once in awhile. It's a good transition from being a professional cyclist. I can see the race, feel the race and I can concentrate on tactics and strategy. When you are a professional cyclist, you don't see [the] things that I can see from the car and hear on the radio."
Not only is Ekimov attracted by the idea of working alongside Bruyneel and Armstrong again but several other familiar faces too. RadioShack's notable rider signings include a large contingent of Astana riders like Yaroslav Popovich, Levi Leipheimer, Jose Luis 'Chechu' Rubiera, Sergio Paulinho, Gregory Rast, and Tomas Vaitkus.
"It's going to be an American-based team again and most likely the old squad is going to be on it with Popo and all those guys and Lance who is back on the bike now," said Ekimov. "I think it's going to give us all extra motivation."
While the RadioShack plans are coming together nicely, for now Ekimov is focused on finishing the season with a successful performance at the Tour of Missouri with his Astana riders. "I think this is a good race for us with Janez [Brajkovic] and Levi [Leipheimer] for Friday," said Ekimov, regarding the stage five time trial held in Sedalia. "We will see what happens before that and in the time trial. The team is motivated because they want to end the season on a good note after a long and successful season. Everyone knows that after they will have a long vacation."
Cyclingnews Newsletter
Sign up to the Cyclingnews Newsletter. You can unsubscribe at any time. For more information about how to do this, and how we hold your data, please see our privacy policy