Canyon issues 'stop ride' for Aeroad after Van der Poel handlebar failure
By Cyclingnews
Alpecin-Fenix to switch models as company investigates possible handlebar fault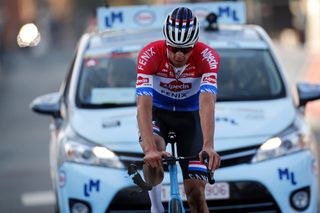 (Image credit: Bettini Photo)
Following the malfunction on a section of the handlebar on Mathieu van der Poel's (Alpecin-Fenix) team-issued bike in the closing kilometres of Le Samyn on Tuesday, the direct-sell German brand is asking all customers to discontinue using its Canyon Aeroad CF SLX and CFR models immediately.
The company has asked all professional teams to switch to "alternative bikes" and said they would be using the older Aeroad model or the current Ultimate model.
"We are doing everything we can to equip affected Aeroad models as quickly as possible with a cockpit that meets both our and our customers' demands for total quality and safety," said Armin Landgraf, chief executive officer of Canyon Bicycles.
A press release from Canyon confirmed that part of Van der Poel's handlebar "quite obviously broke off during the race." Van der Poel could be seen throwing a piece of material from the right drop to the side of the road and was then seen racing the finale with the shifter hanging loose. He was still able to lead out teammate Tim Merlier to the victory and finish in 37th place himself.
"Mathieu, fortunately, did not fall. We want to ensure with absolute certainty that no one comes to harm before we fully understand the root cause," added Roman Arnold, founder of Canyon Bicycles.
Canyon Bicycles said in its statement that members of its development and quality management departments would begin investigating the issue immediately, relating to cockpits (CP0018 and CP0015) installed on current Aeroad CF SLX and CFR models.
At the time of the incident, early speculation looked to the two-piece nature of Canyon's handlebars. This is a feature that enables the bike to be shipped with the ends of the bars removed while cables remain in situ, it also allows adjustment of the bar width. However, this junction exists at the tops either side of the front-facing Canyon logo.
The area at which Van der Poel's bars broke was where the shifters are clamped into place. There had been speculation that the mount for the shift lever might have been over tightened by one of the team's mechanics, but the stop-ride and investigation suggests there might be an underlying issue relating to a possible design fault.
The stop-ride applies to all Aeroad CFR and CF SLX models, featuring the CP0018 cockpit. It also applies to the 'pro' CP0015 cockpit, which features the same adjustable design, but with a minus 17-degree stem to offer the more aggressive riding position typically favoured by pro riders.
The news comes just a month after Canyon was forced back to the drawing board in response to customers featuring broken seatposts. A patent uncovered by Cycling Weekly shows a redesign of the clamping mechanism.
Sign up to the Cyclingnews Newsletter. You can unsubscribe at any time. For more information about how to do this, and how we hold your data, please see our privacy policy
Thank you for signing up to Cycling News. You will receive a verification email shortly.
There was a problem. Please refresh the page and try again.