Bigla-Katusha request access to UCI bank guarantee
By Kirsten Frattini published
'We firstly aim to secure payments to staff and riders for April'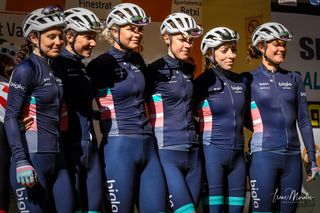 (Image credit: Bigla-Katusha - Irene Morales Photography)
The management of the Bigla-Katusha women's team have requested access to their UCI bank guarantee after title sponsors had withdrawn funding amid the COVID-19 pandemic crisis.
"Following the news we received from our title partners, team management has agreed to put into force an immediate action plan," read the team statement.
"We firstly aim to secure payments to staff and riders for April. This involves asking the UCI to unlock our bank guarantee."
The bank guarantee is a percentage of a team's overall budget that is put into a blocked account at the time of registration each season. The funds can be used by the UCI to protect the riders' rights to be paid if their team does not comply with their obligations.
A team's bank guarantee could potentially pay for up to three months of a rider's salary. However, due to the unforeseen circumstances of the global pandemic, it is unclear if now is the right time to open those accounts or if riders will have access to the funds. Accessing those accounts too soon could also affect the health of the teams.
Normally, it is the athletes who request access to the bank guarantee funds through an application at their national federation or through the UCI.
Bigla-Katusha announced last week that their future was in jeopardy after receiving notice that both title sponsors had withdrawn funding. The team confirmed that long-time sponsor Bigla has withdrawn 100 per cent of its funding, while Katusha Sports had declined to pay the team sponsorship funds for the past month.
Katusha Sports came onboard as a co-sponsor this year and provides just under a third of team's annual budget. The clothing brand confirmed that it has faced financial hardship as a result of the pandemic and hasn't produced product for the past two months as factories are closed.
The riders from the Bigla-Katusha team wrote an open letter to their sponsors requesting their support to help ensure the squad's survival. On Tuesday, Katusha Sports launched a fundraising effort to help continue its support the riders, whereby profits gained from the sales of the women's team collection kit will be donated to the team.
Bigla-Katusha have also launched a fan-support program to provide fans the ability to financially support the team through its partners, along with a crowdfunding campaign to secure funds for our short-term future.
The team's crowdfunding campaign has been set up through a GoFundMe page and the team has indicated a CHF 170,000 goal.
"We aim to remain in full operation in 2020 to facilitate our riders' preparation for the World Championships and Olympic Games, and also to become a WorldTour team next year," read the team statement.
"We are now therefore actively pursuing new sponsorship opportunities, and believe that with our existing, and new partners, we can successfully realise these goals."
➡️ Message from Bigla-KATUSHA CEO & Co-owner, Priska Doppmann CampanaFollowing the news we received from our title partners, team management has immediately put into force an action plan. The team CEO and co-owner outlines the plan here: https://t.co/JUJYkpjz1Z pic.twitter.com/Xe8M7SX3VzApril 28, 2020

Thank you for reading 5 articles this month* Join now for unlimited access
Enjoy your first month for just £1 / $1 / €1
*Read 5 free articles per month without a subscription

Join now for unlimited access
Try your first month for just £1 / $1 / €1
Kirsten Frattini is an honours graduate of Kinesiology and Health Science from York University in Toronto, Canada. She has been involved in bike racing from the grassroots level to professional cycling's WorldTour. She has worked in both print and digital publishing, and started with Cyclingnews as a North American Correspondent in 2006. Moving into a Production Editor's role in 2014, she produces and publishes international race coverage for all cycling disciplines, edits news and writes features. Currently the Women's Editor at Cyclingnews, Kirsten coordinates global coverage of races, news, features and podcasts about women's professional cycling.
Sign up to the Cyclingnews Newsletter. You can unsubscribe at any time. For more information about how to do this, and how we hold your data, please see our privacy policy
Thank you for signing up to Cycling News. You will receive a verification email shortly.
There was a problem. Please refresh the page and try again.