Assos launches tribal-patterned Qhubeka jersey
Sales will contribute to making bikes more accessible in poverty-stricken regions of Africa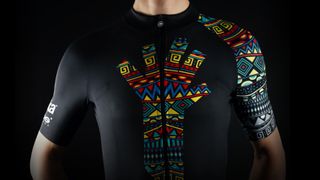 (Image credit: Assos)
The new Assos Qhubeka jersey shows a powerful relationship forming between the Swiss riding garment specialist and the South African WorldTour team.
The team - formerly known as MTN-Qhubeka, Dimension Data, and NTT Pro Cycling - were in a challenging position last year, with Assos eventually providing the necessary funds to keep them going in 2021.
In order to celebrate the new partnership, Assos launched a design contest to create a new jersey that would express the Qhubeka-Assos team values.
These include promoting and supporting the Qhubeka cycling charity, which provides bikes to school children and makes cycling more accessible in African regions where transport poverty is a key issue.
Gianluca Tirassa's designed prevailed, and the result is a jersey that uses patterns and motifs inspired by the Ndebele tribe in South Africa.
"The [tribal patterns] have inspired the design of the jersey, with the hand serving as the icon of the Qhubeka project," Tirassa said.
Empowerment by bicycle
The Qhubeka mission is to empower South African communities by virtue of bicycles. In many regions of Africa, public transport by rail or road is inadequate, while vehicular transport remains too expensive.
For Qhubeka, the solution has been to get more people onto bicycles. This is especially pertinent for small business owners, where bicycles can be a vital short distance logistics link, as well as for school children, who often walk fatiguing distances to attend classes.
The Qhubeka-Assos jersey features a bold pattern, with typically rich colours. Riders will also notice the intricate geometries and linework, which are broadly relatable to South African Ndebele art.
Fans of the Qhubeka-Assos team, or those who have a broad interest in supporting this cycling charity, can reserve their jerseys at €150.
Assos has pledged that €60 of each jersey's purchase price will go toward the Qhubeka programme, triggering one new bike donation for every five jerseys sold.

Thank you for reading 5 articles this month* Join now for unlimited access
Enjoy your first month for just £1 / $1 / €1
*Read 5 free articles per month without a subscription

Join now for unlimited access
Try your first month for just £1 / $1 / €1
Lance Branquinho is a Namibian born media professional, with 15-years of experience in technology and engineering journalism covering anything with wheels. Being from Namibia, he knows a good gravel road when he sees one, and he has raced some of Africa's best-known mountain bike stage races, such as Wines2Wales and Berg&Bush.
Sign up to the Cyclingnews Newsletter. You can unsubscribe at any time. For more information about how to do this, and how we hold your data, please see our privacy policy
Thank you for signing up to Cycling News. You will receive a verification email shortly.
There was a problem. Please refresh the page and try again.