Americans Trebon and White decline spots for cyclo-cross Worlds
USA Cycling announces rosters competing in Heusden-Zolder
Image 1 of 5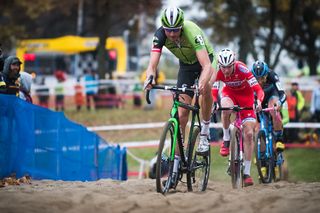 Image 2 of 5
Image 3 of 5
Image 4 of 5
Image 5 of 5
Two more American riders have given up their spots to compete at the upcoming UCI Cyclo-cross World Championships in Heusden-Zolder at the end of January. Cannondale-Cyclocrossworld riders Ryan Trebon and Emma White were automatically selected to compete for the US national team in the elite men's and under-23 women's events, respectively, but they have declined.
Jonathan Page (Page-Fuji) and Jamey Driscoll (Raleigh Clement) were also automatic selection who opted not to go last week.
Trebon just returned to cyclo-cross racing after recovering from a back injury. He placed seventh at the Nationals. Page cited recent health problems as his reason for declining his spot, while Driscoll said he opted not to go because of a 'disappointing' national championships in Asheville on January 10, where he placed sixth.
USA Cycling released the list of replacements and the full rosters for the elite men, elite women, under-23 men, under-23 women and junior men on Friday.
Anthony Clark (Squid Bikes), Jeremy Durrin (Neon Velo Cycling Team) and Yannick Eckmann (Maxxis-Shimano) will now compete in the elite men's events, replacing Page, Driscoll and Trebon. The roster also includes automatic selections Stephen Hyde (Cannondale-Cyclocrossworld), Allen Krughoff (Noosa Pro Cyclocross), Travis Livermon and US cyclo-cross champion Jeremy Powers (Aspire Racing.)
Laurel Rathbun (Raleigh Clement) will replace White on the under-23 women's team. The rest of the team will include Allison Arensman (Twenty16 Pro Cycling), Hanna Arensman (Twenty16 Pro Cycling), Ellen Noble (JAM Fund-NCC-Vittoria), Emma Swartz (Trek Cyclocross Collective) and Sofia Gomez Villafane (Summit -Competitive Cyclist).
Team USA roster:
Elite Men -
Anthony Clark (Feeding Hills, Mass./Squid Bikes)
Jeremy Durrin (Westhampton, Mass./Neon Velo Cycling Team)
Yannick Eckmann (Boulder, Colo./Maxxis-Shimano)
Stephen Hyde (Easthampton, Mass./Cannondale Cyclocrossworld)
Allen Krughoff (Boulder, Colo./Noosa Pro Cyclocross)
Travis Livermon (Winston Salem, NC)
Jeremy Powers (Easthampton, Mass./Aspire Racing)
Elite Women -
Elle Anderson (San Francisco, Calif./SRAM Strava)
Crystal Anthony (Beverly, Mass./Boulder Cycle Sport-YogaGlo)
Kaitie Antonneau (Racine, Wis./Cannondale Cyclocrossworld)
Katie Compton (Colorado Springs, Colo./Trek Factory Racing)
Amanda Miller (Colorado Springs, Colo./Boulder Cycle Sport-YogaGlo)
Meredith Miller (Boulder, Colo./Noosa Pro Cyclocross)
U23 Men -
Andrew Dillman (Fairdale, Ky./Cyclocross Network Racing)
Grant Ellwood (Boulder, Colo./Boulder Cycle Sport-YogaGlo)
Tobin Ortenblad (Santa Cruz, Calif./California Giant Cycling)
Logan Owen (Bremerton, Wash./Cal Giant-Specialized)
Scott Smith (Feeding Hills, Mass./JAM Fund / NCC / JAM / NCC / Vittoria)
Curtis White (Delanson, N.Y./Cannondale Cyclocrossworld)
U23 Women -
Allison Arensman (Rutherford College, N.C./TWENTY16 Pro Cycling)
Hanna Arensman (Rutherford College, N.C./TWENTY16 Pro Cycling)
Ellen Noble (Kennebunkport, Maine/JAM Fund-NCC-Vittoria)
Laurel Rathbun (Monument, Colo./Raleigh-Clement)
Emma Swartz (Madison, Wis./Trek Cyclocross Collective)
Sofia Gomez Villafane (Durango, Colo./Summit -Competitive Cyclist)
Junior Men -
Cameron Beard (Bend, Ore./Cyclocrossworld)
Eric Brunner (Boulder, Colo./Boulder Junior Cycling)
Gage Hecht (Parker, Colo./Alpha Bicycle Co.-Vista Subaru)
Michael Owens (Richmond, Vt./Cyclocrossworld.com)
Spencer Petrov (Mason, Ohio/Cyclocross Network Racing p/b Medical Remarketing)
Denzel Stephenson (Boulder, Colo./ Boulder Junior Cycling)
Cyclingnews Newsletter
Sign up to the Cyclingnews Newsletter. You can unsubscribe at any time. For more information about how to do this, and how we hold your data, please see our privacy policy