Adam Roberge defends pack tactics as part of 'spirit of gravel' after Gravel Locos
Without freedom to use tactics Canadian says 'we can organize gravel time trials'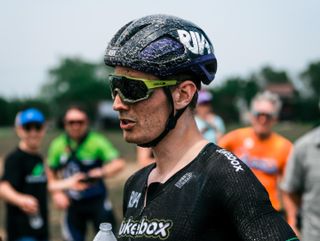 (Image credit: VeloPhotoTX.com)
Adam Roberge won the physical battle at last weekend's Gravel Locos 150 in Hico, Texas, but in the process he has re-opened the gate to the arguments about pack racing and road tactics becoming more prevalent in gravel races.
Like the uneven terrain that is expected in the alternative, off-road races, the definition of the "spirit of gravel" is not firm and resolute but Roberge found himself coming under criticism for employing road-like tactics in a race where a relatively large group stayed together to contest the finish.
"I cannot help but feel that I am being unfairly singled out for using tactics that all cyclists implement to a certain level," Roberge said on Instagram.
"Like any sport, Gravel requires a blend of physical, technical and tactical skills. Suppose we choose to value physical and technical abilities alone. In that case, we can organize gravel time trials (which I'm not opposed to), but when we participate in mass start racing, winning necessitates a mix of physical, technical and tactical aptitude.
"Competition is about growing together, and the more we challenge ourselves using all our tools - physical, technical, and tactical - the more we better ourselves."
Saturday's showdown in the Lone Star State became a slugfest for riders honing their last-minute setups for Unbound Gravel in Emporia, Kansas on June 4.
In the final stretch of racing, after putting 155 dusty miles behind him, Roberge rode away from a large front pack of contenders to score his first win in three tries on the La Loca course. A little more than 30 seconds later, Paul Voss led a group of 10 riders across the line for second place, with Ivar Slik charging behind to take third place ahead of Alex Howes.
Gravel Locos Hico is where Roberge began his gravel career three years ago, and he had mixed emotions about his victory, calling it "especially great". However, several days after the victory, he took to Instagram to address issues related to race tactics and how riders may or may not share the workload in a group, saying he "had been reluctant to address this issue" but "in recent days, the issue has been reopened, and I fear it will impact my career and reputation due to the very one-sided argument being portrayed".
"Utilizing tactics and strategy doesn't contradict what makes Gravel unique. It doesn't undermine the nurturing of a tight-knit community or deter one from befriending competitors. I expect my competitors to do everything within their power to outperform me on race day," Roberge wrote.
"In my opinion, doing everything in one's power to win is not against 'the spirit of gravel.'
"During my gravel career, I've faced situations where I've been subjected to verbal intimidation, riders talking to my sponsors behind my back and manipulation of group dynamics to hinder my chances of winning, to name a few examples. These actions, to me, truly contradict the spirit of gravel, yet they often go unnoticed."
In his long statement, Roberge recalled a race from Canadian road nationals where he "shouldered a significant portion of the group's workload" because he was not confident with a technical finish for the group. He then noted that at Gravel Locos he was happy to "take less of the responsibility" as he was confident in his late move for the win.
More and more riders are talking about the increase in road racing tactics at gravel events, as the fields burgeon with former road pros and the back half of the courses tend to flatten out and invite riders to stay together.
A race like Gravel Locos has exploded with top talent in just its short lifespan, since it is geographically and chronologically neighbours with Unbound Gravel. The elite men's field was stacked with riders using the 157-mile gravel grinder as a tune-up for Unbound Gravel, including 2022 defending Unbound 200 champion Slik, 2021 champion Ian Boswell and two-time champ Ted King (2016, 2018).
Seven riders who crossed the line in the top 16 will face off in two weeks at Unbound as part of the Life Time Grand Prix, including Roberge, Alex Howes, Brennan Wertz, Dylan Johnson and Laurens ten Dam. Second-placed Voss, who won the Traka 200, shook off the jet lag after winning the UCI Gravel World Series event 3Rides in his home country just a week ago.
Payson McElveen was caught up in a crash with 5km to go and was diagnosed with a concussion and separated shoulder. Defending Gravel Locos 150 champion Jasper Ockeloen also went down, but managed to finish 1:22 back in 13th place.
Unbound Gravel will implement new rules this year in the 200-mile event regarding grid positioning and starts for elite men and women, as well as no longer permitting aerobars or bar extensions for elite riders.
The rules of engagement do not address tactics across miles and miles of prairie or dusty dirt roads, however many events have strict guidelines in place about mechanical assistance, navigation and timed segments.

Thank you for reading 5 articles in the past 30 days*
Join now for unlimited access
Enjoy your first month for just £1 / $1 / €1
*Read any 5 articles for free in each 30-day period, this automatically resets
After your trial you will be billed £4.99 $7.99 €5.99 per month, cancel anytime. Or sign up for one year for just £49 $79 €59

Join now for unlimited access
Try your first month for just £1 / $1 / €1
Get The Leadout Newsletter
The latest race content, interviews, features, reviews and expert buying guides, direct to your inbox!
North American Production editor
Jackie has been involved in professional sports for more than 30 years in news reporting, sports marketing and public relations. She founded Peloton Sports in 1998, a sports marketing and public relations agency, which managed projects for Tour de Georgia, Larry H. Miller Tour of Utah and USA Cycling. She also founded Bike Alpharetta Inc, a Georgia non-profit to promote safe cycling. She is proud to have worked in professional baseball for six years - from selling advertising to pulling the tarp for several minor league teams. She has climbed l'Alpe d'Huez three times (not fast). Her favorite road and gravel rides are around horse farms in north Georgia (USA) and around lavender fields in Provence (France), and some mtb rides in Park City, Utah (USA).