Best cycling compression socks
Improve blood flow for better performance and recovery with our pick of the best cycling compression socks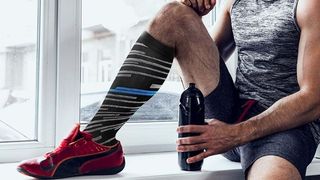 (Image credit: Quxiang)
There are plenty of reasons cyclists choose to wear compression socks. Studies show that your cycling performance can improve just by wearing them. Whether you're a seasoned racer or a brand new cyclist, you're likely familiar with the sore muscles and bodily fatigue that come with an extended period in the saddle: it's a result of the building up of lactic acid in your muscles. This is where compression socks come in.
Compression socks are made with graduated medical-grade compression technology, which is a specially constructed knit that's tighter around the foot and ankle than it is around the calf. Having more pressure at the very bottom of your leg, which eases as it moves upwards, helps to promote blood circulation. Blood is encouraged to flow more efficiently from the lower extremities back up towards the heart and lungs, where it receives more oxygen.
This improved circulation comes with many benefits, chief of which is quicker recovery.
Cycling-specific compression socks are designed to provide the perfect fit (with a designated left and right sock), and to keep your feet cool and dry with moisture-wicking and temperature-regulating materials. They also feature extra foot padding to help prevent blisters.
How to choose cycling compression socks
The most important to do before you buy cycling compression socks is to get an accurate measurement of your legs. Since the benefits come from the tightness of the socks in particular parts of your legs and feet, it's crucial to get the correct fit. There are also different levels of compression to choose from, so that's something else you need to think about.
It's worth bearing in mind that as with most elasticated clothing, compression socks eventually lose their elasticity and stop functioning properly, so it's advised to replace them every four or five months.
Finally, if you have any concerns about your health, and the impact compression socks may have on an existing condition, please consult your doctor or a medical professional.
Compression level
There are different levels of compression to choose from, which are measured in mmHg (millimeters of mercury). Each has its own specialty and suitability.
Generally the most mild compression level is 8-15 mmHg, which provides relief for aching legs, and can help relieve minor swelling of the feet. It's a great option for helping to maintain healthy and energized legs.
Medium is 15-20 mmHg, and helps to relieve minor to moderate swelling, as well as aching muscles and varicose veins.
The firm compression level of 20-30 mmHg is possibly the most frequently prescribed, and offers moderate compression to treat various mild to moderate conditions.
Anything extra firm that is 30 mmHg or above should only be worn with supervision from a doctor or a medical professional.
If you're not sure which level of compression you need, consult your doctor or a medical professional.
Sign up to the Cyclingnews Newsletter. You can unsubscribe at any time. For more information about how to do this, and how we hold your data, please see our privacy policy
Thank you for signing up to Cycling News. You will receive a verification email shortly.
There was a problem. Please refresh the page and try again.