Best cycling base layers
Summer or winter, thermal or mesh, the best cycling base layers will help to regulate your body temperature and ensure you have a comfortable ride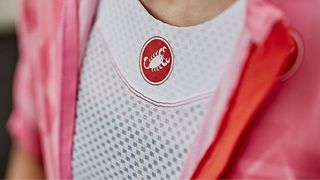 (Image credit: Castelli)
The benefits of the humble cycling base layer can easily be overlooked, but it should form the foundation when choosing what to wear on a road bike ride.
As base layers are the first layer against the skin they must be comfortable, close-fitting and increase performance by managing body temperature. By utilising technical materials, a cycling base layer can be designed to function in specific conditions so it is important to consider the weather and type of riding it will be used for.
For hot weather or indoor training, a light base layer will move moisture away from the skin and aid evaporation. The enhanced evaporation effect cools the body and keeps skin drier to stop irritation from your clothing. More commonly base layers are used as an added warmer layer on cold days although a high performing insulating cycling base layer will still manage moisture build-up during climbing efforts.
In the list below, we take a look at the pros and cons of the best cycling base layers available today for both warm and cold climates.
Materials
Different materials play a big part as to how a base layer will perform and the environments that they will excel in. These materials are generally split into two groups, man-made synthetic fabrics or natural materials.
Man-made fabrics are often used for high-performance cycling base layers, suited to warm weather or indoor training, where sweat management and cooling effects are important. The stretch achieves a close fit to maximise wicking abilities to move sweat away from the body during a hard climb or during an intense Zwift session.
Natural materials such as merino wool don't wick or dry as quickly, however, they allow effective thermoregulation across a wide range of temperatures making them extremely versatile. When wet, natural fabrics like merino still retain their insulating properties which makes them perfect for poor weather climates. Natural materials are also more resistant to unpleasant odours from riding; ideal if you are commuting to and from work or doing multi-day rides away from home.
Fit
A cycling base layer should have a next-to-skin fit to offer the best performance. Sitting close to the body will allow moisture to be wicked away effectively, and minimise any bunching which would cause discomfort when worn under other layers. High-performance race-focussed base layers will feature flat-lock sticking, a wide collar to fit beneath skinsuits and a pre-shaped cut optimised for an aggressive riding position. For longer or relaxed riding, a casual cut will appeal, which rely on the material's stretch to provide a close, comfortable fit on and off the bike.
Long sleeves, short sleeves or sleeveless
Most cycling base layers will come in a selection of sleeve options. Generally, short or sleeveless base layers are used for hot or changeable conditions as they will fit comfortably under a regular jersey and can be paired with arm warmers or a gilet if temperatures are changeable. Long sleeves are the reserve of cold weather when you will be wearing other long sleeve layers all day. Pair with a long sleeve insulated jersey or jacket to keep your upper body toasty when the mercury drops.
Features
Some base layers will offer extra features to excel in specific conditions. Super thin mesh material side panels enhance breathability during max efforts in the hottest temperatures. Wind proofing, water-resistance, a high collar, or even a built in balaclava hood are all important considerations if you are frequently riding headfirst into winter.
Best overall
The Gore Windstopper keeps you warm and comfortable on cold days and chilly descents
When the weather starts getting colder the Gore Windstopper cycling base layer is in its element whether being used to add some chill protection to a jersey on a cold day or as part of a winter layering system.
The front and shoulders are made from Gore's Windstopper membrane to protect against wind chill and offer some water resistance. This is combined with an open weave mesh on the rear and under the arms to disperse heat and wick moisture away.
The Gore Windstopper has a form fit that offers a close-fitting shape to make the most of the properties of the materials whilst remaining comfortable.
Best value
Comfortable and delivers on performance, even in hot weather
The packaging claims it's "infused with crushed volcanic rock", and it's not entirely untrue. Thanks to the Minerale fabric, which has activated charcoal fused seamlessly within its fibres, this sleeveless base layer from Pearl Izumi delivers excellent moisture absorption and wicking, and odor elimination.
The Minerale fabric dries up to 50% faster than more traditional polyester fabrics. It's fair to say that this base layer for Pearl Izumi, for all its marketing spiel, delivers excellent performance and at a very respectable price, offering incredible value for money.
Most versatile
Incredible performance and heat management
The Craft Active Extreme 2.0 CN LS is an excellent base layer that manages heat better than many of its competitors. It delivers anywhere from freezing weather to mid-range conditions, not only keeping you warm, but also providing great wicking and breathability.
All in all there's very little not to like. It manages heat incredibly well, dries quickly and wicks away sweat impressively. What else could you want in a baselayer?
Best for cold weather
Natural and synthetic properties rolled into one
This dual-layer shirt from ColdPruf combines all the best parts of synthetic fibers and natural materials into one neat package. Lined with 100% CPT Performance polyester, the interior of this base layer wicks sweat away from the body quickly to help you stay feeling fresh and dry. Meanwhile the exterior contains 30% merino wool that brings the thermoregulation and odor control of natural fibers.
What results is a comfortable and durable base layer with a tagless design and flat seams for friction-free wear. It features stay-put cuffs to keep the sleeves from riding up, while the drop tail maintains full coverage at the back, leaving you free to move around as much as you need to while cycling. It's ideal for cooler weather, as its thermal properties will help keep the chill at bay.
Performance fit
Well-constructed performance base layer that will keep you sweat-free through a wide range of temperatures
The Castelli Pro Issue sits in the middle of Castelli's base layer range and is designed to offer comfort in temperatures between 10°-25°C which should make it ideal for UK summers.
Castelli has used a light 3D mesh fabric which draws sweat away from your body through capillary action to keep you dry and comfortable while riding.
The seams around the collar have been kept to a minimum as well as a flat hem around the waist to reduce points of irritation and allow the Pro Issue to sit flat under your cycling kit. The wide collar of the Pro Issue will play well with aero and tight collared jerseys.
3-season
Versatile wind-cheating base layer that earns its keep
The Craft Zero Extreme Windstopper long-sleeved base layer offers superior wind protection to help you beat the chill. The added Gore Windstopper membrane in the chest panel delivers impressive protection against the wind. Having wind protection next to the skin means you don't need to wear a windproof outer layer, giving you a little more versatility.
The Zero Extreme is ideal to use from fall right through to spring. Even as the weather warms up it offers excellent protection on blustery days when the wind can chill you to the core.
While it costs a little more than a regular long sleeve base layer, you're getting Windstopper material, and it's worth every cent. The flexibility of clothing options you have as a result, not to mention the protection from the wind, makes it a very versatile choice.
Best for hot weather
A budget-friendly option ideal for summer use
This sleeveless undershirt from Przewalski is a great budget-friendly option if you're not looking to spend a lot. It's constructed from mesh fabric that provides venting while wicking sweat away from the skin to help you stay feeling cool and dry while out on the bike. It's designed with what the brand calls 3Dimensional modelling, providing a streamlined silhouette to fit to the curves of the body. The main benefit of this is that the more surface contact there is between the fabric and the skin, the more moisture wicking can happen.
It's a lightweight and minimal addition to your cycling wardrobe that's both breathable and quick-drying for easy maintenance and comfortable use. It's ideal for use in summer with its sleeveless design, but could easily be layered beneath your cycling kit at any time of year to provide some extra warmth for your core. The fit is snug, and provides a little compression to help improve blood flow in order to prevent muscle fatigue.

Thank you for reading 5 articles this month* Join now for unlimited access
Enjoy your first month for just £1 / $1 / €1
*Read 5 free articles per month without a subscription

Join now for unlimited access
Try your first month for just £1 / $1 / €1
Mildred is a Reviews Writer for Cyclingnews who loves all forms of cycling from long-distance audax to daily errand-running by bike. She does almost everything on two wheels, including moving house, and started out her cycling career working in a bike shop. For the past five years she's volunteered at The Bristol Bike Project as a mechanic and session coordinator, and now sits on its board of directors. Since then she's gone on to write for a multitude of cycling publications, including Bikeradar, Cycling Plus, Singletrack, Red Bull, Cycling UK and Total Women's Cycling. She's dedicated to providing more coverage of women's specific cycling tech, elevating under-represented voices in the sport, and making cycling more accessible overall.
Height: 156cm (5'2")
Weight: 75kg
Rides: Liv Devote, Genesis Equilibrium Disc 20, Triban RC520 Women's Disc, Genesis Flyer, Whyte Victoria, Cotic BFe 26, Clandestine custom bike
Sign up to the Cyclingnews Newsletter. You can unsubscribe at any time. For more information about how to do this, and how we hold your data, please see our privacy policy
Thank you for signing up to Cycling News. You will receive a verification email shortly.
There was a problem. Please refresh the page and try again.