Best bikepacking bags
By Mildred Locke published
From off-the-shelf to full custom, this is our choice of the best bikepacking bags for escaping civilization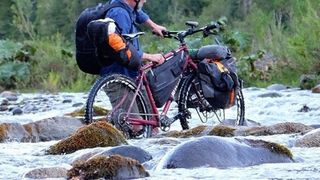 (Image credit: Blackburn)
For those seeking adventure by bike, a dependable and spacious bikepacking bag setup is vital to securely transport everything you require whether it's across continents or a midweek bivvy on a warm summer evening.
Packing and travelling by bike is far from a new thing. Bicycle tourers have been attaching luggage to their bikes for many years. However, the introduction and increased popularity of soft bags that strap to frames, handlebars and seatposts has allowed riders to take on more extreme and varied tours.
The traditional touring bike panniers have huge capacity but their dependency on mounting fixtures, weight, unwieldy offroad performance and, most importantly, their effect on the ride quality of the bike is a downfall. Bikepacking bags can be strapped to almost any bike, turning your favourite gravel or road bike into a bikepacking machine.
Types of bags
Bikepacking bags fall into three main categories and can be supplemented with additional storage.
Handlebar bags range from a couple of litres for a few essentials to enough space to swallow a tent. They come in the form of either a single piece bag that straps directly to the handlebars or a harness that will cradle a drybag.
Frame bags attach within the frame triangle using velcro or webbing straps although some custom bags use bolt-on or lacing methods for a more secure fit. Storage usually consists of a main pocket on one side and a slimline pocket on the other.
Saddle packs are similar to handlebar bags in that they come in one piece or holster styles. Anchoring points use the saddle rails and seatpost to secure and stabilise the bag against sway and drooping. Roll-top closures allow them to be packed down to accommodate the amount of cargo being carried.
Bike limitations
One of the big appeals to bikepacking bags is the fact they can be easily attached to any bike without the need for special mounting hardware. However the dimensions of your bike must be considered as not all bags will work with all bikes, this is especially true for smaller riders where clearances are more compact.
Frame bags often come in different sizes and should give measurements to gauge what size is needed. For handlebar bags, the clearance between the handlebar and front wheel and space between drop bars is the limiting factors. Saddle packs are more compatible across bike sizes although small frames such as 50cm and below may struggle with rear-wheel clearance. If you run a dropper post on your gravel bike, you will need to choose a seat pack that is designed specifically so that you don't damage the posts stanchion.
What are you packing?
How you pack your bags will be the most influential factor for how bikepacking bags perform. We have seen many examples of riders having poor experiences with bags not because they are poorly designed but in fact poorly packed.
Packing bikepacking bags is an art in itself that could be philosophised about at great length. To summarise, if running the standard three bag setup bulky soft items such as sleeping equipment and off the bike clothing should go in either the seat pack. Spare clothing in the handlebar bag and everyday essential items or food in the frame bag, jersey pockets and stem cell/gas tank/tool keg. This is far from gospel and what works for one person may not work for another.
While the temptation may be to ram everything that you might need into your bags we have found from experience that being more selective with what you pack will leave valuable free space that speeds up packing times and can be filled with extra food later on the ride if needed.
Hydration
While the venerable duo of bidons mounted on the frame has proved more than adequate it is worth considering alternative options that may allow space on the bike to be used more efficiently. Half frame bag with bottles, full-frame bag with a bladder inside or choosing to mount bottles on the fork legs. What works best is very dependent on your frame size and mounting options. This author is particularly fond of the easy access of two fork-mounted bottles and a full-frame bag
Type of riding
The sheer versatility of bikepacking bags means that any bike can be easily turned into an adventure machine, everything from fixed gear 'tracklopacking' for the 'gram' to epic mountain bike and gravel rides in the wilderness. Most bags are more than adaptable however its worth making a few consideration to make sure you get the best performance possible. For road riding aero is key so choosing a larger seat pack and smaller handlebar bag should reduce drag. For off-road riding distribution of weight is vital to keep the bike stable over rough loose terrain.
Protect your frame
The biggest issue with bikepacking bags is they destroy paintwork and will eat into carbon, get a little bit of dirt between a strap and your beloved ride and after 200 miles it will look a bit worse for wear. This is easily solved by simply using helitape or good old electrical tape on the potential rubbing points.
Best overall
A hardy and durable set of bikepacking bags
Topeak's bikepacking bag range is built from water-resistant Polyethylene with the handlebar harness and seat pack being sold with a waterproof dry bag rated to 10,000mm and featuring an air release button to make pack size as compact as possible.
The Backloader seat pack is a roll top bag that houses a separate dry bag, while this may seem like an inconvenience it may appeal to those who want to reduce any potential damage to the dry bag. It has a 15 liter capacity and makes it possible to carry large, bulky gear without a rear rack. It fastens easily, using a velcro strap around the seat post and two buckles that loop through the saddle rails.
Meanwhile the Frontloader harness has adjustable rubber spacers to increase hand clearance on the handlebars and absorb shock. Coating the inside of the harness with grippy rubberised material is a nice touch to help stop the drybag wiggling out on bumpy surfaces.
The Midloader frame bag is a fairly simple but universal shape that should fit most frames. Topeak has updated the straps, changing from two large velcro attachments to three narrower ones to avoid fouling with cable guides and frame mounts.
Runner up
A versatile range of bags that work with almost any bik
Blackburn's bikepacking bag range is designed to work across as wide a range of bicycles as possible, so they have plenty of attachment point options, as well as adjustability where it matters most. This makes them incredibly versatile.
The Outpost frame bag comes in small, medium and large. The small is compact enough that it's guaranteed to work with almost any bike frame, regardless of size or bottle cage placement. This will be wonderful news for shorter riders with XS frames who tend to struggle in this area. What's even better about it is that it is expandable so if you want more storage space, you've got it. The whole thing is coated with 70D Ripstop Nylon and sealed with polyurethane zippers to provide extra protection against the elements.
The Handlebar Roll and Dry Bag has a nifty mounting system with brackets to hold everything high above the fork and front tire to avoid any scraping. It has some additional safety features, including a steel cable running beneath the stem and between the brackets to prevent the whole system from sliding downwards while in motion.
The Seat Pack is a harness which houses a dry bag, and attaches to the seatpost with two straps, while another two loop around the saddle rails. The harness features a flap that overhangs at the top and partly covers the dry bag. It includes some foam in its construction to give it some structure, and also has daisy chain webbing for mounting a rear light to (or getting your dangle on).
Great value
Bikepacking bags that perform as good as they look
This two-bag set from Rockbros offers excellent value for money, consisting of a front roll bag that straps to your handlebars, and a detachable pouch that sits on top. The roll bag is spacious enough to house your sleeping bag or tent, while the pouch can carry numerous smaller items (and snacks, of course).
The handlebar mount is flexible and has an adjustable height, helping you to achieve the right fit without risking any collisions with the front tire, while the straps actually have space to hold an extra item if you wish to, like a tent or a dry bag.
The bags themselves are sturdy and durable, made from high-strength 600D Nylon with a TPU coating. The roll bag opens on both ends with roll-top closures to keep moisture out. It holds an impressive 16 liters if used with flat handlebars. Bear in mind that if you use this with drop bars, you'll need to reduce the capacity somewhat to make it fit, but it will work.
The detachable pouch, meanwhile, has a capacity of 6 liters. It's easily accessed with one hand while riding, which makes it a very convenient place to store snacks and anything else you need to grab on the go.
Rockbros also has other bikepacking bags available, including a large capacity seat pack, two different sized frame bags, and a top tube bag.
Also consider
The perfect way to carry some extra water with you
Other types of bags are useful when bikepacking, especially when you've got a lot to carry. A stem bag, like this one from Moosetreks is an excellent way to carry more upfront without overcrowding your cockpit.
It has a main compartment that is ideal for storing an extra water bottle if you need it (and is large enough to house a 32oz bottle), while there are mesh side pockets where you can tuck away some extra snacks, bits of trash (always take it with you!) and a multitool. The bag is insulated, and designed to keep your drinks cool, which is super handy if you're riding in a hot climate. It's made from durable Ripstop Nylon, and is designed to go the distance.
It secures to your stem and handlebars using three straps. One goes around your handlebar, one around the stem, and the third slips through the fork and clips the bottom of the bag in place. If you really need a lot more storage, why not get two and have one either side of your stem?
Must-have
Important to keep your snacks within reach
When you're bikepacking, staying fuelled is extremely important, and so you always need to make sure you've got enough food with you. A top tube bag like the Topeak Fuel Tank is an excellent place to keep snacks so you can eat on the go without stopping. It's easily accessible from your ride position and only needs to be unzipped to uncover the treasures inside. Chop up your favourite flapjack into bite size chunks or fill it with jelly sweets for on-the-go energy boosts.
The Topeak Fuel Tanks has a 5 liter capacity and is constructed from 420 denier Nylon, making it a durable addition to your bikepacking ensemble.
A nice detail is the cable hole. If your GPS computer is running low mid-ride, carry a back-up power bank in the fuel tank and hook it up to your device so you can charge it while you ride.
Up the ante
Bolt these to your fork mounts for even more carry space up front
If you're riding a bike with fork mounts, don't miss out on the prime real estate that's there. By attaching an 'anything cage' like this cargo cage from Blackburn to your fork mounts, you now have extra storage space. Strap whatever you want to them: large bottles of water, or dry bags with the rest of your stuff inside.
They can take a fair amount of heft if you're really loading up the bike, too. It's constructed from 6mm alloy tubes, is 4 inches wide. Unlike a lot of cages like this, we like the Blackburn Outpost one because it comes with the straps included. All you need to do is fill it up!
Waterproofing
The best way to keep your clothes and valuables dry
Dry bags are an essential piece of kit when you're bikepacking, especially when there's a likelihood of rain. Keep your clothes and valuables inside to protect them from getting wet. They're easy to strap to your bike via an 'anything cage' like the one listed above.
This 3-pack of dry bags from Outdoor Products offer excellent value for money, as well as the ultimate solution to keep your things dry when the rains come. They're made with soft and flexible Ripstop fabric and are polyurethane coated, with a roll-top closure for maximum compression and protection from the elements.
Each bag is the same size with an 8 liter capacity and can pack down to pocket-sized when not in use.

Thank you for reading 5 articles this month* Join now for unlimited access
Enjoy your first month for just £1 / $1 / €1
*Read 5 free articles per month without a subscription

Join now for unlimited access
Try your first month for just £1 / $1 / €1
Mildred joined as Reviews Writer for Cyclingnews and BikePerfect in December 2020. She loves all forms of cycling from long-distance audax to daily errand-running by bike, and does almost everything on two wheels, including moving house, and started out her cycling career working in a bike shop. For the past five years she's volunteered at The Bristol Bike Project as a mechanic and session coordinator, and now sits on its board of directors.
Since then she's gone on to write for a multitude of cycling publications, including Bikeradar, Cycling Plus, Singletrack, Red Bull, Cycling UK and Total Women's Cycling. She's dedicated to providing more coverage of women's specific cycling tech, elevating under-represented voices in the sport, and making cycling more accessible overall.
Height: 156cm (5'2")
Weight: 75kg
Rides: Liv Devote, Genesis Equilibrium Disc 20, Triban RC520 Women's Disc, Genesis Flyer, Whyte Victoria, Cotic BFe 26, Clandestine custom bike
Sign up to the Cyclingnews Newsletter. You can unsubscribe at any time. For more information about how to do this, and how we hold your data, please see our privacy policy
Thank you for signing up to Cycling News. You will receive a verification email shortly.
There was a problem. Please refresh the page and try again.