Best cycling jerseys
The best cycling jerseys that offer a blend of temperature regulation, moisture management, comfort and aerodynamic efficiency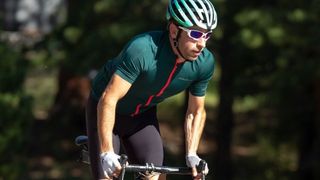 (Image credit: Pearl Izumi)
Gone are the days when cycling jerseys were little more than a t-shirt with a quarter-zip, collar and some handy pockets sewn into the back to stash your tools and snacks.
Cycle clothing companies have invested a lot of research and design into perfecting fit and sourcing technically advanced materials to create jerseys that will help you perform at your best. Whether it's material that stretches to provide the optimal fit and aerodynamics; wicking moisture away from your body to keep you cool and dry when it's hot; or to work as part of a layering system to protect against poor weather conditions.
Jerseys have a role to play in your cycling, all year round. In the warm weather, a lightweight jersey can help with moisture management, while thicker jerseys are best when used as a layer of insulation under a waterproof jacket.
Keep reading for our selection of the best cycling jerseys available to buy, but first here's our guide on how to choose the right one for you.
Material
Most performance jerseys will be constructed from a synthetic material such as nylon or polyester. These materials offer superb wicking and breathability to move sweat away from the body so it quickly evaporates, leaving you dry and comfortable while you're working hard. Thin mesh-style materials are incorporated to maximize breathability where it is needed the most, such as under the arms, which further helps with cooling. High levels of stretch both two-way and four-way can be engineered into synthetics for a perfect close fit to reduce bunching and maximise aerodynamic properties.
That's not to say natural materials such as merino don't have their advantages. Both soft and hard-wearing, merino will keep you warm even when soaked and the natural material resists odour build-up. Thanks to these properties, natural fibres lend themselves well for long days in the saddle where comfort trumps super aggressive aero designs.
Fit
Fit is key so it is important to choose a jersey that suits your intended style of riding. An aggressive race fit is designed to be ridden in the drops and to cut through the air with maximum efficiency. They feature shorter torsos and longer arms to optimise fit while in a more aggressive position. Slim-fit jerseys are a little looser and longer to improve comfort for longer rides or relaxed coffee runs.
Zippers
Almost all jerseys use a full-length zipper so when it's very warm the front can be unzipped to help regulate temperature. To reduce irritation, a flap on the collar houses the zipper so it doesn't rub while riding.
Storage
Three rear pockets are the standard for storing multi-tools, snacks and any other mid-ride essentials. There are variations on this with some companies adding a loop to secure a pump or a handy fourth secure zippered pocket to stash valuables.
Visibility
Finally, reflective details improve visibility when riding in poor light. This might not be a consideration when choosing race wear, but for riders who are going on all-day epics and training rides, this is an important aspect to consider to help keep you safe on the road.
Of course, having a well-fitting jersey is key, but looking good is also important. Jerseys are available in a wide range of colors and patterns to suit all riders' style whether you want a subtle classy look or want to stand out from the crowd.
Best overall
A chic and high-performing summer jersey at a respectable price
You can't help but love the simplicity yet high function of this lightweight jersey. The unique color finish is achieved by creating a white jersey that's then dipped into different color dyes until the final shade is reached. This means that every jersey is one-of-a-kind, with all the component parts taking the dye in different ways. What results is a neat, aged finish.
It features high-stretch mesh panels that provide excellent moisture-wicking. The fit is true to size and arguably more forgiving than some of Sportful's race-orientated kit. The overall cut is good, with long sleeves that have a wide, raw-finish at the end. The neck is low, while a wide silicone-lined hem delivers a comfortable fit. Three pockets at the rear offer ample storage, and overall it's a great piece of kit.
Most comfortable
A versatile, warm weather jersey that will stand up to the needs of a WorldTour pro
Sportful may have designed the Bodyfit Pro Evo for the rigors of the WorldTour but that doesn't mean it isn't comfortable for club runs and training rides.
Sportful haven't gone for an all-out aero fit - for that, they have the Bomber jersey - however, the BodyFit Pro Evo still sits close to the body thanks to highly stretchy shoulder material that hugs the top of the body. A low v-neck collar features minimal stitching to add to the all-day comfort of the jersey.
Silicone detailing and elastic around the waist holds the jersey in place while laser-cut lay-flat elastic cuffs stop the sleeves from riding up.
Race fit
A race-fit, warm-weather jersey that claims to make you faster
With the Aero Race 6.0 jersey, Castelli has developed a jersey that promises real-world aero gains. While this is hard to prove without access to a wind tunnel, there is no doubt that Castelli has put a lot of thought into their design and material choice.
Castelli has focussed on creating a jersey that fits close to the body while remaining comfortable for the duration of a ride. Using their stretchy Velocity Rev2 material for the front and elbow-length sleeves. The back of the jersey uses a 3D mesh that is extremely breathable.
A dropped tail features a silicone gripper around the hem, keeping the jersey in place while riding and allowing for optimal pocket placement.
Best for bad weather
Almost synonymous with poor-weather jerseys, the Gabba will keep you comfortable when the heavens open
The weather isn't always sunshine so it's important to have a jersey that will keep performing well even when the clouds roll in. This is where the Castelli Gabba 3 comes in.
Made from Gore Windstopper X-Lite Plus fabric the Gabba 3 offers superb wind protection and a water-resistant finish to protect against showers. This doesn't come at the sacrifice of breathability or mobility thanks to Castelli's NanoFlex technology.
The tail of the Gabba 3 is extended to provide a storm flap to protect from wheel-spray. Even the pockets feature drain holes in case the weather gets very unpleasant.
Best for hot weather
A high-performing yet practical and robust jersey
The Hors Categorie jersey from Castelli is designed for hard, hot days in the saddle. The main panels feature the brand's Velocity Rev3 fabric, while the rear and wider panels are made with a cool mesh, producing a jersey that performs well in warm weather. You can further control the temperature using the front zip.
The sleeves are long and don't need any raw ends or fancy cuffs: they simply ride comfortably over the course of a long ride. At the rear the jersey is longer with a silicone detail to help it sit in place without riding up. We'd recommend sizing up if you want a more comfortable fit, as this jersey comes up small, like all of Castelli's range.
You can easily access the 3 rear pockets, while there's a zippered pocket as well for your valuables. This robust jersey is both practical yet high-performing.
Best design
A minimalist, high-performance and neat-looking race jersey
With a next-to-skin fit and silky feel, the Pearl Izumi Interval jersey adds a touch of luxury to your cycling wardrobe. It achieves this finish by using Italian knit Elite Transfer fabric, which breathes well and has a lot of stretch to provide a good and comfortable fit. It's relatively robust as well, particularly compared to some other minimalist jerseys.
For warmer days, you'll appreciate the Coldblack treatment, which reflects heat to direct it away from your body and keep you feeling cool. It stays in place during riding thanks to the silicone liner on the rear hem, while three well-located pockets provide ample storage. As a nice attention to detail, these pockets feature bonded tops and inner support patches at the high-stress points, to help with durability and longevity.
Great for tall people
Understated looks but high on performance
The Endura Pro SL jersey has a race cut that uses close-fitting lycra with raw edge hem to keep airflow moving smoothly over the body. The design around the collar is particularly well-shaped and comfortable. The fabric has wicking qualities to manage sweat as well as UPF50 for protection from the sun.
The three rear pockets are deep and provide ample space for securely storing everything needed on a ride. To keep your valuables accounted for there is a zippy pocket as well.
Mildred is a Reviews Writer for Cyclingnews who enjoys everything from road cycling to mountain biking, but is a utilitarian cyclist at heart. Determined to do everything on two wheels, she's even moved house by bike, and can regularly be found pedalling around Bristol and its surrounding areas. She's spent over four years volunteering as a mechanic and workshop coordinator at the Bristol Bike Project, and now sits on its board of directors. Her expertise comes from previously working in a bike shop and learning the ins and outs of the industry, and she's previously written for a variety of cycling publications, including Bikeradar, Cycling Plus, Singletrack, Red Bull, Cycling UK and Total Women's Cycling. At home on slicks and knobblies alike, her ideal ride covers long distances through remote countryside, on mixed terrain that offers a bit of crunch, followed by a gourmet campfire meal and an overnight bivvy beneath the stars.
Sign up to the Cyclingnews Newsletter. You can unsubscribe at any time. For more information about how to do this, and how we hold your data, please see our privacy policy
Thank you for signing up to Cycling News. You will receive a verification email shortly.
There was a problem. Please refresh the page and try again.