Vuelta a España stage 1 - Live coverage
All the action as the race gets underway with a short punchy time trial in Burgos
Refresh
Hola! I can't quite believe it but the Vuelta a España has already rolled around. The Olympics meant we didn't have any sort of breather after the Tour de France we're already setting out on the third Grand Tour of the season. Ahead of us are three weeks of mouth-watering racing with some great potential storylines, all starting here in Burgos tonight, with a short and punchy time trial that could give us a hierarchy - albeit a loose one - from the get-go.
It's a sweltering late afternoon in Burgos, famous for its gothic cathedral but more importantly its black pudding. The temperatures should dip as we head deeper into the evening, which could favour the later starters.
The first rider down the ramp will be Pelayo Sanchez, riding for local team Burgos-BH, at 17:44 CEST. The GC contenders are scattered through the start list but the last rider off will be the defending champion Primož Roglič (Jumbo-Visma), at 20:47.
For the full list of start times, here's the link you need.
This is the scene in Burgos, where the riders have been out getting to grips with the course.
🙇‍♂️Momentos de concentración en el reconocimiento de la CRI.🙇‍♂️Concentration time on TT recognition. #LaVuelta21 📸 @charlylopezph pic.twitter.com/Fqc2P2QBwpAugust 14, 2021
Another person who has been out getting to grips with the course (albeit on four wheels rather than two) is our resident Spaniard, Alasdair Fotheringham.
He describes this 7.1km TT as one of 'two halves', with the climb up towards the Alto del Castillo starting almost immediately and hitting some steep pitches, before a fast downhill and a flatter run back towards the cathedral.
Here's a look at the map. Out of the cathedral square and straight uphill, with a couple of tight bends on the way up the Alto del Castillo. Then a fast downhill with a tricky chicane at the end, and out onto the main road for a flatter run back to the centre of town.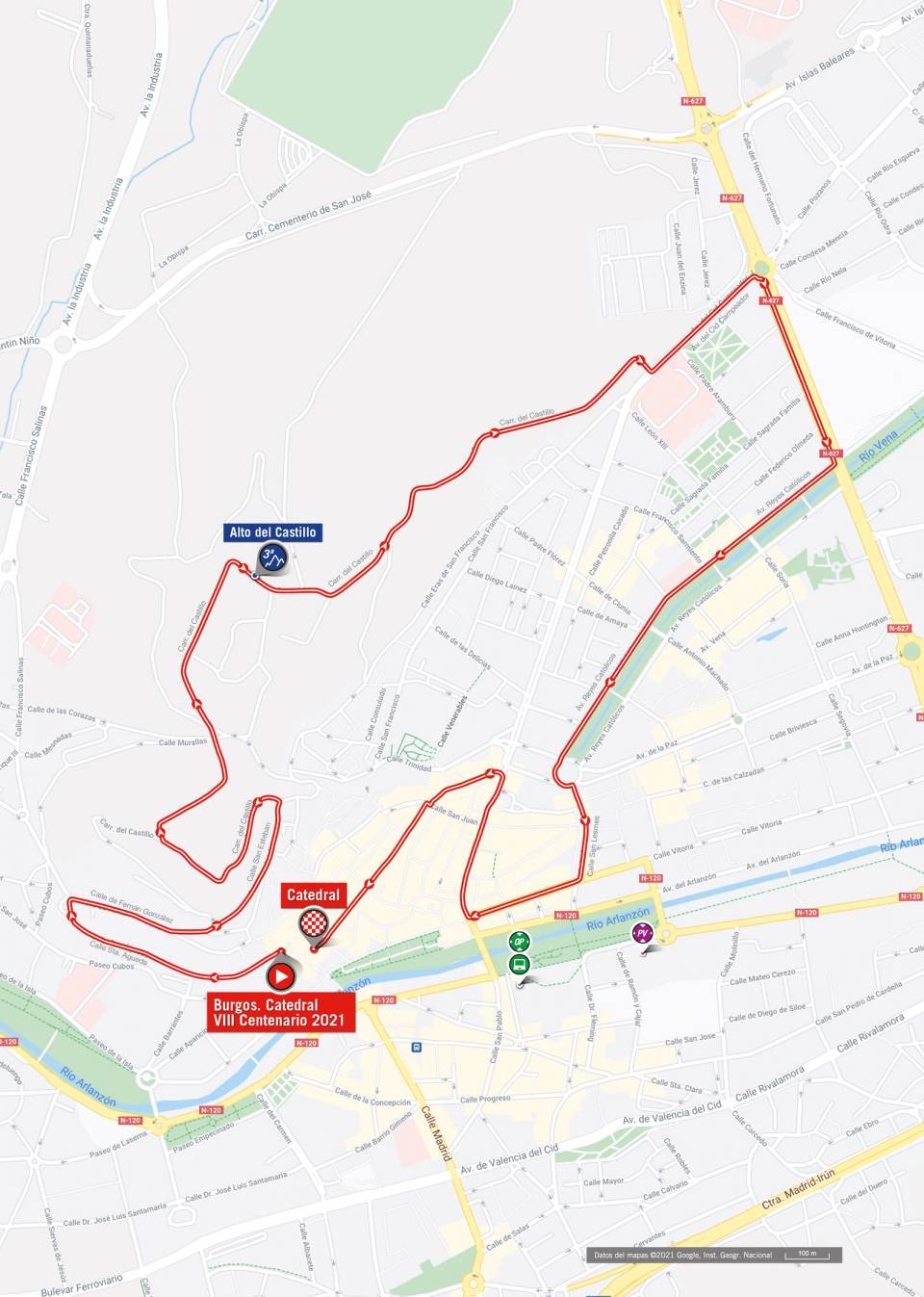 We're off!
Pelayo Sanchez rolls down the ramp and the 2021 Vuelta is underway
There aren't too many potential benchmark-setters among the early starters. Omar Fraile (Astana-PremierTech) perhaps possesses the skill-set to set a strong time. He's 13th off.
Sanchez is the first finisher and his time is 9:30.
Adam Yates has completed his warm-up and he'll be off very shortly. He's the first of the GC candidates. Ineos Grenadiers have come with Bernal, Carapaz, and Sivavkov, but Yates has been eyeing the Vuelta all season, and he's had a pretty good season.
Fraile does indeed set the fastest time so far. It's 8:55, which is 22 seconds up on anyone else at the moment.
Yates is off now. His brother Simon made notable TT improvements a few years ago, pretty much starting off at the 2018 Vuelta, which he won. Adam was slower to catch up against the clock but there have been some good signs since he's been at Ineos, with top-10's at Catalunya and Basque.
Yates reaches the top of the climb (the Alto del Castillo) in 3:47. That's five seconds quicker than anyone else so far.
Here comes Yates. It's a good ride and he's going to go into the hotseat.
8:52 for Yates - three seconds quicker than Fraile.
That'll be an important benchmark from a GC perspective. We've got Fabio Aru and Mikel Landa coming up soon, but most of the other pre-race favourites are coming up later on.
Aru has started and is 10 seconds down on Yates at the hill-top checkpoint. He won the 2015 Vuelta but this one will be the final race of his career. He has had major struggles in the past few years but recently finished runner-up at the Vuelta a Burgos, leading to increased hopes over what he can do here in Spain, especially with the liberation of impending retirement.
Aru is home in 9:09 - 7th fastest so far and 17 seconds down on Yates.
Landa is 11 seconds down on Yates at the top of the hill. Matteo Trentin is just four seconds down.
Landa comes to the finish... and stops the clock on 9:11, so he has conceded 19 seconds to Yates.
Trentin hits the line now, six seconds down. He's third fastest so far, second being Fraile.
Yates' teammate Dylan van Baarle is coming towards the finish now and he's on a good ride. He was only 3 seconds down on Yates at the checkpoint.
Van Baarle into the hotseat! The Dutchman makes up time in the second part of the course to clock 8:43, booting his teammate out of the hotseat by 8 seconds.
Here's Yates on the climb earlier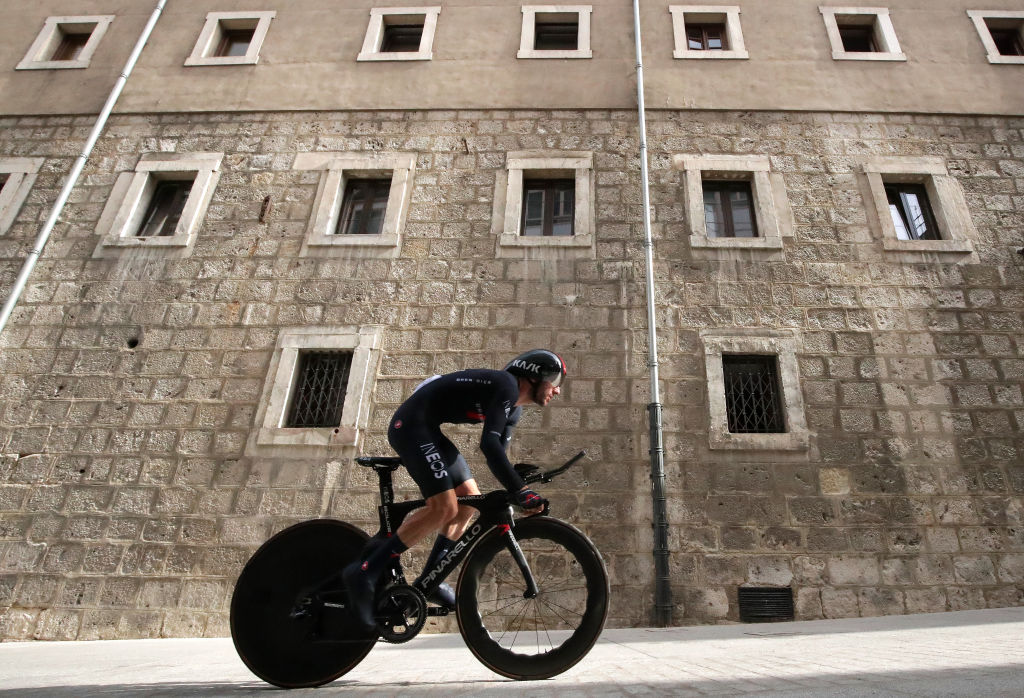 "I did the best I could," says Adam Yates, speaking to Eurosport. "It was a really hard way to start a Grand Tour, with an effort like that. It was all-out and there was no real time to recover on the descent, so it was a full-gas TT. There are a lot of guys still to start so the order is going to change a lot, but I did the best I could so I'm happy."
Yates also reveals he chose to start early so as to get back to the hotel for an early night. He put that in danger by going so fast he went into the hotseat, and he has his teammate Dylan van Baarle to thank for allowing him to pack up his things.
Damiano Caruso crosses the line 10 seconds down on Van Baarle's time and one second down on Yates. Landa has been billed as Bahrain's leader but Caruso remember was runner-up at the Giro d'Italia.
Alex Aranburu (Astana-PremierTech) has the punchy-sprinty skills to do well on a TT course like this, and he's in the mix at the top of the climb - one second down on Yates' benchmark there and one second up on Van Baarle.
Aranburu has smoked the descent and now needs to hang on on this final flat part.
Aranburu is flying here and looks to be on his way into the hotseat.
New leader!
Aranburu nails the final couple of corners and sprints into the cathedral square, taking a full five seconds out of Van Baarle. 8:38 for our new leader.
Gino Mader is going strong and is in the mix at the checkpoint.
Mader goes into provisional second place.
Zdenek Stybar was right up with the best time at the top of the climb but has plummeted out of contention. Maybe he made a mistake on the descent.
Odd Christian Eiking (Intermarché) is out here on a road bike. He was 5th fastest at the top of the climb and is now on the flat run-in, where the wind has picked up.
Giulio Ciccone (Trek-Segafredo) sets off now. This is his first true shot at Grand Tour leadership.
Matthew Holmes (Lotto Soudal) has flown up the climb, a second down on Yates.
Holmes fades on the flatter part and finishes 50 seconds down.
Big ride from Clement Champoussin (AG2R Citroën), who was sixth at the checkpoint but now fourth at the finish, 14 seconds down on Aranburu and level on Yates.
Champoussin is a rising talent who has enjoyed a good first full season as a pro. He made his debut at last year's Vuelta but might make a much bigger impact this time around.
Here's your provisional top-5 so far
1. Alex Aranburu (Astana-PremierTech) - 8:38
2. Dylan van Baarle (Ineos Grenadiers) - 8:43
3. Adam Yates (Ineos Grenadiers) - 8:52
4. Clement Champoussin (AG2R Citroën) - 8:52
5. Damiano Caruso (Bahrain Victorious) - 8:53
Ciccone hits the line with 8:59 - 15th fastest and 7 seconds down on Yates, who is the benchmark from a GC perspective.
Pavel Sivakov starts his Vuelta. He's another big name in the Ineos line-up and might be looking at GC in another team but looks set for domestique duties.
Big ride from Tom Scully! The EF-Nippo rider storms home with the second fastest time so far - 4 seconds down on Aranburu.
Sivakov is two seconds down on Yates' time at the top of the climb but should go quicker on the flat section later.
Ryan Gibbons (UAE), like Yates and Champoussin, clocks an 8:52 but slots into 5th place between the pair due to the fractions of seconds.
Sivakov comes home 8th fastest so far, 15 seconds down on Aranburu and three seconds slower than Yates.
Mechanical problems for Tobias Ludvigsson, a strong time triallist but arguably too big to thrive on a course with this hill. Either way, he had issues straight from the ramp and was looking down at his machine. He has had to stop for a bike change on the climb and he's not best pleased.
Ion Izaguirre sets off. Astana are having a decent TT so far and the Spaniard could well be in the mix.
Did I do a disservice to Ludvigsson? The FDJ rider reaches the finish 23 seconds down. He must have lost close to that with his mechanical problems.... He shakes his head as he crosses the line.
US champion Lawson Craddock (EF-Nippo) has stormed up the climb almost on a par with Yates. One to watch now.
Izaguirre hits the line. 8:55 for the Spanish champion, which is only good enough for 11th place so far.
Now for Tom Pidcock!
A great deal of excitement surrounding the young Briton as he makes his Grand Tour debut. It's far-fetched to think he can compete for the overall in his first three-week race, after just winning the Olympics on his mountain bike, but he could well produce a good result today.
Pidcock races away, sprinting out of the saddle down the initial dip out of the main square. He looks more aggressive through that part than anyone else.
Craddock reaches the finish and he's into fourth place.
Aranburu was eighth fastest at the top of the climb so that shows he had a really strong descent and flat run-in.
Pidcock is 15th fastest at the top of the climb - 9 seconds down on Yates' benchmark.
But hold on, Sepp Kuss and Rui Oliveira have now got the top two times at that hill-top checkpoint!
Oliveira (UAE) reaches the finish and he's more than a minute down. Not sure what's happened there. He must have had a crash or a problem.
Michael Matthews sets off now. He could set a strong time here.
Pidcock reaches the finish and he's coasting across the line... He stops the clock 30 seconds down on the leader.
Kuss comes to the finish now...
8:47 for Kuss. That's 5th so far, 9 seconds down on Aranburu. He lost a little time on the flat section but that's to be expected and he'll be more than happy with that ride.
Matthews is coming to the top of the climb and it's looking good already...
Matthews is 5th fastest to the top of the climb.
We're into the last 30 riders now and there are some big names among them.
Matthews is seven seconds down on Aranburu as he enters the final kilometre
Matthews hits the line. 5th place so far, 8 seconds down on Aranburu.
"Horrible," is how Pidcock describes the TT, speaking to Eurosport. "I had three weeks basically on holiday but I came and warmed up properly. When it's a TT I'm going to do my best ride but I just didn't have anything really. Up the climb I knew I couldn't hold anything then on the flat I was just cruising home because I couldn't push or go deep. But it's all good - first stage of my first Grand Tour done."
Miguel Angel Lopez sets off. He has had a strong first season with Movistar but had some bad luck at the Tour de France and will be hoping he can shine at this Vuelta. He has also been much better against the clock this year.
Carapaz sets off now! There seems to be less intrigue over Ineos leadership compared to the Tour but it'll be interesting to see how the Olympic champion compares to Bernal and Yates here.
Lopez is 21st fastest at the top of the climb.
Wow. The top times at the top of the climb are tumbling!
Suddenly, in the blink of an eye, Kruijswijk, Madrazo, and Carapaz have the fastest times there.
And now Tobias Bayer (Alpecin-Fenix) has the third fastest time at Alto del Castillo. The four fastest times have just been posted by the last four riders...
Meanwhile, young talent Andrea Bagioli is flying to the finish. 8:44 for the QuickStep rider and he's into fourth so far.
Lopez hits the line now and he's 14th as it stands - 15 seconds down on Aranburu.
Carapaz reaches the finish. 8:57, which is 27th as it stands, and five seconds slower than Yates.
Romain Bardet (DSM) sets off now. It'll be interesting to see how he gets on after a recent stage win at the Vuelta a Burgos.
Quinn Simmons sets off on a road bike.
Aleksandr Vlasov (Astana-PremierTech) is off now. A real GC contender at this Vuelta.
So here we are, with just 10 riders left to start. This is who they are:
Guillaume Martin (Fra) Cofidis
Hugh Carthy (GBr) EF Education-Nippo
Xabier Mikel Azparren Irurzun (Spa) Euskaltel-Euskadi
Felix Grossschartner (Aut) Bora-Hansgrohe
Jan Tratnik (Slo) Bahrain Victorious
David de la Cruz (Spa) UAE Team Emirates
Josef Cerny (Cze) Deceuninck-QuickStep
Enric Mas Nicolau (Spa) Movistar Team
Egan Bernal Gomez (Col) Ineos Grenadiers
Primoz Roglic (Slo) Jumbo-Visma
Roglic has finished his warm-up, he's wearing a normal-looking helmet, and he greets his compatriot Tratnik, who has a real shout today.
Here goes Carthy, who had such a good Vuelta last year, including a really decent time trial.
Bardet had a strong climb and is now losing a little time on the flat but this is still looking like a good effort from a rider who has thrown away so much time in TTs in Grand Tours over the years.
Roglic is in fact warming up again, and it appears he has an ice vest on - it's still hot out there.
Bardet heads into the finish square and stops the clock on 8:49, which is 10th at the moment, and is actually the quickest so far of the pre-race GC contenders.
166th place for Simmons and that's maybe because he was on a road bike.
We mentioned the earlier influx of fastest times at the hill-top checkpoint...it apperas the Tissot timings are all over the place.
Vlasov hits the line now with 8:46, which puts him in seventh place and fastest of the GC riders so far.
Mas and Bernal have set off now, so only Roglic to go!
And now Roglic, the heavy favourite, rolls down the ramp. All riders out.
Mas overcooks one of those switchbacks on the climb and nearly slips out.
Carthy hits the line in 54th place, 26 seconds down on the leader.
Roglic rips out of the saddle for much of the early part of the climb
Tratnik comes to the line. His checkpoint time has been corrected suggesting they've fixed the timing issues. He's in the mix here...
Close but no cigar! Tratnik falls outside Aranburu's time by a couple of seconds.
Bernal is onto the flat now but doesn't look like he'll go close to the top of the leaderboard.
Josef Cerny (Deceuninck-QuickStep) goes into fourth place, four seconds down on Aranburu.
Last three riders now - Mas, Bernal, Roglic.
Roglic is three seconds up on Aranburu as he enters the final 2km.
Mas takes 14th so far, 12 seconds down. Good result considering his near-crash.
Here comes Bernal. The Giro champion negotiates the last few corners and springs from the saddle.
Bernal squeezes everything out and stops the clock on 8:59, which is 45th as it stands, 21 seconds down on the leader.
Roglic still six seconds to the good as he enters the final 400!
Roglic comes to the line, and wins it!!
8:32 for the Olympic champion and defending Vuelta champion, and he ousts Aranburu from the hotseat by six seconds.
Roglic picks up where he left off last year, with the red jersey. That's the sixth Vuelta stage win of his career.
"It's crazy. I'm definitely happy and pleased with this result," says Roglic.
"It was 7km but still super hard - you don't wish for more when you cross the line. It's hard - just all-out from the start to the finish. I don't really know the intermediate times but the fact is you have to go fast uphill, then get down the descent, survive the corners, and push on the flat.
"It's a beautiful start. I'm enjoying it and hopefully we can enjoy it with the team in the upcoming days."
Top 10

| Place | Rider (Country) Team | Result |
| --- | --- | --- |
| 1 | Primoz Roglic (Slo) Jumbo-Visma | 00:08:32 |
| 2 | Alex Aranburu Deba (Spa) Astana-Premier Tech | 00:00:06 |
| 3 | Jan Tratnik (Slo) Bahrain Victorious | 00:00:08 |
| 4 | Tom Scully (NZl) EF Education-Nippo | 00:00:10 |
| 5 | Josef Cerny (Cze) Deceuninck-QuickStep | |
| 6 | Dylan van Baarle (Ned) Ineos Grenadiers | 00:00:11 |
| 7 | Andrea Bagioli (Ita) Deceuninck-QuickStep | 00:00:12 |
| 8 | Lawson Craddock (USA) EF Education-Nippo | 00:00:13 |
| 9 | Michael Matthews (Aus) Team BikeExchange | 00:00:14 |
| 10 | Aleksandr Vlasov (Rus) Astana-Premier Tech | |
General classification after stage 1

| Place | Rider (Country) Team | Result |
| --- | --- | --- |
| 1 | Primoz Roglic (Slo) Jumbo-Visma | 00:08:32 |
| 2 | Alex Aranburu Deba (Spa) Astana-Premier Tech | 00:00:06 |
| 3 | Jan Tratnik (Slo) Bahrain Victorious | 00:00:08 |
| 4 | Tom Scully (NZl) EF Education-Nippo | 00:00:10 |
| 5 | Josef Cerny (Cze) Deceuninck-QuickStep | |
| 6 | Dylan van Baarle (Ned) Ineos Grenadiers | 00:00:11 |
| 7 | Andrea Bagioli (Ita) Deceuninck-QuickStep | 00:00:12 |
| 8 | Lawson Craddock (USA) EF Education-Nippo | 00:00:13 |
| 9 | Michael Matthews (Aus) Team BikeExchange | 00:00:14 |
| 10 | Aleksandr Vlasov (Rus) Astana-Premier Tech | |
Here's Roglic on his winning ride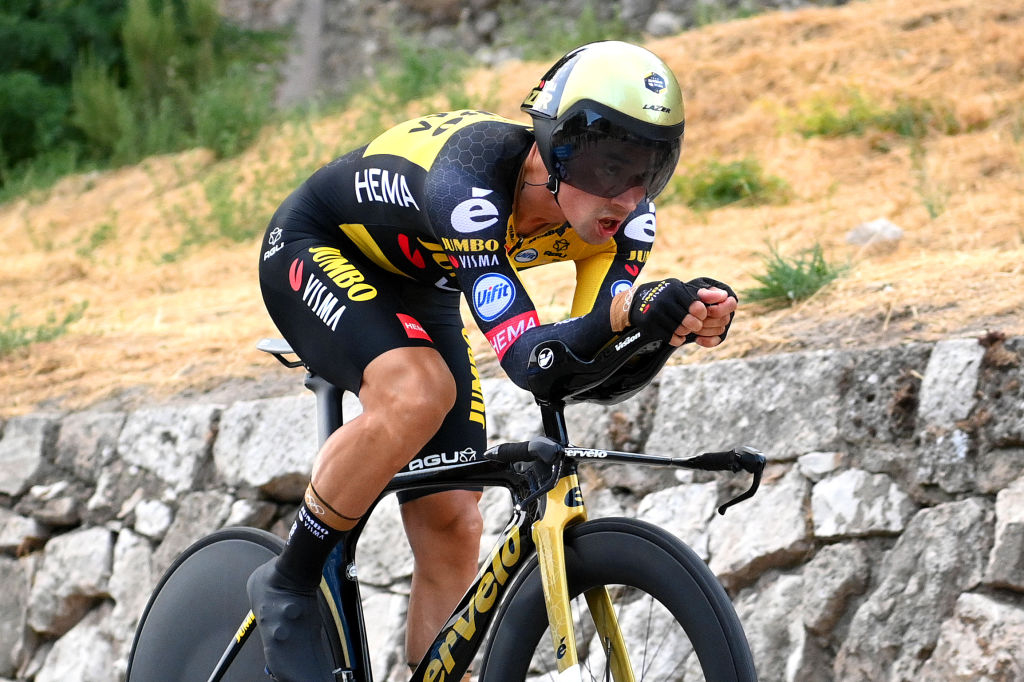 Thank you for reading 5 articles in the past 30 days*
Join now for unlimited access
Enjoy your first month for just £1 / $1 / €1
*Read any 5 articles for free in each 30-day period, this automatically resets
After your trial you will be billed £4.99 $7.99 €5.99 per month, cancel anytime. Or sign up for one year for just £49 $79 €59

Join now for unlimited access
Try your first month for just £1 / $1 / €1