Live coverage
Vuelta a España stage 9 - Live coverage
All the action on a day for the sprinters
Refresh
Buenos días. I'm looking for the summit finish, but it's just not there... There's not even a single climb. It's a rare flat stage at the Vuelta, and a rare opportunity for the few sprinters we have in this peloton. 
While there are no climbs to speak of, the stage isn't one of those completely pan-flat affairs you can find in the Tour. There are still plenty of undulating roads but nothing that will stop Deceuninck-QuickStep controlling this and nothing to blunt the finishing speed of their sprinter Sam Bennett, who is the runaway favourite for the win. 
💪🏼 ¡Vamossssss a por la etapa 9! Roll-out 💨💨#LaVuelta20 pic.twitter.com/9aV3cWdriZOctober 29, 2020
The riders have just rolled out of Burgos, home to a gothic cathedral and the best black pudding you'll ever taste. It's a neutralised start but the stage is scheduled to properly begin in 10 minutes. 
Before we get going, now's the time to catch up on yesterday's action. The Vuelta found yet another new steep summit finish and Primoz Roglic, who struggled at Formigal on Sunday, bounced back to win the stage and close in on race leader Richard Carapaz. Report, results, photos all in this link. 
Incidentally, it's Roglic's birthday today. Happy birthday Primoz. He whipped out the fancy dress a day early - today's nice weather means no yellow arm warmers and gilet to go with his green jersey, gloves, and socks. 
Let's get this show on the road!Stage 9 looks like a good chance for the sprinters at #LaVuelta20. We'll be aiming to keep Richie in that red jersey 🔴 pic.twitter.com/sqDq6F5BKmOctober 29, 2020
The riders will have a cross-headwind as they head west from Burgos, but then more of a tail-cross when they turn north after 70km. The wind, however, doesn't seem to be blowing very strongly today.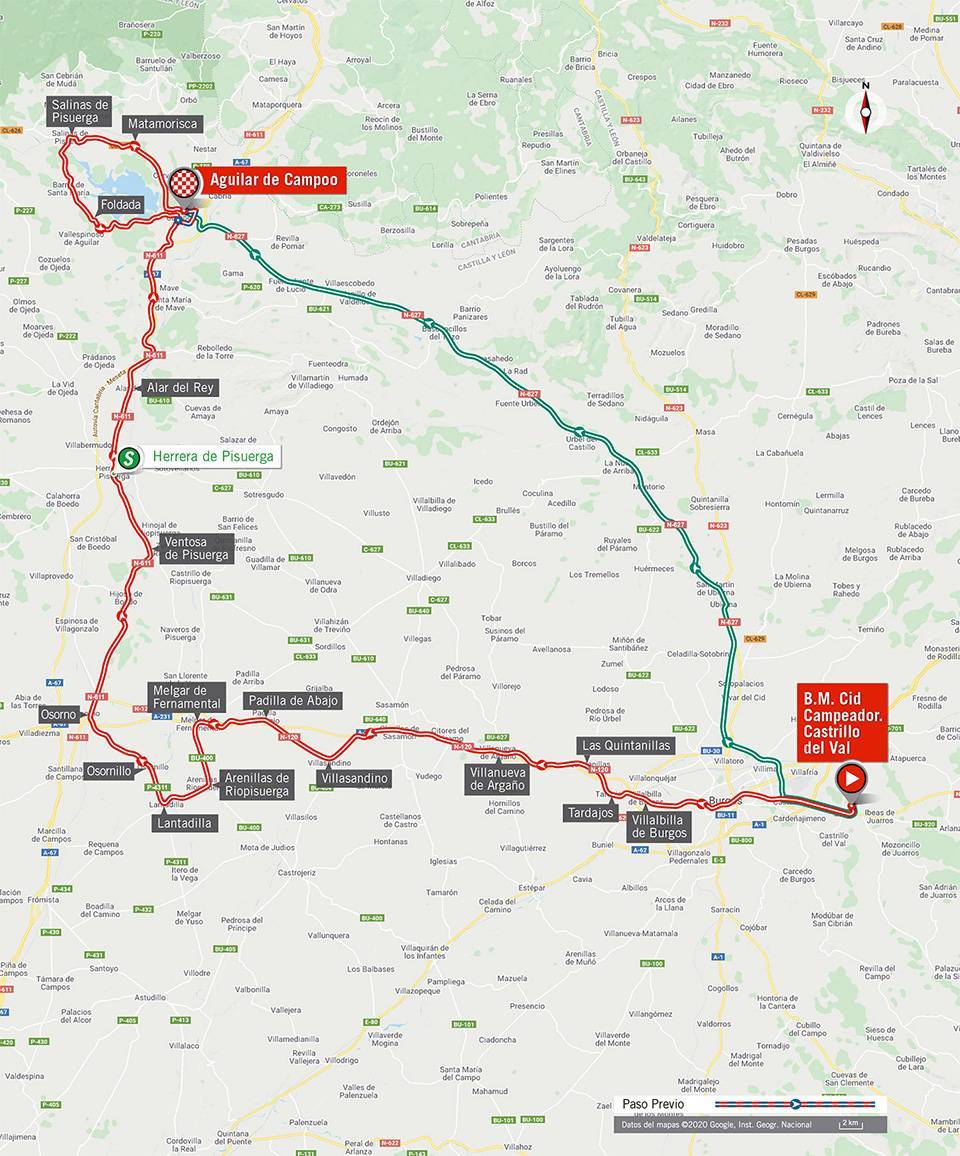 We're off!
After an extended neutral zone, the flag has dropped and the stage is underway
The first attack comes from Juan Felipe Osorio (Burgos-BH) and Aritz Bagues (Caja Rural-Seguros RGA).
Well, those two appear to be our breakaway of the day. The peloton is letting them go and no one else fancies it. 
The pair move out to beyond two minutes and it'll be interesting to see how much time the peloton ends up giving this unthreatening escape. In the past they'd be allowed out to double figures but sprint teams tend to keep much more close control these days. 
We've had just one sprint so far in this Vuelta, with stage 4 potentially offering us some clues about what might happen today. Bennett won convincingly and, with the strongest lead-out in the race, is the favourite to make it two today.
Jasper Philippsen (UAE Team Emirates) and Jakub Mareczko (CCC Team) were second and third that day, while fourth was Pascal Ackermann (Bora-Hansgrohe), who, after last season looked like he could become the best in the world but hasn't had a great time of it since this season resumed. He won two stages at Tirreno but has otherwise been off the pace. 
137km to go
After 20km, Bagues and Osorio have found five minutes on the peloton. 
The gap has stabilised at five minutes as Deceuninck-QuickStep take control of the bunch. 
Our top story at the moment concerns Geraint Thomas, who's been on BBC Radio Wales this morning to talk about his off-season and how he struggled to watch Tao Geoghegan Hart win the Giro d'Italia. Full story here. 
Carapaz and Roglic at the start earlier.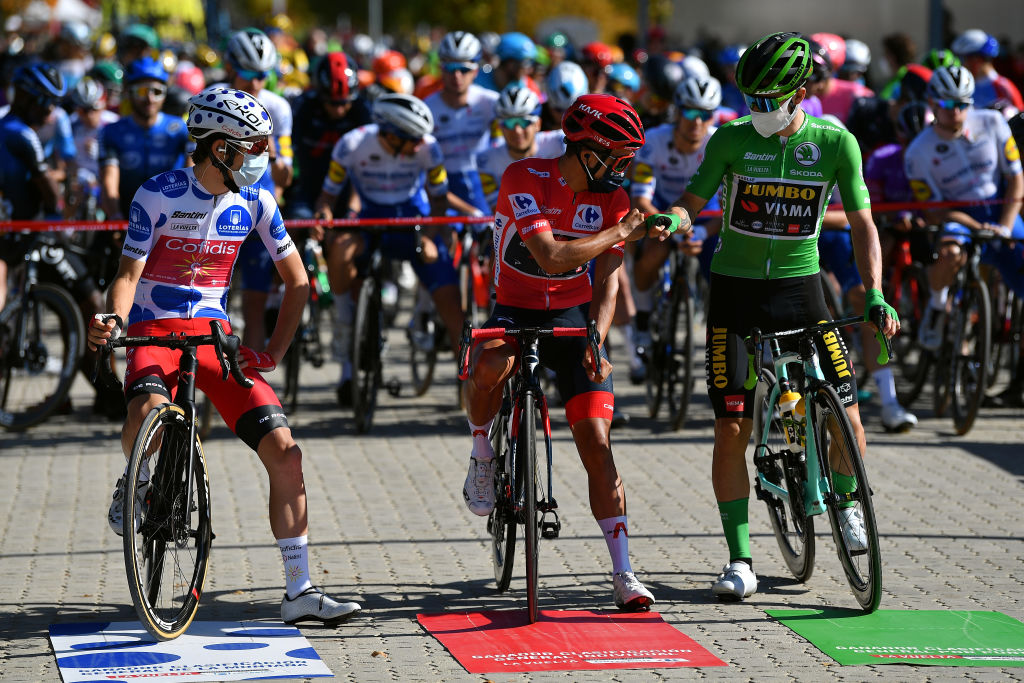 Increase in pace in the peloton as the gap comes down to 4:10
It's Ian Garrison pulling for QuickStep in the early kilometres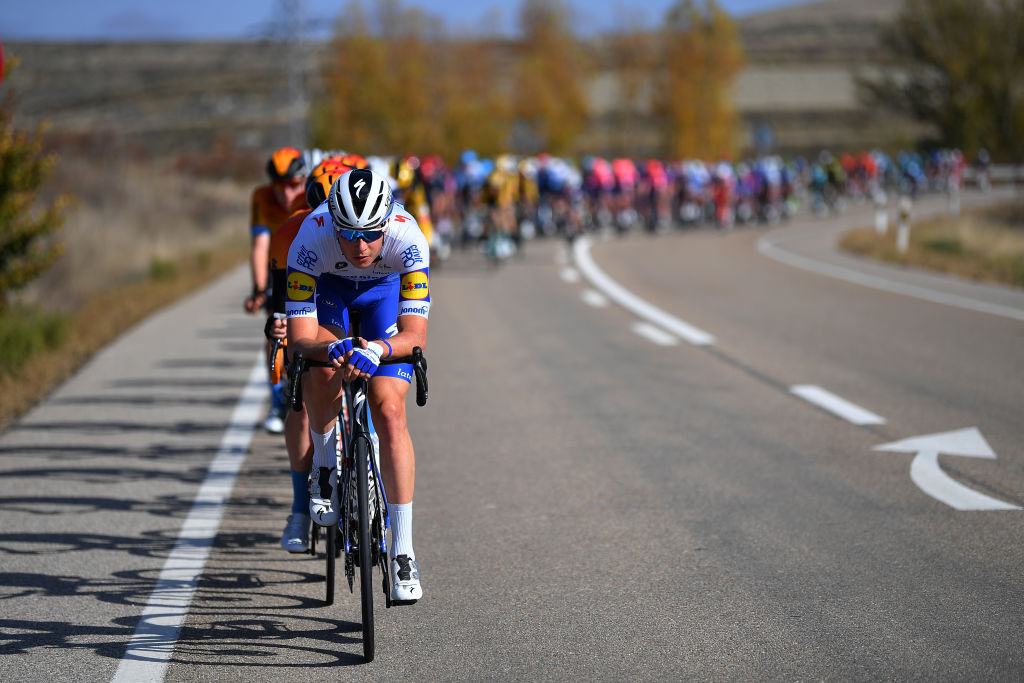 And he takes another minute off the break's lead. Three minutes is the gap now, and that seems a little tight with 120km still to race. 
Crash. Hector Saez (Caja Rural) is on the deck and looks in a fair bit of pain. 
After a good while, with doctors examining him as he way lying down, Saez is deemed fit to continue. He gets back on his bike and will begin to try and make his way back to the peloton. 
UAE and Bahrain McLaren also have a rider working with Garrison. The gap is down to 2:45 now. 
Junior world champion Megan Jastrab signs with SunwebAmerican moves from Rally Cycling despite coronavirus-hit seasonhttps://t.co/YFER2BEHUU pic.twitter.com/59KDsq2h2XOctober 29, 2020
Saez gets back to the peloton, as does Ackermann, who also went down but looked uninjured. The German is now with the medical car and he's given a spray, which he applies to his left knee before heading off. 
Just had a look back at the Saez crash and his helmet definitely breaks. His neck was supported by the doctors who appeared to be checking for head injury. He has been allowed to continue but was grimacing all the way back to the cars, but sometimes the effects of concussion and head injury aren't immediately apparent. 
Another crash, and it's another pinch point as we go through a small town. Harry Tanfield (AG2R) is among those on the deck in the low-speed spill. 
Dorion Godon also hits the deck for AG2R, but he and Tanfield are back on their bikes.
92km to go
The gap continues to fall. 2:15 now. The pace isn't really that high but we're out on exposed roads now and everyone's staying alert. 
We're heading into Osorno now, so we've had a brief crosswind section there, and once we're out of the town it'll be a tail-cross as we head north. The roads are exposed but, as forecast, the wind doesn't seem to be blowing hard enough to split the bunch.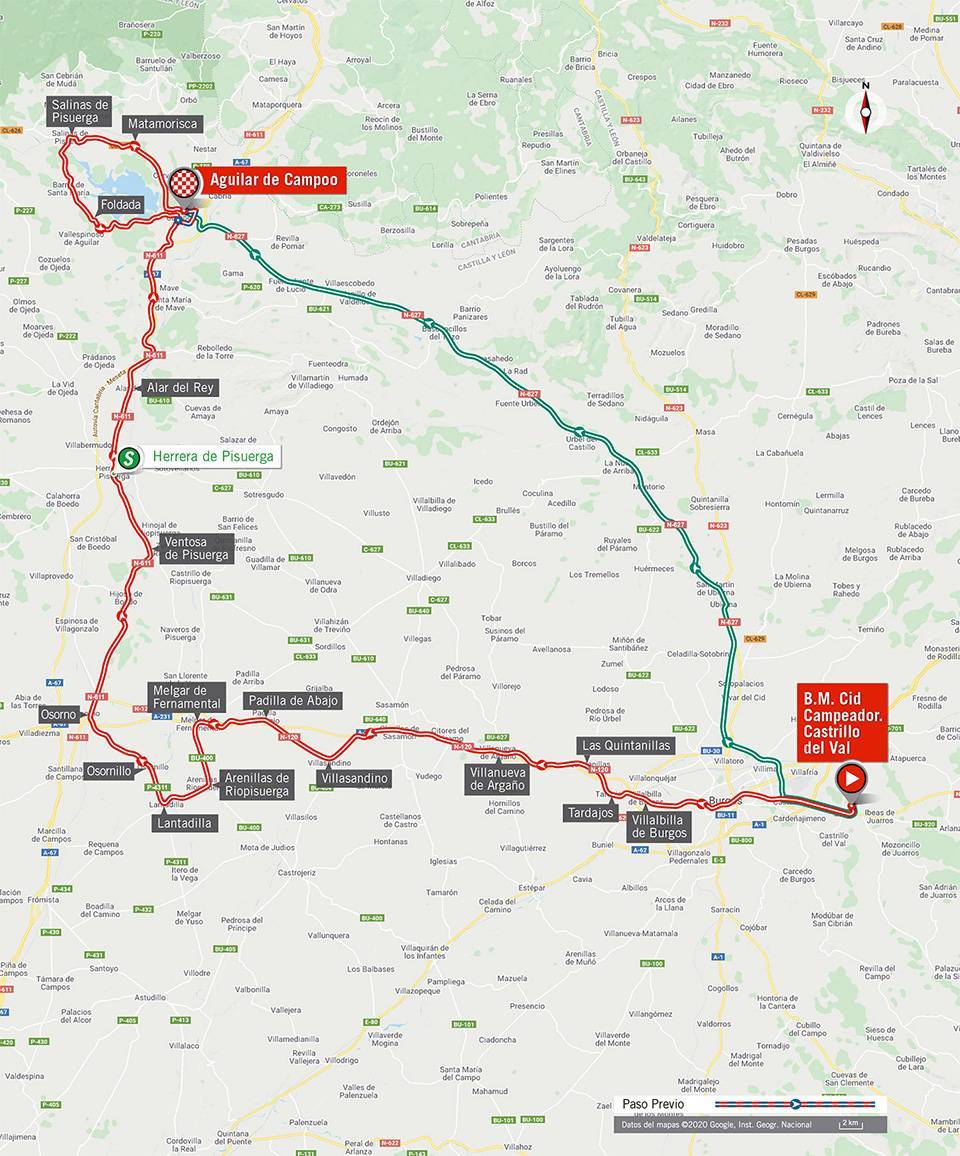 77km to go
It's super relaxed out there. It's one big chinwag in the peloton as the gap eases back out to three minutes. 
The Caja Rural director is holding up Saez's helmet out of the window of the team car. Not sure why. It's absolutely destroyed and raises questions over whether the rider should still be in the race.
65km
Intermediate sprint now and it's a complete non-event up front. Bagues takes it by virtue of doing his turn at that moment, but there was no contest there. 
The peloton comes to the sprint now and an Ineos rider accelerates off the front. 
It's Dylan van Baarle for Ineos and the Dutchman bags the remaining point to take his total to the race to... 3. What he was doing there was protecting the final bonus second from Carapaz's rivals, although there was no sign of Roglic showing any interest there. 
The aforementioned Saez helmet
🏁 74 km a meta | Así ha quedado el casco de Héctor Sáez 🚴‍♀️ El corredor de @CajaRural_RGA se ha caído en el kilómetro 106 #️⃣ Comenta con #VueltaRTVE29o🔴 DIRECTO MULTISEÑAL: https://t.co/NdGZMm773P pic.twitter.com/KdEQlraxe0October 29, 2020
It's a quiet day in the cycling world but it shouldn't have been. Today was meant to be the presentation of the 2021 Tour de France route in Paris but the coronavirus situation there, with the country heading back into lockdown, has seen it postponed and reduced to a TV bulletin on Sunday evening. Anyway, lots of potential details of the route are already swirling around and we've rounded them all up in the following piece. 
Tour de France 2021 route: All the rumours ahead of the big reveal
Into the final 50km and Bagues and Osorio hit some slightly more draggy terrain as we near our finish town of Aguilar de Campoo. The riders will then head out to do a finishing circuit of 35km before the expected sprint finish.
The gap comes down to below the two-minute mark now, with 44km to go. 
Sam Bennett spoke at the start this morning
"Today's sprint is a little bit different [to stage 4]. With corners it's sometimes easier to control but today, ok it's a long corner, but it's more open, more straight, and it gives guys opportunities to come from behind so it can be a bit more dangerous."
The pace has increased in the bunch now. We're still 37km out but teams are already starting to get organised.
35.4km to go
Bagues and Osorio come into the home straight and cross the finish line for the first time.
The peloton are getting a preview now of the run-in to the sprint. There's a tight hairpin turn with a kilometre or so to go, so there'll be a big fight into that, but otherwise it's a relatively uncomplicated sprint, even if the road does get fairly narrow. 
The bunch cross the line just 50 seconds down on the two leaders.
Jumbo have hit the front now, looking to keep Roglic out of trouble.
With the gap down to 25 seconds, Bagues senses the need to really press on. Osorio is out of the saddle sprinting, fighting to get back to the wheel. 
28.5km to go
The surge in pace up front, combined with an easing in the peloton - where all the teams seem happy with the positions they've taken up - sees the gap rise to 45 seconds once more. 
Van der Poel vs. Van Aert to continue in Belgian cyclo-cross seasonBelgian series to go forward despite coronavirus restrictionshttps://t.co/4WYLp5D7vO pic.twitter.com/nAkuF3CO9BOctober 29, 2020
🏁-35km | Etapa 9 - Stage 9 | #LaVuelta20🚴🚴Primer paso por la línea de meta de Aguilar de Campóo / First time through today's finish line!👉https://t.co/zqaO4Bw62K pic.twitter.com/fqqEi1BkJzOctober 29, 2020
And now the gap starts to go back the other way as the pace lifts in the peloton under the 25km to go banner. 
This is a proper injection of pace as the riders fight for position once more. The two leaders have just 15 seconds now.
Bagues and Osorio are on the brink of being caught with 22km to go.
21.5km to go
Osorio puts in one final sprint to stay out in front a little longer than Bagues and take the combativity award. 
So, all together with just over 20km to go. 
No fresh attacks so far as the bunch rolls closer towards the finish. 
The break of the day, a little earlier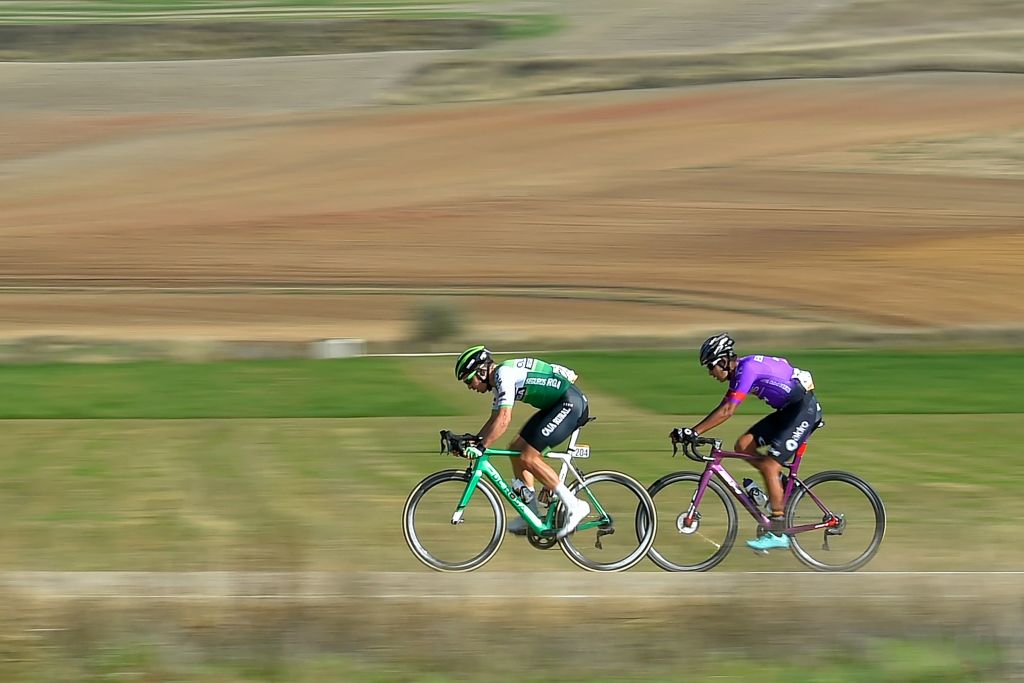 It's been that sort of day today. An active rest day for the overall contenders.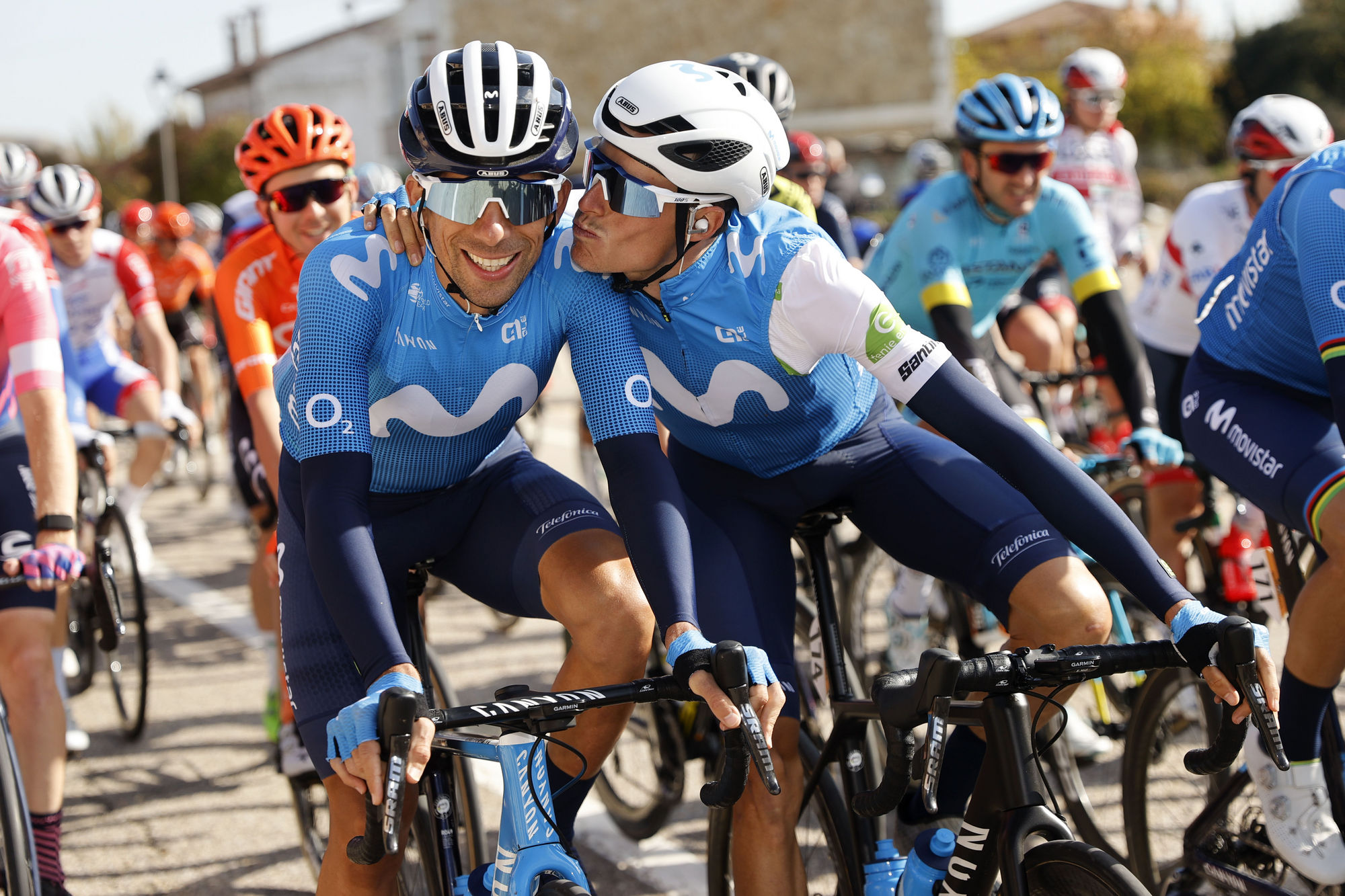 13km to go
Puncture for Roglic
It's a front wheel and yesterday's stage winner thinks about starting to try and get it out but his mechanic suddenly appears with a brand new bike. 
Roglic gets going again and has Paul Martens to pace him back to the bunch, which is still rolling along calmly, so there'll be no trouble there. 
We've been on narrow undulating lanes for a good while now but now we dip down onto a wider main road. That'll allow Roglic to move back towards the front of the bunch. 
Under the 10km to go banner and this sleepy stage still hasn't really shaken off its slumber. Teams are getting reorganised but it's far from intense out there. 
Trek are up towards the front. Their sprinter Matteo Moschetti has already gone home, however, having finished outside the time limit on Tuesday.
8km to go
Ackermann's Bora team have set up on the left. Groupama-FDJ are over on the right. 
7km to go and we're still just ticking along. Usually things would be a lot more fierce at this point in a sprint run-in but it's tranquilo still for the time being.
Jumbo have successfully moved Roglic towards the front as they now take on a little uphill section. 
Here we go. They come over that rise and there's a proper acceleration as we hit the downhill on the other side.
5km to go
Bora and Lotto take it on
Sharp right-hander with 4.5km to go, and Bora and Lotto are successfully first into it
4km to go
And now a sweeping left-hander. The bunch stretches out as this stage finally comes to life.
Lotto Soudal take it up and keep the pace high
Bora are right up there as well but QuickStep are further back. 
3km to go. That's the safety net for the GC riders in the event of a crash
2.5km to go and there's going to be a big push as we approach that tight bend we had a glimpse of a little earlier.
Ineos hit the front now with Van Baarle and Amador
1.5km to go
Here's the turn. QuickStep attempt to cut to the front but Bora take us through it
Bora have three riders on the front. Behind them QUickStep and Trek are going shoulder to shoulder for position. It's getting physical
UAE move up but Bora still have two going into the final 500m
Messy lead-out but here comes the sprint and Bennett hits the front
Bennett sprints against Ackermann and gets in front but sits up and celebrates when he really doesn't have much of a gap to play with. Still, he's across the line first and that's his second win of this Vuelta. 
Sam Bennett (Deceuninck-QuickStep) wins stage 9 of the Vuelta a España
Roglic is straight on the static trainer warming down. Not sure why. He's pedalling harder than he did all stage. 
Gerben Thiijssen (Lotto Soudal) took third there, almost pipping Ackermann to the line. Philippsen and Max Kanter (Sunweb) were up there with a bigger gap to the rest.
QuickStep let Bora lead that one out, with Michael Morkov piloting Sam Bennett just behind Ackermann. UAE attempted to move up on the right, Morkov then started to move out to the left and when Ackermann opened up, Bennett almost immediately responded in kind. It was a fair battle between the two at that point, and Bennett simply had more speed. That's his 8th win of the season and the 50th of his career. 
Results

| Pos. | Rider Name (Country) Team | Result |
| --- | --- | --- |
| 1 | Sam Bennett (Irl) Deceuninck-Quickstep | 3:39:55 |
| 2 | Pascal Ackermann (Ger) Bora-Hansgrohe | |
| 3 | Gerben Thijssen (Bel) Lotto Soudal | |
| 4 | Max Kanter (Ger) Team Sunweb | |
| 5 | Jasper Philipsen (Bel) UAE Team Emirates | |
| 6 | Jakub Mareczko (Ita) CCC Team | |
| 7 | Alexis Renard (Fra) Israel Start-Up Nation | |
| 8 | Jon Aberasturi Izaga (Spa) Caja Rural-Seguros RGA | |
| 9 | Lorrenzo Manzin (Fra) Total Direct Energie | |
| 10 | Robert Stannard (Aus) Mitchelton-Scott | |
General classification after stage 9

| Pos. | Rider Name (Country) Team | Result |
| --- | --- | --- |
| 1 | Richard Carapaz (Ecu) Ineos Grenadiers | 36:11:01 |
| 2 | Primoz Roglic (Slo) Team Jumbo-Visma | 0:00:13 |
| 3 | Daniel Martin (Irl) Israel Start-Up Nation | 0:00:28 |
| 4 | Hugh Carthy (GBr) EF Pro Cycling | 0:00:44 |
| 5 | Enric Mas Nicolau (Spa) Movistar Team | 0:01:54 |
| 6 | Felix Grossschartner (Aut) Bora-Hansgrohe | 0:03:28 |
| 7 | Esteban Chaves (Col) Mitchelton-Scott | |
| 8 | Alejandro Valverde (Spa) Movistar Team | 0:03:35 |
| 9 | Marc Soler (Spa) Movistar Team | 0:03:40 |
| 10 | Wout Poels (Ned) Bahrain McLaren | 0:03:47 |
Replays show Bennett issued a couple of shoulder barges to a Trek rider in the final kilometre. I wonder if the commissaires would be interested in reviewing that....
The commissaires are indeed reviewing the footage. So we wait for the podium ceremony and Bennett is in limbo.
Emils Liepins is the Trek rider in question. He attempts to slot in behind Bora in the final kilometre and QuickStep don't like it. He then tries to slip into the QuickStep train, but Bennett comes along and issues two shoulders. 
Here's a clip which shows most of the incident. 
Ai ai, Bennett met de kwak #LaVuelta20 pic.twitter.com/pFkpdJhDbkOctober 29, 2020
Breaking: Bennett relegated
So... Pascal Ackermann (Bora-Hansgrohe) wins stage 9 of the Vuelta a España
Results

| Pos. | Rider Name (Country) Team | Result |
| --- | --- | --- |
| 1 | Pascal Ackermann (Ger) Bora-Hansgrohe | 3:39:55 |
| 2 | Gerben Thijssen (Bel) Lotto Soudal | |
| 3 | Max Kanter (Ger) Team Sunweb | |
| 4 | Jasper Philipsen (Bel) UAE Team Emirates | |
| 5 | Jakub Mareczko (Ita) CCC Team | |
| 6 | Alexis Renard (Fra) Israel Start-Up Nation | |
| 7 | Jon Aberasturi Izaga (Spa) Caja Rural-Seguros RGA | |
| 8 | Lorrenzo Manzin (Fra) Total Direct Energie | |
| 9 | Robert Stannard (Aus) Mitchelton-Scott | |
| 10 | Reinardt Janse van Rensburg (RSA) NTT Pro Cycling | |
What a bullshit😡. He was in he's lead out and the @trek rider want to pull him out of it. But we know already a longtime the incompetence of the @Uci var safety firstOctober 29, 2020
The Deceuninck-QuickStep boss there, making his feelings clear. This is an incident that already seems to be causing a fair bit of debate. For some, Bennett's action was reckless and endangered a fellow rider. For others, it was a normal part of a sprint finish, where fighting for position is part of the equation. 
Here's Ackermann's reaction
"When I saw the video, it wasn't a fair action from him. I think, after all the crashes in the last week, we have to take care of the other guys. If there is no hole, we have to stop. I feel sorry for Sam, but they took me out in Scheldeprijs and now we have to ride more fair. I'm really happy about this victory and also for my team, they did an awesome job today, they did it all from the front and I'm happy to give something back to them."
Sign up to the Cyclingnews Newsletter. You can unsubscribe at any time. For more information about how to do this, and how we hold your data, please see our privacy policy
Thank you for signing up to Cycling News. You will receive a verification email shortly.
There was a problem. Please refresh the page and try again.