UCI Road World Championships Live - Team Time Trial Mixed Relay
The battle of national teams takes place against the clock in Wollongong
Refresh
Hello and welcome to the Cyclingnews' live coverage of the team time trial mixed relay.
The weather is overcast and 17 degrees Celsius. The wind is blowing hard out there at 27 kph.
The total distance is 28.2km, with the men teams and women's teams doing 14.1km each.
Our first team will be rolling down the start line in about four minutes time.
The first team to roll down the start line is Tahiti. Germany is the final team down the ramp as defending champions.
Now Tahiti's men are underway. They have to get back around to switch off with the women's squad with at least two riders.
Next team out is New Caledonia. A new nation to compete at the world championships. It looks like we're going to get a little bit of rain out there today.
Tahiti is about to get up over the climb and still together. They're close to switching off with the women's team.
Now the UCI World Cycling Centre's team is going. It's not one nation, it's a bit of a mix of riders from Algeria, South Africa and Ethiopia.
Samoa have lost one rider from its team on the climb.
We're going in waves again today. The three men from Tahiti are about to go into the last kilometre and roll down through the finish line. Then the women will take off.
And they finish with a time of 18:46 for the men's team. Now the women are off.
The women are on deck for New Caledonia.
Élodie Touffet (Tahiti) is obviously the strongest one on this team. The other two riders are having difficulty keeping on her wheel.
Now the Samoan women are getting ready to head out.
We're getting ready to start the next wave of riders. Ukraine will kick things off.
There are four teams in each wave. Ukraine has some good strength but will be followed by Australia, who have a stacked team.
Michael Matthews, Luke Durbridge and Luke Plapp are getting ready. They'll hand over to Sarah Roy, Georgia Baker and Alexandra Manly.
And Australia sets out. They're top contenders in this event and it could work to their advantage that they're going out early as rain is scheduled later on.
Ukraine is the fastest at the first intermediate check point with a time of 9:19.
Australia is coming up to the first intermediate check point with the new best time of 8:38.
Now Austria goes across the time check. They've already lost a rider on the climb and are currently 26 seconds slower than Australia.
The Aussie men have lost Plapp, but are just 1km to the finish where the women will take over.
They're giving it absolutely everything. The men are setting the women up nicely with a time of 16:12. That's 1:28 faster than Ukraine.
Now Poland is about to take the start.
The Australian women are about to finish up with two riders. Alex Manly has lost contact but is trying to get back on.
That's Australia going through the finish with a time of 34:25, which is more than four minutes faster than Ukraine.
The wind has picked up to 32kph as the day goes on.
Austria finishes up with a strong time of 37:17, which will put them into provisional 2nd.
The French squad are going even faster than Australia at the first time check. They're on the limit and are going about five seconds faster.
Belgium come through the first time check with a time of 8:50, which is good for provisional fourth.
Spain has finished up and slot into provisional second ahead of Austria with a time of 36.31.
Poland is second fastest at the third check point with a time of 26:57.
Denmark's men are about to finish and now the women go.
And France goes a bit faster at checkpoint three clocking a 26:09.
Denmark women have lost one rider. They have 7 km to go.
Now we have a strong Italian team waiting to head out. Ganna, Sobrero and Affini are heading out. They took bronze last year.
The Belgian women are finishing. They're 1:11 down on Australia's time - which is still holding.
Now the Netherlands is heading out. They won this race in 2019.
Switzerland is heading through the first intermediate check 7.7 seconds quicker than France.
Oh no! Mollema has a dropped chain and has to switch bikes. That's terrible news for the Dutch.
The clouds in the background are getting a bit ominous as we watch the Dutch men continue with just two riders so early.
The Swiss men, Kung and Bissegger, are powering to the finish and now the women have set out.
The Netherlands come through the first check with a 8:46, good enough for provisional 6th.
All teams have started now. Germany was the final team out.
The Italian men have finished second fastest with a time of 16:00, now the women head out.
Now the Dutch men are finishing with a time of 16:30 which gives the women a 40 second deficit.
Oh no! Annemiek van Vleuten crashes right off the line. The Dutch team is having an awful time out there.
It looks like a mechanical. Something didn't go right and the bike folded underneath her.
Annemiek van Vleuten is still at the side of the road and is in a lot of shock. Let's hope she's okay for the road race.
The Italian women are doing great work and bringing it back to within 3 seconds of Australia's time. They have six km to go.
Switzerland is going to absolutely smash the time of Australia. The women are coming though with two riders and set the benchmark.
Switzerland's time is 33:47, which is 38 seconds faster than Australia.
It's going to come down to the wire with the Italians. They have less than 1km to go.
Italy nearly closes the gap, but it's not enough! They finish 2.9 seconds behind Switzerland.
Despite losing one man and one woman, the Netherlands still wraps up their effort in fourth.
Now we're waiting for Germany to finish up. The women have 1km to go.
They're racing for the bronze. It looks like it's going to go to Australia.
And it's Switzerland who win the mixed team relay with a time of 33:47. Italy is second at +2.9 seconds and Australia is third at +38.40.
Well done to Switzerland, winners of the mixed team relay.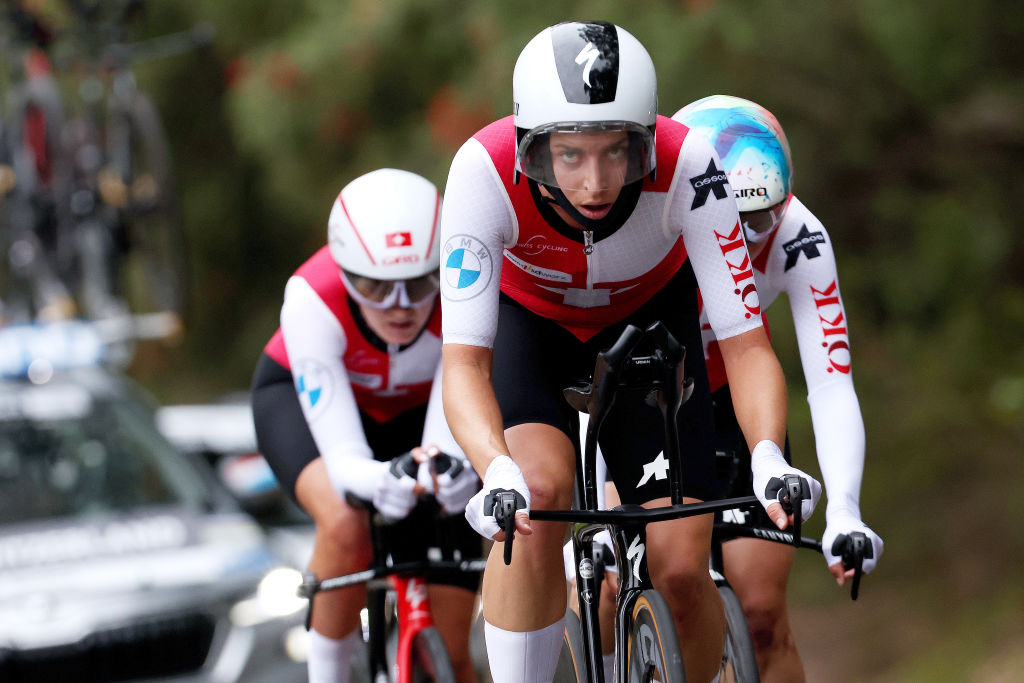 That's a wrap on the UCI World Championships Mixed Team Relay! Here's a look at how the race developed by Dane Cash. Thanks for joining us for what was a thrilling event.