Flueckiger wins incident filled Mont Sainte-Anne World Cup
Schurter wraps up World Cup series win
Image 1 of 19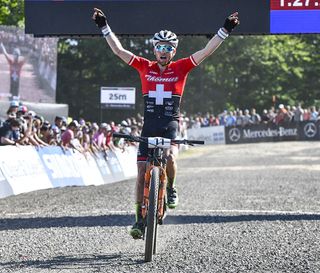 Image 2 of 19
Image 3 of 19
Image 4 of 19
Image 5 of 19
Image 6 of 19
Image 7 of 19
Image 8 of 19
Image 9 of 19
Image 10 of 19
Image 11 of 19
Image 12 of 19
Image 13 of 19
Image 14 of 19
Image 15 of 19
Image 16 of 19
Image 17 of 19
Image 18 of 19
Image 19 of 19
Round 6 of the UCI Mountain Bike XCO World Cup at Mont Sainte-Anne, Quebec, saw multiple lead changes on Sunday, as leading contenders crashed or suffered mechanicals. In the end, it was Mathias Flueckiger (Thomus RN Racing) that prevailed, taking his first ever World Cup victory. World champion and World Cup leader Nino Schurter (Scott-SRAM) wrapped up the overall title with one race remaining in the series, despite finishing seventh after breaking his chain while in the lead.
A large group of riders headed out from the start loop at the front, which was gradually whittled down over the first couple of laps to just Schurter and New Zealand champion Anton Cooper (Trek Factory). The pair rode together until Schurter broke his chain on lap four, leaving Cooper alone at the front. He was joined by Flueckiger, Gerhard Kerschbaumer (Torpado Gabogas) and Titouan Carod (BMC) by the end of the lap.
Kerschbaumer crashed on the sixth lap, and Carod lost contact, leaving just Cooper and Flueckiger at the front. Coming down the rocky Beatrice descent, Cooper crashed hard, losing his bike off the side of the hill and having to scramble down to retrieve it. Flueckiger safely navigated the final lap to take his first win, with Kerschbaumer recovering to finish just in front of Carod.
"I'm so happy to win, because I've had bad luck before at World Cups," said Flueckiger. "In my career I've had many podiums and been close many times, but today everything came together. I felt good on Friday after getting third in the short track, but it's a really hard track here and the other guys were strong. In 2010 I won the under-23 World Championship here, so this track is really special for me."
In the overall standings, Schurter has an insurmountable lead with 1,546 points, 466 more than second place Mathieu van der Poel (Corendon-Circus), who did not race at Mont-Ste-Anne.
Full Results
| # | Rider Name (Country) Team | Result |
| --- | --- | --- |
| 1 | Mathias Flueckiger (Swi) | 1:27:26 |
| 2 | Gerhard Kerschbaumer (Ita) | 0:00:15 |
| 3 | Titouan Carod (Fra) | 0:00:23 |
| 4 | Maxime Marotte (Fra) | 0:00:38 |
| 5 | Luca Braidot (Ita) | 0:01:05 |
| 6 | Anton Cooper (NZl) | 0:01:41 |
| 7 | Nino Schurter (Swi) | 0:02:37 |
| 8 | David Valero Serrano (Spa) | 0:02:59 |
| 9 | Henrique Avancini (Bra) | 0:03:03 |
| 10 | Daniele Braidot (Ita) | 0:03:09 |
| 11 | Andri Frischknecht (Swi) | 0:03:17 |
| 12 | Reto Indergand (Swi) | 0:03:27 |
| 13 | Sergio Mantecon Gutierrez (Spa) | 0:03:32 |
| 14 | Jordan Sarrou (Fra) | 0:03:54 |
| 15 | Lars Forster (Swi) | 0:04:07 |
| 16 | Ondrej Cink (Cze) | 0:04:11 |
| 17 | Gregor Raggl (Aut) | 0:04:19 |
| 18 | Matthias Stirnemann (Swi) | 0:04:21 |
| 19 | Jens Schuermans (Bel) | 0:04:34 |
| 20 | Martin Loo (Est) | |
| 21 | Nicola Rohrbach (Swi) | 0:05:10 |
| 22 | Anton Sintsov (Rus) | 0:05:18 |
| 23 | Bartlomiej Wawak (Pol) | 0:05:31 |
| 24 | Marco Aurelio Fontana (Ita) | 0:05:56 |
| 25 | Raphael Gagne (Can) | 0:06:05 |
| 26 | Karl Markt (Aut) | 0:06:07 |
| 27 | Stephane Tempier (Fra) | 0:06:16 |
| 28 | Nadir Colledani (Ita) | 0:06:47 |
| 29 | Victor Koretzky (Fra) | 0:07:04 |
| 30 | Shlomi Haimy (Isr) | 0:07:13 |
| 31 | Luke Vrouwenvelder (USA) | 0:07:15 |
| 32 | Nicholas Pettina' (Ita) | |
| 33 | Fabian Giger (Swi) | 0:07:45 |
| 34 | Martin Fanger (Swi) | 0:07:58 |
| 35 | Thomas Litscher (Swi) | 0:08:11 |
| 36 | Peter Disera (Can) | 0:08:22 |
| 37 | Andrew L'esperance (Can) | 0:08:49 |
| 38 | Catriel Soto (Arg) | 0:09:05 |
| 39 | Luiz Henrique Cocuzzi (Bra) | 0:09:08 |
| 40 | Hugo Drechou (Fra) | 0:09:23 |
| 41 | Keegan Swenson (USA) | 0:09:33 |
| 42 | Michiel Van Der Heijden (Ned) | 0:09:40 |
| 43 | Daniel Mcconnell (Aus) | 0:09:56 |
| 44 | Leandre Bouchard (Can) | 0:10:08 |
| 45 | Jan Vastl (Cze) | 0:11:00 |
| 46 | Florian Chenaux (Swi) | |
| 47 | Richard Cypress Gorry (USA) | |
| 48 | Andrin Beeli (Swi) | |
| 49 | Jan Škarnitzl (Cze) | |
| 50 | Pablo Rodriguez Guede (Spa) | |
| 51 | Alexandre Vialle (Can) | |
| 52 | Thomas Griot (Fra) | |
| 53 | Jaime Miranda Jaime (Mex) | |
| 54 | Carlos Coloma Nicolas (Spa) | |
| 55 | Ivan Seledkov (Rus) | |
| 56 | Kohei Maeda (Jpn) | |
| 57 | Gustavo Pedroza Sicaeros (Mex) | |
| DNF | Jaroslav Kulhavý (Cze) | |
| DNS | Samuel Gaze (NZl) | |
Cyclingnews Newsletter
Sign up to the Cyclingnews Newsletter. You can unsubscribe at any time. For more information about how to do this, and how we hold your data, please see our privacy policy