UAE Tour stage 4 - Live Coverage
The sprinters get their chance on Al Marjan Island
Giro d'Italia 2021 route revealed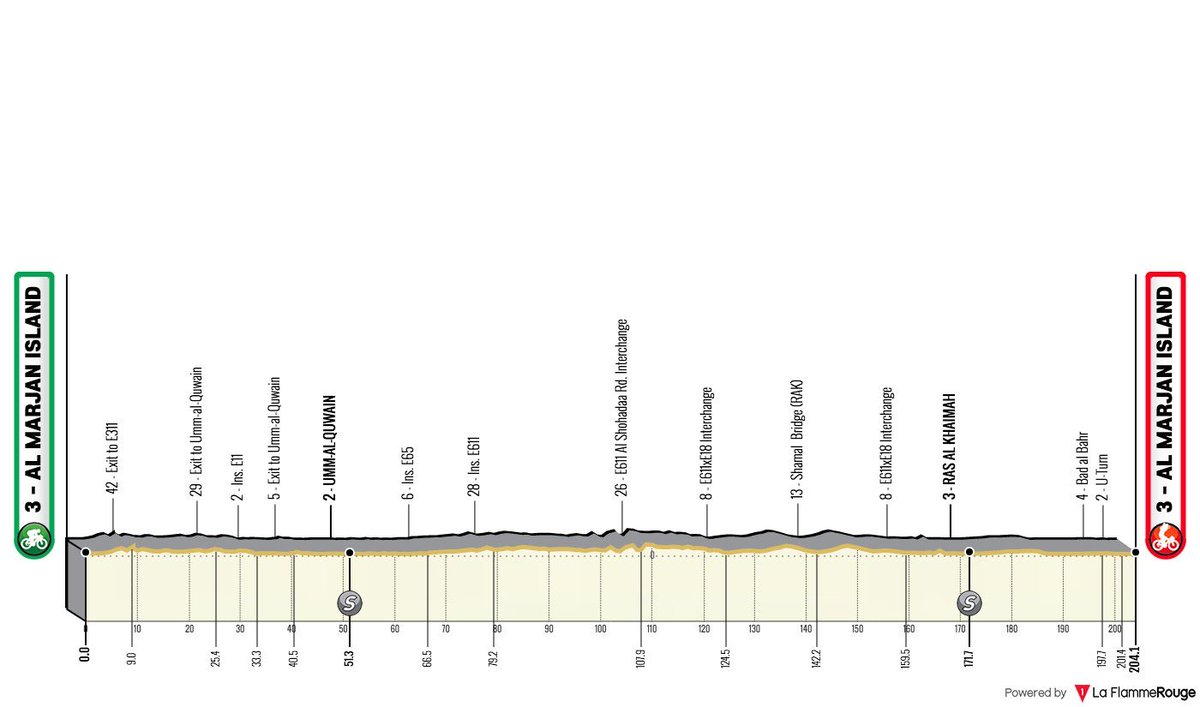 Refresh
Hello and welcome to the Cyclingnews live coverage of stage 4 of the UAE Tour.
As the Cyclingnews virtual blimp takes height the stage is underway with the peloton enjoying a steady roll out.
There is a risk of cross winds but the riders seem to be holding off their attacks for now.
Caleb Ewan seems happy today.
All #smiles for the Hope Probe stage today!@CalebEwan @AbuDhabiSC @almarjanisland #UAETour pic.twitter.com/HXY6LRTrSbFebruary 24, 2021
Today's stage is 204km long and the riders have covered 25km so far. After three intense days of racing, the riders seem happy to roll along.
The riders turn off the highway and so we could soon see an attack as they head back towards the coast.
Thomas De Gendt is at the front of the peloton but even he does not seem to attack today after spending most of stage 3 off the front.
After three stages in Abu Dhabi, the UAE Tour has moved north to Ras Al Khaimah, the UAE's northernmost emirate, above Dubai.
The riders are heading to the Al Marjan Islands, a series of four man-made, coral-shaped islands.
The route begins by traversing the desert to reach Umm al Quwain (first intermediate sprint at km 51.3) then heads north along desert roads to Ras al Khaimah (second intermediate sprint at km 171.7) before returning to Marjan Island for the sprint finish.
The entire stage follows smooth, wide and predominantly straight desert roads that may be affected by the wind (and even sand).
The first intermediate sprint is coming up in 12km. We could see some action and a sprint amongst the overall contenders for the 3-2-1 bonus seconds.
On Tuesday Tadej Pogacar extended his lead on Adam Yates by winning the stage atop Jebel Hafeet.
With 10 bonus seconds for the stage win, Pogačar extended his overall lead to 43 seconds over Yates, with Almeida, who placed sixth on the stage, now third at 1:03.
Click below to read the full stage report, results and see our photo gallery,
UAE Tour: Pogacar takes control on Jebel Hafeet (opens in new tab)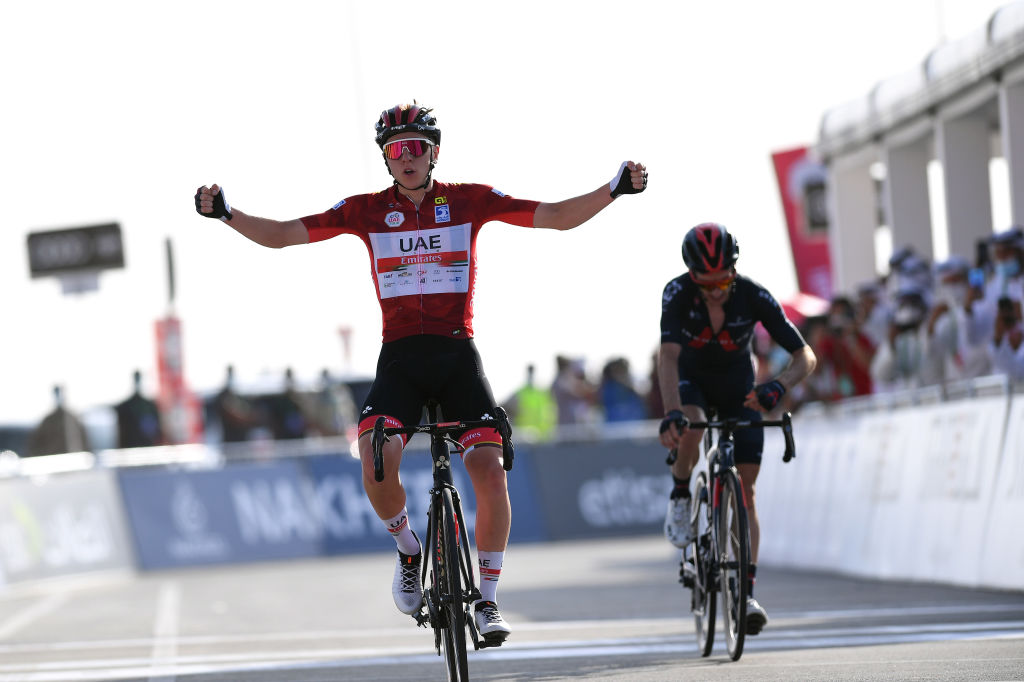 The Groupama riders are on the front but the pace is steady at 35km/h.
160km to go
🇦🇪 #UAETourCalm start to the stage... peloton is all together after 45km of racing. pic.twitter.com/qLftuLj9PqFebruary 24, 2021
Today's stager is the longest of this year's race and the longest of the last two years.
A huge flag shows there is some wind blowing but its not enough to excite the riders and inspire attacks and echelons.
150km to go
David Dekker (Jumbo) wins the first intermediate sprint but the peloton returns to a steady pace.
Pogacar wears the distinctive red leader's jersey. He's safely in the peloton at the moment.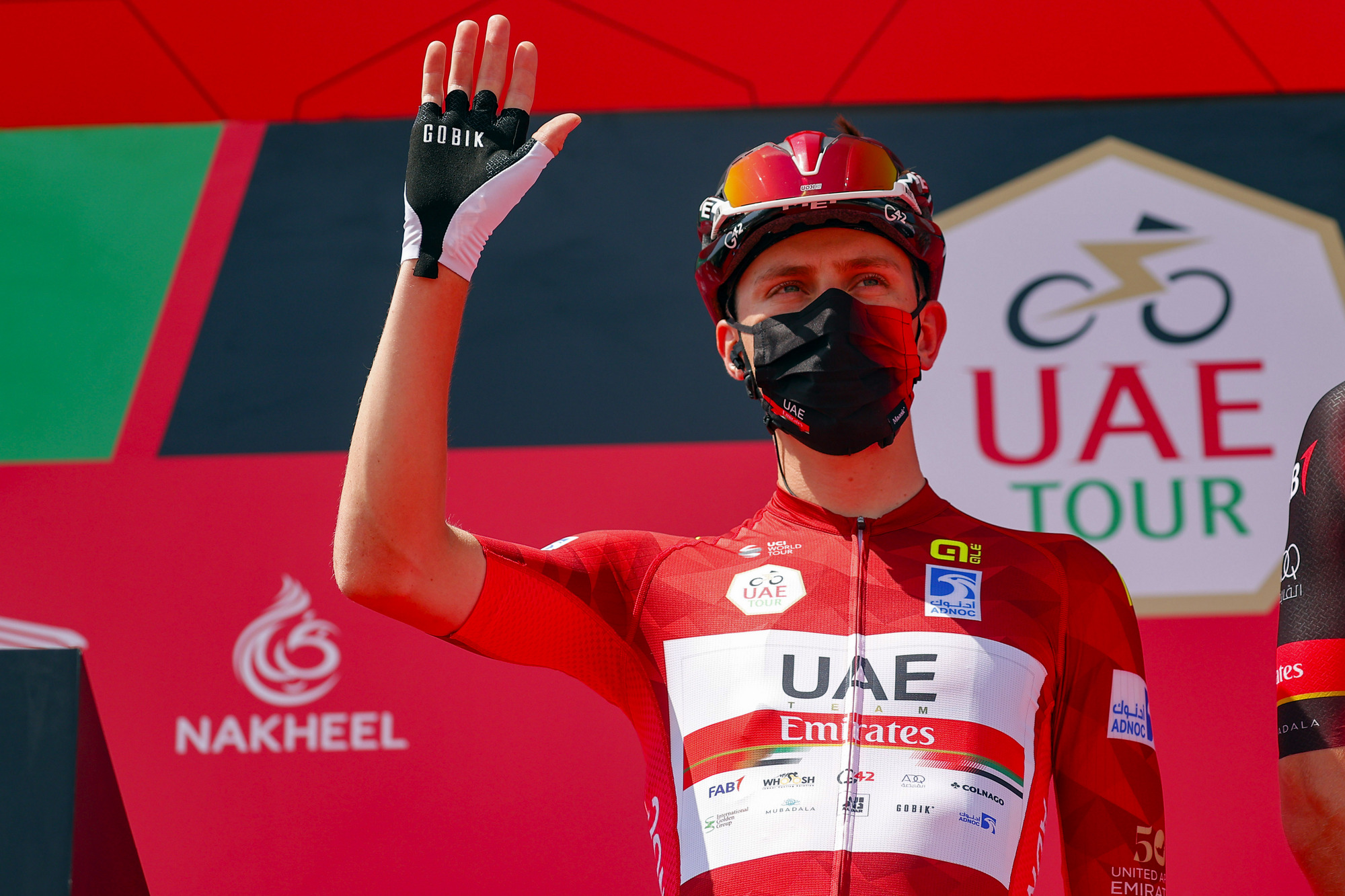 The riders are now heading inland and will soon be turning left for a long stretch where the wind will be blowing from the left. It doesn't look like it's blowing hard enough, though, plus we're not far out out into the more exposed desert area.
141km to go
The peloton continues along in orderly fashion. No real urgency out there.
Sepp Kuss is talking to Wout Poels. Chris Froome is talking to Jack Haig. Shane Archbold is talking to Harry Sweeny. We'll keep you posted on these pressing developments.
Unless... a bike race does break out...
The riders are heading into that crosswind section and the pace has picked up a little. It's not quite action stations but everyone's a little more alert now.
Chris Froome drops back to the Israel Start-Up Nation car. It looks like the four-time Tour de France champion is on bottle duty today. He gets four on board, but still has a lot to learn.
Froome spoke at the start yesterday and explained how his UAE Tour is going, giving an update on his season start following a winter of gym work and rehab.
Here we go. Downhill dip on this highway, the speed picks up, and now the riders at the front are accelerating...
Ganna drills it on the front for Ineos, making sure he's first to the change in direction. Deceuninck, Bora, and UAE also move forward.
And now QuickStep light it up! Keisse on the front trying to split it!
Archbold comes through for the Belgian team, who love doing this. It's not splitting for the moment, but all it takes is a moment.
Ineos get involved now, with Yates rotating through in the wind. Powless too.
The wind is blowing from the left and Bora now come through on that side of the road, trying to put those at the back in the gutter. It's not splitting though.
Riders in the line at the back come back in now as the pace eases and the peloton bunches up again.
Things settle back down again after that flurry of activity.
More? Bora make an acceleration and that causes Nizzolo and some riders from FDJ to move up.
Still all together but this is a tense and edgy peloton ticking along at 55 km/h.
105km to go
The peloton continues along at a solid tempo but we don't quite have the conditions to split the race into echelons.
Our top story today concerns the curious case of George Bennett's new national champion's jersey. Bennett and Jumbo-Visma came up with a design they were really excited about, but it was rejected by Cycling New Zealand.
"They just shut it down so hard," Bennett said.
Here's the link for the full story, including the arguments from both sides and, of course, the jersey itself.
UAE, QuickStep, and EF are all up near the front of the bunch, but it's all calm for now.
It looks like we're quietly making our way along to what should be a fairly standard bunch sprint. The race isn't splitting for now, and we're heading towards a more built-up area around Ras al Khaima. We do then head back to the coast for the second intermediate sprint, then along to the finish back at Al Marjan island, but that coastal highway is well protected by sand dunes. We should see the likes of Bennett, Ewan, Nizzolo, Ackermann, Gaviria, and Viviani slugging it out.
88km to go
Breakaway at last...?!
Two riders clip off the front of the bunch.
It's Francois Bidard (AG2R Citroën) and Olivier le Gac (Groupama-FDJ).
The peloton is bunched up and content to see them go. It's been a while since those echelon attempts but it has been tense and a solid tempo since then. Now, though, the bunch will take their foot off the gas and allow these two to open up an advantage.
This was Deceuninck-QuickStep trying to split the bunch a little earlier.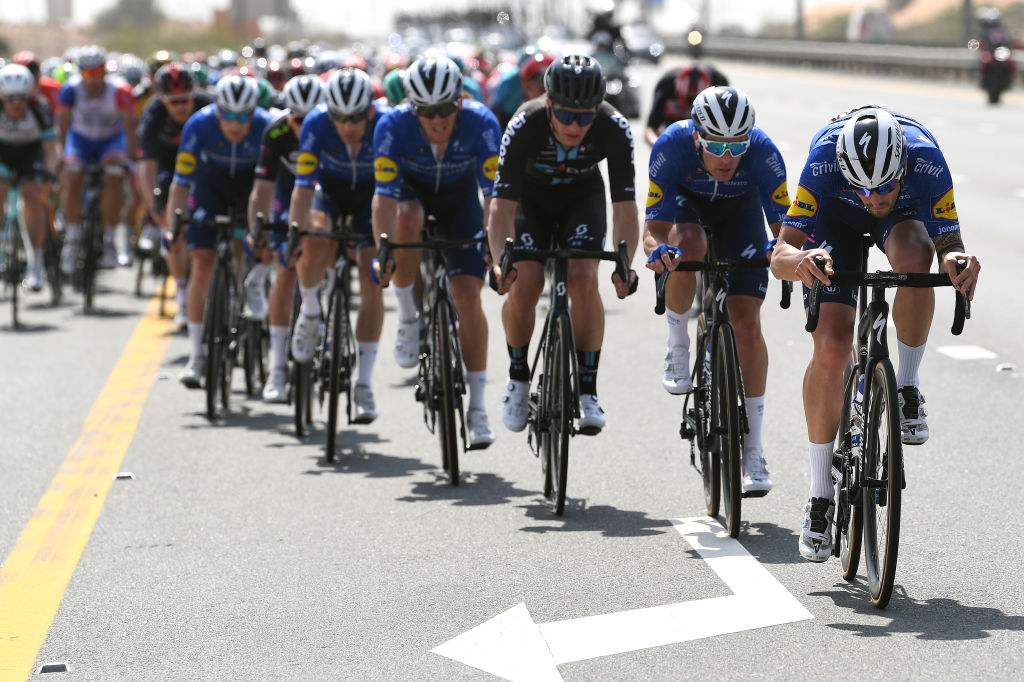 How to watch the 2021 UAE Tour – live TV and streamingPogacar, Froome, Nibali and Ewan among a star-filled lineup at first WorldTour race of 2021https://t.co/6qLRAnH10v pic.twitter.com/hs7OWsx9tzFebruary 24, 2021
74km to go
Bidard and Le Gac have 1:35 in hand.
Here are our intrepid duo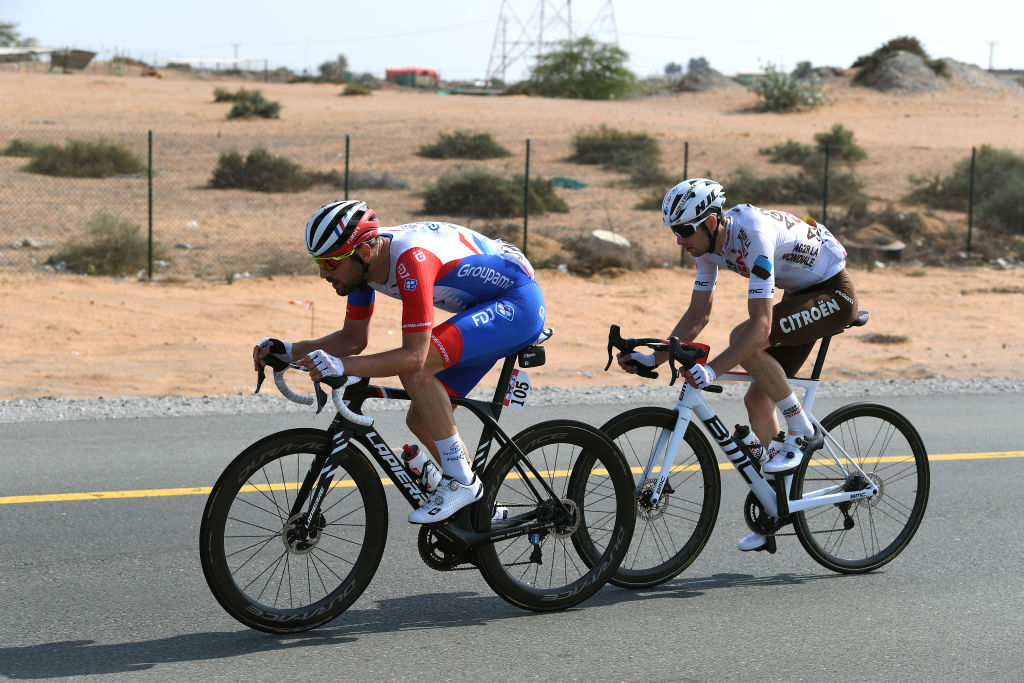 UAE Team Emirates are massed at the head of the peloton. They've got the race leader in Pogacar but they've got Fernando Gaviria for the sprint today.
There are question marks surrounding the Colombian's form. He burst onto the scene a few years ago and looked set to conquer the world but has faded in the last couple of years, and of course last year he was derailed by a double COVID infection. He was in the front echelon on the opening day but, curiously, decided to attack in the final kilometres, killing his legs for the sprint.
Here's what Caleb Ewan had to say at the start of the stage
"Finishes like this are always tricky, with the big wide roads, and there should be a bit of wind out there. There are a lot of sprinters here and it's really the first opportunity now so a lot of guys will be going for it. It will be a hard one to judge."
62km to go
Bidard and Le Gac plough on, now two minutes ahead of the bunch.
57km to go
We've got an intermediate sprint coming up with 33km to go, then it's along the coast for the finish back at Al Marjan island.
Here's Sam Bennett from the start this morning
"I don't really fear anyone - just that I get blocked in at the wrong moment. If I get out at the right moment, the legs are good, so I should be ok."
We also spoke in-depth with Bennett ahead of this race, and he told us why he was excepting messy - even dangerous - sprints here and why he's far more confident than at this point last year.
50km to go
Thomas De Gendt is the lone delegate from Lotto Soudal sent up to assist UAE Team Emirates in controlling this breakaway. The duo are still just two minutes up the road with 50km to go, so it's very much manageable.
Mechanical for Bidard in the break. It's a rear wheel puncture
That's not what this breakaway needed. Bidard gets a replacement bike and starts to make his way back up to Le Gac, who has eased up.
Deceuninck-QuickStep have been quiet since trying to split the race earlier but now Iljo Keisse has been sent to the front of the peloton.
Ineos are also up towards the front in numbers. They don't have a sprinter here but are keeping Yates - second overall - safe.
37km to go
Bidard and Le Gac are losing ground now as we approach the intermediate sprint. 48 seconds is the gap now.
Here's what Ackermann had to say at the start
"It'll be really hectic, because there are so many good lead-outs and so many good sprinters. It's never easy to find right gap and the right wheel, but we'll see who'll get it right."
EF-Nippo and Qhubeka Assos come to the fore now.
Just 25 seconds now for the lead duo as they near the sprint in Ras al Khaimah
Le Gac and Bidard aren't bothered about it, but here comes the peloton.
Dekker nips out of the bunch to take third place there. He won the first intermediate sprint today so is clearly out for that classification.
30km to go
Bidard and Le Gac are dangling just ahead of the bunch.
We should talk about David Dekker (son of former pro Erik), who was second on stage 1 in his first race as a full professional. We found out more about him last year (partly because he's going to be very good, but also so we could use this headline).
28km to go
All together
That's it for the break. It took 115km to form and lasted for around 60km. A handshake between Bidard and Le Gac but now we're heading towards a big bunch finish.
Who are you backing today?
Bennett and Ewan are the stand-out favourites, partly due to their results, partly due to the strength of their lead-outs. Nizzolo keeps getting better and won recently in Almería. Ackermann, Gaviria, and Viviani didn't have great seasons last year but have the calibre.
There's also Phil Bauhaus, Cees Bol, Davbid Dekker, Andre Greipel, Matteo Moschetti, Luka Mezgec, and someone I've probably missed out but will surely now end up winning.
Just over 20km to the line and it's still pretty calm in the bunch.
It's still relaxed as we make our way along this final coastal road. The actual finale is on Al Marjan island, so they'll turn onto it before doing a big loop around, which could get messy.
The finish straight will have a cross-tailwind, which could suit more of a long-range sprint. It's all on a wide smooth road.
14km to go
Things start to ratchet up but we're still waiting for the real intensity. Lotto Soudal and Deceuninck-QuickStep are both set up and ready.
There's a big gap down the middle now as teams gets themselves organised into their trains.
Still calm, but that will change when we get onto the island. The key point will be the big roundabout where they'll do a 180. Positioning will be crucial going into that.
10km to go
The pace picks up a little now. There are even some forearms on handlebars, while it's still allowed. Qhubeka and Bora have made themselves prominent on the left.
They're spat onto a wide road with a rough section in the middle, and the peloton splits in two for a moment.
Astana hit the front now.
7.5km to go
The peloton starts to line out now and it's four Astana riders on the nose. Bora and Qhubeka are right up there.
And now Bahrain and Trek move up on the right, giving us a wider spread on the front.
It's Wout Poels, a stick-thin climber, on the front now.
6.5km to go
Here's the turn onto the island! Still Poels up front.
Lutsenko takes it back up for Astana.
Deceuninck-QuickStep are quite far back.
5.5km to go and a Movistar rider hits the front. Roundabout coming up.
And now Deceuninck-QuickStep do move up en masse on the right.
Astana slip back as Bora and UAE hit the front alongside QuickStep
QuickStep slip back on the right as UAE take it up. 4km to go!
Here it comes. Big surge towards the roundabout
Trek are well placed, Bora still up there too.
UAE have slipped but QuickStep still have numbers on the right.
Bora take us into the roundabout and out of it.
2.2km to go
Great move from Lotto Soudal who come at the right time to come out in strong position
Kluge takes it up for Lotto
Kluge peels off with 1.6km to go. Bahrain try to move Bauhaus up
Here come Team DSM! 1.2km to go
And now it's Israel with three on the front!
Into the final km and now it gets messy!
Bora take it up for the leadout
Ewan opens up, Bennett on the left.
Sam Bennett (Deceuninck-QuickStep) wins stage 4 of the UAE Tour
Dekker was second, Ewan third.
A fine win for Bennett, and for his team, with Michael Morkov producing yet another brilliant lead-out. He didn't lead the whole thing out - that was Bora for Ackermann - but when Bol jumped at the same time as the German, Morkov sprang took Bennett with him. The Irishman then went left to move past Nizzolo (who was trying to sprint out of Ackermann's slipstream) and stormed clear by the barriers.
Dekker, operating alone on the left, was slightly disrupted as Bennett opened up but produced a huge surge to place second. He bashed his bars on the line but congratulated Bennett beyond the line.
As for Ewan, he went on the right around Ackermann, Nizzolo, and Bol, which looked to be the longer way round, but even so he wasn't going to beat Bennett there.
The rest of the top 10: Viviani, Moschetti, Ackermann, Bauhaus, Nizzolo, Gaviria, Groves.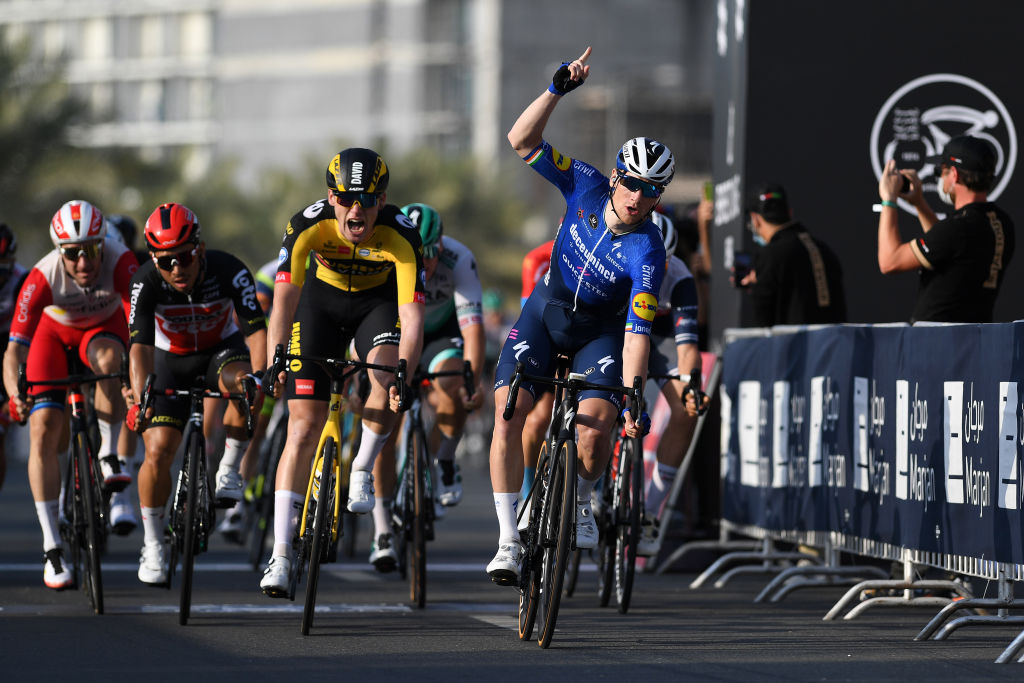 Let's hear from Bennett
"It's really good to have won because I had to wait a few days to get the opportunity. I was really nervous before the sprint - it was my first bunch sprint of the season. Fortunately I only had to follow the guys. They did as fantastic job, each one of them. It's great to finish it off today.
"This is my 50th pro win, it's really nice to get that first win of the season. I could see they were going to the right and the right was the shortest line but I couldn't risk going up and having to hit the brakes, so I had to go the longest way around. Fortunately I could carry enough speed."
No change in the overall standings as Pogacar retains the red jersey ahead of tomorrow's summit finish on Jebel Jais.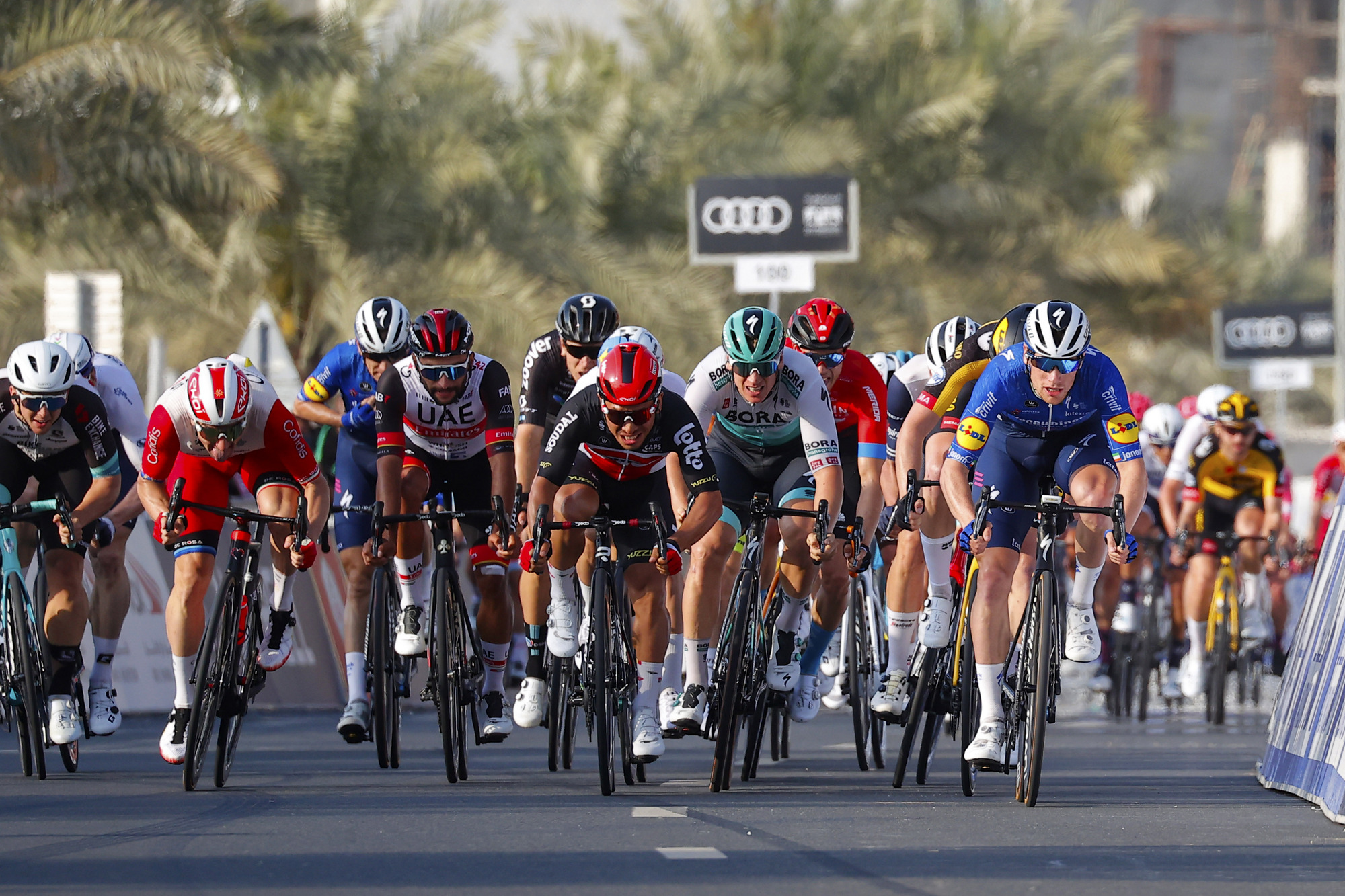 Thank you for reading 5 articles in the past 30 days*
Join now for unlimited access
Enjoy your first month for just £1 / $1 / €1
*Read any 5 articles for free in each 30-day period, this automatically resets
After your trial you will be billed £4.99 $7.99 €5.99 per month, cancel anytime. Or sign up for one year for just £49 $79 €59

Join now for unlimited access
Try your first month for just £1 / $1 / €1