Live coverage
Tour de Suisse stage 7 - Live coverage
By Stephen Farrand published
All the action from the Oberalp Pass time trial
Refresh
Hello and welcome to the Cyclingnews live coverage of stage 7 of the Tour de Suisse.
It's time for the vital 23km time trial over the Oberalp Pass.
As the Cyclingnews blimp takes height, the first riders have begun the 23km time trial.
The first rider off was Australia's Connor Brown of Assos Qhubeka. He is last on GC and the start order follows the GC in reverse order.
That means that race leader Richard Carapaz (Ineos) will be last to start. He will race in the yellow leader's jersey.
Britain's Matt Walls is also out racing. The sun is out for the early starters. Many are using their road bikes because the course includes the long climb of the Oberalp Pass and then the descent.
🇨🇭 #TourdeSuisseOff he goes 💨 pic.twitter.com/O0U3BN7auQJune 12, 2021
The sprinters and hard working domestiques are the early starters in the time trial.
Some like Luke Rowe, will be able to finish early and so enjoy an afternoon of watching the European football championships, while Carapaz and others fight for every second in the time trial.
We love it when a plan comes together @LukeRowe1990.Our first rider off today at #TourDeSuisse. First back to the hotel in time to watch #WAL #SUI at #EURO2020 Watch him give us his game and TT predictions 📽️ pic.twitter.com/5AmjLGgrgcJune 12, 2021
The 23.2km TT is a race of two halves, with a time check after 11.9km at the summit of the Oberalp Pass.
While not long, the climb will make for a hard hour of racing.
We're currently awaiting for Connor Brown to pass the summit to set the first intermediate time check.
It's another busy day of racing and here on Cyclingnews we will have coverage of the Baloise Belgium Tour, the Tour of Slovenia and the La Route d'Occitanie in the French Pyrenees.
The Tour de Suisse has been intense so far, with Mathieu van der Poel dominating the early stages and then Richard Carapaz taking the race lead.
Cliick below to read our full report from Friday's stage.
Tour de Suisse: Costa relegated, Kron wins stage 6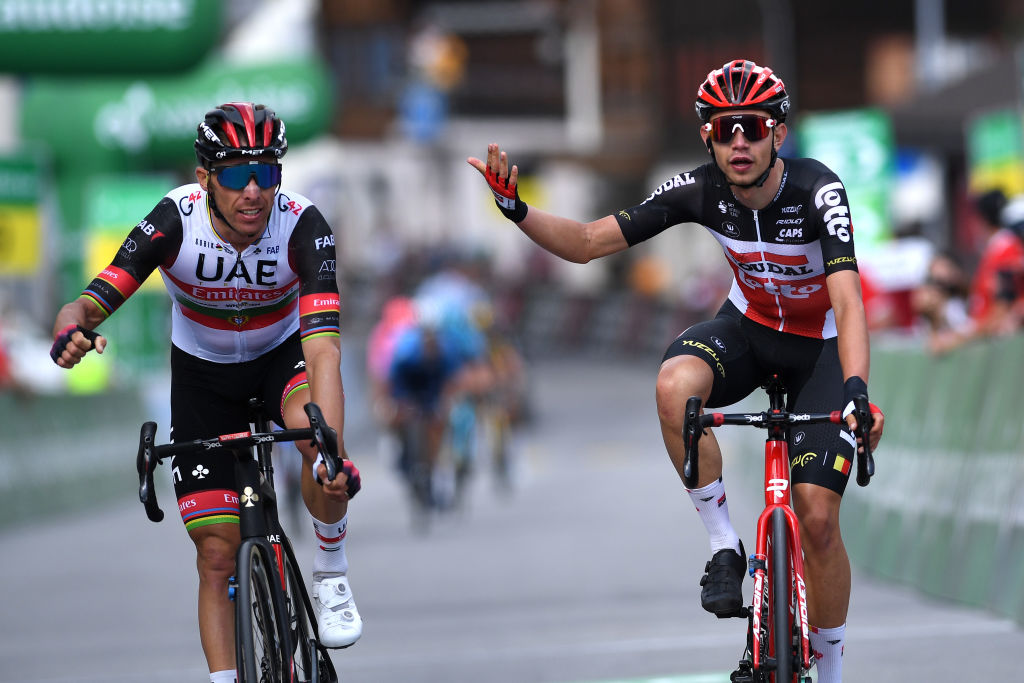 With the Oberalp Pass at over 2000m, it's proving difficult for the time keepers to update from the summit.
However Connor Brown has finished his ride in a time of 40:24. He is the first to finish.
Jonas Rutsch (EF) is fast on the climb, setting 27:23 at the summit. He was 2:00 faster than Brown. Lets see how good his descending skills are.
First Deceuninck - Quick-Step rider off the ramp at the #TourdeSuisse.Go, @SteimleJannik! pic.twitter.com/eY495LjauTJune 12, 2021
Jordi Meeus is currently second fastest with 40:57.
So far the choice between a TT bike and road bike seems about 50-50. Though we expect the overall contenders to use a time trial bike because it will vital on the long valley road to the foot of the hairpins.
A bike swap may have been considered but is a complex operation and costs atleast 20 seconds, so perhaps not worth it today due to the short distance.
New best time for Scully. He sets 39:50 and so goes into the early hot seat.
Jonas Rutsch smashes his teammates' time, stopping the clock in 37:37.
Here's Rutsch in action, caught by our photographer near the summit of the Oberalp Pass.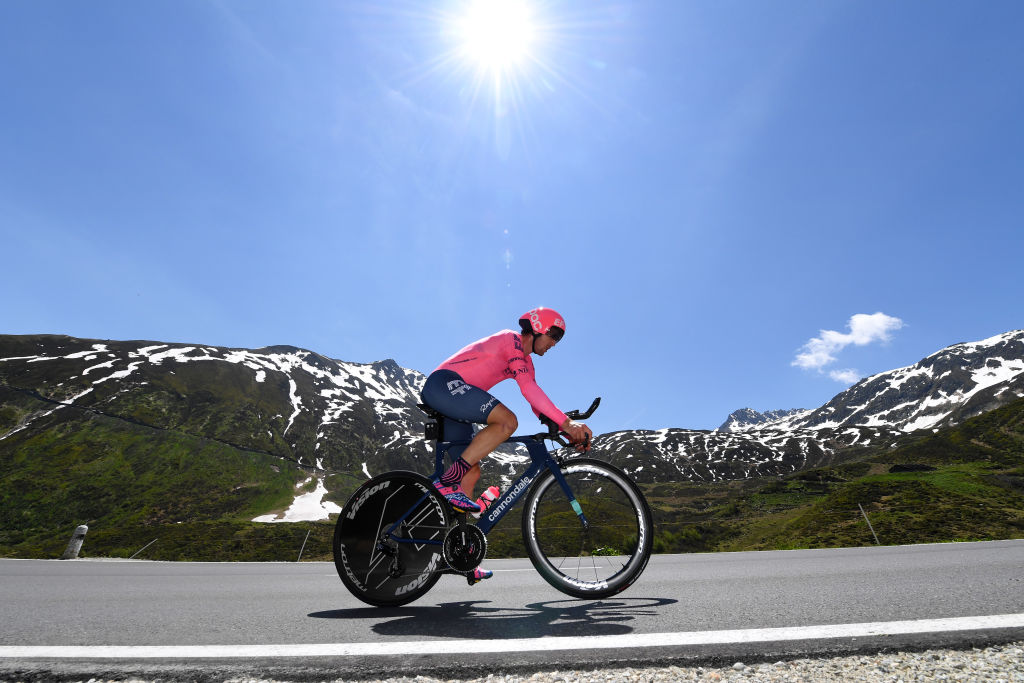 In a play on numbers, Rutsch, who set a time of 37:37, covered the TT at an average speed of 37.005km/h.
Alex Howes usually races in the stars and stripes as US national road race champion but he's logically in a pink EF skinsuit for the TT.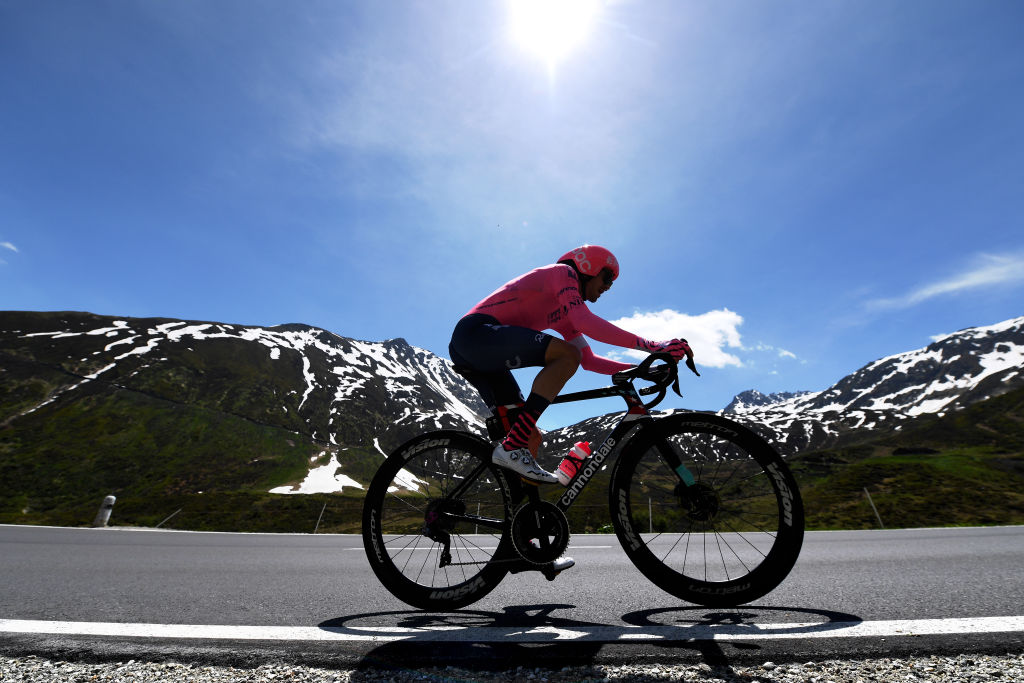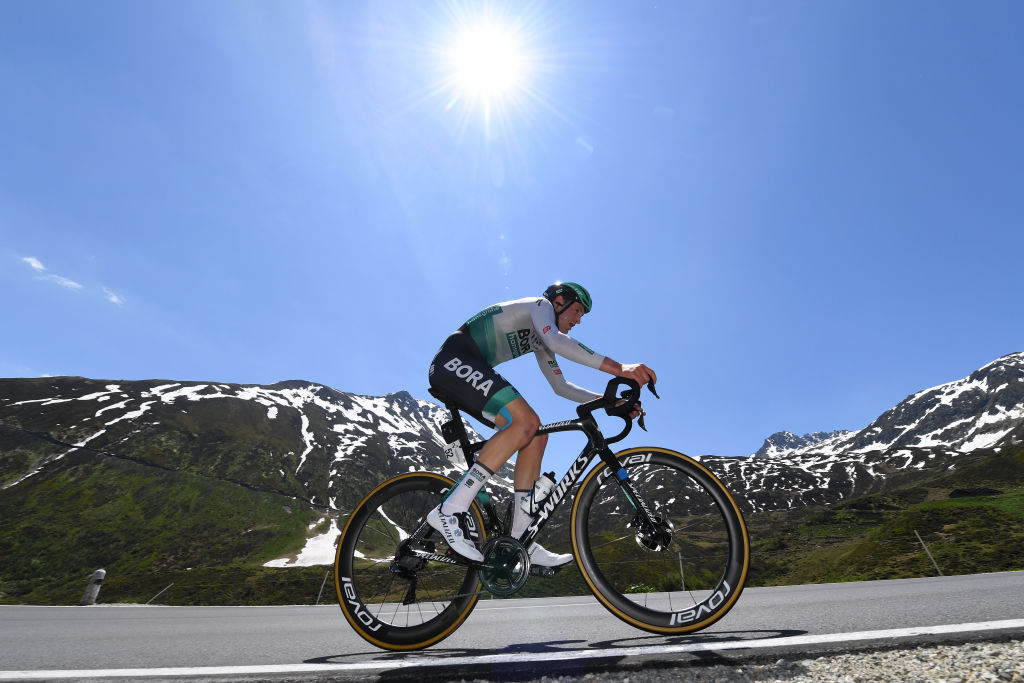 Rob Britton of Rally Cycling has done an solid TT, setting 27:49 at the top of the pass. The Canadian is currently second fastest.
Due to the nature of the TT course and the need to get team cars back to the start area to follow other riders, there will be a pause in the racing very soon.
Joe Rosskopf of Rally Cycling started a few minutes ago but then the next rider does not start until 1:45 later in the afternoon.
Fortunately the pause coincides with the other races underway, with Baloise Belgium Tour and the Tour of Slovenia due to finish at around 3:00pm CET.
Britton stops the click in 39:07.
Riders are coming in but nobody has so far beaten Rutsch's time of 37:37.
After losing tine in the GC, Spain's Marc Soler (Movistar) was one of the last early starters and sets 38:04.
That puts him second fastest so far.
Nathan van Hooydonck sets 39.14 and is fourth fastest.
Rosskopf sets 41:10. The American rider is last to finish of the first block of riders.
There is now a pause of 60 minutes before the next ands final wave of riders begin the TT.
We'll keep our live coverage rolling with the latest news and reports from other races.
#TDS 🇨🇭De son côté, @jempy_drucker termine en 4⃣2⃣'3⃣3⃣.Prochain Cofidis à partir : @LAPORTEChristop à 15h23 🕝📸 @GettySport pic.twitter.com/bIA987nalyJune 12, 2021
This is the view of the Oberalp Pass from the saddle.
Young Swiss Joel Sutter @swisscycling on the climb of stage 7... pic.twitter.com/H7q3BKBWKxJune 12, 2021
Meanwhile in Belgium, Caleb Ewan (Lotto-Soudal) won his second stage in as many days at the Baloise Tour of Belgium.
The Australian was a surprise victor given the hilly parcours. However no breakaways succeeded in getting away and a peloton that had been reduced to less than 40 riders contested for the stage win, with Ewan getting back on after some superb team work from Lotto Soudal.
The Belgian team also lead out the sprint and then Ewan surged to a second consecutive victory as the road rose to the finish.
Bryan Coquard (B&B Hotels) sprinted for a distant second-place, and Davide Ballerini was third, while his Deceuninck-QuickStep teammate Remco Evenepoel finished in the peloton to retain the overall lead.
Click below for our report and growing photo gallery.
Baloise Belgium Tour: Caleb Ewan survives the climbs to win stage 4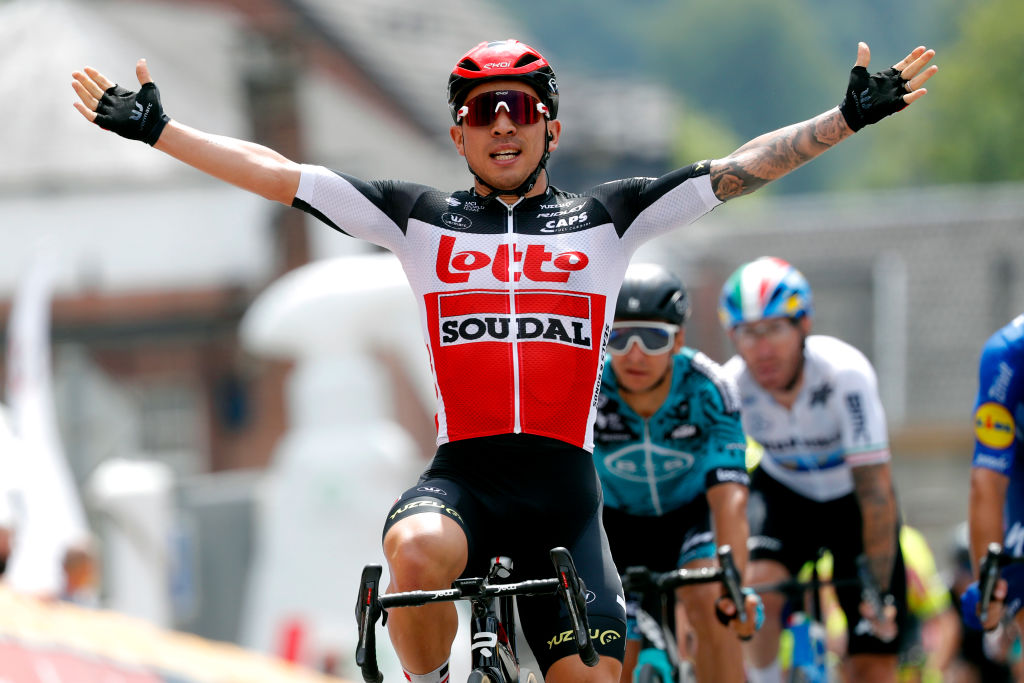 After a short pause, the Tour de Suisse is about to kick back into action.
The second half and all of the big GC contenders will start in this second wave.
Jonas Rutsch, who set a time of 37:37, has been sat in the hot seat during the pause in racing.
The stage is a race of climbing and high-speed descending on the smooth fast road.
There's a series of hairpins in the final 5km adding an extra twist to the TT.
Hector Carretero (Movistar) is the first rider off in the final wave of riders.
Gavin Mannion (Rally Cycling) starts five minutes later.
Carretero starts on time, in Switzerland everything works like clockwork.
🇨🇭 #TourdeSuisse🚂 vs. @MBurghardt83 💪🏻The second batch of riders for the time trial will soon be starting. pic.twitter.com/vPYdqgrtMwJune 12, 2021
For now most riders are opting to use a road bike so they can take advantage on the more technical descent.
However we expect the GC contenders to use TT bikes and so face a few risks on the descent.
Riders are touching and going over 100km/h on the descent, so a time trial bike could offer a significant advantage, especially if the riders have the nerve to go into an aero-bar position.
Kilian Frankiny of Qhubeka Assos has opted for a TT bike. It will be interesting to see how he rides.
While lots of the non-GC contenders are using road bikes for he TT, most are using their TT aero helmets.
Soren Kragh Andersen (DSM) is on the climb of the Oberalp Pass now. He's on a road bike but has a disc wheel.
He's riding well and is about to catch his minute-man.
He's an excellent time trialist but this climb could be a test for him.
Before the GC riders battle it out, we will also see some of the best TT riders in the world in action.
These include Tom Dumoulin, Rohan Dennis and Stefan Kung.
Pavel Sivakov starts his ride. His performance in the Tour de Suisse could decide if he rides the Tour de France.
Soren Kragh Andersen has also caught and passed Carretero.
He starts the hairpins of the climb and is giving it everything.
He dances on the pedals out of a hairpin to keep his speed high.
Here we go, it's time for the big-name riders.
Canada's James Piccoli is off next for Israel Start-Up Nation.
Dumoulin will start one minute after him.
Don't look back James!
3-2-1 and Dumo is off. He was only 16th in the opening time trial on his return to racing but it was raining that day. Today's TT could suit him much better if he goes for it.
He's using a TT bike today.
Kragh Andersen reaches the summit of the climb and set a new best time of 26:49.
He's 34 seconds faster than Rutsch but is on a road bike.
Now Rohan Dennis is off. He may not be challenging for victory today but surely do a good ride.
Tom Dumoulin and Jumbo-Visma will sit down after the Olympic Games in Tokyo and decide on the Dutch rider's plans for the second half of the season, directeur sportif Merijn Zeeman has told Cyclingnews.
The 30-year-old currently has no races scheduled beyond the Tour de Suisse, the Dutch national championships in just over a week, and then the Tokyo Olympic Games.
Click below for the full story.
Vuelta return unlikely for Tom Dumoulin in 2021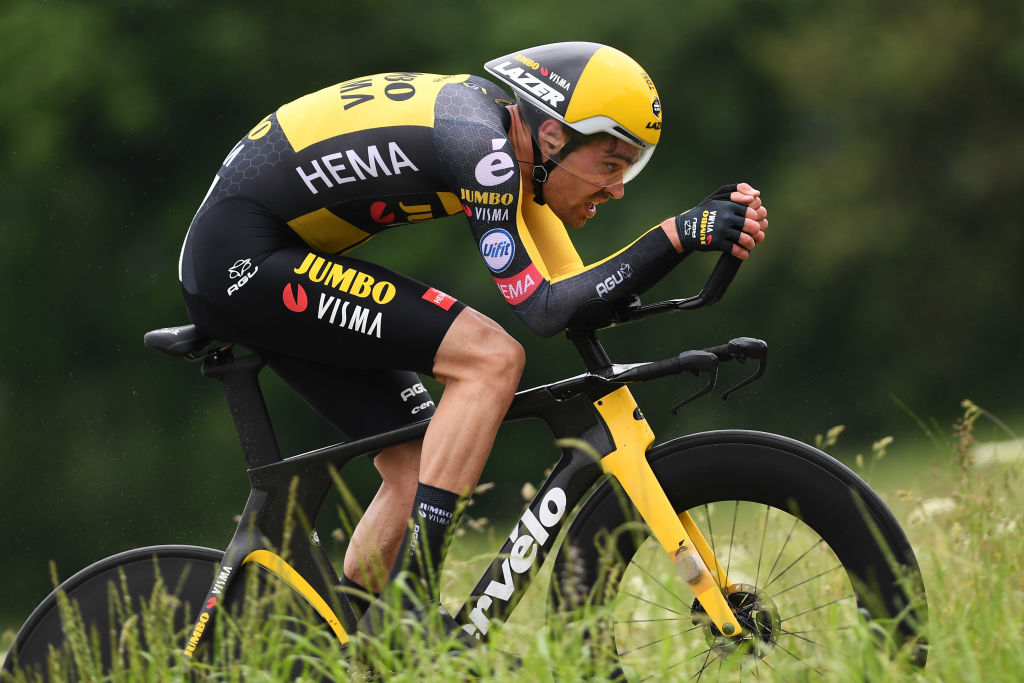 Stefan Kung is off.
He's using a TT bike and a disc wheel as he chases his second TT in this year's race.
Wow!
Kragh Andersen is on the fast descent on the high straight roads of the Pass. He's accelerating after every curve and trying to keep his highest speed.
Here comes Kragh Andersen.
He's taking some risk on the fast descent.
He is into the finish are and sets 37:06.
New fastest time!
That could be the time to beat.
Looking at the time splits, riders climb or 27 minutes and then descend to the finish in just 10 minutes.
Next off is Marc Hirschi. He is Swiss and so riding his home tour, though he has yet to show any great form after his move to UAE.
Hirschi leaves Sedrun to start the 23.2km TT.
Dennis is on the climb and is even turning the big ring, though not in an aero position.
This is the view near the top of the climb.
🆙🆙🆙 @ThymenArensman taking on the climb 👊🏻#TourdeSuisse pic.twitter.com/aCLmScBmUOJune 12, 2021
Sivakov is two minutes off the pace at the summit, no doubt saving his legs for Sunday's decisive road stage.
Dennis appears to be going harder but is fighting a headwind as the hairpin section begins.
Stefan Kung catches his minute-man Fred Wright. Thew big Swiss tester is sat tucked in his aero position and looks fast.
The USA's Neilson Powless (EF) is off now. We're heading down the start list towards the GC riders.
Tom Dumoulin is fast, very fast. He sets 26:43 at the summit.
That is five seconds faster than Soren Kragh Andersen.
Next to the to is Rohan Dennis.
Will he be faster than Dumoulin?
Dennis is 30 seconds slower than Dumoulin. He sets 27:05.
Of course the race is decided after the fast, dare devil descent.
Kung is off the pace on the climb. That's a surprise.
He sets 27:09 after hauling his Classics build and muscle up the climb.
While watching the big-name testers, Gino Mader (Bahrain) surprised everyone to set 26:34!
His hard-earned Giro d'Italia form is giving him a good result.
Can he hold in on the descent?
Dumoulin finishes and sets a new fastest time!
He sets 36:58. He's back!
Mader holds on to beat Dumoulin by 2 seconds!
He sets 36:56.
Mader was nine second faster at the summit but held on to take the race lead.
Can anyone beat him? We will see very soon.
Not Rohan Dennis. He cruises in and sets 38:00.
He's 1:04 slower than Gino Mader, who heads to the hot seat as fastest rider.
Here comes Stefan Kung.
He was fast on the descent and sets 37:08.
The final ten riders are about to start the TT.
They roll out at two-minute intervals to avoid any slipstreaming.
Michael Woods is off.
He's using a road bike, fitted with aero bars and climbing wheel. He's hoping the weight and his bike skills on the descent can make a difference for him.
Allez Julian!
Alaphilippe starts his TT. Wearing Deceuninck-QuickStep blue instead of his road race world champion's rainbow jersey.
He is set to leave the race after the stage because he is soon to become a father.
Richard Carapaz is in the house and about to climb on the start ramp.
He will start two minutes after Jakob Fuglsang in a pursuit match for overall victory.
Fuglsang is 26 down on Carapaz in the GC, with a final big mountain stage to come on Sunday.
Carapaz has opted for his TT bike and aero helmet.
He's off!
Carapaz does not have a disc wheel but instead preferred deep rims front and back.
The TT bike is clearly an advantage on the flatter valley roads early in the TT. Carapaz is riding at 60km/h.
Here's Gino Mader watching the GC riders try to beat his best time.
Cooling down: current leader Seiss @maedergino ( @BHRVictorious )@Vaudoise_fr @Vaudoise_de @searchch @Genesis_Europe @PrimeoEnergie pic.twitter.com/frVsWUPrLiJune 12, 2021
Matteo Cattaneo of Deceuninck is a threat to Mader. He sets 26:40 at the summit, only 5 seconds slower than Mader.
Can he pull it back on the descent?
Carapaz has a good TT position, tucked low and closed at the front.
He changed from the big ring to the inner ring but made a sudden jump in gears that could have lead to his chain coming off.
Bike change for Rui Costa. He opted for a bike change but is the first to do it so far.
Lets see if that option proves to be a good one.
He sets 26:55 at the top, so perhaps was a wise choice.
Boom.
Pozzovivo is fastest to the top of the climb in 26:28.
He's 6 seconds faster than Gino Mader but can he hold that on the descent? He's a lightweight climber and not the best descender, so it could be very close.
This was Mader on the climb.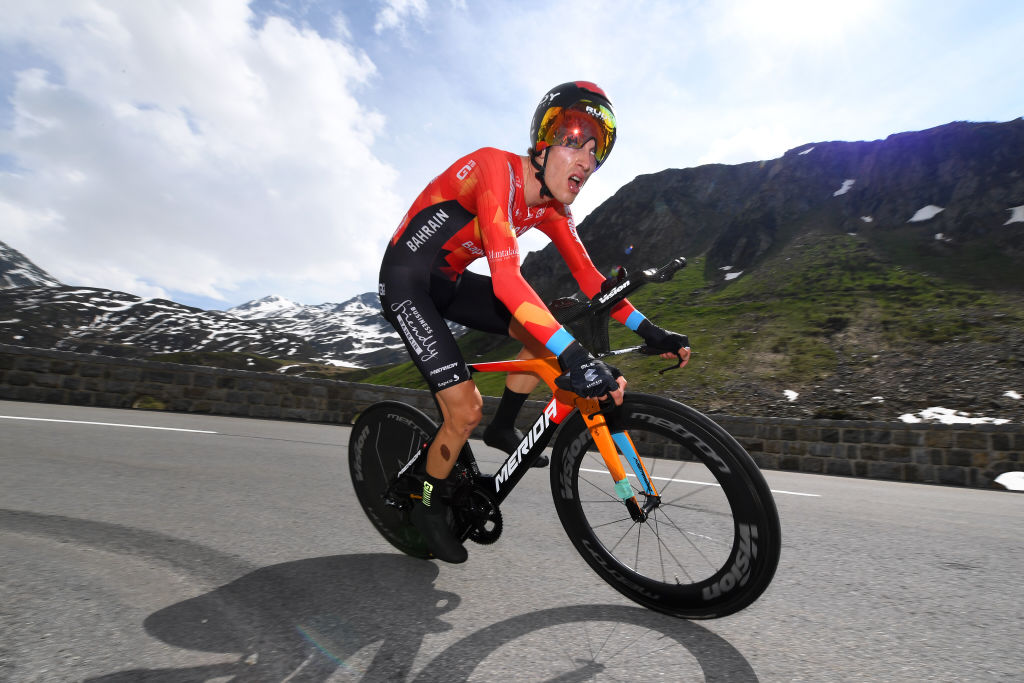 Pozzovivo has endured several crashes but is a real fighter.
Boom! Go Rigo go!
Rigoberto Uran is going fast. He has been overlooked amongst all the GC contenders but sets 25:59.
He's 28 seconds faster than Pozzovivo!
Alaphilippe is also fast.
He sets 26:11.
With his descending skills, he could fight for the stage win.
Uran is using a disc wheel and is now diving down the descent. The high roads are fast and straight.
Uran is a former Colombian TT champion and so has the skills and track record.
Schachmann is off the pace and so will slip in the GC.
37:02 for Pozzovivo at the finish.
As expected he lost some seconds to Mader on the descent.
Fuglsang is also off the pace.
He sets 27:34 at the summit and time split. He could lose a lot of time in the GC battle.
Lets see what Carapaz can do.
Carapaz is not super fast.
Carapaz sets 26:49. That's 49 seconds down on Uran but better than Fuglsang.
He beat Mader by 53 seconds to set the new fastest time.
Beat that everyone!
That ride will lift Uran right back into overall contention.
Fuglsang tucks low and touches 102km/h on the fast descent.
Alaphilippe finishes fast but not fast enough to beat Uran.
He sets 36:42, some 39 seconds slower.
Schachmann sets 37:25 and loses 1:23 to Uran. He's off the pace and not happy.
Fuglsang takes risks on the final corners but loses time.
He sets 37:45, that's 1:43 slower than Uran.
Only Carapaz is left to finish.
his lead is under threat after Uran's great ride.
Tick tok....
Carapaz sets 36:56.
He's 51 seconds slower than Uran.
Uran is back in the GC game. He is also the stage winner.
It is Uran's first win since 2018, when he won a stage of the Tour of Slovenia.
Of course he was second overall in the 2017 Tour de France.
Carapaz rides back to the podium and will keep the leader's yellow jersey. But Uran is only 17 down on the GC now.
This is the top ten for the stage.
Results

| Pos. | Rider Name (Country) Team | Result |
| --- | --- | --- |
| 1 | Rigoberto Uran (Col) EF Education-Nippo | 0:36:02 |
| 2 | Julian Alaphilippe (Fra) Deceuninck-QuickStep | 0:00:40 |
| 3 | Gino Mäder (Swi) Bahrain Victorious | 0:00:54 |
| 4 | Richard Carapaz (Ecu) Ineos Grenadiers | |
| 5 | Tom Dumoulin (Ned) Jumbo-Visma | 0:00:56 |
| 6 | Mattia Cattaneo (Ita) Deceuninck-QuickStep | 0:00:58 |
| 7 | Domenico Pozzovivo (Ita) Team Qhubeka Assos | 0:01:00 |
| 8 | Rui Costa (Por) UAE Team Emirates | |
| 9 | Søren Kragh Andersen (Den) Team DSM | 0:01:04 |
| 10 | Stefan Küng (Swi) Groupama-FDJ | 0:01:05 |
This is the new GC top ten:
General classification after stage 7

| Pos. | Rider Name (Country) Team | Result |
| --- | --- | --- |
| 1 | Richard Carapaz (Ecu) Ineos Grenadiers | 20:37:27 |
| 2 | Rigoberto Uran (Col) EF Education-Nippo | 0:00:17 |
| 3 | Julian Alaphilippe (Fra) Deceuninck-QuickStep | 0:00:39 |
| 4 | Maximilian Schachmann (Ger) Bora-Hansgrohe | 0:01:07 |
| 5 | Jakob Fuglsang (Den) Astana-Premier Tech | 0:01:15 |
| 6 | Michael Woods (Can) Israel Start-up Nation | 0:03:10 |
| 7 | Domenico Pozzovivo (Ita) Team Qhubeka Assos | 0:03:16 |
| 8 | Sam Oomen (Ned) Jumbo-Visma | 0:03:39 |
| 9 | Rui Costa (Por) UAE Team Emirates | 0:03:43 |
| 10 | Esteban Chaves Rubio (Col) Team BikeExchange | 0:04:29 |
Uran used a full TT bike and disc wheel set-up.
He seemed to use the aero advantage of the bike on the fast descent.
Despite his great and long career, Uran has never actually won a stage race. Now he has a great chance tomorrow.
Uran was 2nd in the 2017 Tour and incredibly won a stage at the Tour de Suisse back in 2007 when he was just 20.
The intermediate time show that Uran was not fastest on the descent but he was by far the fastest on the climb.
Wout Poels was fastest on the descent in 9:57, with Kung in 9:58 and Uran third in 10:03.
34-year-old Uran won the TT by 40 seconds, beating Julian Alaphilippe (Deceuninck -Quick Step), while Gino Mader (Bahrain – Victorious) placed third on the stage at 54 seconds.
Yellow jersey wearer Richard Carapaz (Ineos Grenadiers) started the day 1:11 ahead of Uran in the general classification but saw his margin cut to 17 seconds to the Columbian ahead of the final stage with Alaphilippe just 39 seconds back overall.
Here's Uran in action.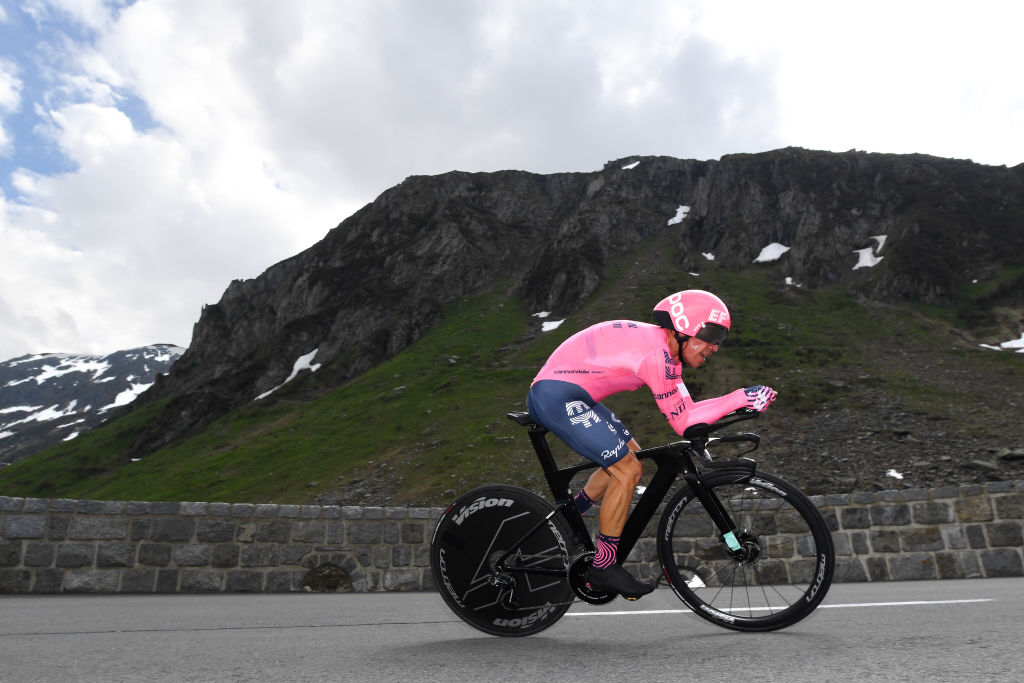 Snow and closed roads means Sun day's final stage has been modified but if anything will be harder than planned.
The stage is much like Friday's stage but covered in reverse. It include three Cat 1 climb, starting with the Oberalp Pass, then the Lukmanier Pass, then after a long descent and valley road, the Gotthard Pass and paved road surface will surely decide the race before a descent to Andermatt.
As for every stage, Cyclingnews will have full live coverage followed by a full stage report, news and interviews.
The stage is 159km long, with 3500m of climbing.
I'm surprised, even me, but my legs today were incredible," Uran said.
"This year is so special for me. I haven't raced much, also because of a small problem, but I had good preparation for the Tour de France and done some hard racing here at the Tour de Suisse."
Uran avoided making any major statements about trying to snatch overall victory from Carapaz on Sunday's final stage.
"I know but this race is hard because my first win in this race was in 2007, many years ago. Today's time trial was special because there was the climb and then the downhill. It was a special day for me and the team."
And so will he attack Carapaz?
"With these great legs, I'll try. But it's a hard stage and the Tour de Suisse ends tomorrow."
Here's Uran on the podium.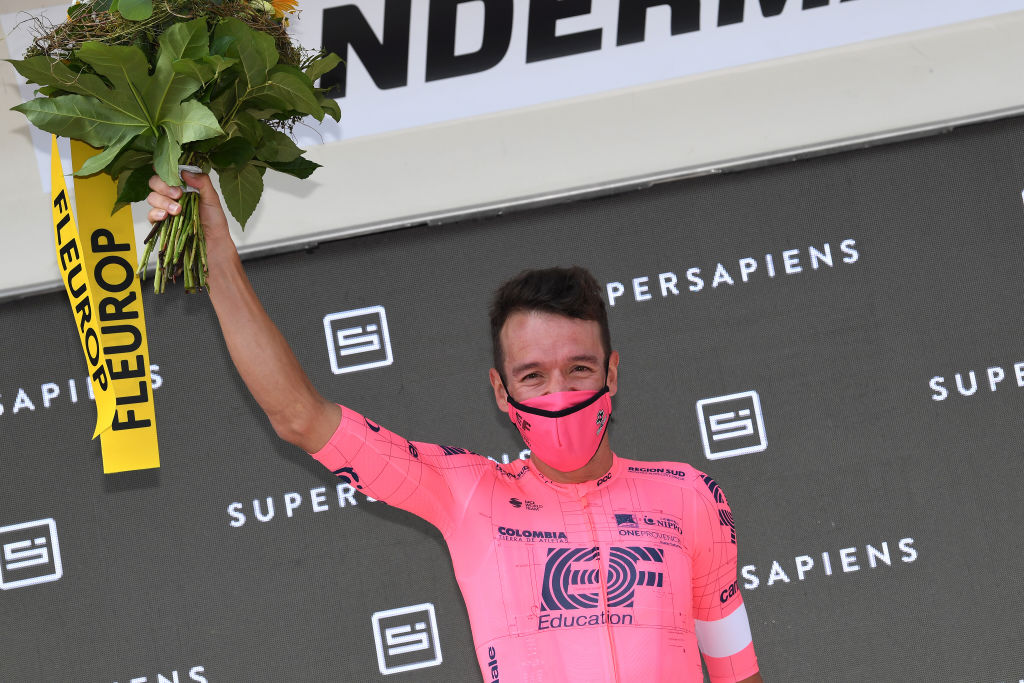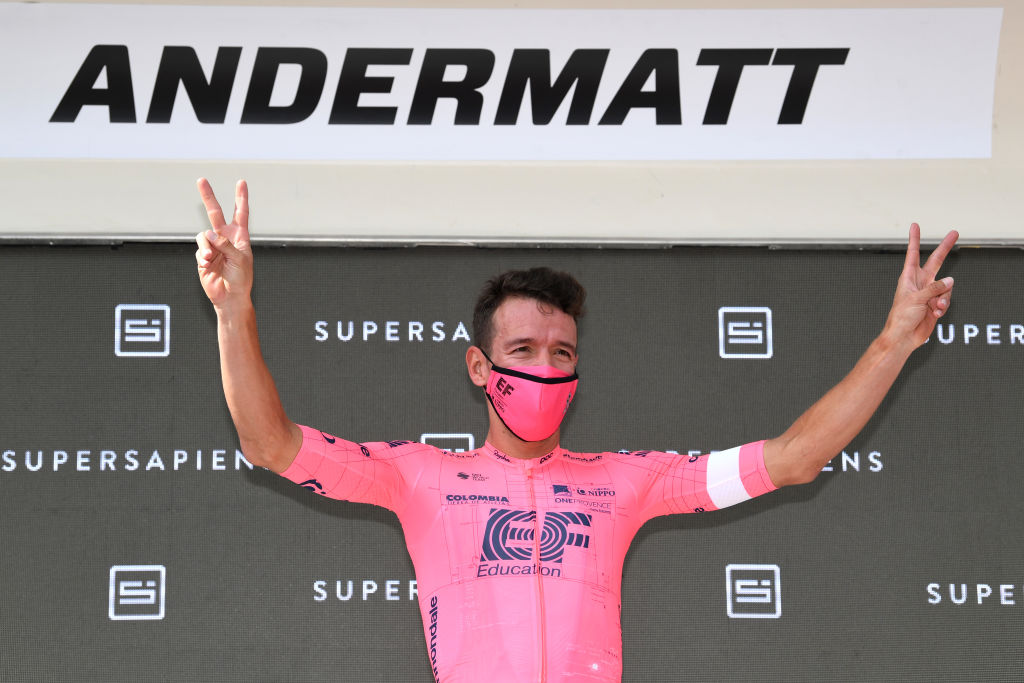 The stage win and strong GC ride naturally makes Uran a contender for the rapidly approaching Tour de France.
Richard Carapaz is also a Tour de France contender and he and Ineos will be riding to win the Tour de Suisse on Sunday.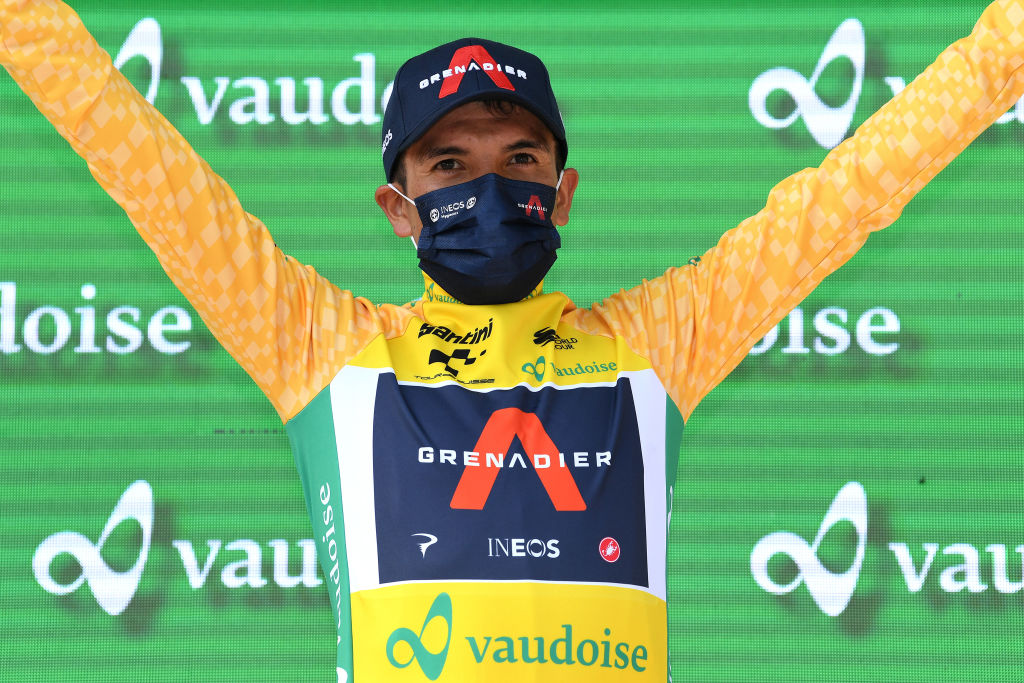 If Carapaz wins the Tour de Suisse, he is arguably joint leader at Ineos for the Tour along with Geraint Thomas.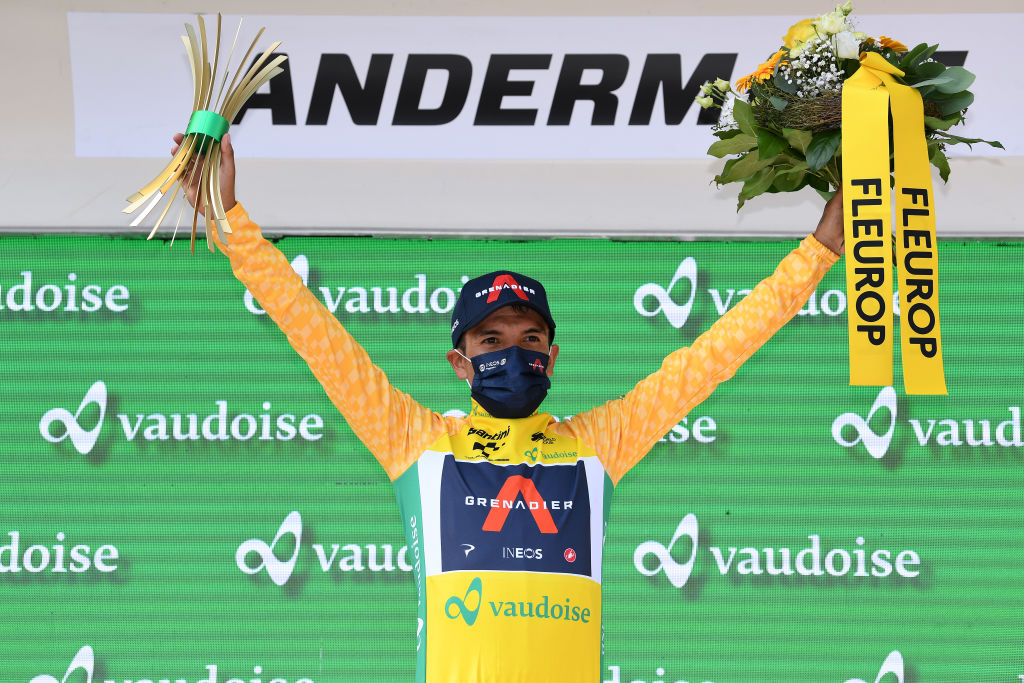 It looks like Uran was using the new Cannondale TT bike that first emerged in the spring.
Read about it by clicking below.
New Cannondale time trial bike ridden by Rigoberto Uran at Volta a Catalunya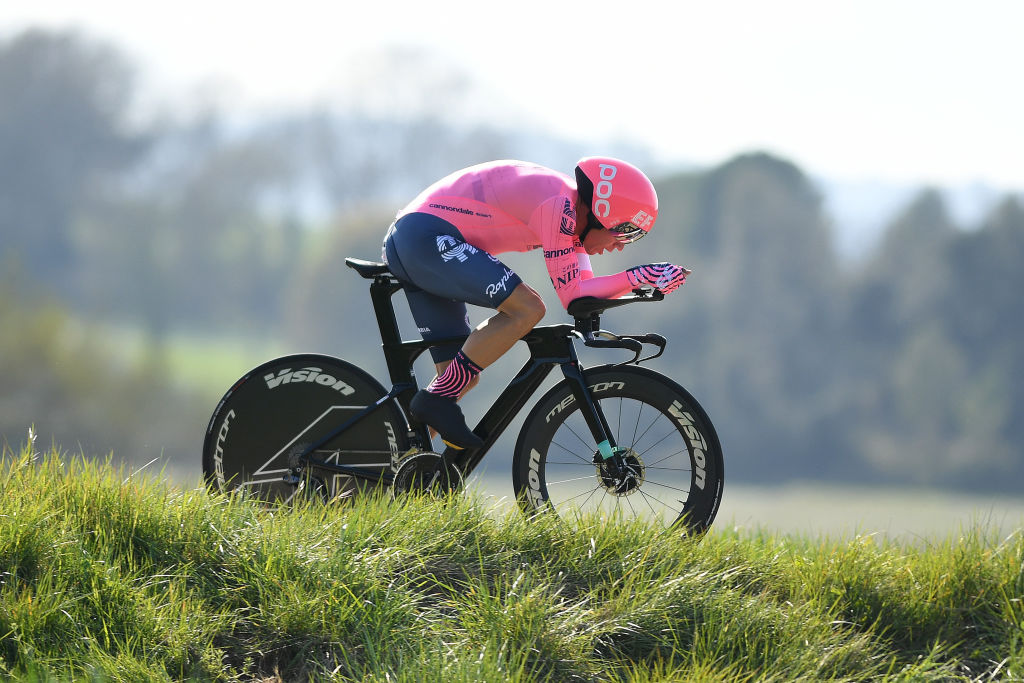 To read our full stage report, and see the full results and growing photo gallery, click below.
Tour de Suisse: Rigoberto Uran wins stage 7 time trial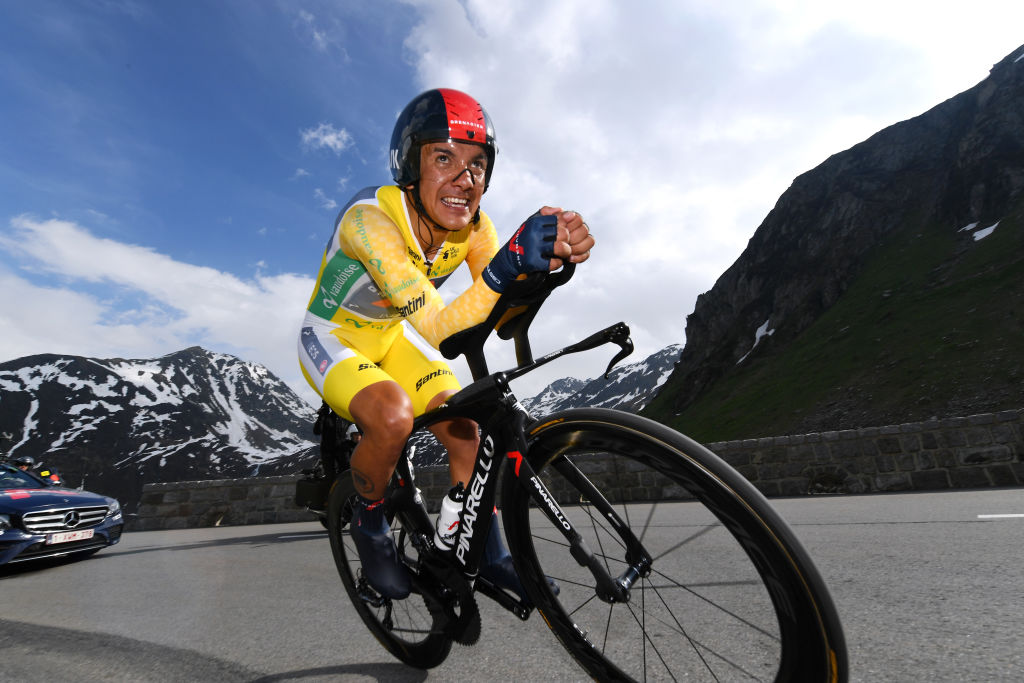 Thanks for joining for full live coverage of the TT.
We'll be back on Sunday for full coverage of the final mountain stage.
Join us to see if Uran or anyone else can topple Carapaz.
Sign up to the Cyclingnews Newsletter. You can unsubscribe at any time. For more information about how to do this, and how we hold your data, please see our privacy policy
Thank you for signing up to Cycling News. You will receive a verification email shortly.
There was a problem. Please refresh the page and try again.