Tour de France stage 17 Live - Pogacar wins atop Peyragudes but fails to crack Vingegaard
By Stephen Farrand published
UAE lose Majka but go on the attack in the Pyrenees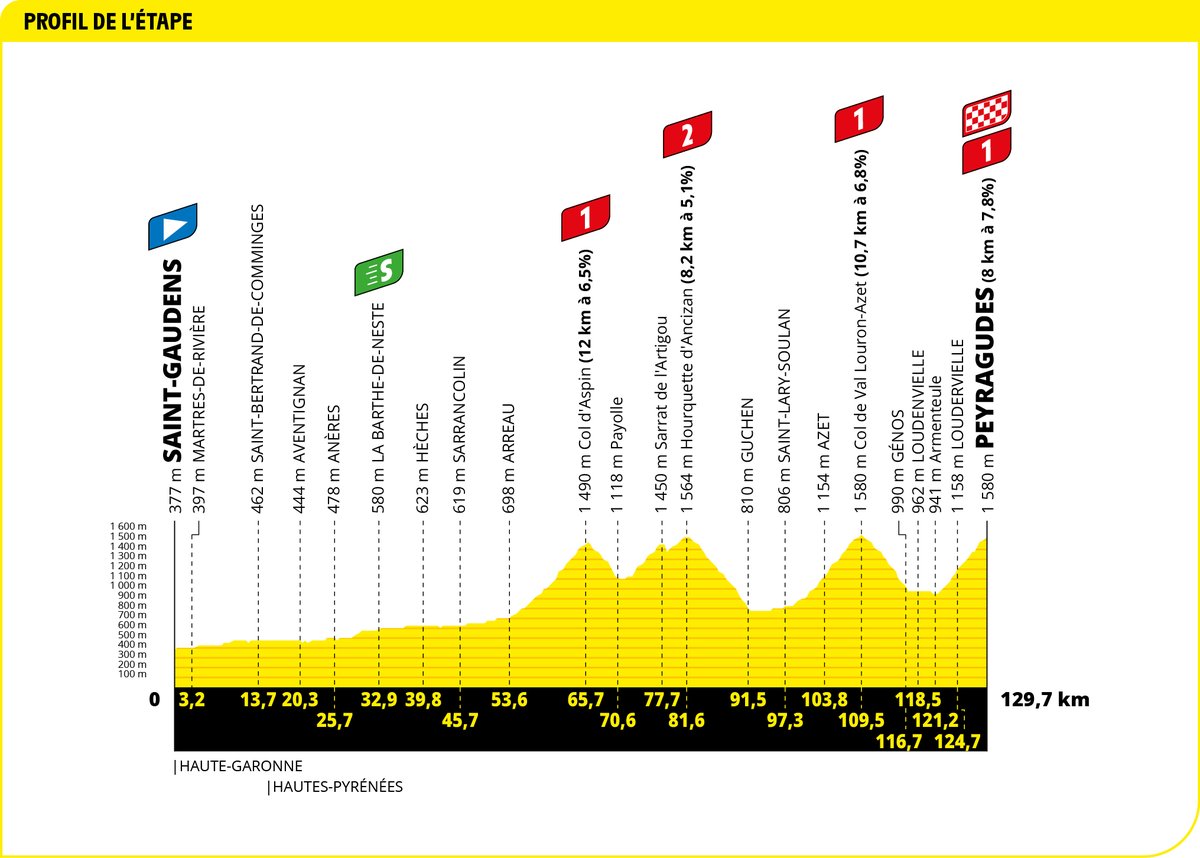 Tour de France 2022 complete guide
How to watch the 2022 Tour de France – live TV and streaming
Tour de France stage 16 Live - Pogacar attacks Vingegaard in Pyrenees as Houle takes emotional win
Vingegaard: The harder the Tour de France, the better it is for me
Race Notes
-Stage 17 is the shortest road stage of the Tour at 129.5km but includes 3365m of climbing
-Pogacar triples up on stage 17 mountain mayhem at Tour de France
-Jonas Vingegaard leads Tadej Pogacar by 2:18 in the overall classification, Geraint Thomas is third at 4:56
-Quintana, Gaudu, Adam Yates, Vlasov and Tom lose time but Bardet bounces back
Refresh
Bonjour and welcome to the Cyclingnews live coverage of stage 17 of the 2022 Tour de France.
As the Cyclingnews blimp takes height, the riders are signing on and preparing for the second of three intense days in the Pyrenees.
Today's stage is short at just 129.7km but it includes 4 major climbs and a mountain finish that ends on the Peyragudes altiport.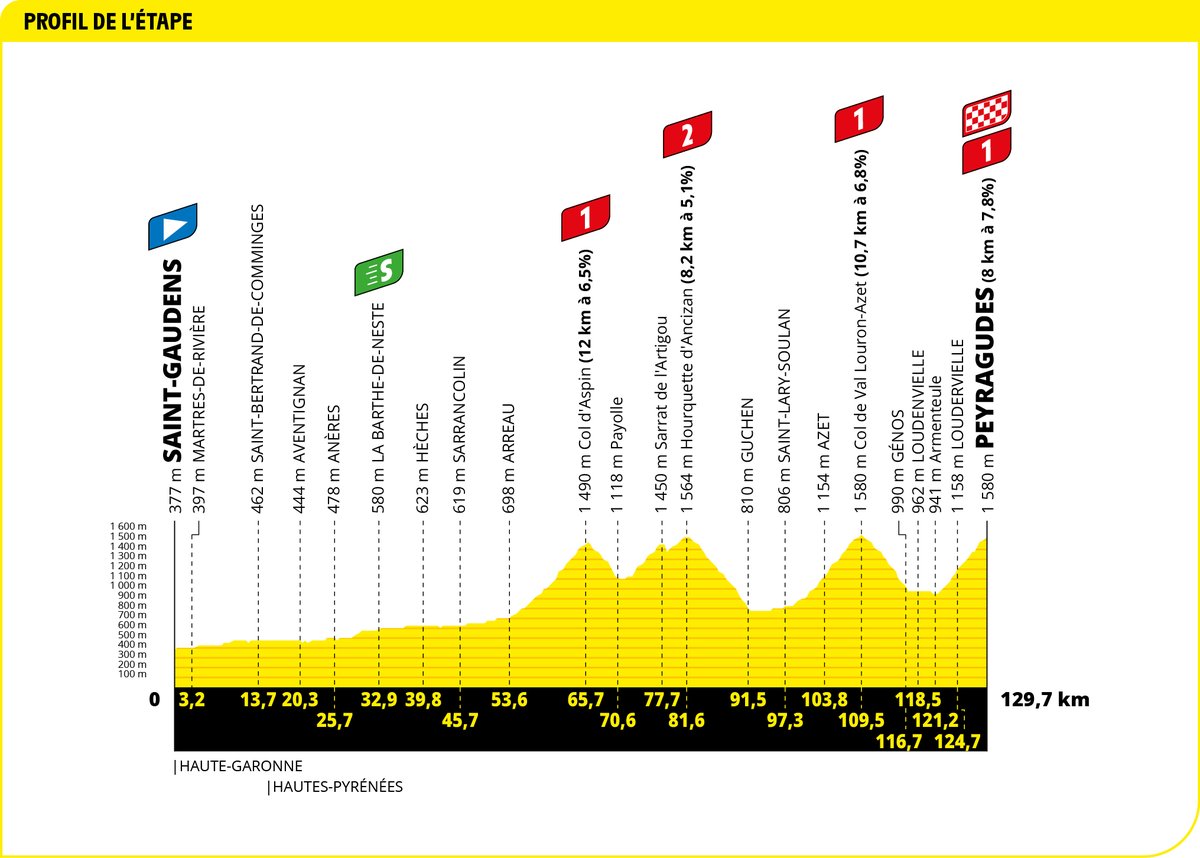 UAE Team Emirates are one of the last teams to sign on but in some breaking news, the team confirms that Rafa Majka will not start.
"Unfortunately Rafal Majka will not start stage 17 of the Tour de France today," the team said.
Dr. Adrian Rotunno (Medical Director) explained more:
"Majka sustained a strain injury to his thigh after some mechanical trouble on stage 16 when his chain broke.
"This resulted in a high-grade partial thickness tear of his right quadriceps muscle, and unfortunately due to the muscle damage is unable to ride."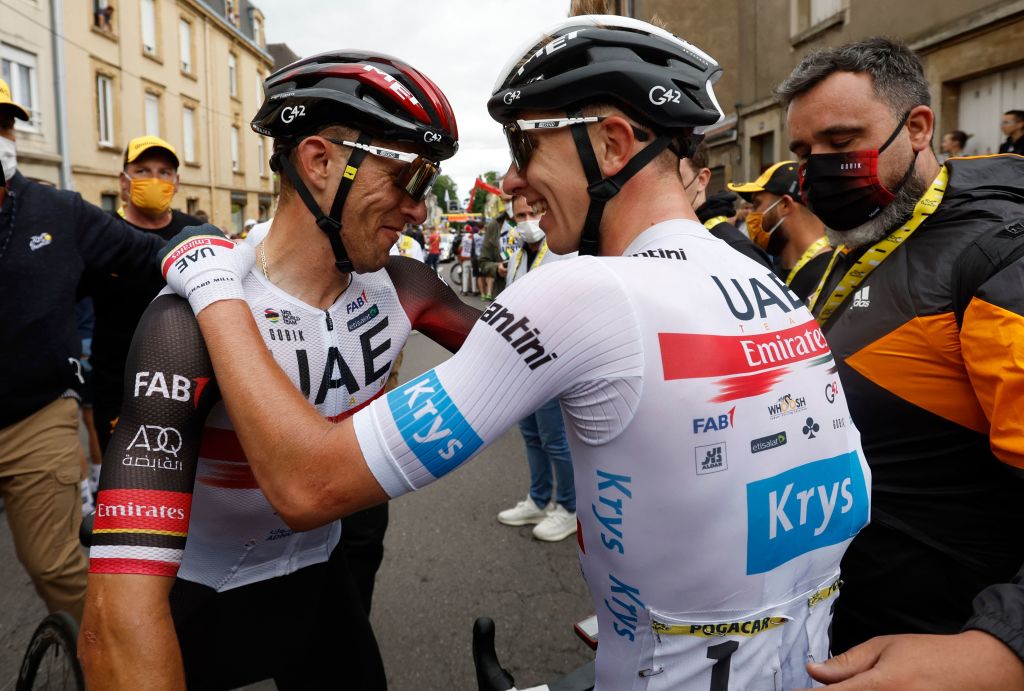 The loss of Majka means Pogacar has just three teammates to help him challenge Jonas Vingegaard.
They are Mikkel Bjerg, Marc Hirschi and Brandon McNulty.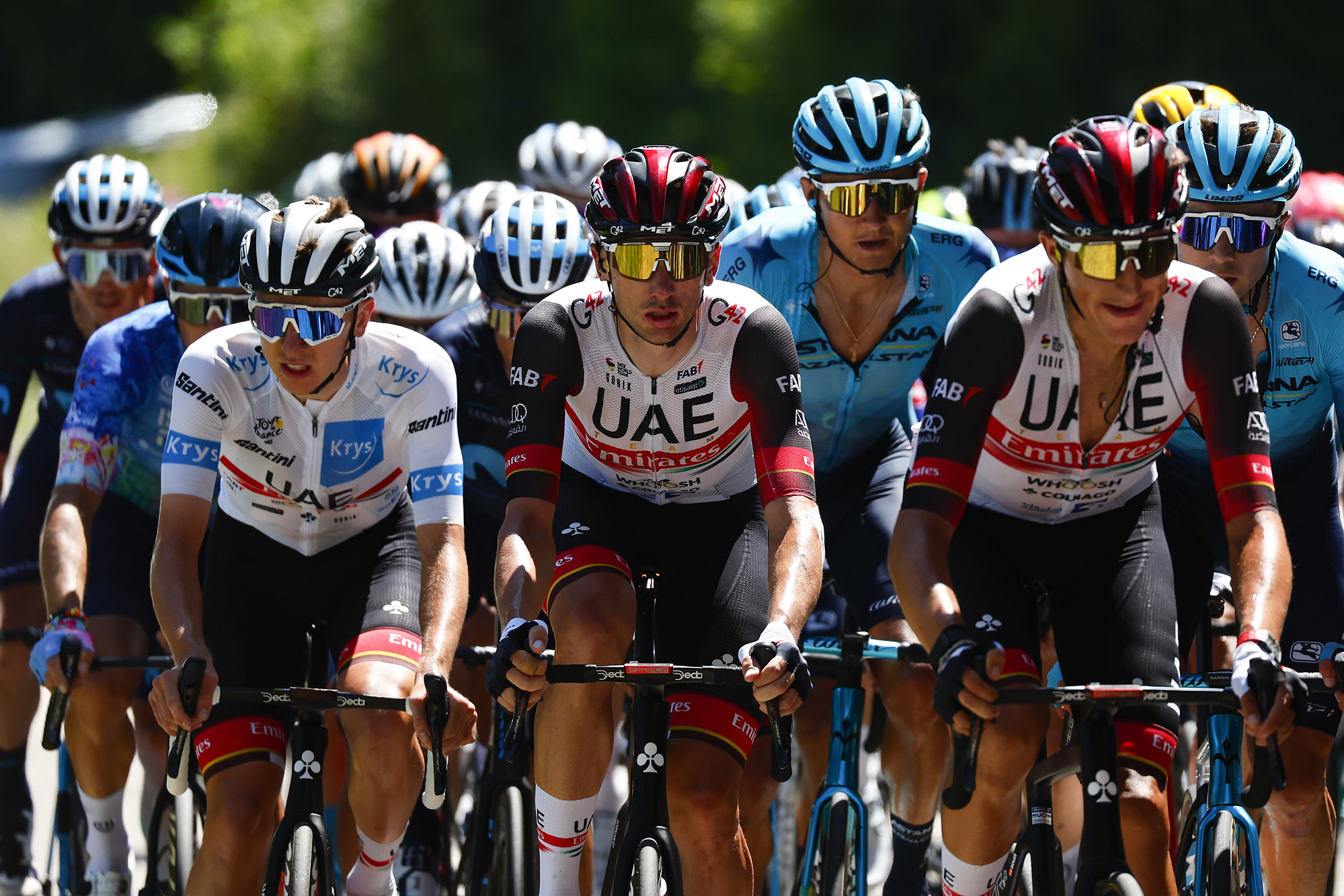 Is this today's stage winner? Well, he seems in a good mood.
🇫🇷 @ThibautPinot en grande condition avant le départ !🤣#TDF2022 pic.twitter.com/s0kZ4nYdItJuly 20, 2022
Israel Premier Tech are the last team to sign on after Hugo Houle's stage win yesterday.
The Canadian gets a special cheer for his emotional victory.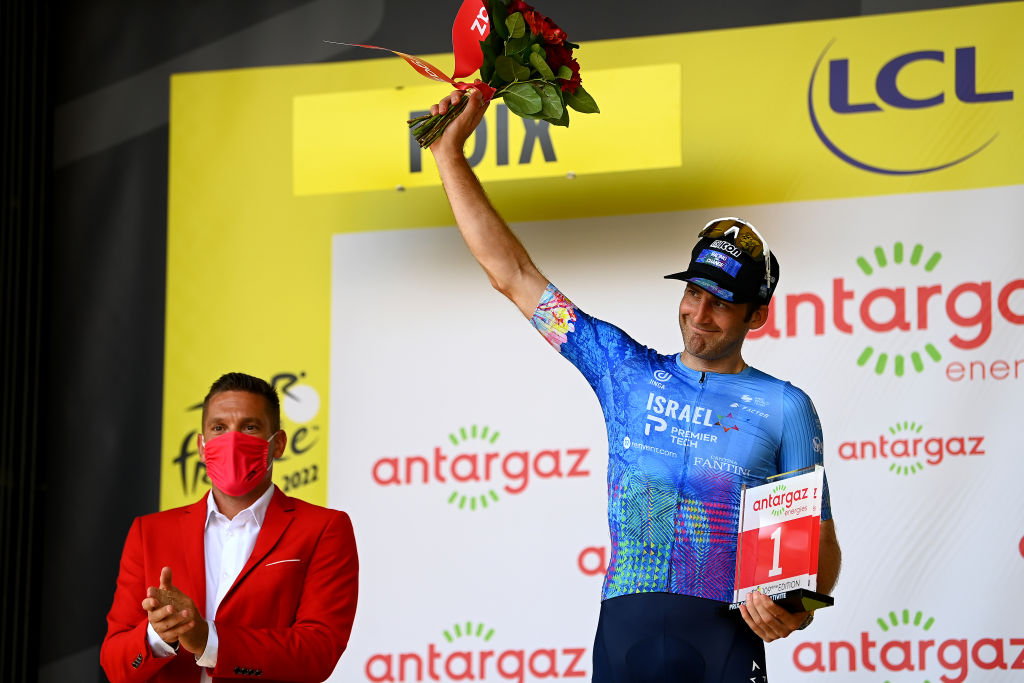 Today's stage starts in Saint-Gaudens in the Haute-Garonne, on the plain between Pau and Toulouse.
It is 28C as the riders line-up for the roll out.
This is what the riders face today.
Another difficult day on the roads of the #TDF2022 with a finish in Peyragudes that promises fireworks! ⛰Une nouvelle journée difficile sur la route du #TDF2022 avec une arrivée à Peyragudes qui promet d'être mouvementée ! ⛰ pic.twitter.com/tB6D6pxfKRJuly 20, 2022
The climbs are not high but are historic in the Tour and always inspire some intense racing.
The jersey leaders have a special place on the start grid.
With two minutes to go, Vingegaard and van Aert line-up in the yellow and green jerseys. They're joined by their big rival Tadej Pogacar.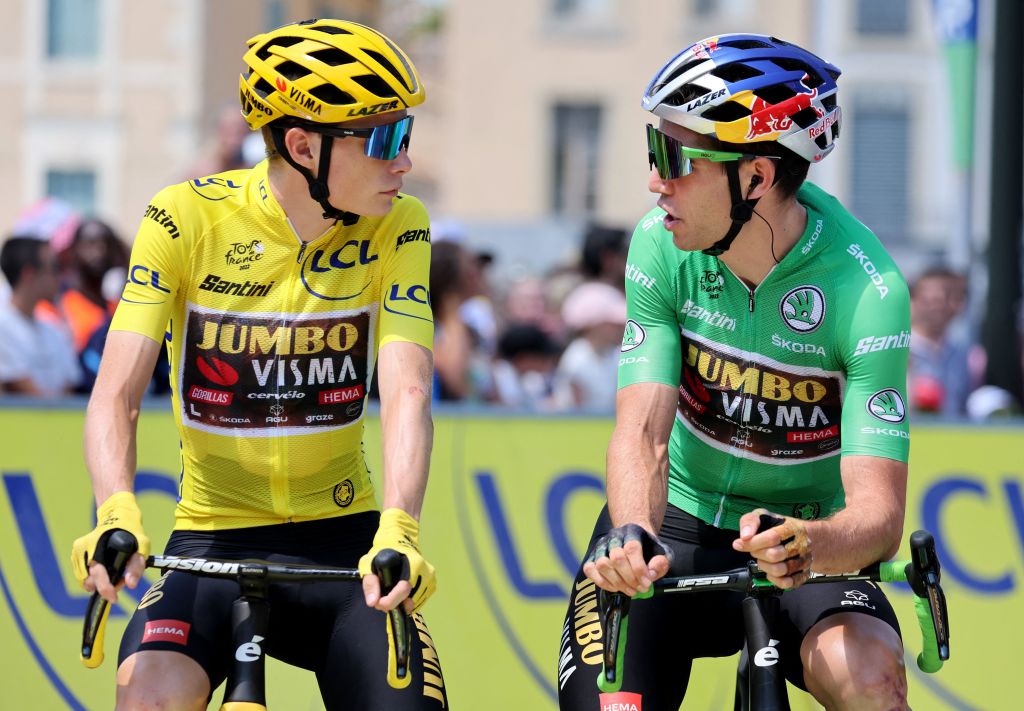 As well as Rafa Majka, Tim Wellens (Lotto Soudal) is another non-starter today.
After having mild symptoms this morning, a test showed he has COVID-19, his Lotto-Soudal team said.
C'est Parti!
The riders roll out for the stage. Bon route le gars!
Today the riders cover 3.5km of neutralised riding before the stage starts.
The opening 50km of the stage, until Arreau, are flat but we expect them to fast and full of attacks.
Allez!
Christian Prudhomme drops the flag and the stage is underway.
We immediately have attacks, launched by Michael Woods.
Neilson Powless attacks again, keen to try to get into a break.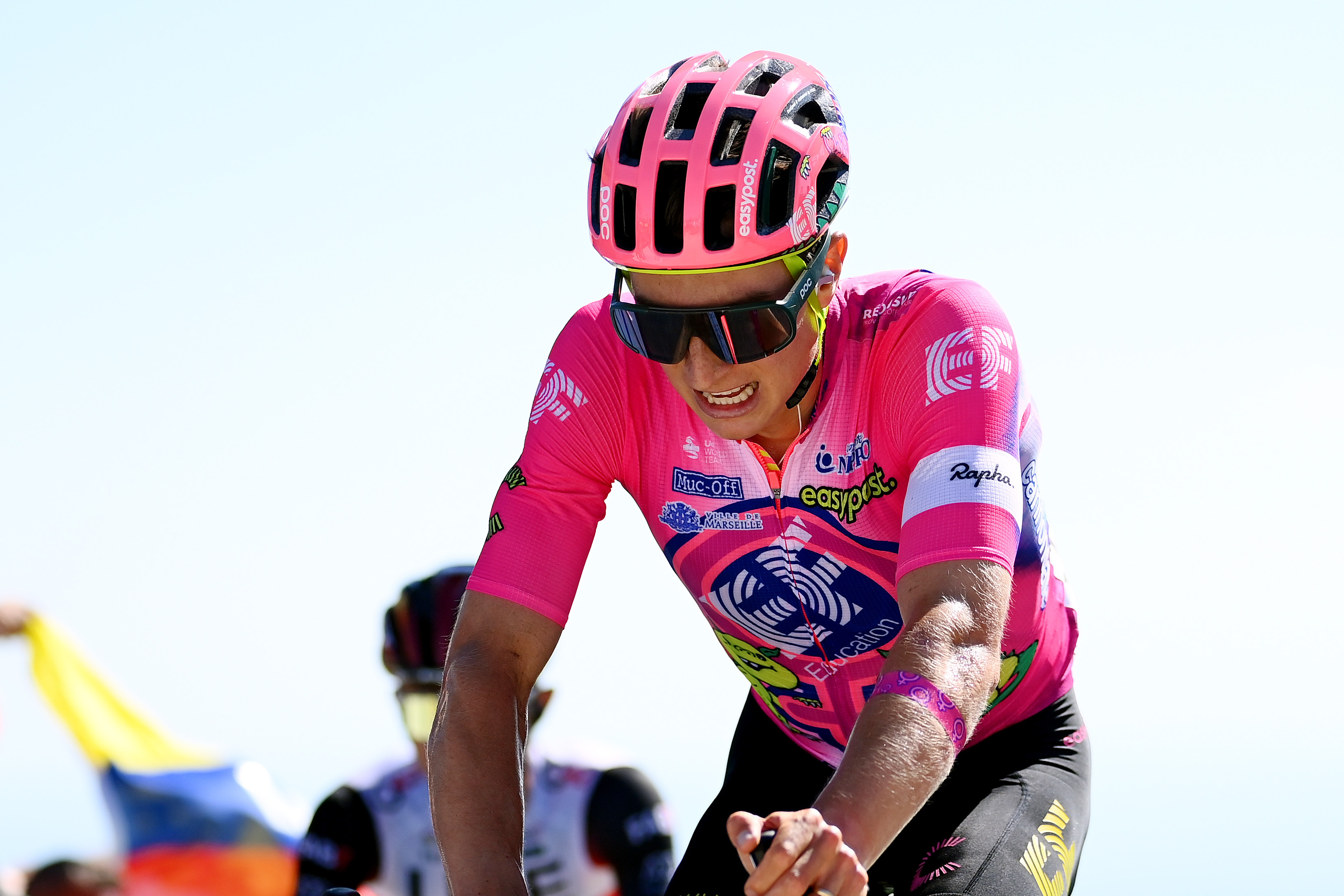 124km to go
The attacks keep coming but so do the chases. This is a super fast start.
Vingegaard is caught down the back, so makes an effort to move up.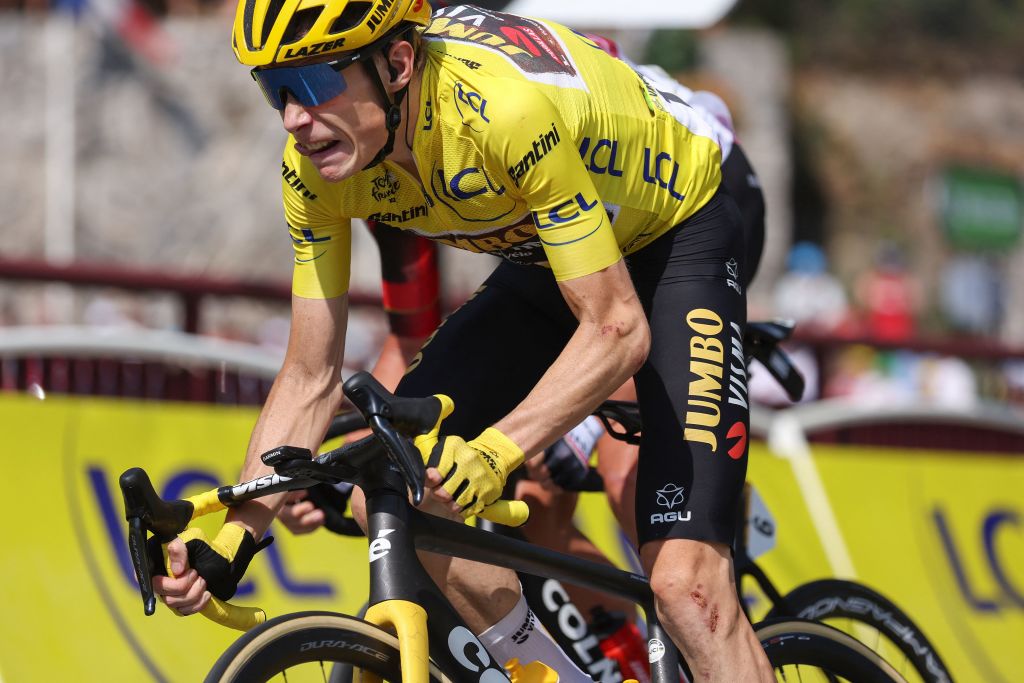 120km to go
Gruppo compatto. All together.
Mads Pedersen lines out the peloton. He is trying to set-up teammate Giulio Ciccone.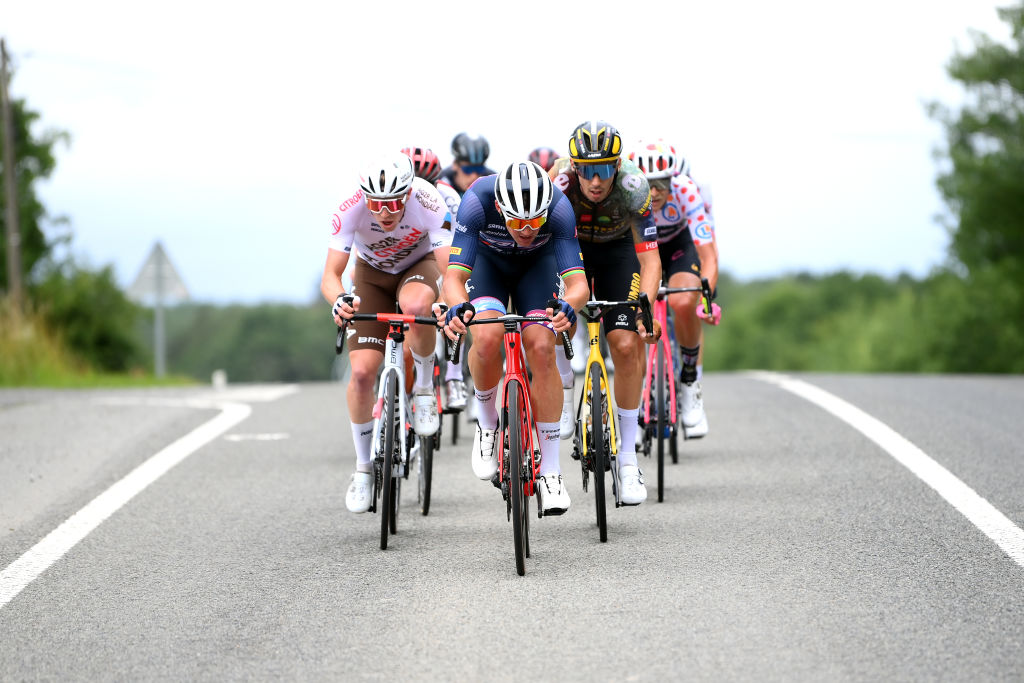 115km to go
Chris Froome is also trying to force a split.
Trek up the pace again. They're trying to smash the peloton to pieces on the flat roads.
To read more about Rafa Majka's thigh injury and what his loss means to Pogacar, read our full story below.
The story also has details of Tim Wellens' COVID-19 positive case.
Blow to Pogacar as Rafal Majka leaves the Tour de France ahead of stage 17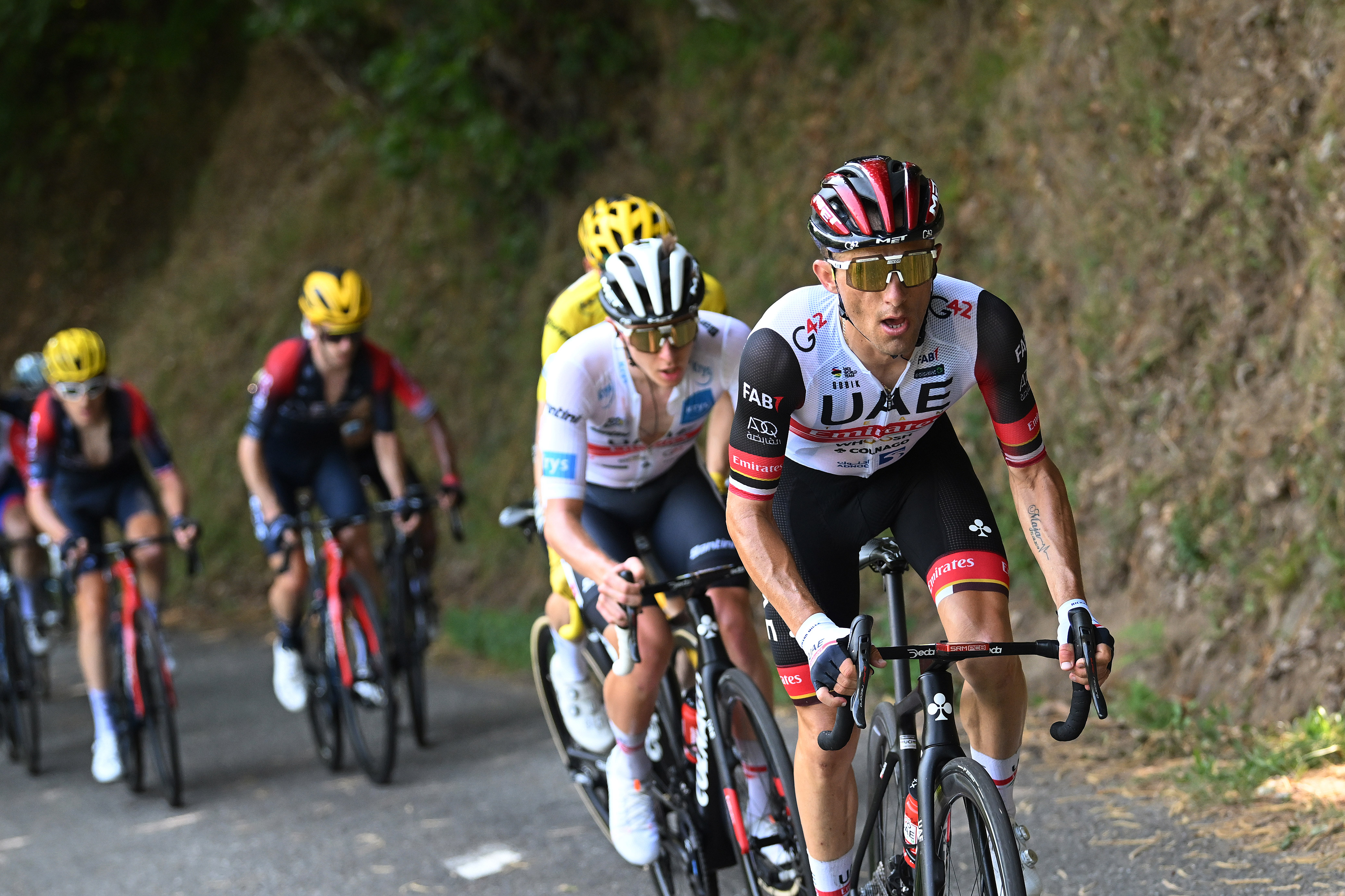 It's interesting to see that Jumbo and Ineos are trying to get riders in the attacks.
Tiesj Benoot is up front for Jumbo, as is Pidcock for Ineos.
110km to go
When they are pulled back, Powless goes again.
Now van Baarle surges ahead with Connor Swift of Arkea.
The intermediate sprints comes in 14km in Le Barthe-de-Neste.
Jumbo might want to keep the race together until the sprint to help van Aert move near certain victory in the green points jersey competition.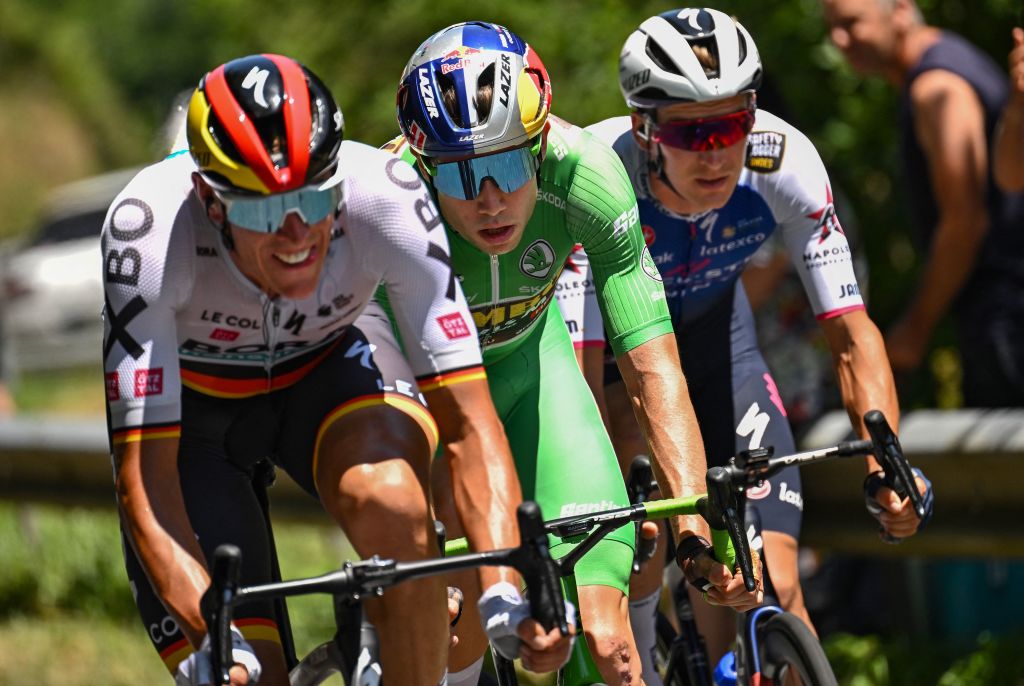 Van Baarle and Swift have a 20 second-gap after 25km of fast racing.
We can surely expect some counter-attacks very soon.
100km to go
Pidcock is still up front and still following the attacks.
The question is if anyone wants to allow him to join the move and work with him.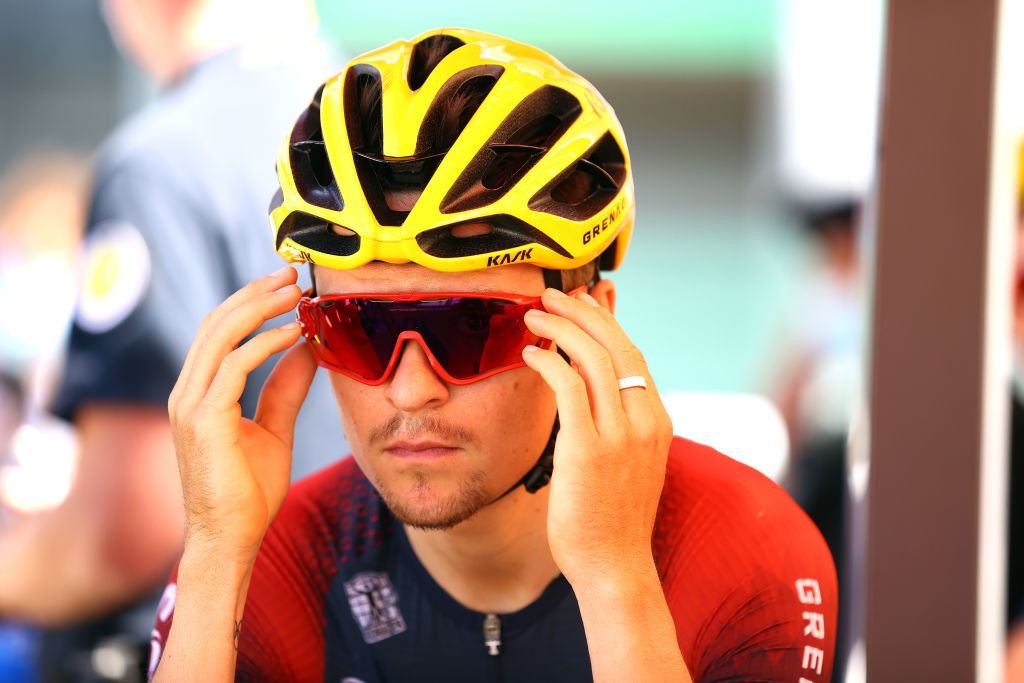 Gruppo compatto again.
But time for more attacks.
There are two Israel riders in the new attack, plus Van Aert, who is ready for the intermediate sprint.
There are eight riders in the van Aert surge. But the peloton reacts and they're caught.
1km to the intermediate sprint.
Alpecin lead it out but van Aert is there too.
Philipsen takes it and 20 points but van Aert is 2nd and scores 17 points.
Van Aert is mathematically assured of the green jersey.
Nobody can really score enough points between here and Paris and so take it from van Aert. The Belgian now only has to reach finish to win his big goal of the Tour.
Perhaps he will now dedicate all his efforts to help Vingegaard win overall.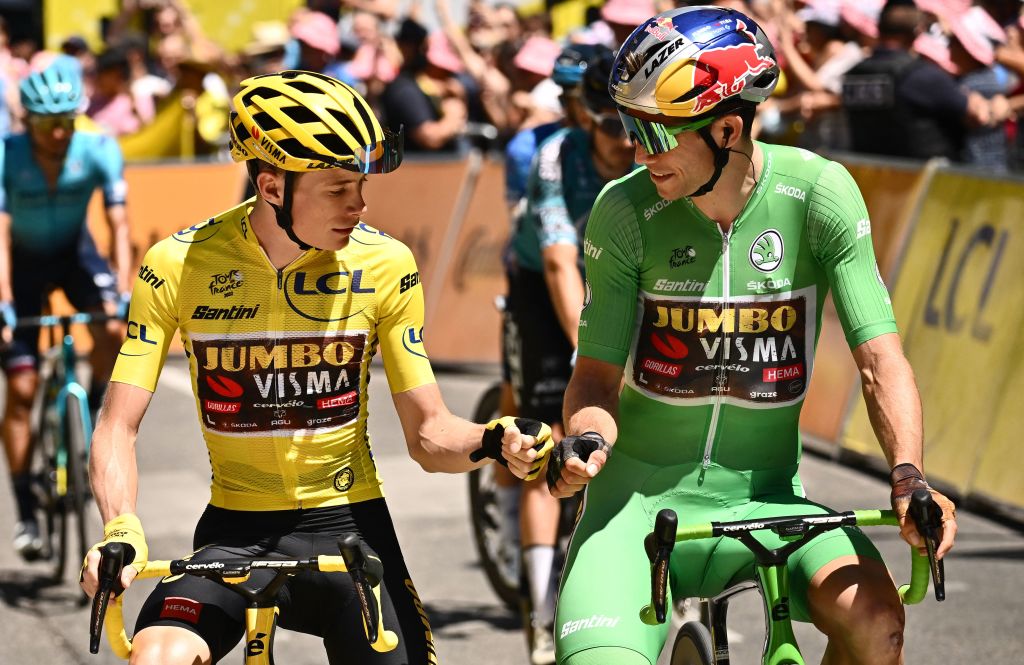 💚 Still no break at the intermediate sprint. 🇧🇪 @JasperPhilipsen scores 20 points and 🇧🇪 @WoutvanAert 17.💚 Toujours pas d'échappée au sprint intermédiaire. 🇧🇪 @JasperPhilipsen passe en tête devant 🇧🇪 @WoutvanAert.#TDF2022 pic.twitter.com/xe9FLm62WEJuly 20, 2022
There are more surges and a spat between Bettiol and Dombrowski.
The Italian seems to be trying to block the American, who shows his anger with wave of the arm.
The pace is hurting some and Fabio Felline of Astana retires. He was perhaps sick and unable to hold the pace.
The riders are 15km from the start of the Col d'Aspin and the attacks keep coming.
Guillaume Boivin (Israel) and Owain Doull (EF) are clear.
Others will surely soon join them.
80km to go
The peloton has eased but only for a second.
Not even the rubbish zone is slowing the pace.
🇫🇷 RACE: @LeTour Our rider @FabioFelline had to abandon today due to a sickness (negative for COVID) he was suffering last days.#TDF2022 #AstanaQazaqstanTeam 📷 @GettySport pic.twitter.com/3uqaYDcOkFJuly 20, 2022
75km to go
Here we go!
The Col d'Aspin starts. It is 12km long at 6.5%, getting steeper later.
This is the Col d'Aspin.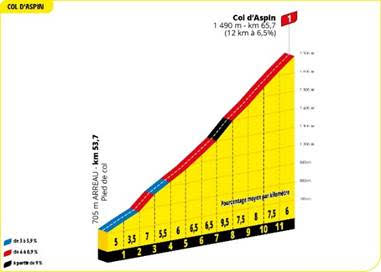 Only Doull is out front as the peloton climbs the Col d'Aspin at speed.
Thibaut Pinot attacks off the front and ten seconds.
Lutsenko joins Pinot and the two push on at speed.
Pinot is climbing in the big ring. That's how fast it is out there.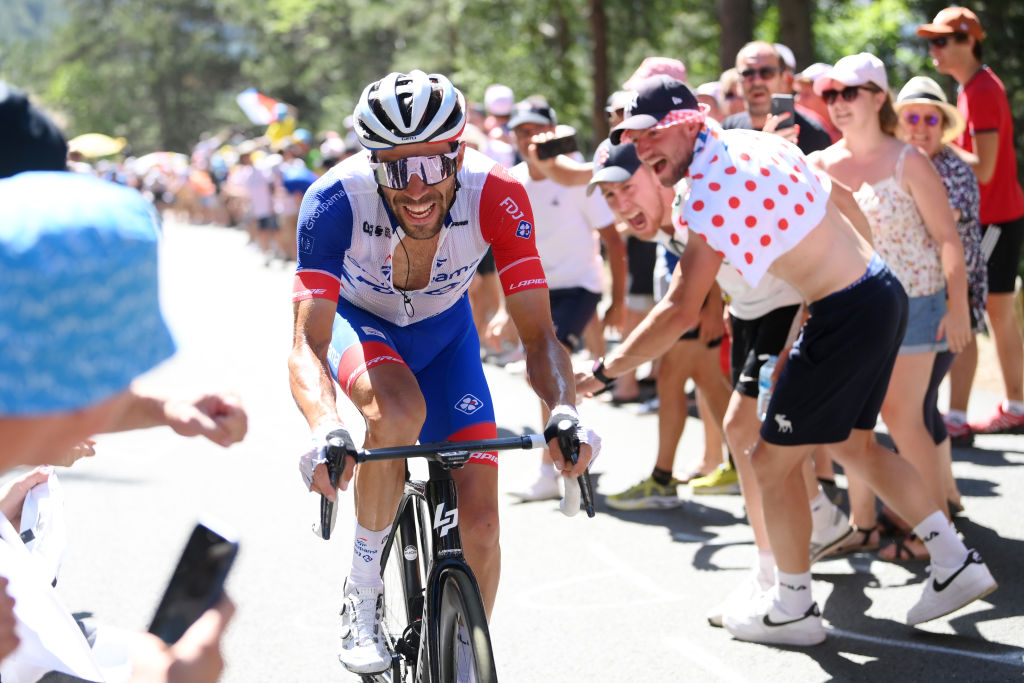 70km to go
The speed is shaking out the peloton, even with 6km of the Col d'Aspin to climb.
Van Baarle is trying to get across with Mühlberger, Leknessund and Uran.
Jumbo are controlling the peloton and seem happy to let a few riders go away.
Benoot and van Aert are on the front, at 30 seconds from the Pinot attack.
There is a group between Pinot and the peloton.
There are 15 in the group, including Simmons, Ciccone and Geschke.
More riders try to jump across to the big group, including Chris Froome.
The break is forming rider by rider.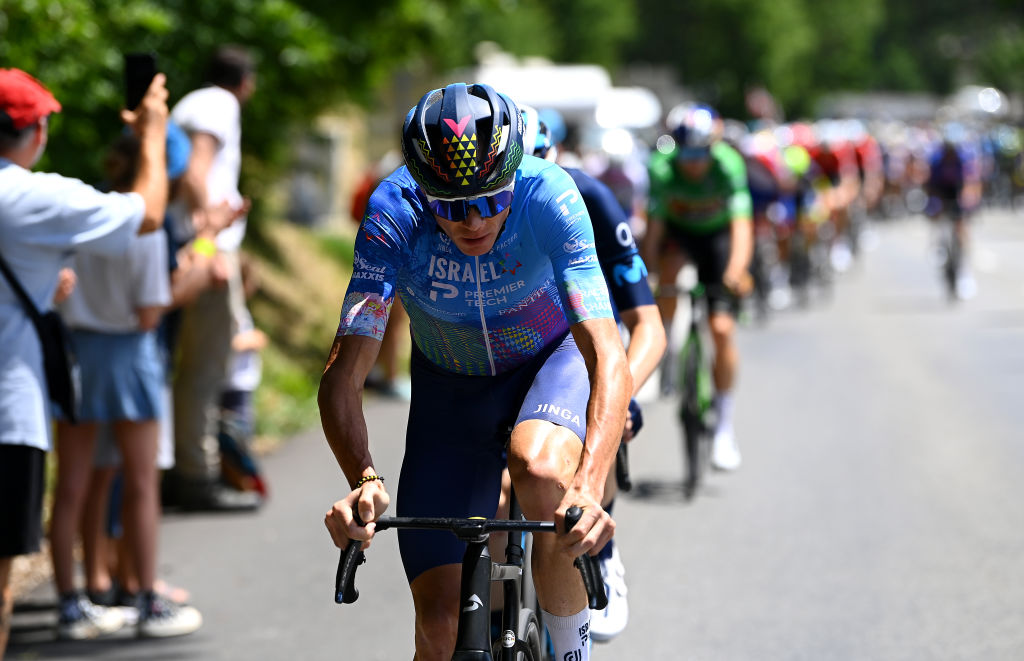 3km to the summit of the Col d'Aspin.
Froome is pulled back but 15 riders are between Pinot and Lutsenko and the peloton.
65km to go
The pace is still very high and the gap on the peloton is slowly opening to 1:00.
DSM are trying to set up Bardet and drag him into the attack.
Bardet had a terrible day yesterday and slipped to 6:37. With the weather cooler today, he seems better and determined to fight back.
Bardet has to go across to the break before the descent.
Bardet is 1:00 behind. He has two riders in the attack and so they need to help him to get across.
Up front Geschke and Ciccone will soon start fighting for the KOM points behind POinot and Lutsenko.
Pinot is the first to the summit of the Col d'Aspin.
Allez Tibo!
Ciccone attacks but Geschke stays with him and then bears him to the summit.
The chasers are only 15 seconds behind, with others at 40 seconds and the peloton at 1:15.
The riders dive down through the trees for 5km but the next climbs begins straight after.
The Hourquette d'Ancizan includes two sections.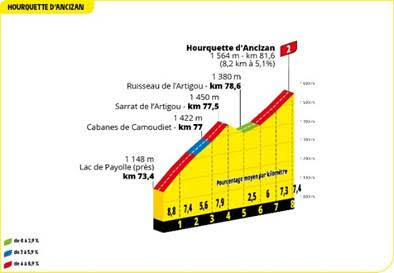 Jumbo remain in control of the peloton.
So far Tadej Pogacar has stayed on the wheels, protected by McNulty.
55km to go
Geschke is chasing Pinot and Lutsenko, with the rest of the attack chasing them.
Bardet is only 10 seconds from the chase group. His attack has worked.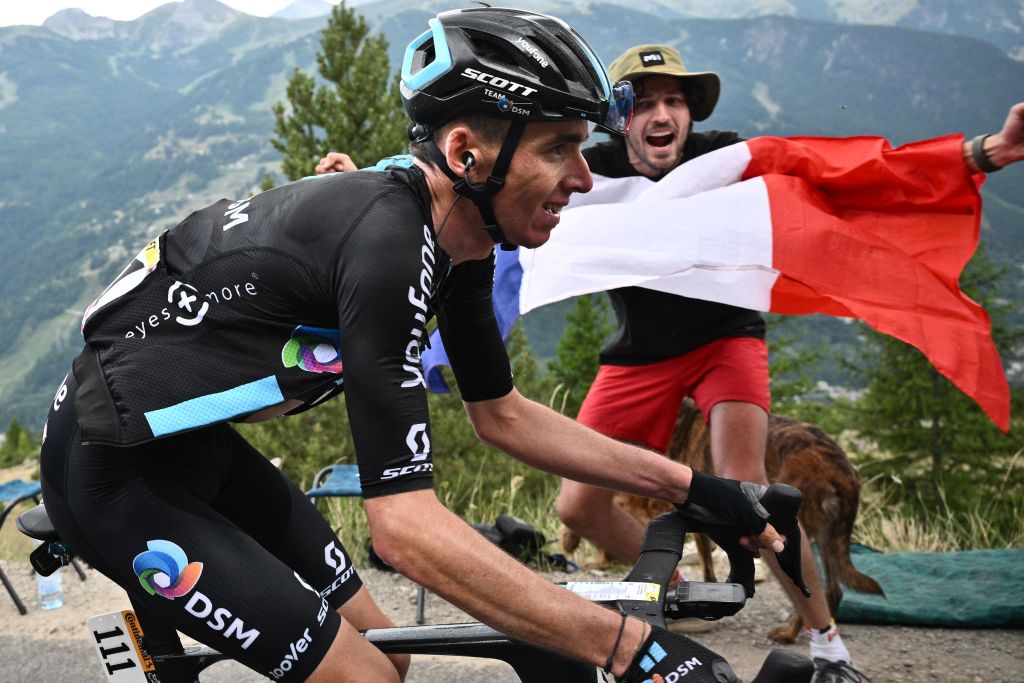 UAE have taken over on the front of the peloton and are hurting some riders.
Adam Yates is distanced. Who will help Thomas now?
The answer is Tom Pidcock, who is riding alongside the Welshman.
Now Pidock is dropped as Mikkel Bjerg does huge work on the front of the group for Pogacar.
He has shaken the group to just 20 riders or so.
Can we perhaps expect a Pogacar attack soon?
50km to go
Bjerg is putting down the hurt.
The yellow jersey group is down to 20 or so riders. Thomas is alone for Ineos but has teammates Castroviejo and van Baarle ahead in the big attack group.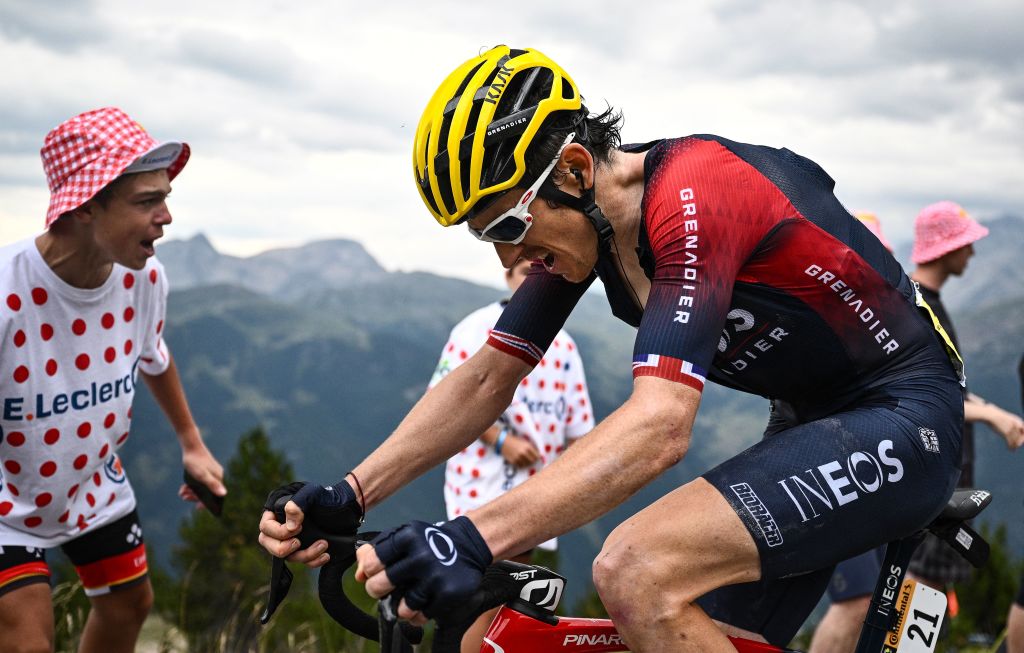 Yates has lost 2:00 to the Vingegaard group.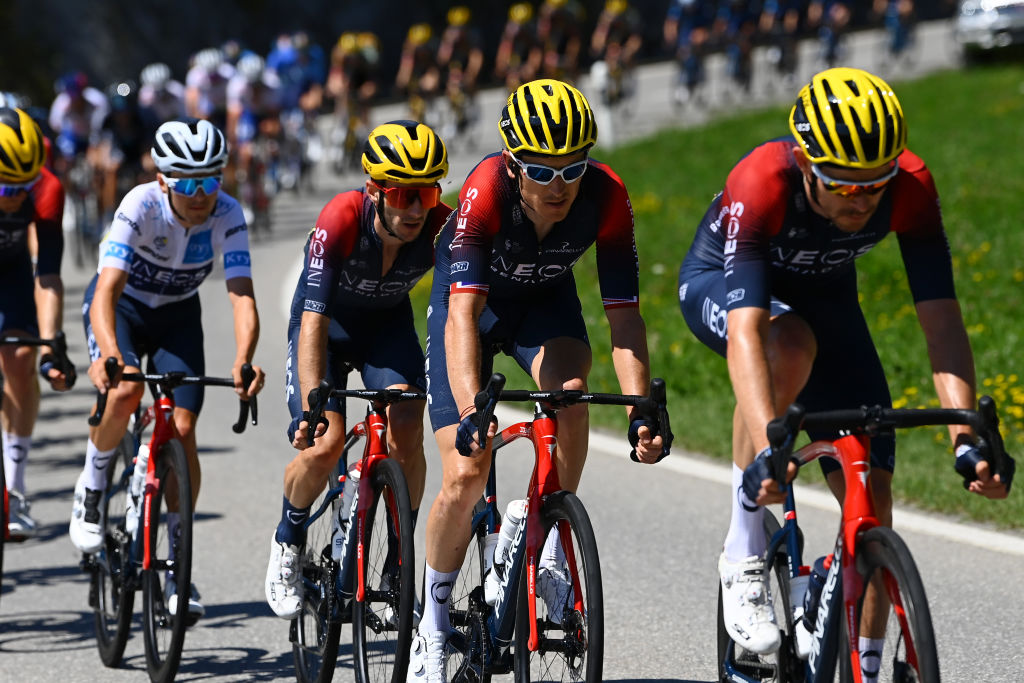 Pinot leads over the top of the Cat 2 Hourquette d'Ancizan climb.
Behind the GC group is closing in on the attackers.
Geschke has a mechanical problem and so can't contest the sprint with Ciccone for more KOM points.
The Italian reaches the top of the Hourquette d'Ancizan in third place.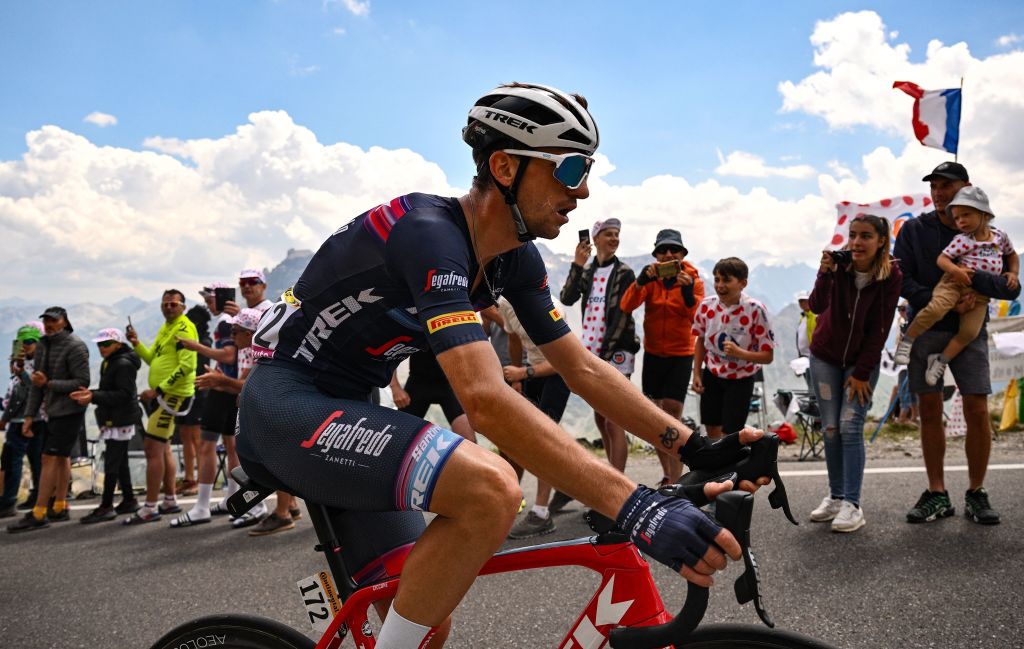 The riders face a fast 10km descent on narrow Pyrenean roads.
Bjerg leads the peloton down the descent. He seems to be trying to keep the peloton within range of the attackers, perhaps so that Pogacar can try to win the stage and take a 10-second time bonus.
This descent is twisting and narrow. Pinot takes his foot out on one corner.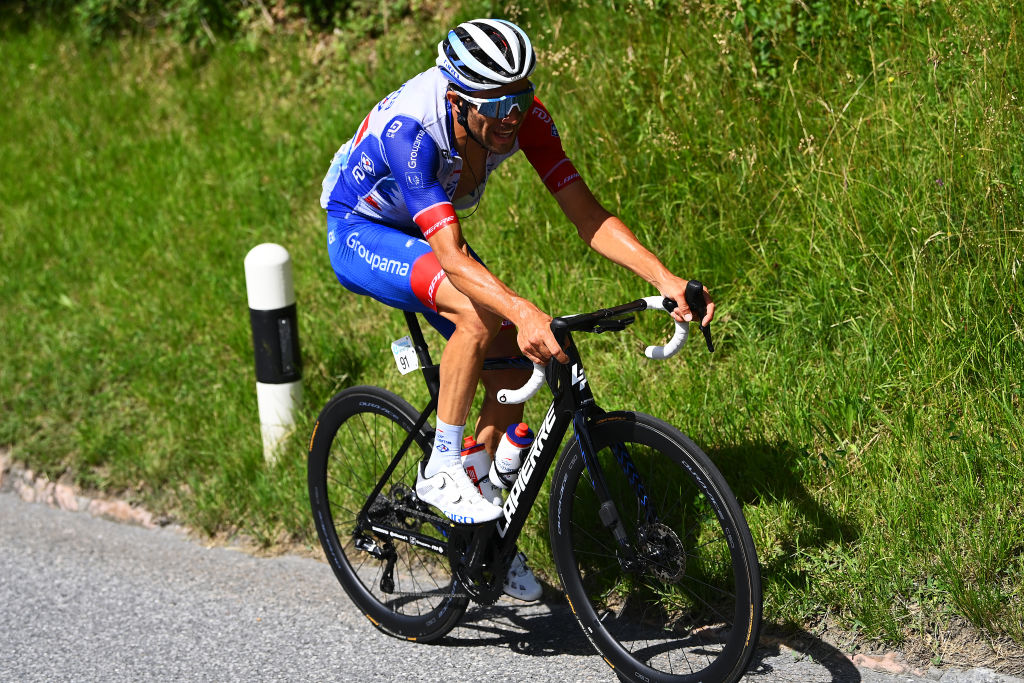 Pinot and Lutsenko lead the chasers by just 30 seconds as Simmons dives down the descent.
The peloton is at 1:30. Yates is at 2:50.
35km to go
These are the chasers at 30 seconds.
Jonathan Castroviejo and Dylan van Baarle (Ineos Grenadiers), Patrick Konrad (Bora-Hansgrohe) and Gregor Mühlberger (Movistar), Pierre-Luc Perichon and Simon Geschke (Cofidis), Dylan Teuns (Bahrain Victorious), Romain Bardet, Chris Hamilton and Andreas Leknessund (Team DSM), Georg Zimmermann (Intermarché-Wanty Gobert), Rigoberto Urán (EF Education-EasyPost), Quinn Simmons and Giulio Ciccone (Trek-Segafredo), Chris Juul Jensen (BikeExchange-Jayco), Pierre Latour (TotalEnergies), Bob Jungels (Ag2r-Citröen)
30km to go
Simmons is doing a huge job for Ciccone on the descent and valley road. He is keeping the group within touch of Lutsenko and Pinot.
Enric Mas needs a bike change.
The Col de Val Louron-Azet starts very soon.
It is 10.7km long at 6.8%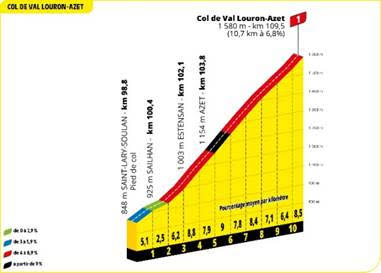 The Col de Val Louron-Azet has started and UAE are again setting a fast pace with Bjerg and then McNulty ahead of Pogacar.
Benoot is dropped but van Aert and Kuss are there for Jumbo to help Vingegaard.
They are only 1:10 down on the break, which has caught Pinot and Lutsenko.
⛰ The leading duo has been joined by the chasing group.⛰ Le duo de tête a été rejoint par le groupe de poursuivants au pied de l'ascension vers Val Louron-Azet.#TDF2022 pic.twitter.com/e0HTNJME7jJuly 20, 2022
27km to go
Bjerg is done and moves, at the same time van Aert is distanced too.
It's like a chess match between UAE and Jumbo.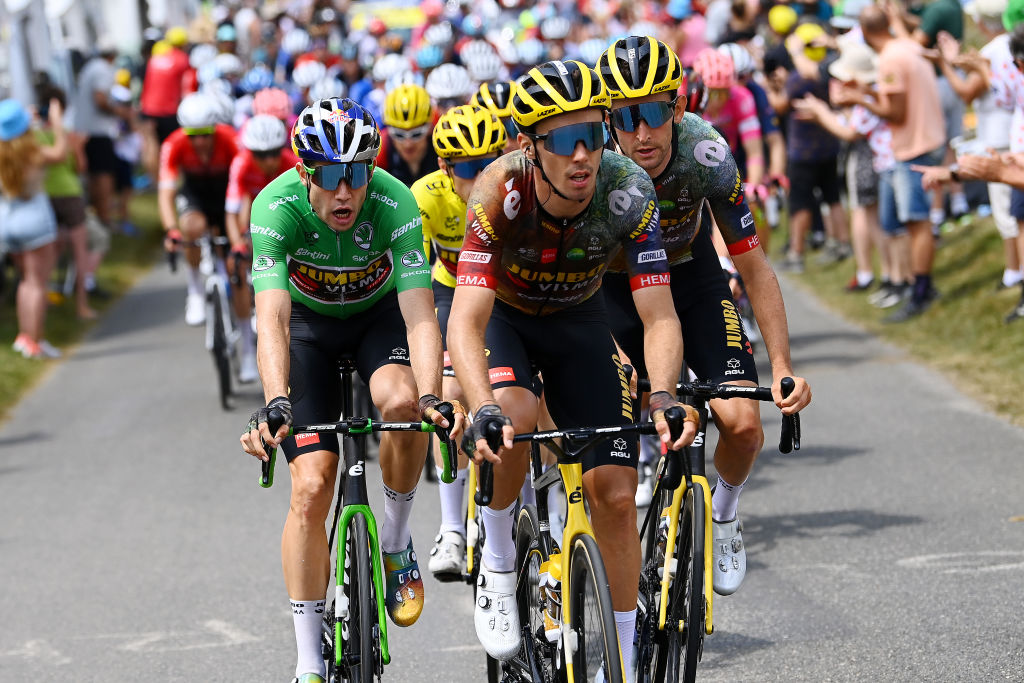 Gaudu and Mas are also cast to the wind as McNulty sets a high pace with 7km still to climb.
McNulty has shredded the GC group.
Now Quintana has been dropped too.
There is only Pogacar, Vingegaard, Kuss and Thomas left.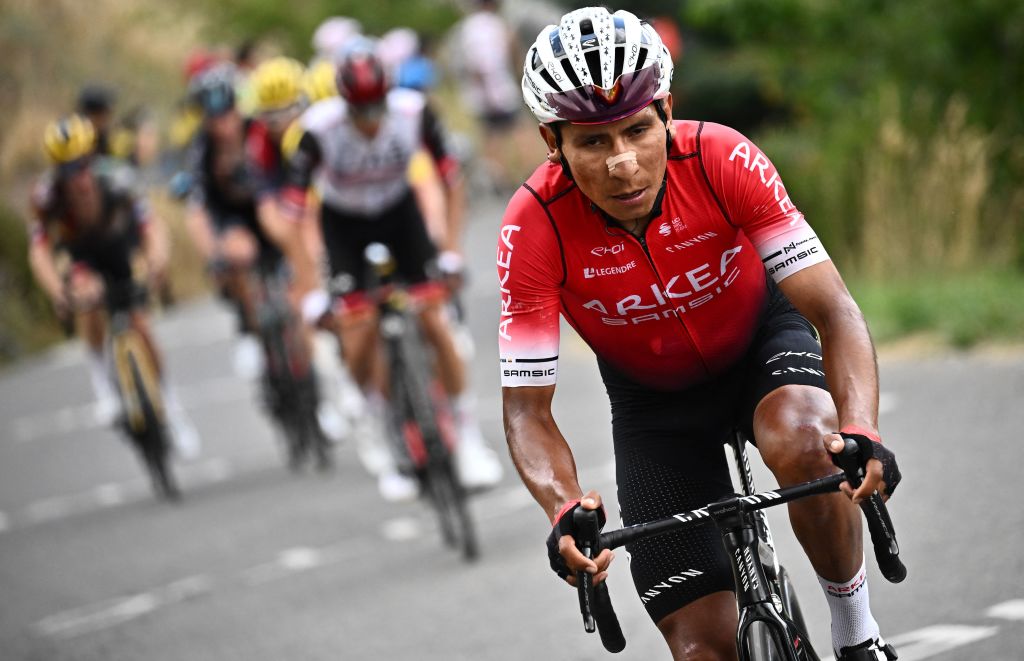 The Col de Val Louron-Azet is splitting the attack group too, with Pinot dropped.
Bardet iis dropped too and is caught and dropped by the GC group, which is only 35 seconds behind the attackers now.
It is clear that Pogacar wants the stage victory, even if it may damage his chances of attacking Vinegagaard.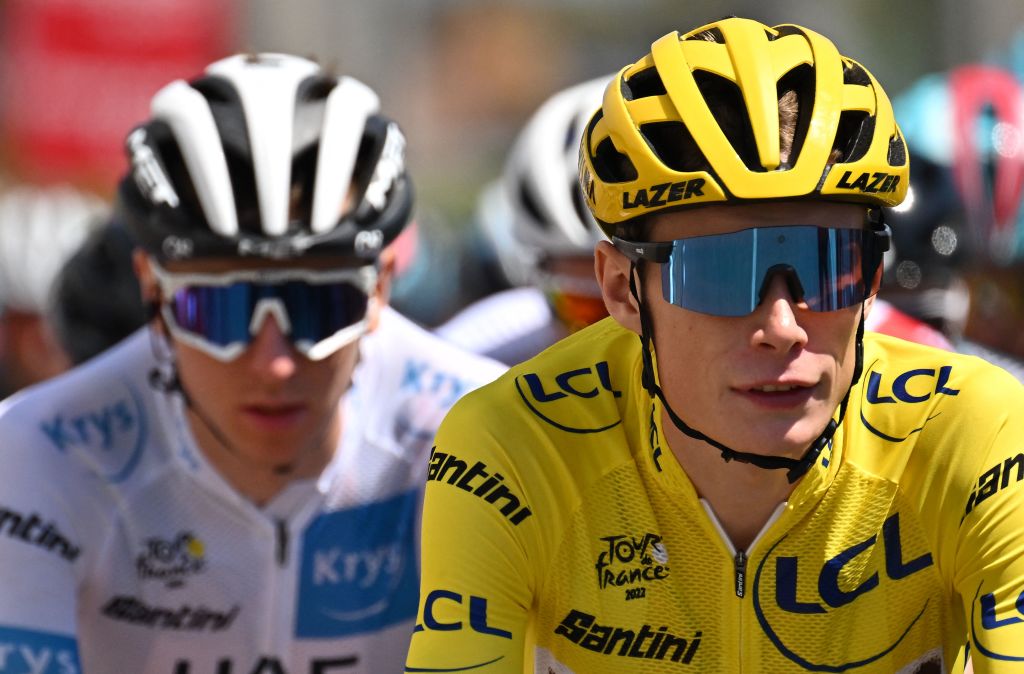 Kuss is dropped by McNulty's work.
The GC group will soon be at the head of the race.
Gaudu is already 1:20 back.
UAE lost Majka this morning but have taken control of the race.
It's just McNulty, Pogacar and Vingegaard with 2.5km to climb of the Col de Val Louron-Azet.
Thomas is 10 second back.
This is a huge performance by Big Nut McNulty.
Pogacar is spinning his legs, while Vingegaard is alone and pushing a bigger gear.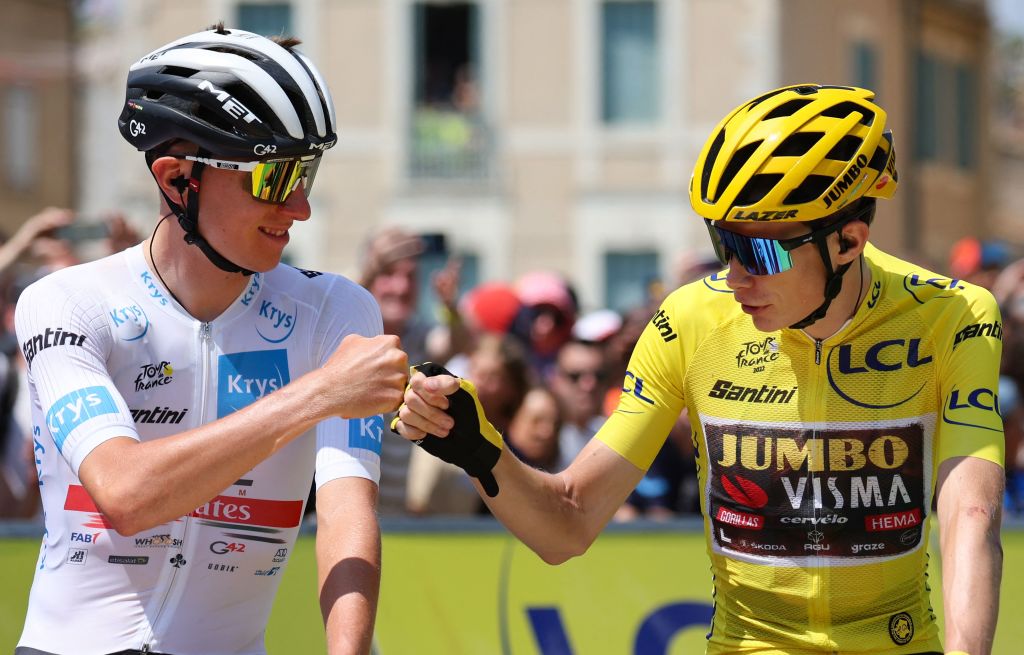 21km to go
Thomas has lost 30 seconds.
McNulty and Pogacar grab a bidon near the top of the Col de Val Louron-Azet.
Could Pogacar try an attack on the fast 7km descent?
Buckle-up everyone!
He surges over the top of the Col de Val Louron-Azet but Vingegaard was quickly on his wheel.
18km to go
McNulty was dropped but quickly rejoins Vingegaard and Pogacar.
15km to go
The Thomas group is 1:00 behind on the descent, with Lutsenko and Kuss sitting on him.
Pogacar backs off from McNulty by a few metres after the American's bike twitched earlier.
Now is not the time to crash.
The riders are nearing the Peyragudes, the climb to the finish.
It is 8km long at 7.8%. It ends on the Altiport runway.
It is especially steep in the final kilometres.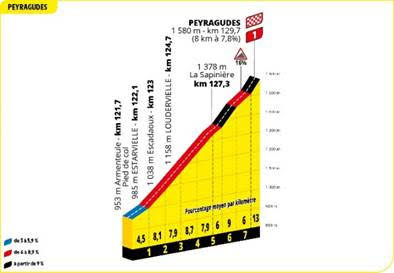 McNulty is dragging Pogacar and Vingegaard to the foot of the climb.
We will surely see a mano-a-mano battle on the climb to the finish.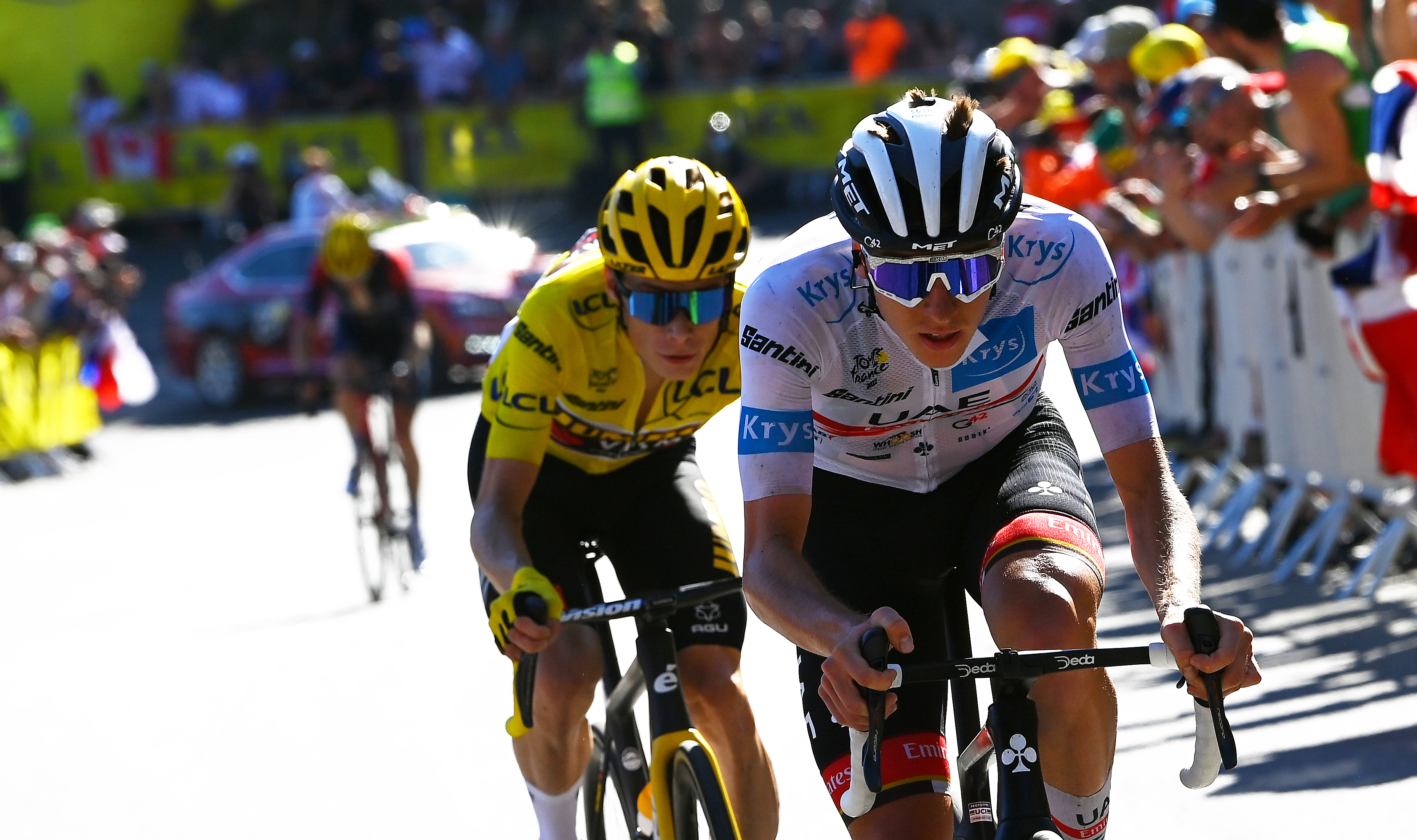 It's the last chance for feeding now, judges are allowing it until 5km to go.
8km to go
Here's the Peyragudes climb.
Race on!
Time to dig deep, G!@GeraintThomas86 is part of a small chase group as we approach the final climb of Peyragudes. From the GC, only the lead duo of Vingegaard and Pogacar remain up the road #TDF2022 pic.twitter.com/TUHnclEGklJuly 20, 2022
The climb starts and Pogacar discards a bidon to save weight for the climb.
McNulty opens his jersey but keeps working hard on the front.
Bardet has caught the Thomas group but they're 1:20 behind and losing time.
However Quintana, who was 4th is at 2:30.
The GC will be rewritten massively today.
Bardet signals to Thomas to work together but both riders seem tired.
Pogacar and McNulty take a last bidon from the roadside, pouring the cold water over their head and shoulders.
5km to go
Pogacar is still tucked in on McNulty's wheel.
The gradient is at 8% now but steepens in the final three kilometres.
Thomas is trying or limit his losses and Bardet is riding to move back up the GC but they are suffering under the huge effort.
Gaudu, Quintana & Co are suffering at 3:00.
This is a huge ride by McNulty.
Can Pogacar finish it off? Whatever happens, UAE, despite losing Majka, have exposed Jumbo and isolated Vingegaard.
4km to go
Thomas drops Bardet and keeps chasing at 1:35.
Who looks the freshest of the three?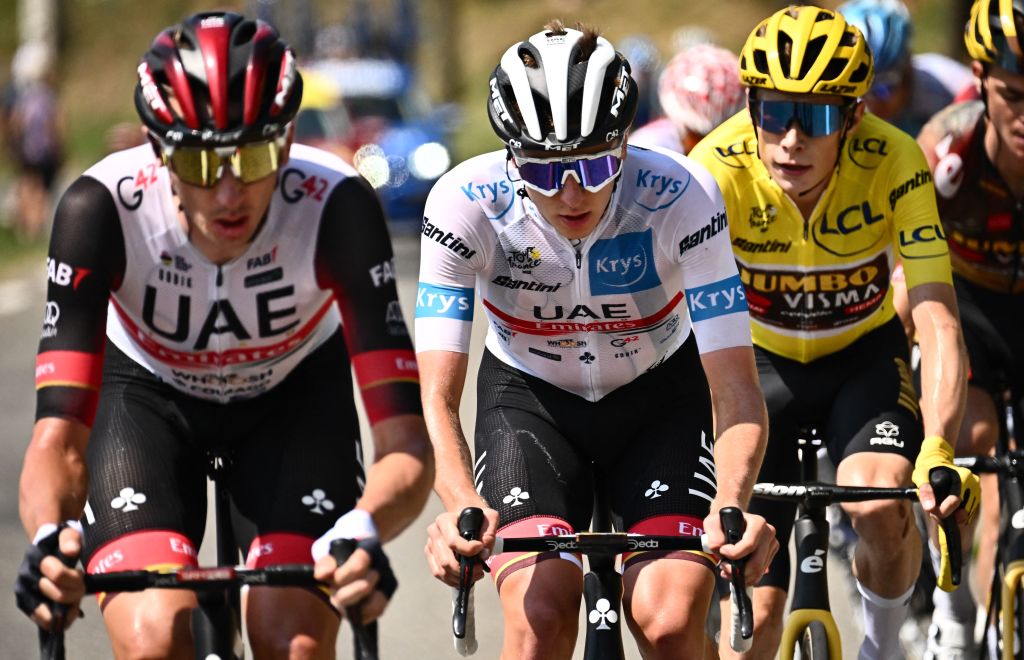 Can Pogacar attack Vingegaard in the steep final kilometres?
We'll find out very soon.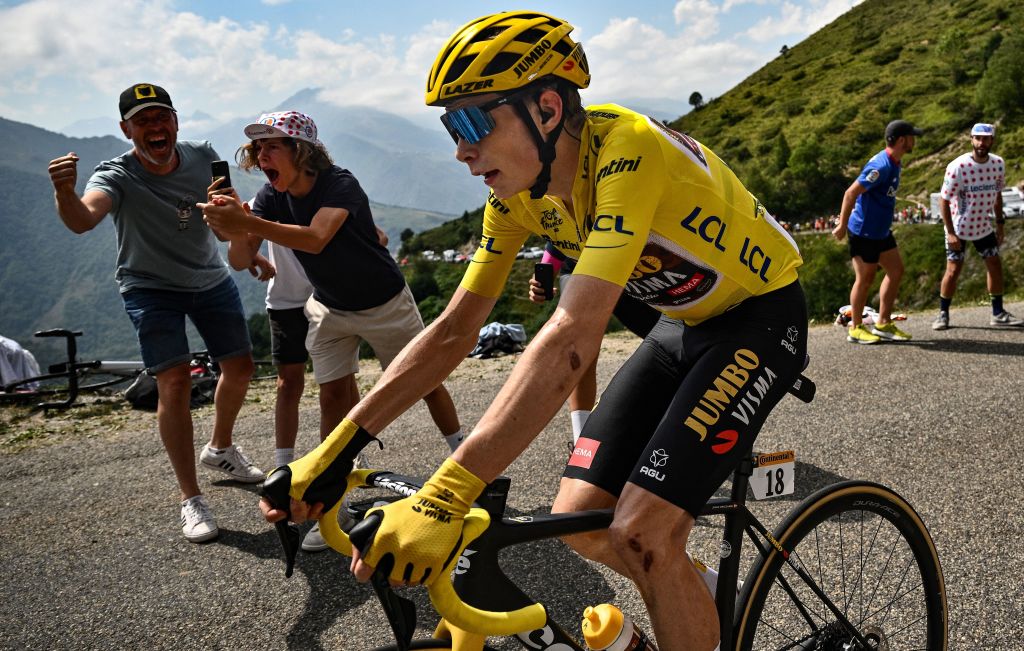 Pogacar does not seem to have much more than McNulty today and nothing more than Vingegaard.
The final Km is at 13%
Will Vingegaard try to attack Pogacar?
Last km
Pogacar eases back onto Vingegaard's wheel.
Just 700m to go.
It'll be a sprint for the stage win and every second.
300m to go.
Pogacar accelerates!
Both are suffering on the 13%.
Vingegaard attacks!!!!
Pogacar comes back to him and wins the stage!
It was shoulder to shoulder but Pog won it and took a ten-second time bonus.
But Vingegaard was right on his wheel. He took a six-second time bonus and so only lost 4 seconds to Pogacar in the GC battle.
McNulty is third and Thomas fourth at 2:05.
The chasers are coming in.
Bardet and Lutsenko finish at 2:30.
Quintana and Gaudu are at 3:25
Every rider is given a push beyond the finish area.
Everyone went deep including Pogacar and Vingegaard.
Here's the winning shot.
Pogacar took the big win but only took 4 seconds back in the GC.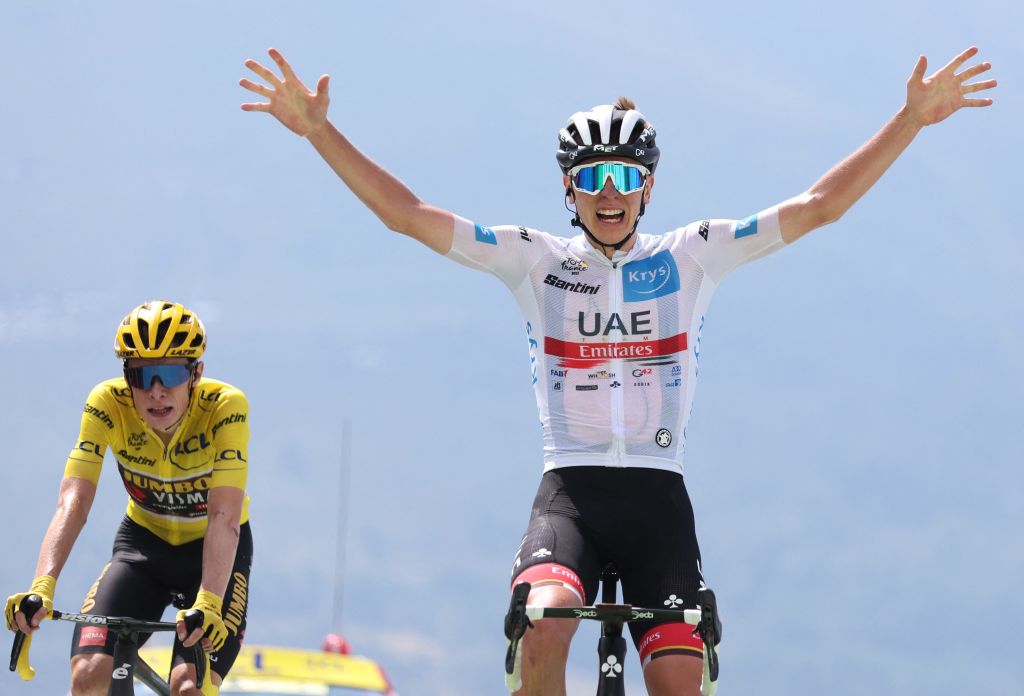 Everyone suffered and lost time behind the Pogacar, Vingegaard and McNulty group today.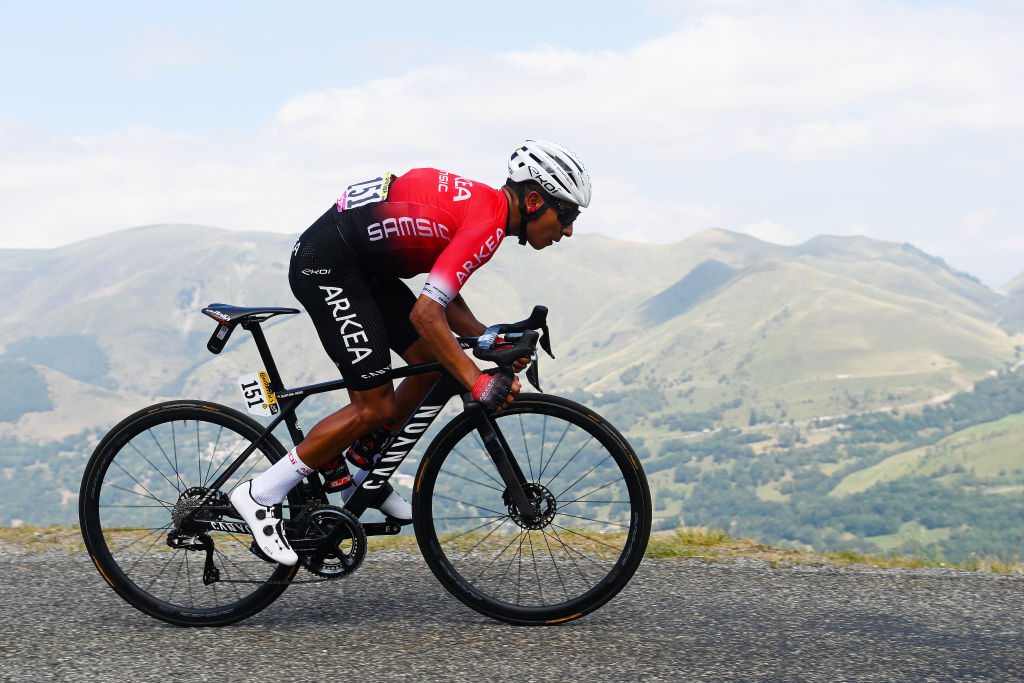 Tadej Pogacar failed to drop Vingagaard but found solace in his stage victory.
"To take the stage win is already incredible. We can all be proud because without Rafal, George and Soler we cannot try more," he admitted.
Pogacar prefered to focus on his win than the overall battle.
"We'll see, tomorrow is a lot of chances. For now I'm happy that I won today," he said.
"Tomorrow is another day which I'm looking forward to. I gave really absolutely everything. I know that I need to win, there's no other way. I gave it all for the team to the line. I was so happy."
Pogacar thanked all his teammates.
"Not only Brandon, also Mikkel and Hirschi," he pointed out.
"Mikkel rode like a climber today. He set such a good pace on the climbs, it was unbelievable. I felt so good with that pace, I felt confident and I know he felt confident also.
"Brandon did an amazing job, he was so good today - he's been good all Tour but a special mention goes to him."
Despite failing to distance Vingegaard and still at 2:18, Pogacar insisted he is optimistic about trying to win the Tour.
"I am optimistic," he said. "Tomorrow is another hard day and we can try again."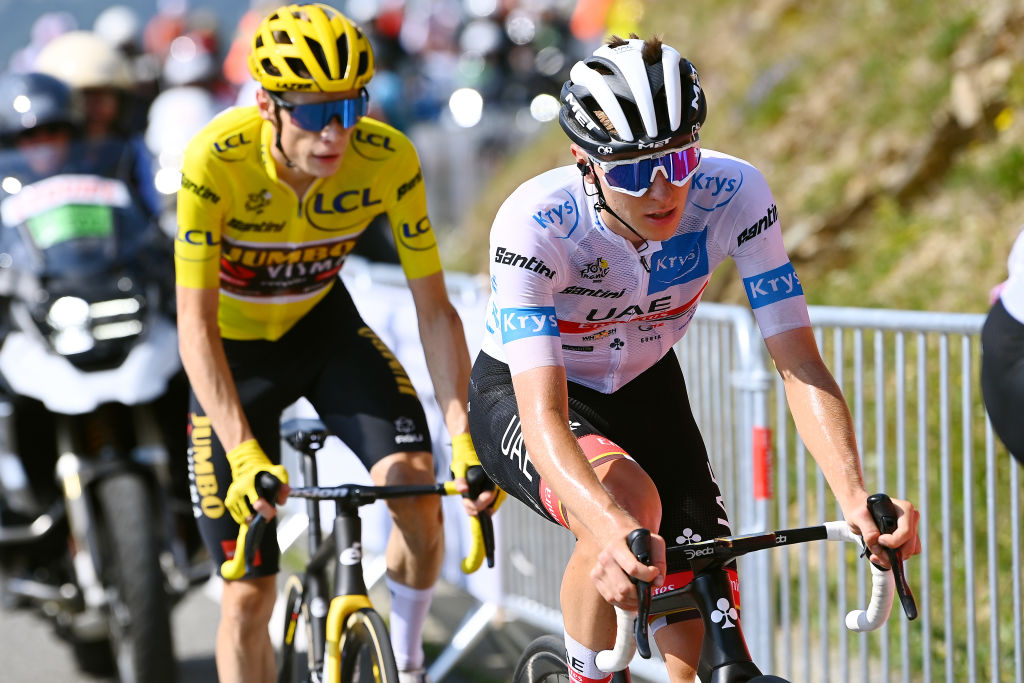 Today's time cut is 37:04.
We'll soon see if everyone makes it in time.
There were a few shake-ups in the GC today.
Bardet went back up to sixth, Adam Yates slipped to ninth, Pidcock dropped to 15th, while Powless nudged up to 12th overall after fighting back during the stage.
For more information, check outpour full stage report, goreing photo gallery and full results from our friends at FirstCycling.
Pogacar triples up on stage 17 mountain mayhem at Tour de France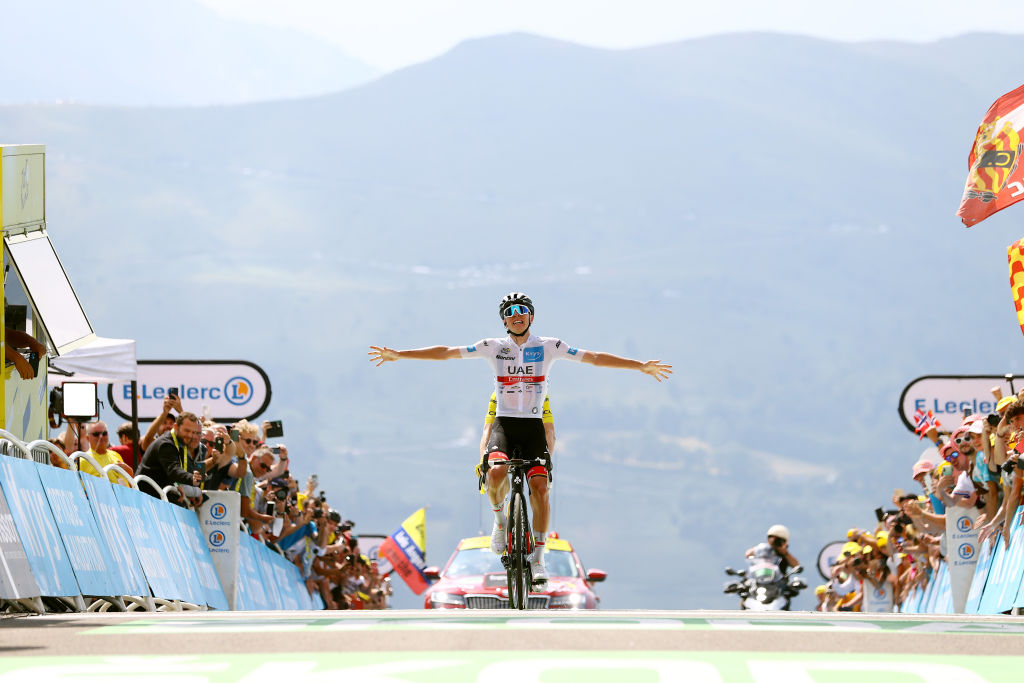 Here's Pogacar on the podium as the stage winner.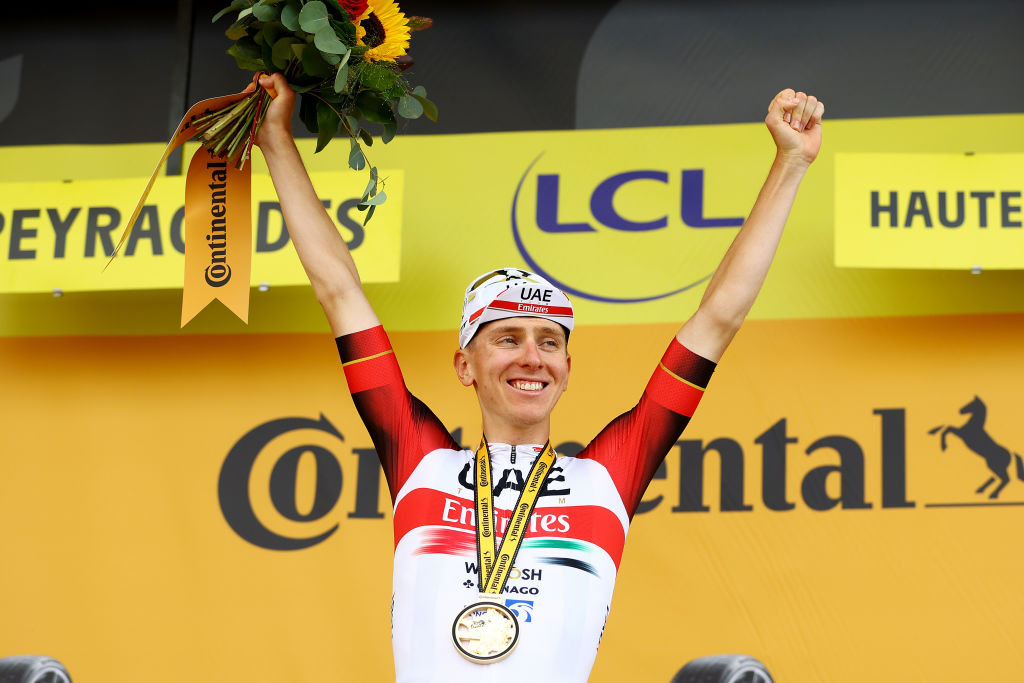 He still leads the best young rider white jersey competition too.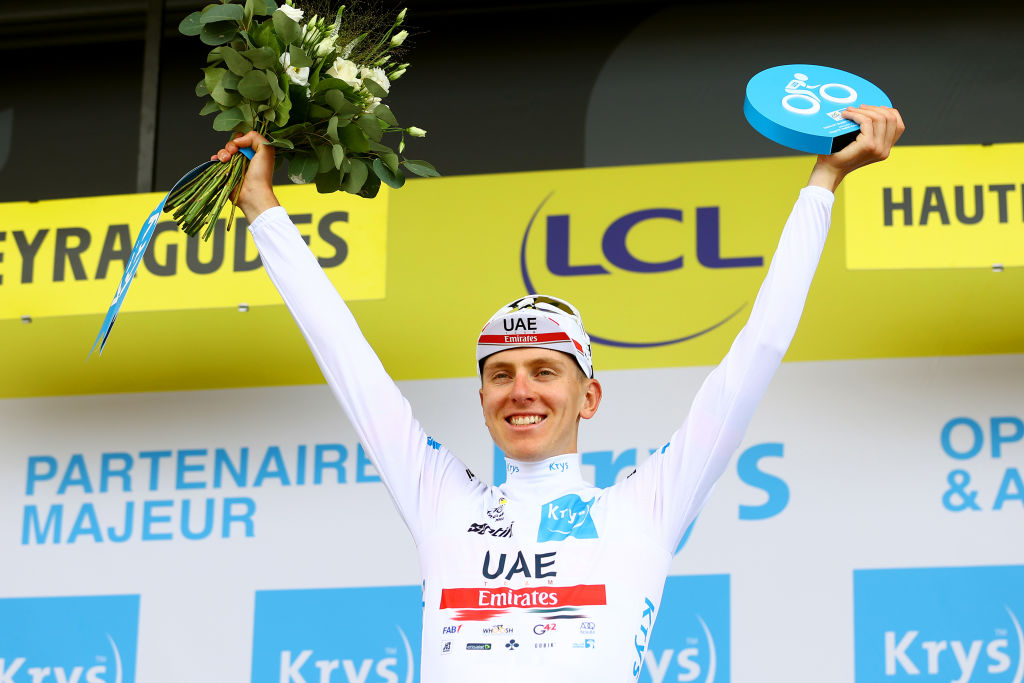 Pogacar was hugely grateful to McNulty.
What team work @TamauPogi @BrandonMcNult 👏🏻 #WeAreUAE #TDF2022 pic.twitter.com/EjV2UEKKxbJuly 20, 2022
There's always a race within the race. This is Fabio Jakobsen's incredible sprint to the finish to stay inside the time limit and so stay in the 2022 Tour de France.
Watch these incredible images!The Wolfpack encouraging @FabioJakobsen in the final meters of the #TDF2022 stage, as he pushes hard to make it inside the time limit by 17 seconds!What a fighter! pic.twitter.com/zgMVP33dOQJuly 20, 2022
Jakobsen made it to the finish of stage 17 on the altiport at Peyragudes with only 18 seconds to spare before being time cut.
He went deep, for the hope of contesting the only remaining sprint stage on the Champs-Élysées on Sunday.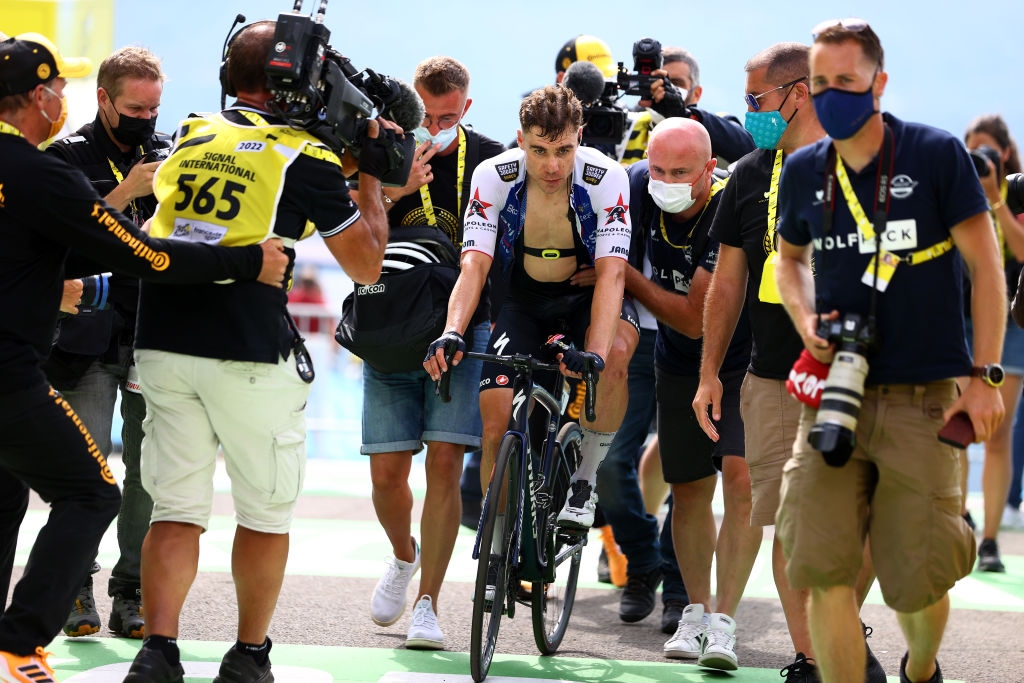 Teammates Florian Sénéchal and Yves Lampaert, who had stayed close to Jakobsen for a whole day, were waiting for their leader past the finish line.
They celebrated his entry as another sprint victory. But Jakobsen collapsed onto the barriers due to the incredible fatigue.
Here's a series of photos that show Jakobsen's battle to stay in the Tour.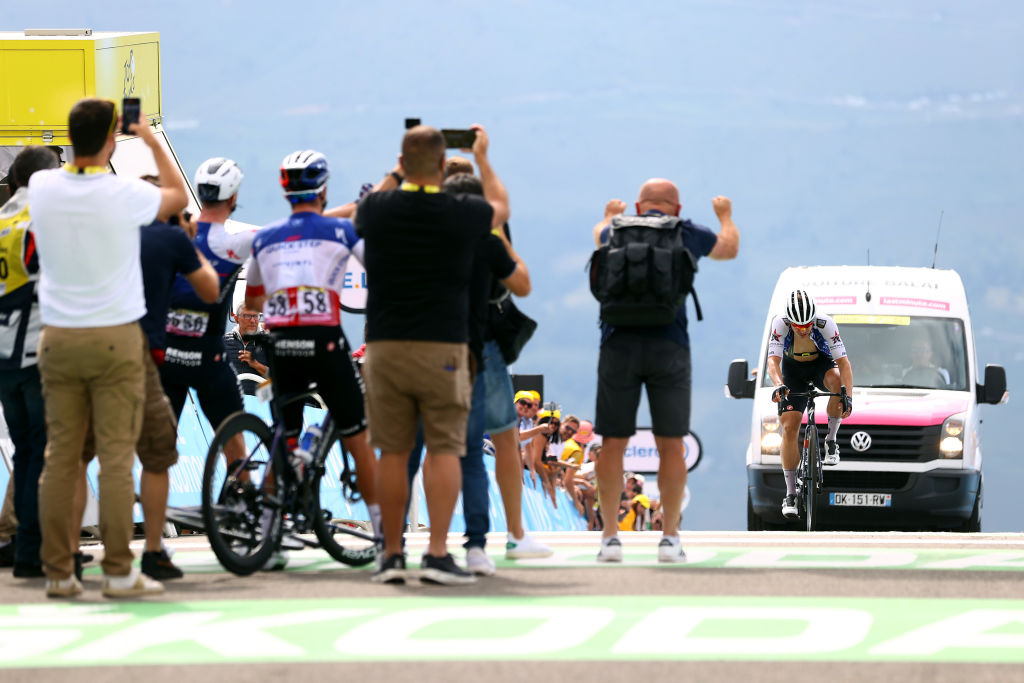 Jakobsen made it.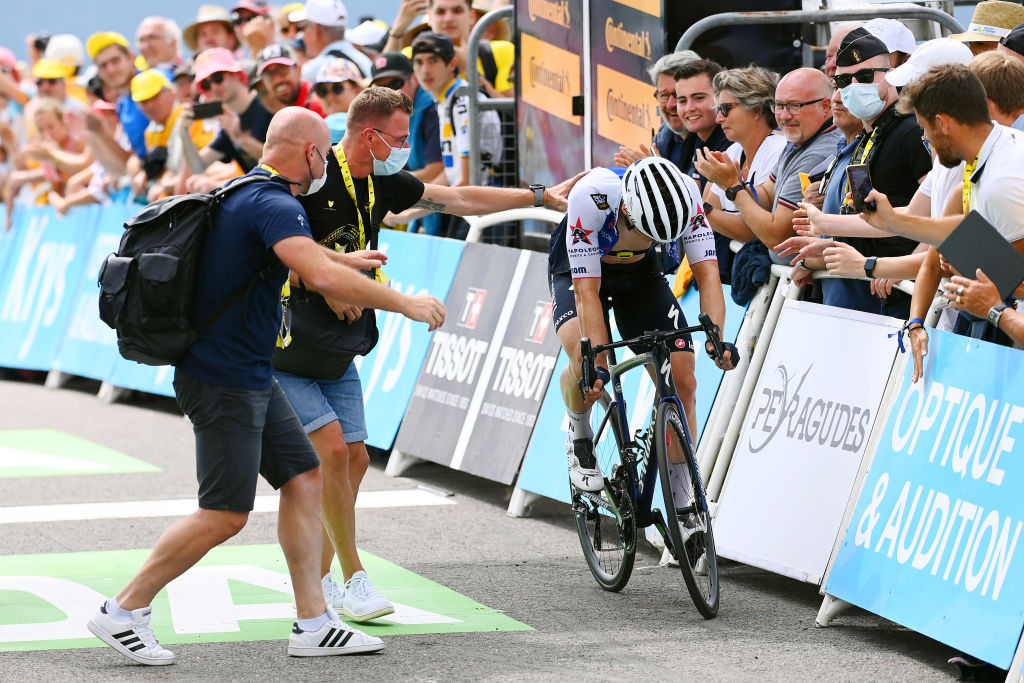 Jakobsen collapsed onto the barriers after going so deep. He was nut hurt.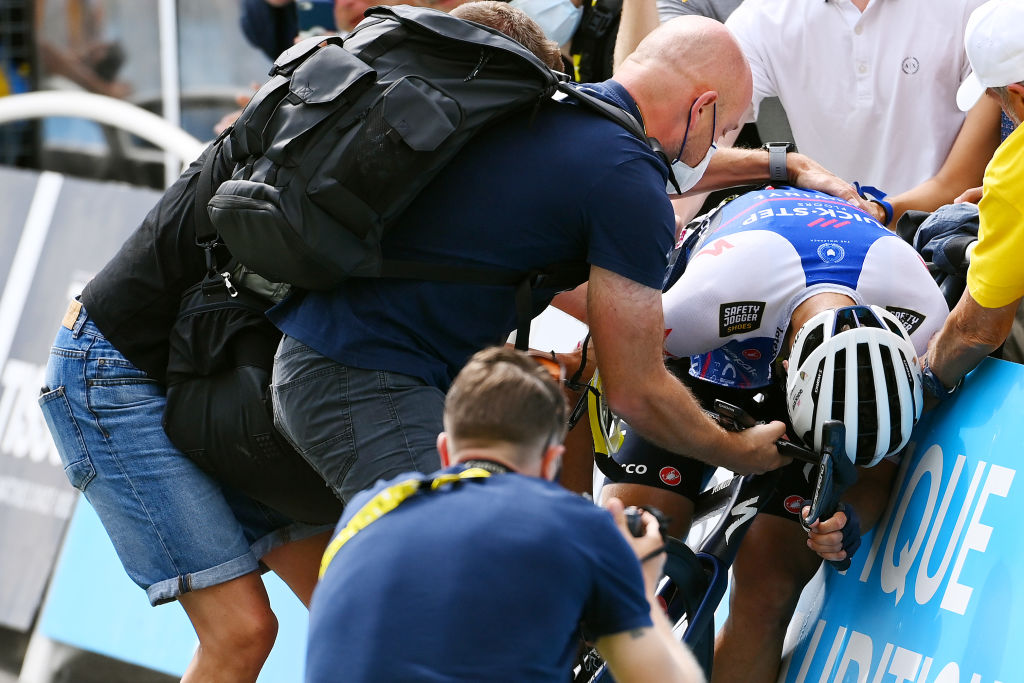 Indeed, he lived to fight another day.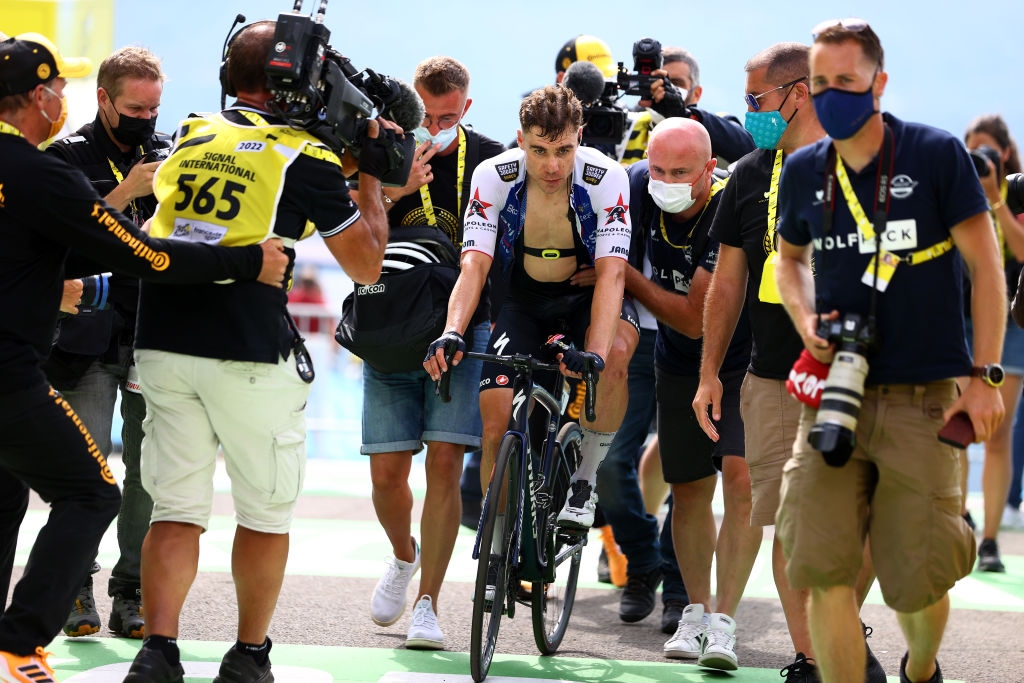 This is another view of Jakobsen's emotional battle to finish inside the time limit.
🚴🏼‍♂️🎙🇫🇷🎥🇳🇱 #TourDeFrance #TDF2022 #timelimit #fabiojakobsen Frissons! Oui, le cyclisme est un sport d'équipe! @yveslampaert et @flosenech en feu pour encourager @FabioJakobsen sauvé pour quelques secondes! 🔥👊@LeTour @RTBFsport @RTBFinfo @vivacite @CFootRTBF @Quik_s #velortbf pic.twitter.com/yXdZfXSP62July 20, 2022
Here's the Flemish television view of Jakobsen's battle to finish inside the time limit.
Momentazo épico. Fabio Jakobsen luchando en el muro final para llegar 10 segundos por delante del fuera de control. #TDF2022 pic.twitter.com/RqoWHM7wXLJuly 20, 2022
To read about UAE Team Emirates' incredible turn around and the superb performances of Mikkel Zberg and Brandon McNulty for Tadej Pogacar, and then his stage win, click below to see our full report, growing photo gallery and full results.
Pogacar triples up on stage 17 mountain mayhem at Tour de France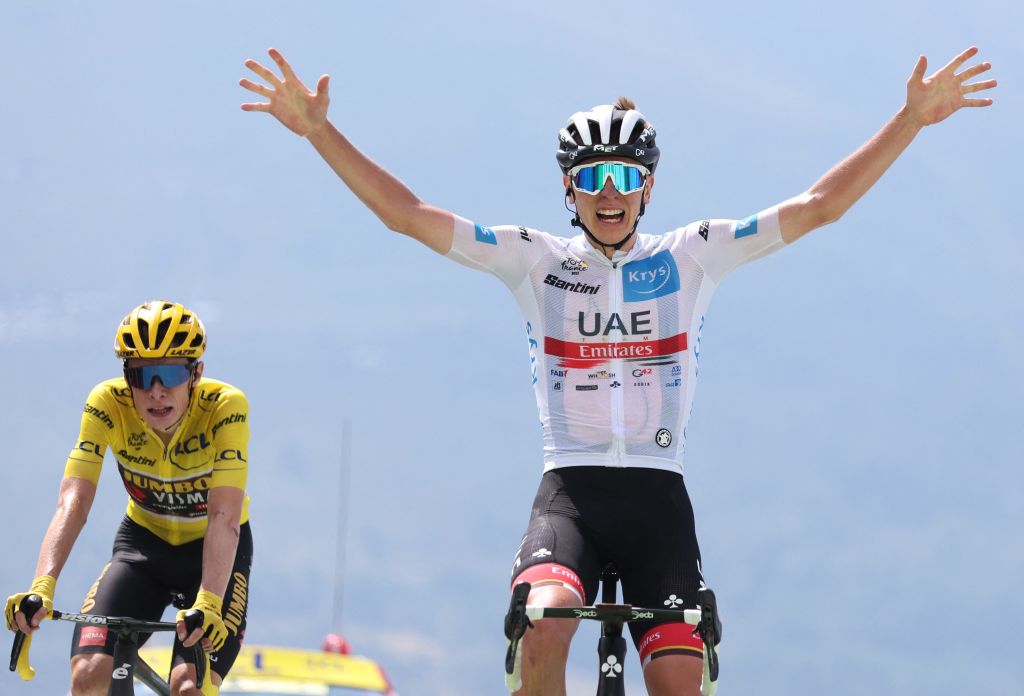 Thanks for joining us today for our full live coverage, we will be back on Thursday will full live coverage of the final stage in the Pyrenees.
We'll see on Thursday if Pogcar and Vingegaard are still friends.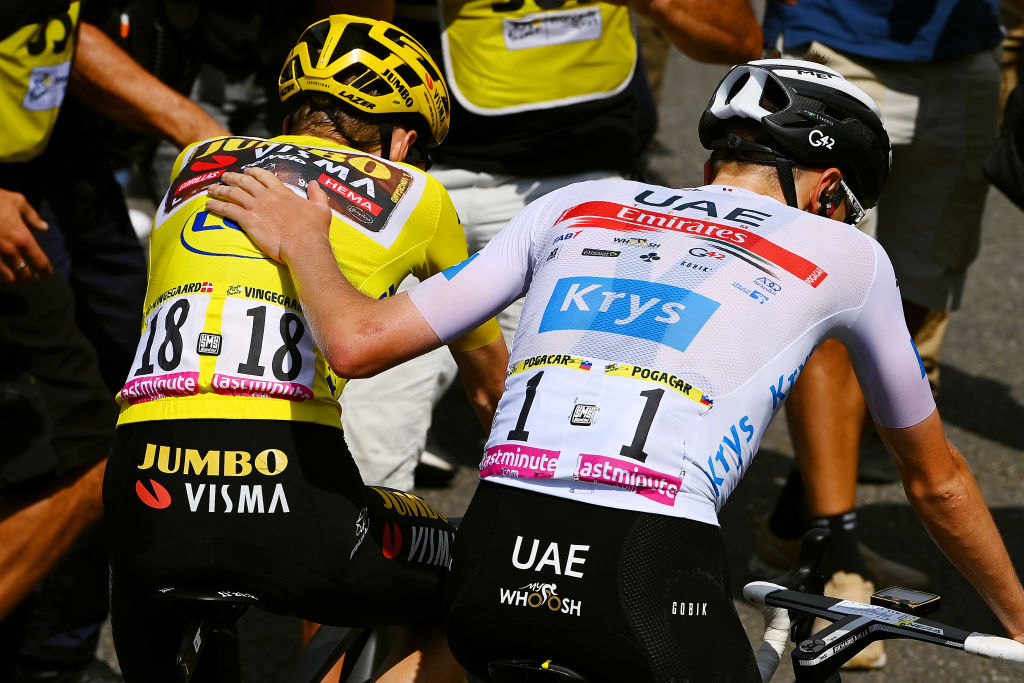 Thank you for reading 5 articles this month*
Join now for unlimited access
Enjoy your first month for just £1 / $1 / €1
*Read 5 free articles per month without a subscription
after your trial you will be billed £4.99 $7.99 €5.99 per month, cancel anytime. Or sign up for one year for just £49 $79 €59

Join now for unlimited access
Try your first month for just £1 / $1 / €1