Milano-Torino 2021 - Live coverage
The build-up to Il Lombardia continues as an old Classic features double ascent of Superga
Refresh
Hello there and welcome along for the 102nd edition of the oldest cycling race still in existence. Milano-Torino was first run in 1876 and is still here, today forming a crucial stepping stone towards Saturday's Il Lombardia.
Racing is already underway and, as we pick up the action, the riders have covered around 90km, with 100km remaining. We have a six-man breakaway with a modest lead of 2:45. They're covering some mid-race undulations at the moment but this is largely a flat preamble ahead of the double ascent of Superga.
The breakaway is made up of: Oier Lazkano (Caja Rural), Mattia Frapporti (Eolo-Kometa), Joan Bou (Euskaltel-Euskadi), Davide Orrico (Vini-Zabu), Kevin Vermaerke (Team DSM), and Juri Zanotti (Bardiani-CSF).
Vermaerke and Zanotti were late to the party but, after around 20km, the original four slowed to let them in and make it six. They haven't been given much leeway in any case, their advantage only hitting 3:30 at its height.
Julian Alaphilippe is here, in his first appearance since recapturing the world title 10 days ago.
The rainbow jersey is the same but, what's that, a new bike? Correct. Well, it's a fresh lick of paint from Specialized, said to represent 'the swirling storm of competition'. We have the details and plenty of photos here (opens in new tab).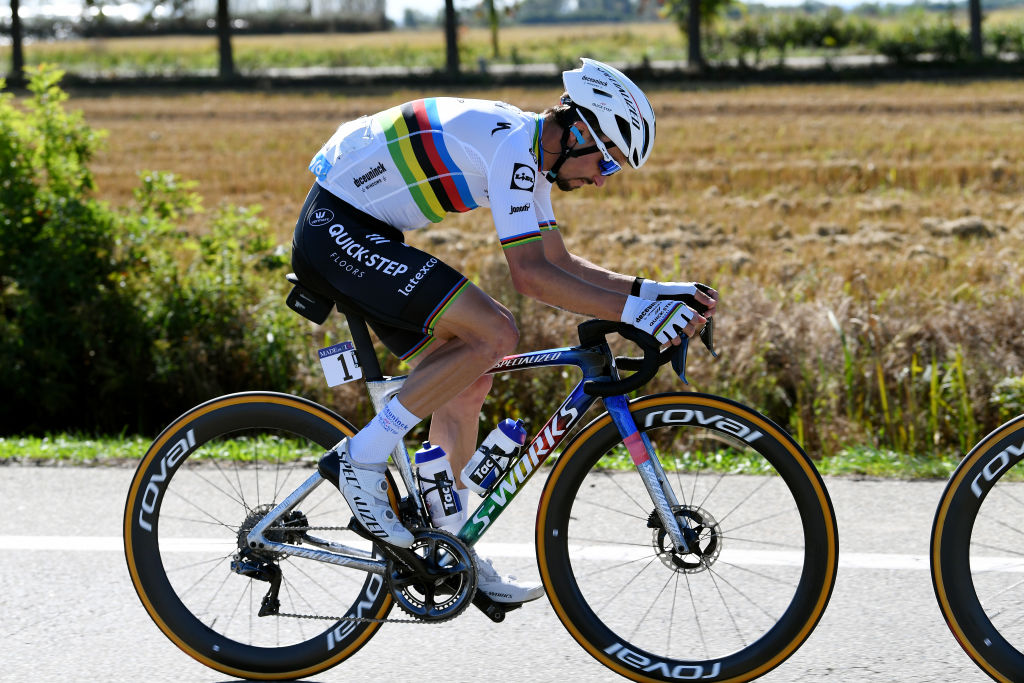 The riders are taking on another short climb as they enter the final 90km. The six breakaway riders have found a little more ground here, moving out to 3:15 again.
Before things get serious, let's have a closer look at the route. If you're thinking back to last year's edition, forget it - that was a mid-pandemic flat one-off for the sprinters. Milano-Torino is traditionally a hilly Classic, starting in Milan and starring the Superga climb in the finishing city of Turin.
Since 2012 the race has finished on the climb itself, in the shadow of the Basilica di Superga. The climb is 4.9km long with an average gradient of 9.1% and a maximum pitch of 14%. It's climbed twice, back-to-back, with the first ascent slightly shorter as the riders peel off and descend before coming up again and turning left up the steep final kick to the Basilica.
Michael Woods, Thibaut Pinot, Rigoberto Urán, and Miguel Ángel López have all emerged victorious in recent years.
78km to go
The six leaders have a lead of three minutes as they enter the feed zone.
We've mentioned Alaphilippe but there are plenty of other big names here today, including...
Primoz Roglic (Jumbo-Visma), Tadej Pogacar (UAE Team Emirates), Thibaut Pinot (Groupama-FDJ), Alejandro Valverde (Movistar), Joao Almeida (Deceuninck-QuickStep), Vincenzo Nibali (Trek-Segafredo), Michael Woods (Israel Start-Up Nation), Adam Yates (Ineos Grenadiers), Aleksandr Vlasov (Astana-PremierTech).
The gap has fallen once again, and it's pretty quickly down to two minutes.
There has been a split in the peloton, which explains the increase in tempo.
Not many riders in this front peloton, and there are now three separate bunches on the road.
The front peloton closes to within 40 seconds of the breakaway. Things have kicked off early today.
Meanwhile the third peloton has caught the second to make one large bunch chasing one smaller bunch, and the day's break.
Alaphilippe is present and correct up front, but we're waiting on a full list of riders in the move.
Most of the pre-race favourites are with Alaphilippe in this move. Roglic, Pogacar, Woods, Valverde, Almeida, Hirschi, are all there.
53km to go
The elite 20-rider group catches the breakaway with more than 50km still to go
Deceuninck-QuickStep have done well here. They have Mauri Vansevenant, Fausto Masnada, and Dries Devenyns in the move with Alaphilippe and Almeida. UAE have Marc Hirschi, Rafal Majka, and Valerio Conti up there with Pogacar, Jumbo have Tobias Foss with Roglic, Israel have Chris Froome, Ben Hermans, and Reto Hollenstein up there with Woods, and Movistar have Dario Cataldo there with Valverde.
Ineos, Trek, and Arkea are chasing hard in the peloton behind. They've all missed this move.
Alaphilippe, Pogacar, and Roglic all doing turns here. This is full-gas and we're still on the flat.
Cofidis are contributing to the case now, too. They have Guillaume Martin as their leader. No sign of Pinot's FDJ anywhere near the front of the bunch.
43km to go
The gap is stable at 50 seconds as both groups commit.
This move was made before television pictures began but the wind is stiff and there have been a couple of jinks in what is mostly a tailwind en route to Turin, where the race could have been split in the crosswinds. When you see five QuickStep riders in a group of 19, you tend to come to that conclusion.
Qhubeka-NextHash commit a man to the chase. Their leader is Domenico Pozzovivo.
Zanotti has been dropped from the lead group. He was part of the original break that was swallowed up. Valerio Conti (UAE) has lost contact as well and is back in the bunch.
I missed out Pieter Serry. So make that six QuickSteppers up front. Only Jason Osborne missed this move for the Belgian team, and he was a rower until recently.
Here's the composition of our lead group
Deceuninck-QuickStep: Alaphilippe, Almeida, Devenyns, Serry, Masnada, Vansevenant
Israel Start-Up Nation: Woods, Froome, Hermans Hollenstein
Jumbo-Visma: Roglic, Foss, Hessmann
UAE Team Emirates: Pogacar, Hirschi, Majka
Movistar: Valverde, Cataldo
From the original break: Lazkano (Caja Rural), Frapporti (Eolo-Kometa), Bou (Euskaltel-Euskadi), Orrico (Vini-Zabu), Vermaerke (Team DSM)
35km to go
For those just joining us, we had a sleepy start but the race suddenly sprung to life with 60km to go as the peloton split into three on the flat. Deceuninck-QuickStep put six riders in a 19-man front split, containing several other key favourites, and they've caught the day's breakaway and are currently trying to maintain their advantage as they approach Turin.
The rest of the peloton split into two but is back as one large bunch and chasing furiously - led primarily by Ineos and Trek - at 45 seconds. We're around 10km from the start of the first of two ascents of Superga.
The chase continues and it's starting to have an effect. It's down to 30 seconds.
Devenyns looks to inject some fresh impetus with a huge acceleration. The others are putting the responsibility on QuickStep now.
Astana are putting men forward now. They have Vlasov as their leader. The gap falls to 22 seconds.
Under 20 seconds now. QuickStep are trying to push on but the rest of the group is looking around and looking back to catch sight of the chasers.
QuickStep have numbers but Ineos, Trek, Arkea, Astana, and others are going all-in with this chase, and it's working.
We're just 4km from the foot of our first ascent of Superga, where things are going to explode anew.
The gap nudges back out to 21 seconds.
Devenyns goes all-in with a final turn to push this break on, but now he pulls aside and falls away.
FDJ take it up in the chase. Geoghegan Hart is dropped having worked for Yates.
The lead group explodes immediately!
Masnada takes it up for QuickStep, Alaphilippe in his wheel....
Hirschi, Froome, Hollenstein, Hessmann, Vermaerke, Lazkano, Bou, Orrico Frapporti all dropped.
Yates attacks from the chase group. The gap is 15 seconds to close.
Yates is across! That didn't take long
Meanwhile Masnada has pushed off the front, forcing Majka to take it up for UAE.
Masnada is brought to heel as the climb continues.
Quintana has attacked from behind as well and is on his way across.
Quintana makes it over as Masnada takes it up once again.
Two more riders coming across. One is Pavel Sivakov (Ineos Grenadiers) and the other looks like Michael Storer (DSM).
The pair both make it across as the group expands towards the top of the Superga.
One more bridger: David Gaudu (FDJ)
This expanded group has a lead of only around 10 seconds over a smaller chase group, which looks to contain Vlasov.
Vlasov has jumped from that chase group with Matteo Fabbro (Bora). And they, too, make it across.
Diego Ulussi (UAE) is sprinting across now with Clement Champoussin (AG2R), Domenico Pozzovivo (Qhubeka-NextHash), Rein Taaramae (Intermarché), and Bauke Mollema (Trek-Segafredo).
Towards the summit now and Vansevenant attacks!
19km to go
The young Belgian thrashes his bike from side to side as he sprints to the summit in that frantic style of his. He's alone over the top and he starts the fast descent now.
Heading downhill we have Vansevenant alone out front with a slim lead over the rest of a lead group that contains almost all the big names (apart from Pinot and Nibali).
This is the composition of the chase group.
Alaphilippe, Almeida, Masnada (QuickStep), Pogacar, Majka, Ulissi (UAE), Roglic (Jumbo), Woods, Hermans, (Israel), Yates, Sivakov (Ineos), Valverde (Movistar), Gaudu (FDJ), Quintana (Arkea), Storer (DSM), Mollema (Trek), Taaramae (Intermarche), Fabbro (Bora), Vlasov (Astana), Champoussin (AG2R), Bikzarra (Euskaltel), Rochas (Cofidis), Pozzovivo (Qhubeka).
Vansevenant finds 15 seconds as he continues to zip downhill.
13km to go
The descent will be followed by a few kilometres on the flat and then the 5km Superga climb again, this time taking that left turn and heading all the way up to the line at the Basilica.
Vansevenant comes off the descent and onto the flat. Sivakov leads the chase behind.
Vansevenant digs in and holds on at 10 seconds.
Majka takes up the chase for UAE but it's a steady tempo and nothing desperate here.
7km to go
Vansevenant finds a few more seconds. He's putting in so much effort here that the others don't seem too worried ahead of the final climb. 19 seconds now, though.
Still Majka on the front of the chase as Vansevenant moves out to 25 seconds.
A reminder that the Superga climb is 4.9km long with an average gradient of 9.1% and a maximum pitch of 14%.
4.9km to go
And Vansevanant hits it now!
Majka leads the 23-man chase group onto the climb at 22 seconds.
Alaphilippe has moved up and is sitting on Majka's wheel.
Majka springs out of the saddle and Alaphilippe does the same...
Alaphilippe's teammates let the gap open and Yates has to try and close it. Pogacar is coming across now
Alaphilippe dropped! The Frenchman loses Majka's wheel.
Majka swings aside as well now.
Alaphilippe joins the back of the group. He's not out the back yet but it doesn't look good.
Roglic responds as Yates and Pogacar move closer to Vansevenant.
Alaphilippe is indeed dropped.
Yates breezes past Vansevenant. He's creating a real selection here.
Pogacar, Woods, Roglic, Almeida, Valverde are the riders who can follow Yates. This is a six-man group going clear to contest the victory.
3.5km to go and Yates continues his charge. He's looking really strong here.
Pogacar remains glued to Yates' wheel.
But as I say that, Pogacar pulls out and starts to drift!
Woods and Valverde dropped!
Roglic is the only rider able to follow Yates here!
Almeida and Pogacar claw their way back to Yates and Roglic. 3km to the top.
Yates accelerates again and he's clear!
Roglic responds but swings over. He can't close the gap at the moment.
But Roglic issues a second acceleration and this one is completely different. He shoots across to Yates. Remarkable. It looked like he didn't have it there but maybe he was just scoping out Pogacar and Almeida.
Yates continues to set the pace, Roglic in the wheel, 15 seconds clear of Pogacar and Almeida.
Roglic comes through and gives Yates a turn. Just over 2km to go.
1.5km to go and Pogacar distances Almeida.
Pogacar has 20 seconds to close and, the way the front two are riding, that's not going to happen.
Roglic has his mouth agape and Yates is his typical picture of poise.
1km to go
Under the flamme rouge and Yates continues to turn over a big gear as Roglic spins a smaller one. It's between these two.
Roglic has the better finishing kick, so will Yates look to launch an acceleration before we get within sight of the line?
Roglic leads Yates through that left-hand turn, and they're now on the final haul up to the Basilica. 600m to go
500m to go and Yates attacks!
He gets a gap but Roglic digs in and stays on terms
Roglic immediately eases his way around Yates and moves clear.
To the finish now and Roglic will take this. He has opened a big advantage.
Roglic punches the air as the winner of Milano-Torino
Yates crosses the line 12 seconds down
A spirited sprint for third at 37 seconds and it's Almeida who takes it from Pogacar.
Let's hear from the winner, Primoz Roglic
"The result is great, the weather was nice, the race was nice. But with the echelons it was super hard before the finishing circuit, and in the end I had the legs so I could finish it off.
"I expected attacks [from Yates]. It's hard, you never really know what you have in the legs for the final kick. Sometimes it goes, sometimes it doesn't, and today I had it. I managed to follow then pass him."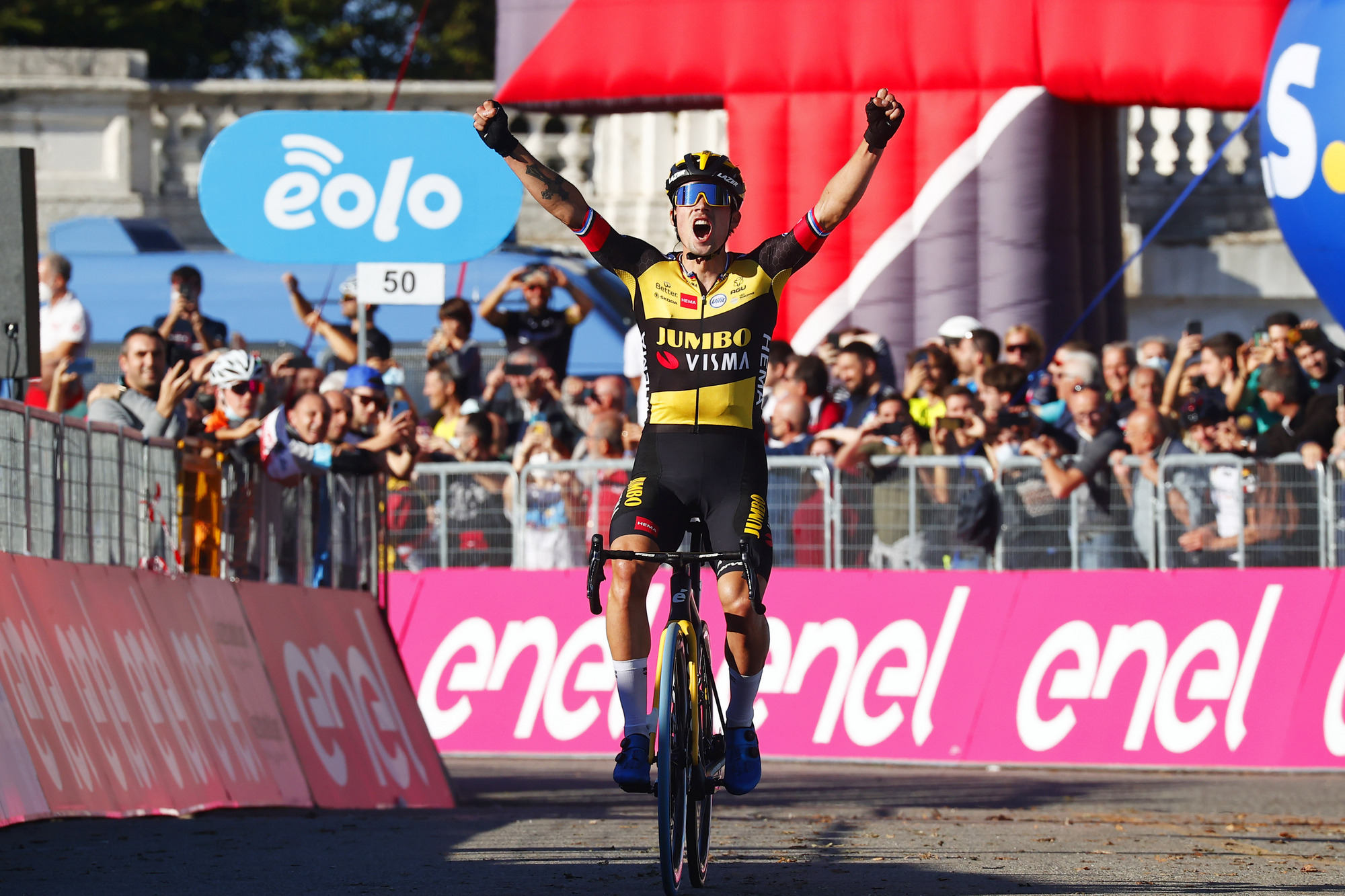 Thank you for reading 5 articles in the past 30 days*
Join now for unlimited access
Enjoy your first month for just £1 / $1 / €1
*Read any 5 articles for free in each 30-day period, this automatically resets
After your trial you will be billed £4.99 $7.99 €5.99 per month, cancel anytime. Or sign up for one year for just £49 $79 €59

Join now for unlimited access
Try your first month for just £1 / $1 / €1
Get The Leadout Newsletter
The latest race content, interviews, features, reviews and expert buying guides, direct to your inbox!
Thank you for signing up to The Pick. You will receive a verification email shortly.
There was a problem. Please refresh the page and try again.