Live coverage
Giro d'Italia 2019: Stage 1
By SadhbhO'Shea
January 1 - June 2, Bologna (ITT), Italy, Road - WorldTour
Refresh
Welcome to live coverage of the opening stage of the Giro d'Italia, an 8km time trial around Bologna.
Giro d'Italia: Bologna TT a fight for every second – Preview
Start times for Giro d'Italia stage 1 time trial
Matt White's stage-by-stage guide to the Giro d'Italia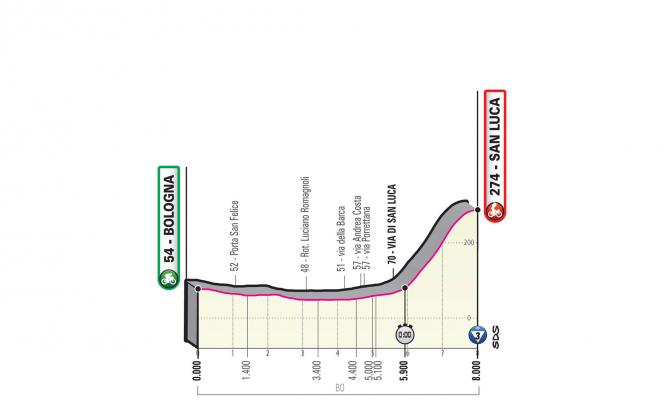 Hello and welcome to the opening stage of the Giro d'Italia. I hope you have your refreshments to hand because the action is about to get underway in just under 15 minutes.
Unusually for a time trial, most of the favourites will be going off early today. Indeed, Tom Dumoulin is the first rider down the ramp at 16:50 local time. Primoz Roglic is another early starter, while Simon Yates is the only one of the big favourites making his start at the latter end of the running order. You can find the full start order here.
As you might be able to gather from the profile situated at the top of the page, there is a rather large sting in the tail of today's time trial. The climb to the line features gradients of up to 16 per cent, a massive challenge on a TT bike. L'Equipe TV reporter Claire Bricogne posted this photo of the climb on Twitter earlier today.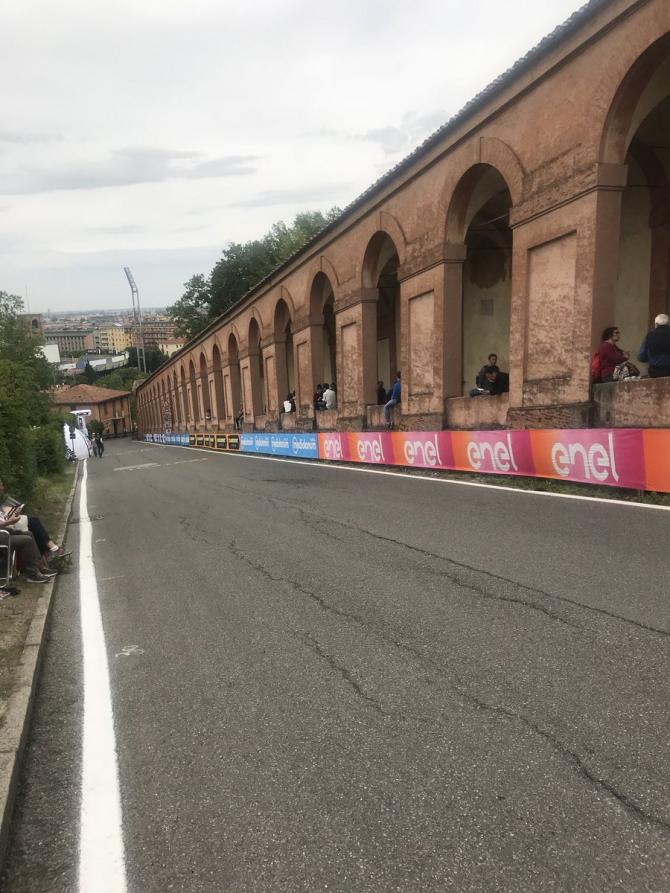 From our reporter on the ground, Stephen Farrand, this is a picture of the turn from the flat onto the climb. This will be a challenge in itself.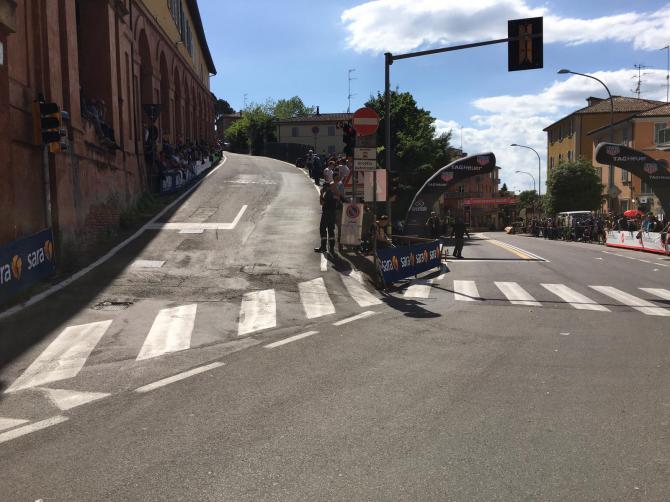 Just one more picture of this final climb for you, as it's going to be pretty key today. As well as the tough gradient on the corner, you can see the huge number of people that are lining the streets in Bologna. There is also plenty of Marco Pantani fans her (il Pirata is from an hour down the road).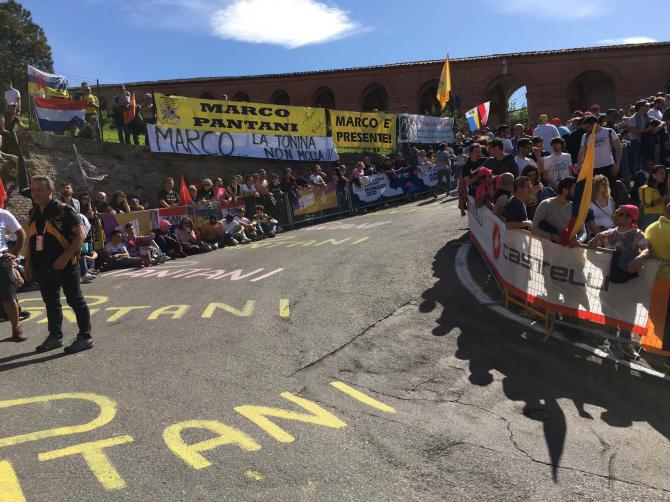 Tom Dumoulin has made his start and the 2019 Giro d'Italia is a go! What can this man do?
The sun is out at the moment, but there is poor weather predicted for later in the day, which is why so many of the favourites are starting early.
Just one minute between each of the starters. Miguel Angel Lopez started a short while ago and Davide Formolo is now out on course.
Dumoulin is looking very smooth at the moment, as you would expect from a former time trial world champion. He has just started the climb to the line. His time at the split was 6:59.
Vincenzo Nibali has just started his effort. Huge cheers from the crowds and they will surely spur him on around this course. He's not at the level of Dumoulin and Roglic in the TT, but we can expect a decent ride from him today.
The crowds at points on this climb are akin to those we see in the high mountains. Not something the riders will be used to when doing a time trial.
Dumoulin really having to dig deep as the gradient bites. He briefly gets out of the saddle. This is a hard effort on a time trial bike.
Meanwhile, Primoz Roglic is now out on course. Dumoulin will be most worried about him in this time trial. Remember 2016 and how closely they finished in the opening time trial?
A bit of a wobble from Mikel Landa as he starts but he's safely under way. He is Movistar's big leader after Alajendro Valverde was forced to pull out following a crash during training ahead of Liege-Bastogne-Liege.
At the finish line, Dumoulin grinds to the line and stops the clock at 13:22.
Bob Jungels hits the climb and he sets the fastest time at the first check. Can he keep that up on the climb?
Now Nibali is onto the climb and there is a wall of sound following the Shark of Messina.
If Nibali wins the Giro d'Italia overall, he will be the oldest winner of the Italian Grand Tour.
We have our first bike change and it is Arnaud Demare. It's not the greatest change and he has to wait a while for his bike.
Here is Dumoulin shortly after crossing the line.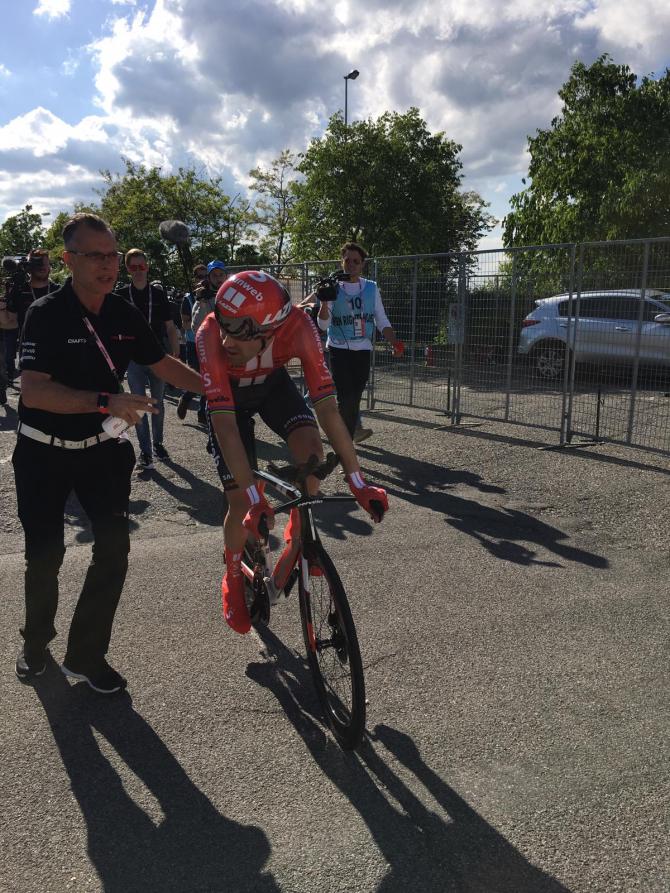 Wow! Miguel Angel Lopez stops the clock and beats Tom Dumoulin! He is a fraction of a second quicker than the Dutchman.
Davide Formolo is over the line and he is 22 seconds slower than Lopez. To be honest, I'm still coming to terms with the fact that Lopez just beat Dumoulin in a time trial.
Meanwhile, Jungels lost a bit of time on the climb and he's 18 seconds off the pace after going quickest at the intermediate check.
And now Nibali has set the fastest time of 13:17. He is five seconds quicker than Lopez and Dumoulin.
Meanwhile, Roglic has caught and passed his minute man.
Roglic is about to catch Demare, too. He's flying up this climb.
Roglic demolishes Nibali's time by 23 seconds. That is some effort by the Slovenian. Demare just about managed to cross the line before Roglic.
Roglic stopped the clock at 12:54 and I wouldn't be surprised if he is the only rider below the 13-minute mark. He could have a long wait in the hotseat.
Mikel Landa crosses the line and stops the clock at 14:01, that is a very disappointing ride from the Spaniard. He'll just be happy to get through it in one piece.
There are some pretty sizeable gaps between the favourites already. Surprisingly, Dumoulin is 28 seconds down on Roglic, while Ilnur Zakarin is well over a minute.
Ion Izagirre is playing a domestique role here at the Giro, but he'll be an interesting watch. He sets a decent time in the flatter section and now enters the climb.
Tao Geoghegan Hart crosses the line in provisional fifth, 35 seconds down on Roglic. A decent effort from the Ineos rider. He is having a great end to the spring.
A solid ride from Hugh Carthy to go provisional eighth place.
We've seen one bike change today and now we've got Barbin riding his road bike with aero attachments.
After putting in a decent time on the flat, Izagirre lost a lot of time on the climb. He crosses the line 1:01 slower than Roglic, which is quite a surprise from the Spaniard.
Pavel Sivakov starts his ride. He will be an interesting watch after his overall win at the Tour of the Alps last month.
According to the organisers, it is Ciccone that has set the quickest time on the climb with a time of 6:01. There will be a mountains classification jersey awarded to the fastest rider up the climb.
Laurens De Plus puts in the same time as Geoghegan Hart and is just 35 seconds behind his teammate. A strong ride from the Belgian, who will be an important rider for Roglic during the Giro d'Italia.
Vincenzo Nibali had a bit of fun with his post-stage comments, saying to Eurosport "I had a good time, now I should go to the bathroom according to Yates. I don't know if he really said that or it was emphasised but let's try to have respect of all riders here at Giro." He was referring to the comments that Yates made in his pre-race press conference.
Nibali's teammate Domenico Pozzovivo is off the start ramp and it is quite the relief to see him here after he had a nasty crash during Fleche Wallonne. He came down hard on some road furniture and ended up with a concussion. Let's hope that he has fully recovered from that.
Sivakov charging up the climbs and he's about to catch Cimolai, who was his minute man. Their positions on the bile are in stark contrast. Sivakov is keeping a good TT position while Cimolai is almost bolt upright.
In the end, Sivakov crosses the line 1:01 down on Roglic. That climb is really taking its toll on riders.
We haven't had a proper GC rider off the ramp in a while, but Bauke Mollema is out on course now. He is leading Trek-Segafredo at the Giro, while Richie Porte will be their leader at the Tour de France in July.
Other GC contenders to come are Rafal Majka and Simon Yates.
Primoz Roglic is never one to give to much away and he played his cards close to his chest when he spoke to media at the finish line.
Of course, I'm happy with it. It went well, I finished good and I'm happy with today's performance. I haven't seen the result yet. We ill have to wait until the finish and I think I have some time yet.
Q: You're 28 seconds quicker than Tom Dumoulin
It's nice, it's quite an advantage so I'm really happy.
I tried to start fast and then go full gas until the top. There is some wind but the first part is covered with the buildings and then when you turn left it is a bit harder.
Another bike change out there and the first from an overall contender with Mollema opting to take his road bike up the climb. Mitchelton-Scott DS Matt White estimated that you could lose about 20 seconds making a change, so can he make up that time on the ascent?
One of the surprising rides today came from Miguel Angel Lopez, who is certainly not known for his time trial abilities. He lost 28 seconds to Roglic today. He said in his pre-race press conference that he hoped to minimise his TT loses to two minutes over the three 'chronos' in this year's Giro d'Italia. You can read his full comments here.
500 to go for Bauke Mollema. He's not going to beat Roglic, by any stretch of the imagination, but let's see what he can do.
The usual tongue out position from Mollema as he drives for the line. He stops the clock at 13:33, which is 39 seconds down on Roglic. Not too bad, in the grand scheme of things.
Scott Davies toiling up the climb. He is making his Giro d'Italia debut today. Dimension Data will be looking to Ben O'Connor for the GC and Giacomo Nizzolo in the sprints, with Davies playing a support role.
Here was Primoz Rogliz on the start ramp earlier on. He's had plenty of time to relax in the hotseat now, and still has well over an hour before he can go up to collect the maglia rosa - providing he wins the stage.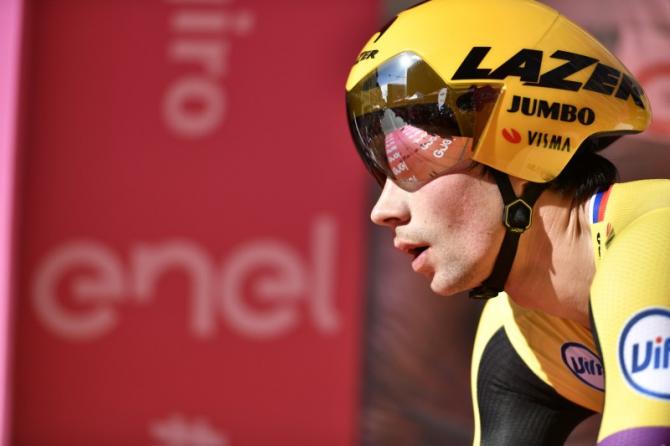 It's not just the Giro d'Italia this month and the Tour of California will start tomorrow. Mark Cavendish will be racing there, and he told reporters yesterday that he's been given some good news from the doctors after battling Epstein Barr for the last two years. Read the full story here.
Rafal Majka puts in a strong ride on the climb to finish fifth fastest with a time of 13:27, which is 33 seconds slower than Roglic. Majka has had a bit of bad luck in the first part of this season but that he is looking good at the moment.
And another bike change, this time from Matteo Montaguti. Interestingly, Ciccone, the rider who has the KOM at the moment, did the climb on his road bike.
Luke Durbridge is taking no prisoners during his effort and he gets very close to the barriers on one of the corners. Durbridge is the Australian TT champion, but he's unlikely to be the winner today with that big climb at the end.
So far, the predicted bad weather has not arrived. There is still time for it to get there, but the setting sun is bathing the riders at the moment.
Pello Bilbao is out on course. He is another member of Lopez's strong support network. Time trialling is not his speciality and he will be happy to just make it through today.
Luke Durbridge is out of the saddle as he hits the steepest parts of the climb towards the top. It can't be said enough just how hard it is to climb on a TT bike.
Oh dear. There is almost a crash at the bottom of the climb as EF's Caicedo drops his chain and comes to a halt. Reto Hollenstein almost collided with him but managed to avoid him, thankfully.
Durbrige crosses the line at 58 seconds down. That is a very decent effort considering where some of the climbers have finished. He really didn't lose much time on the climb in the end.
With just over an hour still to go until the end of this time trial, this is how the top 10 looks.
1 Primoz Roglic (Slo) Team Jumbo-Visma 0:12:54
2 Vincenzo Nibali (Ita) Bahrain-Merida 0:13:17
3 Miguel Angel Lopez (Col) Astana Pro Team 0:13:22
4 Tom Dumoulin (Ned) Team Sunweb 0:13:22
5 Rafal Majka (Pol) Bora-Hansgrohe 0:13:27
6 Tao Geoghegan Hart (GBr) Team Ineos 0:13:29
7 Laurens De Plus (Bel) Team Jumbo-Visma 0:13:29
8 Bauke Mollema (Ned) Trek-Segafredo 0:13:33
9 Damiano Caruso (Ita) Bahrain-Merida 0:13:34
10 Victor de la Parte (Spa) CCC Team 0:13:39
Bilbao going well and he's got his minute man Francois Bidard in his sights on the climb.
A great picture of the fans that are lining the course. It must be said that they are being very respectful of the riders.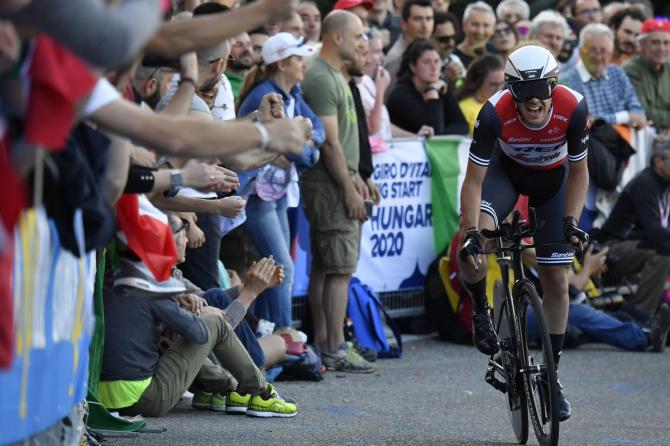 Bilbao managed to slot into the top 10 with his ride. A good performance for him and bodes well for the rest of the Giro for Astana.
It does feel like this time trial has been going on for days. Empires have risen and fallen since Dumoulin rolled off the ramp earlier today. We've still got an hour to go, though, and Simon Yates is still to complete his ride.
There is still a risk that we could get some rain before the end of the stage, though it doesn't seem likely the predicted thunderstorms will appear. It's still lovely and dry for now, and the riders will be hoping that it stays that way.
Esteban Chaves crosses the line and stops the clock at 13:54 and is a minute down on Primoz Roglic. Chaves is playing the support role for Simon Yates at the Giro, though he'd like to add another stage win to his palmares - and finish the race, which he was not able to do last year.
Markel Irizar will be starting his time trial shortly. This is the final Grand Tour of his career, which he will bring to an end after San Sebastian. I spoke to him earlier this year about his decision to retire and his 16-year career. You can read that here.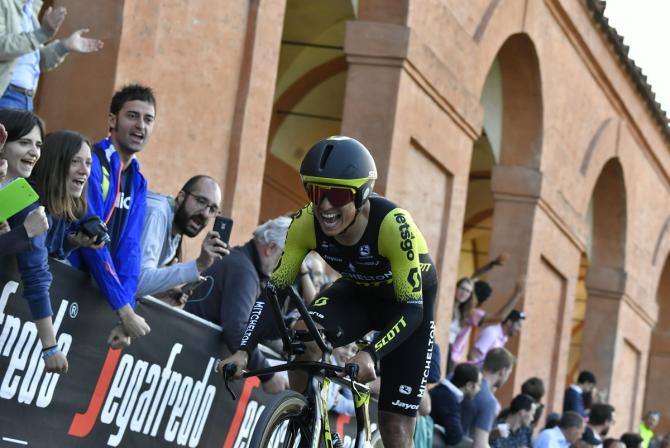 It has been brought to my attention that Chaves did actually finish the Giro d'Italia last year. It was his final race of last year after he was sidelines by Epstein Barr for the remainder of the season.
Ivan Sosa is out on course. He will be another interesting watch given how well he's performed in his first season at WorldTour level. He has not raced since March, though, so his form is a bit of an unknown at the moment.
Roglic has finally found his way to the hotseat. It has been a long time since he finished his ride and he has been occupying himself by spending some time with his partner, speaking with the media and perhaps getting in his visit to anti-doping early.
Antwan Tolhoek is out on course. He missed last year's Giro due to tendonitis and then had a difficult winter where he almost lost his sight. Our reporter Alasdair Fotheringham spoke to him in the build-up to the Giro about his comeback. Read the full story here.
Sosa loses 1:56 on Roglic. Perhaps he decided to take it easy and save himself for a breakaway later in the race, but it is quite surprising to see him so far back. Geoghegan Hart is the best performer from Ineos today.
Of course, Ineos did hope to have Egan Bernal at the Giro but they were forced to make a change when the Colombian broke his collarbone in a training crash. Eddie Dunbar got the call up for his first Grand Tour and the team has carte blanche to ride their own races over the next three weeks.
Continuing on the Ineos thought train, this is what Geoghegan Hart had to say after his ride earlier today.
"It was super brutal, the last 500 I paid a little bit there. I think you'll hear a lot of people say that today."
Was the pacing hard?

"Yeah, for sure, but actually, you are always going to try harder on the steeper bit. When you park up, its actually in the same place afterwards. I feel so go afterward ,then the devil came and hit me with a hammer. it was ok, I don't know the gaps, I felt good, but maybe I was too keen on the first part of it."
Just over 20 minutes until Simon Yates gets going. He surprised everyone with his Paris-Nice time trial win. Can he do it here? Unlikely, but the Giro is always full of surprises.
You can hear cheers of 'dai' along the side of the road. The number of fans has thinned out but there are still plenty out there to cheer on the riders.
As we head into the final few riders, this is what the top of the standings looks like.
1 Primoz Roglic (Slo) Team Jumbo-Visma 0:12:54
2 Vincenzo Nibali (Ita) Bahrain-Merida 0:13:17
3 Miguel Angel Lopez (Col) Astana Pro Team 0:13:22
4 Tom Dumoulin (Ned) Team Sunweb 0:13:22
5 Rafal Majka (Pol) Bora-Hansgrohe 0:13:27
6 Tao Geoghegan Hart (GBr) Team Ineos 0:13:29
7 Laurens De Plus (Bel) Team Jumbo-Visma 0:13:29
8 Bauke Mollema (Ned) Trek-Segafredo 0:13:33
9 Damiano Caruso (Ita) Bahrain-Merida 0:13:34
10 Pello Bilbao (Spa) Astana Pro Team 0:13:36
Simon Yates is warming up for his ride. All he needs is a bowl of steaming water and this is what my mum used to do when we didn't feel well, when I was a child.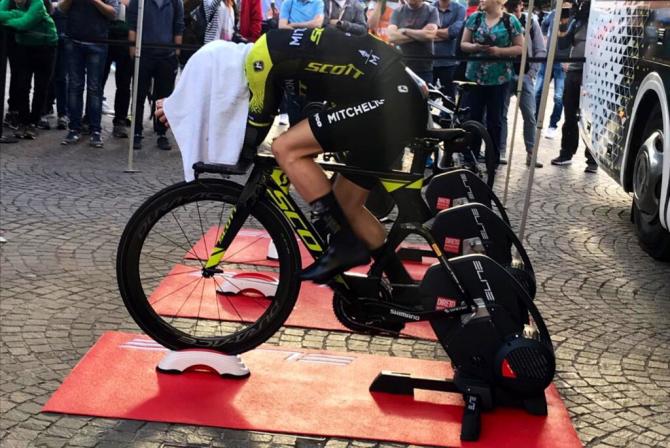 Elia Viviani has started. He's in his normal blue Deceuninck-QuickStep kit but he will have a snazzy new Italian champs kit for the road stages. You can have a gander at it here.
Meanwhile, Jack Bauer is really grinding up this climb. This is not really his sort of terrain.
Roglic is having a bit of a stretch outside the hotseat area. It's important to look after yourself properly, particularly when you're sitting around for so long like he has done today.
Further back down the course, Simon Yates is almost ready to go. It has been a long wait for him with all the other main contenders going much earlier. Thankfully, the weather is holding off.
It's getting a bit dark out there as the sun sets and the temperatures have definitely dropped since the first few riders. Just three riders left as Yates gets ready on the ramp.
A small shake of the head from Roglic in the hotseat as he watches Yates start. He must be a little worried after Yates' Paris-Nice time trial, but it would have to be a superb ride from the Brit to nudge the Slovenian off the top spot.
Salvatore Puccio is off and he was the last rider, so we should know the final results in the not too distant future.
We have had a few bike changes today, but most have decided to do their entire ride on their time trial bike. When asked if he would change his bike, Yates said that he wouldn't.
Gaviria takes a sip of a drink and chucks the bottle away as he comes onto the climb. Unusual to see a rider take a drink on such a short time trial.
Yates is 18 seconds down as he reaches the climb. He's going hard into the bottom of the climb.
Yates has been out of the saddle from the start of the climb and he's really going for it.
As the road flattens out, Yates gets back into the saddle and into an aero position.
The road pitches up again and Yates is back out of the saddle. This is a solid ride from Yates.
Yates is about to catch Gaviria, who is struggling in a sitting position.
Back into the saddle for Yates now. He has under a kilometre to go now.
Yates is not giving up and there's a bit of a grimace from Roglic.
It looks like Roglic will keep it, but Yates has pushed him close.
Yates drives for the line and he stops the clock at 13:13, which puts him in second place.
Roglic wins the opening stage of the Giro d'Italia and takes the first maglia rosa.
In my haste, I forgot that Puccio was still out on course. He will not beat Roglic's time. That has already passed as the Italian makes his way through the final 500 metres.
With Puccio crossing the line to complete the stage, this is the top 10.
1 Primoz Roglic (Slo) Team Jumbo-Visma 0:12:54
2 Simon Yates (GBr) Mitchelton-Scott 0:13:13
3 Vincenzo Nibali (Ita) Bahrain-Merida 0:13:17
4 Miguel Angel Lopez (Col) Astana Pro Team 0:13:22
5 Tom Dumoulin (Ned) Team Sunweb 0:13:22
6 Rafal Majka (Pol) Bora-Hansgrohe 0:13:27
7 Tao Geoghegan Hart (GBr) Team Ineos 0:13:29
8 Laurens De Plus (Bel) Team Jumbo-Visma 0:13:29
9 Bauke Mollema (Ned) Trek-Segafredo 0:13:33
10 Damiano Caruso (Ita) Bahrain-Merida 0:13:34
Some words from our winner today, Primoz Roglic.
"I'm super happy. I have been waiting for three hours but it's a really nice feeling to get pink today. There wasn't really much of a tactic, it was just to go through the whole course as fast as possible and we did a good job.
"Of course, it is a gap and you always want more and more but we've won and we have the first day behind us and it's a really nice start.

"We'll see how it goes. For sure, the most important thing is to wear it in Verona at the end. It's a great start and I'm looking forward to the next three weeks."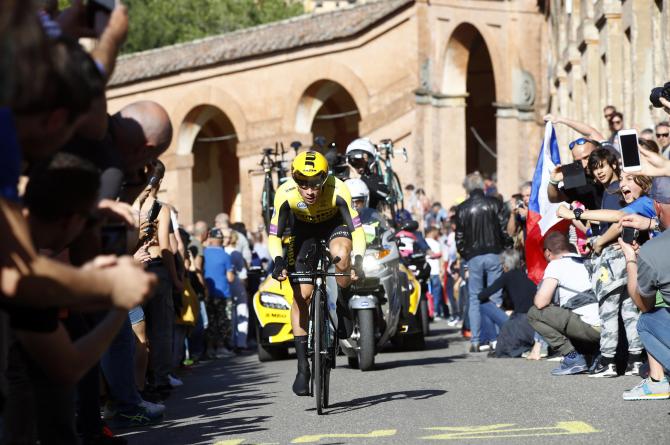 They say cream rises to the top and the big favourites ahead of the race have finished near the top of the standings. The gaps are perhaps a bit bigger than we might have expected at the start of the day. The surprising GC rides came from Dumoulin and Lopez. Dumoulin's was surprising in how far off the pace he was, while Lopez was surprising in how strong he looked. Meanwhile, Geoghegan Hart put in a great ride today to finish in seventh.
For a full report of today's action, click here. We are building a gallery of photos and we will have full results soon enough too.
And here is Primoz Roglic in the maglia rosa.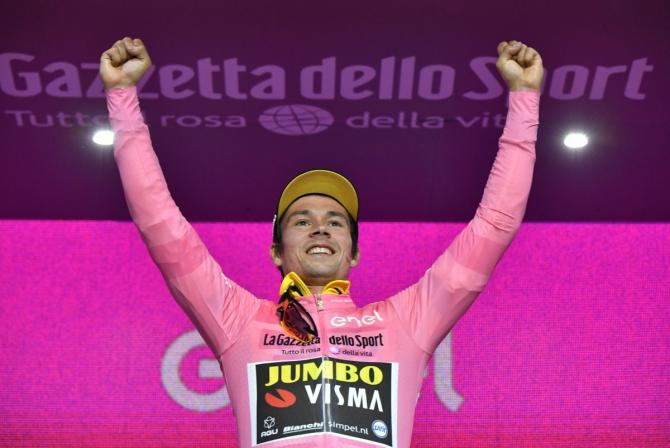 Sign up to the Cyclingnews Newsletter. You can unsubscribe at any time. For more information about how to do this, and how we hold your data, please see our privacy policy
Thank you for signing up to Cycling News. You will receive a verification email shortly.
There was a problem. Please refresh the page and try again.