Live coverage
Dubai Tour 2018: Stage 4
By SadhbhO'Shea
January 1 - February 10, Skydive Dubai, Dubai, Road - 2.HC
Refresh
Hello and welcome to the penultimate stage of the Dubai Tour. Today's stage goes to the Hatta Dam. The steep ramp to the finish line will have a big impact on the final classification.
This stage was cancelled last year because of the winds and the wind is picking up today (although not quite to the same extent). There were some crosswinds yesterday and they could be on the menu today. The peloton is looking a little nervous as riders try to get into position.
There is a six-man group up the road at the moment that went clear after just five kilometres of racing. They are: Conor Dunne (Aqua Blue Sport), Robin Carpenter (Rally), Brandon McNulty (Rally), Christopher Williams (Novo Nordisk), Sun Xiaolong (Mitchelton-BikeExchange) and Simone Bevilacqua (Willier).
If you haven't had a chance to listen to the latest Cyclingnews Podcast, you can find it here. Myself, Cyclingnews editor Daniel Benson and Procycling Editor Ed Pickering discuss the Dubai Tour so far and Dave Brailsford's response to the Chris Froome case. We also hear from Brailsford, who was out at the Colombia Oro y Paz race.
EF Education First-Drapac manager Jonathan Vaughters has weighed in on the Chris Froome issue, as have many in the peloton. He says that Froome and Team Sky should "do the honourable thing". You can read the full story here.
As the leaders pass through the feed zone, they have an advantage of 4:25 on the peloton.
After missing out in the opening two stages, Mark Cavendish took victory in yesterday's stage, beating Nacer Bouhanni and Marcel Kittel. This is how yesterday's stage finished.
1 Mark Cavendish (GBr) Dimension Data 3:53:46
2 Nacer Bouhanni (Fra) Cofidis, Solutions Credits
3 Marcel Kittel (Ger) Katusha-Alpecin
4 Adam Blythe (GBr) Aqua Blue Sport
5 Sonny Colbrelli (Ita) Bahrain-Merida
6 Elia Viviani (Ita) Quick-Step Floors
7 Alexander Kristoff (Nor) UAE Team Emirates
8 Magnus Cort (Den) Astana Pro Team
9 Riccardo Minali (Ita) Astana Pro Team
10 Dylan Groenewegen (Ned) LottoNL-Jumbo
Elia Viviani took control of the race lead after Dylan Groenewegen was handed a 20-second penalty for drafting. He now leads the race ahead of Cavendish.
1 Elia Viviani (Ita) Quick-Step Floors 12:19:38
2 Mark Cavendish (GBr) Dimension Data 0:00:04
3 Nathan Van Hooydonck (Bel) BMC Racing Team 0:00:07
4 Magnus Cort (Den) Astana Pro Team 0:00:08
5 Nacer Bouhanni (Fra) Cofidis, Solutions Credits
6 Loïc Vliegen (Bel) BMC Racing Team
7 Marcel Kittel (Ger) Katusha-Alpecin 0:00:10
8 Riccardo Minali (Ita) Astana Pro Team
9 Alexander Kristoff (Nor) UAE Team Emirates 0:00:14
10 Sonny Colbrelli (Ita) Bahrain-Merida
Groenewegen was understandably annoyed after losing the race lead yesterday. He suffered a mechanical problem just as the winds broke up the peloton and used his team vehicle to help him get back to the bunch. It was the second consecutive day that the Dutchman had suffered a mechanical issue and he let rip at his mechanics when he spoke to Cyclingnews after the stage.
44km remaining from 172km
The leading group has been reduced to just four riders with Chris Williams and Sun Xiaolong dropping back. The gap continues to sit around the 4:25 mark.
The Hatta Dam made it's first appearance at the 2015 edition of the Dubai Tour - the second running of the event. John Degekolb put in a stellar performance to win there that year and he's looking to do it again this year. Juan Jose Lobato won the last time the race visited Hatta Dam.
40km remaining from 172km
Sun Xiaolong is now back with the bunch as the Quick-Step Floors-led peloton bring the gap down to four minutes. Meanwhile, Bevilacqua is been dropped, leaving the breakaway with just three riders.
UAE Team Emirates doing some work on the front of the bunch. Filipo Ganna could be in with a shot at taking something away from today's stage. He finished third overall at the Vuelta a San Juan last month.
There have been some attacks at the front of the bunch and the result is the peloton splitting into bits.
It is Astana that have launched the move with two riders and Quick-Step ding the chasing. There are riders all over the road.
The gap to the Astana pair is quite slim at the moment and the peloton has recovered from the initial injection of pace. This could be a bit of a chasse patate for Astana.
27km remaining from 172km
While all of this is going on behind, the three out front are plugging away. The gap has come down to 3:51 but they are rotating duties nicely for the moment.
Rally have stepped up to Pro Continental level this season and they've been keen to grab the opportunity with both hands. They've done well in the opening few days with Eric Young getting into the top 10 on the opening day and into the top 20 on the next two stages.
@quickstepteam Fri, 9th Feb 2018 10:03:15
The Astana duo of Bizhigitov and Fominykh have been brought back as the peloton begins it's turn towards the Hatta Dam.
While the peloton wasn't all that pleased with Astana going on the attack, the upping of the pace has brought the gap back to 3:22 with 22km to go. It's still quite a sizable gap but that finish is tricky so this is no foregone conclusion.
Conor Dunne is the latest in a long line of Aqua Blue riders that have been on the attack at this year's Dubai Tour. Andy Fenn went out on day one and Mark Christian had a day in the breakaway yesterday. Dunne will struggle to compete with the two Rally riders over the finishing terrain, considering his height, but let's see how he fares.
18km remaining from 172km
There is a lot of action at the front of the bunch as a number of teams help the chase. Dimension Data, Quick-Step Floors, Bahrain-Merida and UAE Team Emirates are all putting in turns and the gap has dropped to 2:48.
This is a brutal pace being set by the peloton and there will be some riders who will pay the price for that at the finish.

@Cyclingnewsfeed Fri, 9th Feb 2018 10:15:52
14km remaining from 172km
The road towards Hatta Dam is not flat and that is providing an extra challenge for the pack as they try to close down this chase. The gap is coming down, but the rate at which it is doing so is slowing. The three leaders have 2:08 on the peloton for now.
Brandon McNulty is the best placed rider in the breakaway. He's currently 35th in the standings at 14 seconds down, making him the virtual leader. He could take the race lead if the break can keep a small advantage on the bunch.
12km remaining from 172km
Carpenter putting in a big pull on the front of the breakaway. The pain is etched on his face. It would be huge for the Rally team to take the leader's jersey.
And that's Carpenter's work done. He put in a huge effort there before peeling off and heading out the trap door at the back. Just Dunne and McNulty remain.
Dunne did a brief turn on the front but a brief acceleration from McNulty is enough to finish him off. The Irishman didn't really stand much of a chance against the American on this terrain.
10km remaining from 172km
Tleubayev has gone on the attack from the peloton. Astana is eager to do something today. Meanwhile, McNulty is forging on but he's only got a minute on the bunch behind.
Despite having a rider on the attack, Astana is also pulling on the front of the peloton and it's all back together again in the bunch.
10km remaining from 172km
With less than 10km to go, McNulty is now holding a gap of 1:23. This is going to be touch and go, but McNulty is looking strong right now.
Mark Christian now goes on the attack after Dunne is caught.
7km remaining from 172km
Bahrain-Merida now finally chipping in and helping Astana. It looks like most of the sprinters teams have given up the ghost.
Marcel Kittel has been dropped from the peloton by that blistering pace. Dylan Groenwegen is also in trouble.
Christian going alone as Quick-Step Floors now take up the pace setting they have sensed an opportunity to do some damage to their rivals behind.
6km remaining from 172km
The road has flattened out, which ha allowed Kittel and Groenewegen to catch up. Christian has been brought back and we've got a more concerted effort to bring McNulty back.
McNulty has just 1:15 on the chasing pack. He could lose a lot of time on the final rise, so it remains to be seen if he can hold on but it is looking good for the American.
My apologies, Dunne had not been caught by the peloton just yet. The Aqua Blue rider is now in the sight of the bunch.
5km remaining from 172km
There was a touch of wheels in the back of the peloton, causing several riders to move dramatically across the road. Danny Pate was unlucky and got taken out. Aside from a few scratches, he seems to be ok and should be able to finish the stage.
3km remaining from 172km
Bahrain-Merida and LottoNL-Jumbo now making the chase. They've got the gap to just a minute for McNulty. They'd like to put themselves into position for the win but this is also a damage limitation exercise.
If they can keep McNulty relatively close, there is still the opportunity to take the overall win in tomorrow's sprint stage. Just 52 seconds for McNulty.
2km remaining from 172km
The peloton is in one long line under the pressure from Bahrain-Merida. Kristjan Koren is doing the damage at the moment. The gap coming down to 47 seconds but McNulty holding on.
This is a huge effort from McNulty. How will his legs be when he hits the Dam? He's got a 42-second advantage and bonus seconds on offer at the finish.
1km remaining from 172km
Bahrain-Merida continue the chase with all the main sprinters' teams sitting behind them. Hard to see who is there and who has missed out as the bunch has reduced. 35 seconds now for McNulty.
Flamme rouge for McNulty. He is giving it his all.
McNulty hits the climb. This is going to be brutal.
The road heads up and McNulty flicks down the gears.
He is grinding his way up and we wait for the peloton
Colbrelli is right behind him and he could be caught.
That was a chaotic finish and it has sapped the energy of everybody. McNulty put in a solid effort but Colbrelli delivered after a huge effort from his team.
That is perhaps Colbrelli's biggest career win so far.
Teammate Vincenzo Nibali comes over to congratulate him. He could well be in the race lead, we await the results.
Avrage race speed today was 46kph. Even with the hills, it has been the fastest stage so far this week.
This is how it finished on the stage
1 Sonny Colbrelli (Ita) Bahrain-Merida 03:40:50
2 Magnus Cort (Den) Astana Pro Team
3 Timo Roosen (Ned) LottoNL-Jumbo
4 Alexander Kristoff (Nor) UAE Team Emirates
5 Giacomo Nizzolo (Ita) Trek-Segafredo
6 Elia Viviani (Ita) Quick-Step Floors
7 Tom Bohli (Swi) BMC Racing Team
8 Loic Vliegen (Bel) BMC Racing Team
9 Nacer Bouhanni (Fra) Cofidis, Solutions Credits
10 Nathan Van Hooydonck (Bel) BMC Racing Team

No time gaps there, due to the UCI's new regulations, which means that Viviani is still the race leader.
The GC in brief
1 Elia Viviani (Ita) Quick-Step Floors 16:00:28
2 Magnus Cort (Den) Astana Pro Team 00:00:02
3 Sonny Colbrelli (Ita) Bahrain-Merida 00:00:04

It is still all to play for but Viviani this really should be Viviani's race to lose. He's faster than both Cort and Colbrelli. Provided things run relatively smoothly tomorrow, Viviani should be the 2018 champion.
A full look at the top 10 in the GC after that stage
1 Elia Viviani (Ita) Quick-Step Floors 16:00:28
2 Magnus Cort (Den) Astana Pro Team 00:00:02
3 Sonny Colbrelli (Ita) Bahrain-Merida 00:00:04
4 Nathan Van Hooydonck (Bel) BMC Racing Team 00:00:07
5 Nacer Bouhanni (Fra) Cofidis, Solutions Credits 00:00:08
6 Lo•c Vliegen (Bel) BMC Racing Team
7 Timo Roosen (Ned) LottoNL-Jumbo 00:00:10
8 Alexander Kristoff (Nor) UAE Team Emirates 00:00:14
9 Jean-Pierre Drucker (Lux) BMC Racing Team
10 Dylan Teuns (Bel) BMC Racing Team

Viviani is keeping a level head after keeping hold of the blue jersey today. He had this to say following the stage.
"I think it is not the finish. I only have two seconds on Cort Nielson, and you've seen how strong he is. I think that it is going to be an interesting day tomorrow," he said. "We have a strong team, we saw today with what Niki [Terpstra] and Lampy [Yves Lampaert] did in the last bit to close the breakaway. I'm happy with the result because the goal was to defend the jersey and be there. I think I can't do more than this. I can't really stay with Colbrelli. When he went, I felt the legs get tight and I just tried to arrive and not give a gap in the middle of the riders. Cort Nielson is really close but we have the guys to control.
"The good thing is that Cav and Kittel are not really close. We can control it tomorrow. I think I have the team to do that and I just have to do my best sprint. It is another chance to win a stage."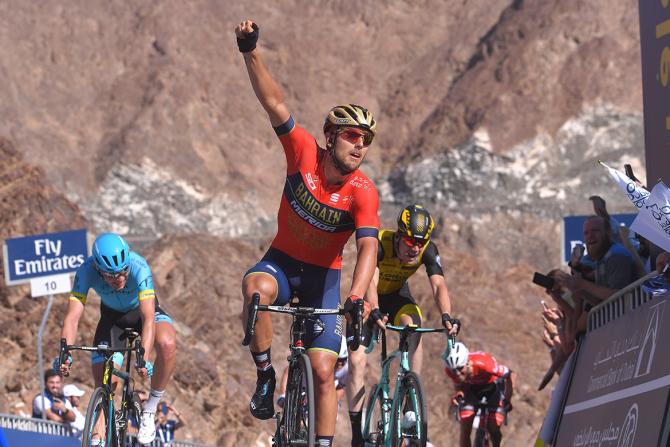 Giacomo Nizzolo finished fifth today after a late call meant he was Trek-Segafredo's option for today, rather than John Degenkolb.
""In a stage like today you need good legs. I felt good; I just missed the last 30m. I am quite happy about my performance, it means I am in a good way to be back," he said. ""We talked with five kms to go, just after the climbs, and John Degenkolb said he was not feeling so good. I was feeling okay so we said okay we go for me, and we see. We just look for tomorrow now."
Stage winner, Sonny Colbrelli said of his stage win: "I really wanted to win today because the team has been working for me since day one. I was close yesterday. Today, again, Bahrain-Merida has done a great job. I launched the sprint from very far out because I had a mechanical and I was stuck on the 53. I couldn't wait for this race to end. The last 50 metres looked to me like an infinity. This victory means a lot for my team and is very important for my morale. Even without being the favorites, we raced as a team like leaders."
Colbrelli stuck in the big ring on that finish. Not what you want on such a horribly steep climb.
Our full report and gallery from today's stage are available here.
This is what the joy of victory looks like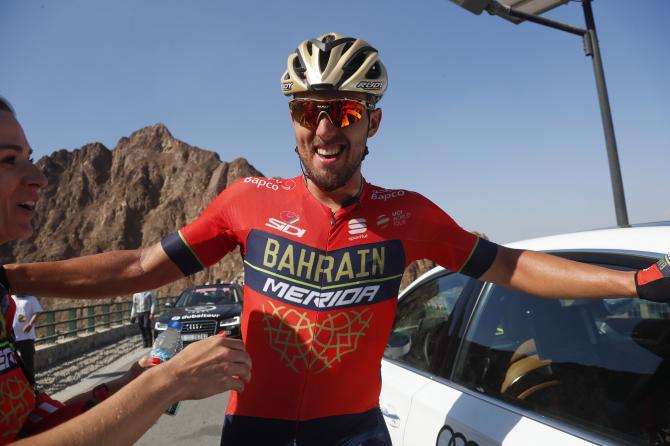 The Dubai Tour will finish tomorrow and many of the riders will move onto the Tour of Oman next week. Read up on the 2018 edition with our race preview.

@TeamCOFIDIS Fri, 9th Feb 2018 11:51:54
@marcelkittel Fri, 9th Feb 2018 11:55:10
Tomorrow's stage should be one for the sprinters, and is open to a few crosswinds too. It should be an interesting finish to the five-day race. Check out tomorrow's route here.
Don't forget to have a listen to our latest podcast. If you missed any, then you can find old episodes here.
We'll leave you with this photo of Marcel Kittel summing up just how tough that final climb is. Remember to tune in tomorrow for live coverage of the final stage.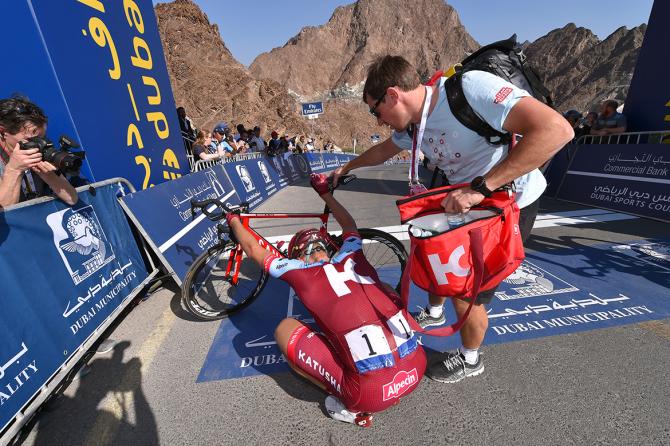 Sign up to the Cyclingnews Newsletter. You can unsubscribe at any time. For more information about how to do this, and how we hold your data, please see our privacy policy
Thank you for signing up to Cycling News. You will receive a verification email shortly.
There was a problem. Please refresh the page and try again.