Wattbike launches new Atom smart bike
By Josh Croxton
Updated model offers improved shifting, faster reactions to cycling apps and increased data accuracy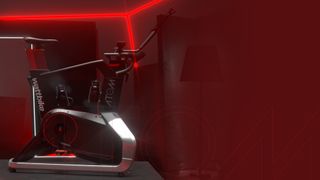 (Image credit: Wattbike)
Wattbike has today announced the next-generation Atom smart bike, which claims instantaneous shifting response, faster reaction times to indoor cycling apps, data accuracy within one per cent, as well as a maximum resistance of 2,500 watts.
With the latest Atom, Wattbike looks to have addressed some of the flaws around the original Atom, such as software and gear-shifting delay, which made the Atom imperfect for short power intervals and rolling Zwift races.
"We didn't down tools and pat ourselves on the back when the Atom was launched in 2017," said Andy McCorkell, Wattbike's head of product. "We really listened to our customers and the community to continually improve the product. The next generation Wattbike Atom takes this a step further, to combine the latest innovative technology and learnings from our range of home and commercial products."
The way Wattbike has achieved these improvements comes via a new electromagnetic resistance system and a vastly increased number of sensors. Instead of using motors to move magnets, the new resistance system changes the electric current to the magnet to instantaneously amend the braking force. In turn, the rider's shifting input will be felt immediately, and the bike will react faster to changes in gradient or interval resistance from apps such as Zwift or TrainerRoad.
A cadence sensor has been added to the flywheel, as well as a new crank angle sensor, which will read 48 times per revolution (for reference, the original measured just twice per revolution). Not only will this complement the improvement in the bike's responsiveness, but it will also improve the accuracy of data collected for post-ride analysis.
The 44kg weight, 50 x 100cm footprint and 150cm maximum height all remain the same. The maximum rider weight also remains unchanged at 135kg, as does the requirement for mains power.
The new Wattbike Atom will retail at £1,899.99, and will be available in the UK as of the July 1.

Thank you for reading 5 articles this month* Join now for unlimited access
Enjoy your first month for just £1 / $1 / €1
*Read 5 free articles per month without a subscription

Join now for unlimited access
Try your first month for just £1 / $1 / €1
Josh has been with us as Senior Tech Writer since the summer of 2019 and throughout that time he's covered everything from buyer's guides and deals to the latest tech news and reviews. On the bike, Josh has been riding and racing for over 15 years. He started out racing cross country in his teens back when 26-inch wheels and triple chainsets were still mainstream, but he found favour in road racing in his early 20s, racing at a local and national level for Team Tor 2000. He's always keen to get his hands on the newest tech, and while he enjoys a good long road race, he's much more at home in a local criterium.
Sign up to the Cyclingnews Newsletter. You can unsubscribe at any time. For more information about how to do this, and how we hold your data, please see our privacy policy
Thank you for signing up to Cycling News. You will receive a verification email shortly.
There was a problem. Please refresh the page and try again.