Urán back on the bike after three-month injury lay-off
Colombian says he considered retirement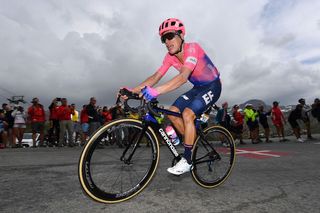 (Image credit: Getty Images)
Three months on from a crash in which he feels he was lucky to escape with his life, Rigoberto Urán is back on his bike. The Colombian, who spent nearly a month in hospital, is able to start training on the road but revealed he had considered ending his racing career. 
Urán, 32, crashed on stage 6 of the Vuelta a España, suffering a fractured shoulder blade and collarbone, several broken ribs and a punctured lung. He underwent seven hours of surgery, with doctors telling him he was 'lucky to be alive'.
Doctors removed a plate that had been affixed to his collarbone after a previous crash and replaced it with a new one, and also attached a metal plate to stablise his scapula. It was several weeks before he was well enough to take the long flight to Colombia and he has since continued his recovery at home.
On Saturday, Urán posted an update on his social media, sharing a video of him zipping up his EF Education First jersey, about to get on his bike on what he described as 'a very special day'.
"After three months, I am, for the first time, putting on my kit again," Urán said. 
"We're going to see how I am. I've had a good recovery and now I'm going to try and go out on the bike on the road. After so long, I'm very excited about it."
Urán said his left hand was "still fucked" but that his condition was "much much better". He once again thanked his fans for their support. "You helped me a lot and that's why I'm here, back on my bike, ready to train. I hope it all goes well and the bones have healed well."
A day earlier, Urán had spoken to the media in Medellin at the opening of a new store of his clothing company, where he revealed he had considered walking away from the sport.
"Mentally, since the accident, I've been struggling with many things. I even thought about retiring - I thought about it many times in the clinic. Now, when I'm back on my bike, I hope to get back to my old level."
Urán explained that, although he still has pain in his hand and ribs, his collarbone and scapula have healed well. The biggest obstacle, however, is his lung, which was punctured in the crash. 
"I'm still having therapy on the lung but it's very slow," he said. "At the moment I'm breathing well but have to start training to see how it really is."
Hoy es un día muy especial para mi, nuevamente en bici después de 3 meses. GRACIAS,GRACIAS, GRACIAS 🙏 por todo el apoyo y la moral que me brindaron durante todo este tiempo. No olvidare nunca tanto amor ❤️. pic.twitter.com/4vgC5dsa45November 16, 2019
As Features Editor, Patrick is responsible for Cyclingnews' long-form and in-depth output. Patrick joined Cyclingnews in 2015 as a staff writer after a work experience stint that included making tea and being sent to the Tour de Langkawi. Prior to that, he studied French and Spanish at university and went on to train as a journalist. Rides his bike to work but more comfortable on a football pitch. 
Sign up to the Cyclingnews Newsletter. You can unsubscribe at any time. For more information about how to do this, and how we hold your data, please see our privacy policy
Thank you for signing up to Cycling News. You will receive a verification email shortly.
There was a problem. Please refresh the page and try again.