Olympics: German cycling coach apologises as UCI condemns racist remarks
Patrick Moster encouraged Nikias Arndt to 'catch the camel drivers'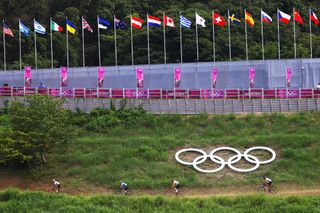 (Image credit: Getty Images Sport)
There is was a racism scandal at the Tokyo Olympics on Wednesday after German coach Patrick Moster was caught on camera calling African or Middle Eastern competitors 'camel drivers'.
Moster was shouting encouragement to Nikias Arndt when he was out on course at a feed zone, around 22 minutes into the German's ride on Wednesday's time trial.
He can be heard, appearing to shout 'Hol die Kameltreiber', which translates as 'go catch the camel riders'.
Several seconds previously, Eritrea's Amanuel Ghebreigzabhier had passed by, hot on the heels of Algeria's Azzedine Lagab.
Arndt was the fifth rider to start and the other two riders ahead of him on the course were Iran's Saeid Safarzadeh, and Ahmad Badreddin Wais, who was representing the Refugee Olympic Team.
Later on, Moster issued an apology via the DPA press agency in Germany.
"I was in the feed zone and cheered on Nikias Arndt. In the heat of the moment and with the overall burden that we have here at the moment, my choice of words was wrong," he said.
"I'm so sorry, I can only sincerely apologise. I did not want to discredit anyone. We ourselves have many friends with North African roots. As I said, I'm sorry."
The German Cycling Federation has yet to comment but the country's Olympic Federation has already issued a statement to say it will address the matter directly with Moster.
"Team D stands for adherence to the Olympic values of respect, fair play, and tolerance and lives them in all of its sporting competitions," said the president, Alfons Hörmann.
"It is important that Patrick Moster apologized immediately after the competition. We will seek a personal conversation with him today and deal with the situation."
After the event, Arndt himself took to social media to distance himself from the comments.
"I am appalled by the incidents at today's Olympic time trial and would like to distance myself clearly from the statements of the sporting director! Such words are not acceptable," he wrote.
"The Olympics and cycling stand for tolerance, respect and fairness. I represent these values 100% and take my hat off to all the great athletes who have come from all over the world here in Tokyo!"
Finally, the UCI issued a statement of its own later on Wednesday evening, saying it "deeply regrets" the words used by Moster.
"This remark goes against the values the UCI represents, promotes and defends. There is no place for racism in sport, and the UCI continues its commitment to eradicating all forms of discrimination from cycling and encouraging diversity and equality."
CN Rassismus racism Patrick Moster ist seit 2012 Leistungssportdirektor beim BDR, @wirsindradsport ist das so normal bei euch? pic.twitter.com/86jxeYYZJJJuly 28, 2021

Thank you for reading 5 articles in the past 30 days*
Join now for unlimited access
Enjoy your first month for just £1 / $1 / €1
*Read any 5 articles for free in each 30-day period, this automatically resets
After your trial you will be billed £4.99 $7.99 €5.99 per month, cancel anytime. Or sign up for one year for just £49 $79 €59

Join now for unlimited access
Try your first month for just £1 / $1 / €1