New Trek gravel bike ridden by Quinn Simmons at Unbound Gravel
By Josh Croxton
Assumed to be the new Trek Checkpoint, the bike borrows features from elsewhere in Trek's road lineup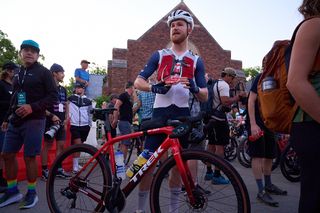 (Image credit: Wil Matthews)
It's becoming apparent that Trek has been busy in the design room over recent months. Hot on the heels of Trek-Segafredo riders taking to the Critérium du Dauphiné aboard all-new Trek time trial bikes, it looks as though Trek has another new bike on the way. 
Quinn Simmons, Trek-Segafredo's former Junior world champion, took to the start line of Unbound Gravel as one of the favourites to win the race, and it appears he did so aboard an all-new Trek gravel bike. 
In this image captured by Wil Matthews for Cyclingnews, it's apparent that the bike Simmons rode isn't a model from Trek's existing lineup. 
Neither Trek nor representatives from the Trek-Segafredo team have been able to confirm any further details on the bike, so at this stage, we can only assume that this is the new Trek Checkpoint. 
It looks as though the new bike has borrowed technology from throughout the rest of the Trek road lineup, with a head tube that mimics the brand's Emonda, and the seat tube junction being similar to the second-tier Domane SL. 
At the front, that Emonda-like head tube has followed the trend set by road bikes over recent years and been treated to integrated cabling. A brake hose can be seen entering the front of the head tube in the same place as it does on Trek's lightweight racer. The hoses then eject from the fork leg and non-drive-side chainstay in the same place as on the current Checkpoint. 
While the seatpost itself is similar to the seat mast design used by the existing Checkpoint, the Isospeed design is slightly different in shape, and most closely resembles that of the existing Domane SL, which helps to increase bump-absorption but without the adjustment offered by the higher-spec Domane SLR. The shape of the top tube also mimics the Domane, with more curvature than the existing Checkpoint. 
The fork looks to still have a fender mount, suggesting Trek has kept fender compatibility. However, in the picture we have here, it's not possible to spot any mounts on the rear seat stay, meaning Trek has likely used the hidden mounting design found on models in the Domane range.  
Finally, it looks as though Trek has done away with the stranglehold sliding dropout design in favour of the more simple fixed position thru-axle. 
Of course, with the absence of any confirmed details, we're unsure of a potential launch date for the bike, but as ever, we will be the first to share the news as soon as we have it. 
Sign up to the Cyclingnews Newsletter. You can unsubscribe at any time. For more information about how to do this, and how we hold your data, please see our privacy policy
Thank you for signing up to Cycling News. You will receive a verification email shortly.
There was a problem. Please refresh the page and try again.