Letizia Paternoster hit by car while training in Italy
By Cyclingnews
Trek-Segafredo rider suffers wrist fracture and minor facial injury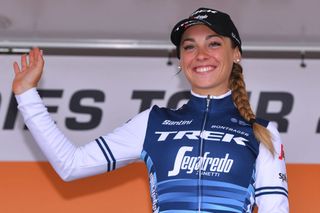 (Image credit: Getty Images)
Italy's Letizia Paternoster has been diagnosed with a fractured scaphoid in her left wrist and a broken front tooth after being hit by a car in Arco, near Trentino. The injuries were confirmed by her team Trek-Segafredo in a medical update on Friday.
According to early reports in the local media, Paternoster was hit by a car on a roundabout. Trek-Segafredo later confirmed that the accident took place on her familiar home roads between Arco di Trento and Riva del Garda around 9:30 a.m. Neither Paternoster nor the vehicle were travelling at high speed, and the driver immediately stopped to provide assistance until an ambulance arrived.
"Everything happened so quickly that I was not able to understand," Paternoster said in a team medical update. "I only reacted with my hand to lessen the fall. When I calmed down, I was able to tell that my head was ok, then I focussed on my hand. Unfortunately, the x-ray confirmed the bad feeling."
Paternoster was taken to hospital by ambulance where she was treated for her injuries. Trek-Segafredo physician Nino Daniele was in contact with the Arco hospital and confirmed Paternoster's injuries to include a small detachment on the lateral side of the left-hand scaphoid and a front-tooth fracture which was repaired by her dentist after leaving the hospital.
Regarding the scaphoid, the doctors in Arco applied a transitory cast to keep it immobile.
"In the afternoon, Letizia was visited by an orthopedist who confirmed that she does not need surgery," Daniele said. "As a precaution tomorrow she will be submitted to an MRI scan, and the cast will be replaced with a small tailored cast. This will allow her to put her hand on the handlebar and ride on a home trainer. The prognosis for full recovery is 30 days."
Although she will require 30 days to recover, the 20-year-old rider is likely to return to training on a stationary bike before that.
The L'Adige newspaper reported that the driver of the car admitted to not seeing Paternoster but claimed his view was blocked by the frame of the windscreen.
Paternoster is considered one of the rising stars of the peloton and has shown her talents on the track and the road. She was about to start her winter training in preparation for the 2020 season where she is targeting success on the track at the Tokyo Olympics.
She won the opening stage of the Santos Women's Tour Down Under in January and then won the under-23 European Championships in August. She was also second in the final stage of the Madrid Challenge by la Vuelta.
Despite the setback, Paternoster is maintaining a positive outlook and is looking forward to getting back on the bike post-recovery.
"The disappointment is huge," she said. "Today was only my second day of training after returning from holiday and post-season rest. Of course, it's not the best way to start the new season, but despite everything, I want to look ahead, think positive, and react. A hand fracture must not affect my preparation for the important 2020 season."

Thank you for reading 5 articles this month* Join now for unlimited access
Enjoy your first month for just £1 / $1 / €1
*Read 5 free articles per month without a subscription

Join now for unlimited access
Try your first month for just £1 / $1 / €1
Sign up to the Cyclingnews Newsletter. You can unsubscribe at any time. For more information about how to do this, and how we hold your data, please see our privacy policy
Thank you for signing up to Cycling News. You will receive a verification email shortly.
There was a problem. Please refresh the page and try again.