James Knox criticises Tour Down Under disqualification for drafting cars after crash
'Commissaires should not punish riders for staying behind after a crash to be properly evaluated'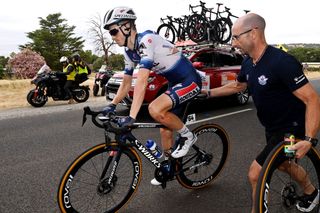 (Image credit: Tim de WaeleGetty Images)
Following his disqualification from the Tour Down Under for drafting behind team cars after he was caught in a crash 55km from the end of stage 1, James Knox has called out a conflict between UCI rules and rider safety.
The Briton had undergone a concussion check following his crash, which was among a spate of falls throughout the peloton during the stage, and then had to stop again to change bikes. However, UCI commissaires at the race then disqualified him for drafting team cars in a bid to make his way back to the peloton.
Writing on Twitter on Thursday morning, Knox laid out the chain of events that led up to his disqualification during the 150km stage in Tanunda, saying that the UCI commissaires at the race prevented him from racing back to the peloton after his two stoppages.
"As some of you may have seen, I was disqualified from the first stage of Tour Down Under. I crashed hard at 55km to go and required a medical assessment from my team doctor to make sure that no bones were broken and more importantly, that I was not concussed," Knox wrote.
"After remounting, I realised my handlebar was broken and needed to stop again and change onto my spare bike. The race situation at this moment was settled after the intermediate sprint, but the commissaire refused to let me stay behind the car for more than a couple of kilometres.
"The exact reasons for this I'm not entirely sure. My only ambition was to rejoin the back of the convoy, or at a minimum, to the other crashed riders ahead of me.
"Hoping to continue in a race I've travelled around the world to partake in and still has four days remaining, I watched from behind, as other crashed riders were allowed to stay behind their cars to rejoin the race as you would expect. I have to accept my own responsibility for the mistakes I made after this."
Knox went on to say that he was left to ride alone in the convoy without any information about the race situation and then took a draft from some cars in an attempt to get back on.
He noted that, given how his situation ended up, he was effectively made to choose between getting checked over for a potential concussion and getting back on the bike as quickly as possible to resume the race.
"On my own with no information given about time gaps or time cuts, I took some draft from a couple of soigneur cars, who were leaving the final feed, for a few kilometres," Knox continued.
"I was seen doing so and disqualified for this. It seems clear to me if cycling is going [to] take serious steps in maintaining rider welfare, commissaires should not punish riders for staying behind after a crash to be properly evaluated.
"The actions they took in the aftermath of the crash clearly demonstrated to me I would have been better off immediately remounting without undergoing a proper examination," he wrote. "The rules for returning to the convoy are very tricky but I feel like this was a clear-cut example that I wasn't trying to use the cars for an advantage, nor would I have been in that situation without crashing."
Cycling's concussion protocol has been in place since the end of 2020, a long overdue step in a sport where riders can easily sustain head injuries during crashes. Earlier in the year, a visibly unsteady Romain Bardet had raced for 90km on stage 13 of the Tour de France following a crash and was later diagnosed with a small brain haemorrhage.
UCI guidelines mean that riders and non-medical team staff be familiar with a 'pocket guide' on how to spot the signs of a potential brain injury, while first responders to the scene of a crash should check for several concussion symptoms with possible further evaluation to follow.
Knox's plight raises questions over a possible conflict in the UCI regulation – between the need to check over injured riders and rules preventing riders from drafting cars to get back to the race – and the lines of communication among UCI commissaires during live racing.
Current UCI regulations prohibit 'sheltering behind or taking advantage of the slipstream of a vehicle' with riders and drivers subject to fines and classification penalties and disqualification on the table 'in serious cases, in cases of repeating infringement or aggravating circumstances, or if an infringement offers an advantage'.
Following Knox's statement, several riders took to Twitter in support of the Soudal-QuickStep climber.
Ineos Grenadiers veteran Luke Rowe pointed out the "very dangerous" choice riders would have to make given what happened to Knox.
"So, what the UCI are saying here is very dangerous!" Rowe wrote. "If you crash, get straight back on your bike without getting checked out, otherwise you're potentially out [of] the race. Instead of 'get checked out properly, do the protocols, then receive aid to get back to the peloton'."
Oliver Naesen (AG2R Citroën), meanwhile, called the decision a "joke" and said that in situations like Knox's, riders should be allowed to return to the peloton.
"Such a joke… Proper examining takes some time. When given a green light to start again, you should at least be allowed to be brought back to the last group. By drafting and without hanging on the car, obviously," he wrote. "Shame they DQ's you for this, at the other side of the world."
Cyclingnews has reached out to the UCI for comment.

Thank you for reading 5 articles in the past 30 days*
Join now for unlimited access
Enjoy your first month for just £1 / $1 / €1
*Read any 5 articles for free in each 30-day period, this automatically resets
After your trial you will be billed £4.99 $7.99 €5.99 per month, cancel anytime. Or sign up for one year for just £49 $79 €59

Join now for unlimited access
Try your first month for just £1 / $1 / €1