Giro Donne and Tour de France Femmes on same level, says Deignan
By Matilda Price published
Tour's large platform and media interest doesn't mean more prestige in eyes of the British rider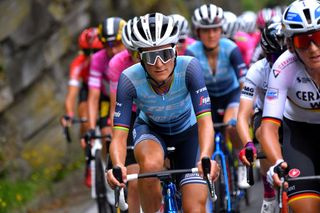 (Image credit: Getty Images)
The Tour de France Femmes will not be more prestigious than established women's stage races such as the Giro Donne, according to Lizzie Deignan (Trek-Segafredo). The long-awaited women's race, organised by ASO and scheduled for the week after the men's race, is expected to attract significant media and commercial interest.
However, Deignan said that from a rider's perspective it does not mean the Tour de France Femmes will overtake other, established races in prestige and importance.
"There's no getting away from the fact that it is the biggest race in terms of media exposure and the platform that it will give us for our sponsors," Deignan said. "So it's inevitable that it will be a massive target of every team on the start line, because it's so hugely important commercially.
"But that doesn't mean that any other stage race, like the Women's Tour or the Giro, that are already well-established, aren't as prestiged, from a personal perspective.
"For me to be able to say I've won the women's Giro would have the same standing as being able to say I've won the women's Tour de France, because still at such an early stage."
Deignan's best result at the Giro Donne is fourth overall in 2021, and she is among Trek Segafredo's proposed team for the Tour de France Femmes, July 24-31, 2022.
Both the Tour de France Femmes and the Giro Donne will be Women's WorldTour races in 2022, after the Giro was briefly demoted to 2.Pro status after failing to meet live coverage requirements.
At eight stages in length in 2022, the Tour de France Femmes will be shorter than the 10-day Giro Donne. As the closest equivalent to Grand Tours for the women's peloton, but still considerably shorter than the men's counterparts, eventual growth is something Deignan hoped for.
"I think eventually that should be the goal, there should be a three-week Tour de France for women," she said. "Absolutely, there's no reason why not.
"But starting somewhere is a good point. It's not that we, the athletes, aren't capable of it, it's just that everything else that goes around it is not that easy to create. It's the biggest race in the world. So hopefully that will come."

Thank you for reading 5 articles this month* Join now for unlimited access
Enjoy your first month for just £1 / $1 / €1
*Read 5 free articles per month without a subscription

Join now for unlimited access
Try your first month for just £1 / $1 / €1
Matilda Price is a freelance cycling journalist and digital producer based in the UK. She is a graduate of modern languages, and recently completed an MA in sports journalism, during which she wrote her dissertation on the lives of young cyclists. Matilda began covering cycling in 2016 whilst still at university, working mainly in the British domestic scene at first. Since then, she has covered everything from the Tour Series to the Tour de France. These days, Matilda focuses most of her attention on the women's sport, writing for Cyclingnews and working on women's cycling show The Bunnyhop. As well as the Women's WorldTour, Matilda loves following cyclo-cross and is a recent convert to downhill mountain biking.
Sign up to the Cyclingnews Newsletter. You can unsubscribe at any time. For more information about how to do this, and how we hold your data, please see our privacy policy
Thank you for signing up to Cycling News. You will receive a verification email shortly.
There was a problem. Please refresh the page and try again.