Charlotte Worthington takes first Olympics BMX freestyle gold for Great Britain
A women's competition first of backflip 360, helps secure Worthington win ahead of Hannah Roberts of the US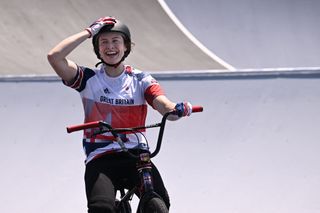 (Image credit: Getty Images Sport)
Charlotte Worthington of Great Britain has taken out the first ever BMX Freestyle Olympic gold medal, delivering a women's competition first as she pulled off a backflip 360 on her second attempt.
The three-time world champion from the USA, Hannah Roberts, had looked almost unbeatable after the first run, delivering a well-executed trick filled minute that scored an impressive 96.10. Worthington of Great Britain, though, showed that she had the potential to give that score a nudge if all went to plan.
She had come unstuck in her first run in the finals at the Ariake Urban Sports Park, falling as she attempted to deliver a backflip followed with a backflip 360, a trick not seen before in the women's competition. The rider from Great Britain, however, again went for broke and pulled it off in the second run, adding in a front flip near the end for good measure and setting a huge score of 97.5 for Roberts to try and beat.
The 25 year old from Manchester said she's not quite sure how she managed to execute such a spectacular performance after her initial fall.
"I just tried to take it one trick at a time," said Worthington after winning the event in its first ever appearance at the Olympic Games. "It was tough to get back up there after falling on my first run.
"You start to think, 'Oh, what if this isn't it? What if I've not got it'? But you've got to just keep telling yourself that you do."
After Worthington had completed her history making second run the rider for the United States, who was the top qualifier, still had a second attempt left to try and beat that high bar and deliver a gold medal winning score.
Things, however, didn't go to plan for Roberts, who made a mistake early and quickly conceded that it would be the silver medal for her. Switzerland secured the bronze medal, with Nikita Ducarroz scoring 89.20 in her first run, enough to hold off the second competitor from the United States, Perris Benegas. Australia's Natalya Diehm placed fifth.
The gold medal from Worthington is Great Britain's third from cycling, with Beth Shriever taking out the women's BMX Racing and Tom Pidcock the men's cross-county mountain biking. Kye Whyte also took out silver in the men's BMX racing.
"I'm over the moon," said Worthington. "I'm still sitting here waiting to wake up. I've been thinking about this day for the past three or four years, just going in and out of thinking I can, or I can't do it.
"I'm literally waiting to wake up right now. It feels like a dream."

Thank you for reading 5 articles in the past 30 days*
Join now for unlimited access
Enjoy your first month for just £1 / $1 / €1
*Read any 5 articles for free in each 30-day period, this automatically resets
After your trial you will be billed £4.99 $7.99 €5.99 per month, cancel anytime. Or sign up for one year for just £49 $79 €59

Join now for unlimited access
Try your first month for just £1 / $1 / €1
Simone joined the team as Production Editor based in Australia at the start of the 2021 season, having previously worked as Australian Editor at Ella CyclingTips and as a correspondent for Reuters and Bloomberg.