Bontrager adds lifetime warranty to its carbon wheel portfolio
By Aaron Borrill published
Bontrager, Trek's component arm, updates its carbon wheel policy to include coverage against all defects - at no extra cost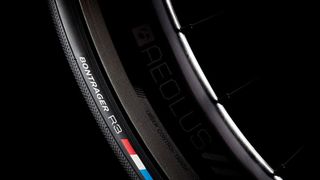 (Image credit: Bontrager)
In a bold move to further bolster customer confidence, Bontrager has introduced a lifetime warranty for all of its carbon wheelsets, spanning both road and mountain biking.
For the average rider, upgrading to a carbon wheelset is a big investment and a step many are reluctant to take what with the initial outlay and inherent risk of damage but Bontrager's new warranty should put all reservations to bed.
This warranty, in addition to the brand's Carbon Care Wheel Loyalty Program which offers free replacement - or repair - of carbon wheels damaged within the first two years of ownership, represents a two-stage safety net that protects Bontrager wheels against crashes and manufacturing defects
While this program only applies to the original owner, it comes at no additional cost and covers all Bontrager carbon wheels purchased aftermarket as well as those that come factory fitted on Trek bikes.
Beyond the two-year ownership warranty, the Carbon Care Wheel Loyalty Program will offer a further discounted replacement or repair of Bontrager carbon wheels.

Thank you for reading 5 articles this month* Join now for unlimited access
Enjoy your first month for just £1 / $1 / €1
*Read 5 free articles per month without a subscription

Join now for unlimited access
Try your first month for just £1 / $1 / €1
Aaron is Cyclingnews' tech editor. Born and raised in South Africa he completed his BA honours at the University of Cape Town before embarking on a career in journalism. As the former gear and digital editor of Bicycling magazine and associate editor of TopCar, he's been writing about bikes and anything with wheels for the past 16 years. A competitive racer and Stravaholic, he's twice ridden the Cape Epic and completed the Haute Route Alps. When not riding, racing or testing bicycles in and around the UK's Surrey Hills where he now lives, he's writing about them for Cyclingnews and Bike Perfect.
Height: 176cm
Weight: 61.5kg
Rides: Cannondale SuperSlice Disc Di2 TT, Cannondale Supersix Evo Dura-Ace Rim, Cannondale Supersix Evo Ultegra Di2 Disc, Trek Procaliber 9.9 MTB
Sign up to the Cyclingnews Newsletter. You can unsubscribe at any time. For more information about how to do this, and how we hold your data, please see our privacy policy
Thank you for signing up to Cycling News. You will receive a verification email shortly.
There was a problem. Please refresh the page and try again.