Best bike racks for cars
The best bike racks can ease the daunting prospect of carrying your bike on your car. Here's a round-up of the top-rated models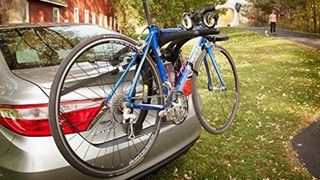 (Image credit: Saris)
Whether you're carrying bikes to a local race or on a riding road trip, being able to carry your bike outside the car not only leaves space for passengers but also means you don't have to put a greasy, road-grime-covered bike back in your car after a ride.
There are a wide variety of racks designed to carry your bike, some being semi-permanent installations such as roof- and hitch racks while others like trunk/boot racks and tailgate pads can be easily removed and stored when not in use.
The best bike racks for you will depend on your car, bikes, how many you'd like to carry, and how much you have to spend.
Roof racks
Most roof racks attach to crossbars, these can be anything from the square factory rails that some cars come with, to sleek aerodynamic bars from aftermarket brands; other racks use suction cups to vacuum seal a rack to your roof.
Bikes are then secured to the roof using the frame, front wheel or front axle. Each of which has advantages and disadvantages; however, the key thing to consider is will you be able to lift your bike onto the roof in the first place. If you're driving a tall SUV, consider a hitch or towbar rack, as getting heavy bikes onto the roof can be precarious. Wheel-off racks will lighten the load a bit and take away some of the height you'd otherwise have to conquer, however, if you will be carrying bikes that have various axles standards and hub spacing they can be fiddly. There are quite a few roof racks which grab onto the downtube; however, we would tend to steer away from this style as they can scratch your paintwork and, in the worst case, crush the frame.
Wheel-on roof racks are great if you're transporting bikes with various hub and axle standards. They don't touch the frame but they are a bit less stable, more expensive and require you to lift the bike higher.
Bikes on the roof are generally safer from other drivers should you get into a fender bender, just don't forget they are up there when you get home and drive into your garage or a multi-storey car park.
Hitch racks
Towbar or hitch racks take advantage of the 1 1/4in or 2in receiver tube or the tow ball on the back of your car and are the easiest to load of the bunch. Some hitch-mount racks will fold up and out of the way when not in use and many feature locks, not only for your bikes but also for securing the rack to the vehicle. They often fold for storage and feature a tilt or swing release so you can get into the back of your car without having to remove the bikes.
Unfortunately, hitch and towbar racks start out at the higher end of the price spectrum and as you add in features like built-in locks, lightweight materials, integrated repair stands, and tail lights, the price continues to climb.
Keep in mind that hitch racks also extend the length of your car considerably, so when you stop for a post-ride burrito take extra care backing up.
Before you buy a hitch rack, make sure to double-check your local laws and regulations. In Australia for example, if the rack obscures your license plate, you'll need an official accessory plate from the RTA and your rack will also need to illuminate the plate so it can be seen from at least 20m away in poor light conditions.
In the eyes of the law, the classic photocopy or piece of cardboard with your plate number scribbled in sharpie will earn you a hefty fine and a stern talking-to from the boys and girls in blue. That's not all; you may also cop a fine for driving around with an empty hitch rack on the back of your car — the moral of the story is do your due diligence before you buy a hitch or towbar rack so you don't have a run-in with the 5-0.
Trunk racks
These racks attach the back of your car using straps, with feet stabilising the whole thing against the car. They are the lightest and least expensive options and also the least secure.
With trunk/boot racks, installing the rack correctly is paramount as if you don't have something in the right place or pulled tautly, it can damage your paintwork. These work best with bikes that have more traditional double triangle construction and can be an awkward fit for sloping top-tube-style full-suspension mountain bikes.
Best overall
Timeless design that still holds up and isn't an eyesore
If it ain't broke, don't fix it. That is the mantra Saris has used with its Bones 2-Bike trunk/boot rack. The design was first introduced in 1996 and hasn't changed all that much since.
It's available in two- and three-bike versions and is made from 100 per cent recyclable materials and everything from the articulating feet to the arms are adjustable to make the rack fit onto just about any car — including those with small spoilers.
The arm that supports the bikes is curved which provides extra clearance, and the seatpost strap prevents the bikes from wobbling around too much when everything is mounted. Unfortunately, the front wheel is still free to move around, something which no rack of this style efficiently addresses.
Premium product
Sturdy platform hitch rack for two bikes
The Thule T2 Pro XT 2 bike rack is a platform hitch rack that takes two bikes, and operates with a tool-free auto attach system, for easy install and removal. You can secure bikes quickly and easily without touching the frame, so your paintwork is protected from scratches. Simply use the ratcheting arm to attach bikes by the wheels. There's also 12.5 inches of space between the two bikes, so you don't need to worry about them damaging each other.
For easy access to the rear of the vehicle, the rack tilts down and away. It's compatible with carbon frames, mountain bikes, downhill, electric and fat bikes, with wheel sizes ranging from 20-29 inches and tyre widths up to 5 inches. The maximum total load capacity is 120 pounds, or 60 pounds per bike.
Best value
Top draw construction and space for 4 bikes at an unbeatable price
With over 50 years in the bike rack business, Allen Sports has produced phenomenal value in this 4-bike hitch rack. It's brimming with excellent design features, like 22-inch carry arms that work with large bike frames and fold away when not in use, anti-wobble ties to keep the bike stable during transit, and the brand's patented tie-down system that is really easy to use. Most impressive however is how easy it is to use. It simply slots onto a standard 2-inch trailer hitch, stands upright, and is secured into place with a simple bolt, and that's it. The overall steel construction with black powder coat finish is sturdy and durable, and gives the impression of having a long lifespan. Having this top draw design and construction, and space for 4 bikes, is exceptional value at this price.
Most simple
Similar to the Thule Bike Carrier but cheaper
The Swagman XC2 hitch mount bike rack is very similar to the Thule Bike Carrier, but cheaper, and far simpler to use. It doesn't have the bells and whistles of some premium carriers, but it also doesn't carry the premium price tag, and that's important to note.
It is very easy to use, loading onto a universal hitch mount and featuring a pair of ratchet arms that securely lock the bike into place during transit, while the wide loading range can accommodate bikes as large as 59cm. Plus it can take bikes that weigh up to 35lbs each, making it a strong and capable option that will work with most bikes.
Most versatile
Compatible with everything from a sedan to an SUV
We had to feature another Allen Sports rack because they offer such great value, and this 2-bike trunk mount rack is no different. The design is very clever in that it's compatible with a wide range of vehicles, from sedans and hatchbacks to minivans and even SUVs.
Simple to use straps are well laid out, and offer safe and secure mounting. There are patches of durable padding at each contact point to protect the paintwork of both the bike and the vehicle, while individual tie-down points lock onto the top tube to hold the bike securely in place during transit. There are options to get this mount for 2-4 bikes, and it's even delivered fully assembled.
Roof mount
Installs in minutes with no wheel removal necessary
If you're just looking for something simple and easy to mount your bike upright to the roof of your car, the Upright Roof Mount from Swagman is a great choice. Following the instructions, you can install it quickly and easily to the roof of your car, and then secure your bike in place via the wheel. This means no frame contact, and no risk of scratching.
The versatile design is compatible with square, round or oval bars that are up to 3 inches wide, and you can install multiple units on a single vehicle, since this rack is for a single bike only.
Secure your bike in place using tie-down straps for wheels, and take advantage of the locking feature that's included, so you can have peace of mind when parked.
Sign up to the Cyclingnews Newsletter. You can unsubscribe at any time. For more information about how to do this, and how we hold your data, please see our privacy policy
Thank you for signing up to Cycling News. You will receive a verification email shortly.
There was a problem. Please refresh the page and try again.