Best bike racks for cars
The best bike racks can ease the daunting prospect of carrying your bike on your car. Here's a round-up of the top-rated models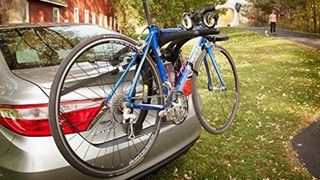 (Image credit: Saris)
Whether you're carrying bikes to a local race or on a riding road trip, being able to carry your bike outside the car not only leaves space for passengers but also means you don't have to put a greasy, road-grime-covered bike back in your car after a ride. 
There are a wide variety of racks designed to carry your bike, some being semi-permanent installations such as roof- and hitch racks while others like trunk/boot racks and tailgate pads can be easily removed and stored when not in use. 
The best bike racks for you will depend on your car, bikes, how many you'd like to carry, and how much you have to spend.
Roof racks
Most roof racks attach to crossbars, these can be anything from the square factory rails that some cars come with, to sleek aerodynamic bars from aftermarket brands; other racks use suction cups to vacuum seal a rack to your roof.
Bikes are then secured to the roof using the frame, front wheel or front axle. Each of which has advantages and disadvantages; however, the key thing to consider is will you be able to lift your bike onto the roof in the first place. If you're driving a tall SUV, consider a hitch or towbar rack, as getting heavy bikes onto the roof can be precarious. Wheel-off racks will lighten the load a bit and take away some of the height you'd otherwise have to conquer, however, if you will be carrying bikes that have various axles standards and hub spacing they can be fiddly. There are quite a few roof racks which grab onto the downtube; however, we would tend to steer away from this style as they can scratch your paintwork and, in the worst case, crush the frame. 
Wheel-on roof racks are great if you're transporting bikes with various hub and axle standards. They don't touch the frame but they are a bit less stable, more expensive and require you to lift the bike higher. 
Bikes on the roof are generally safer from other drivers should you get into a fender bender, just don't forget they are up there when you get home and drive into your garage or a multi-storey car park. 
 Hitch racks
Towbar or hitch racks take advantage of the 1 1/4in or 2in receiver tube or the tow ball on the back of your car and are the easiest to load of the bunch. Some hitch-mount racks will fold up and out of the way when not in use and many feature locks, not only for your bikes but also for securing the rack to the vehicle. They often fold for storage and feature a tilt or swing release so you can get into the back of your car without having to remove the bikes. 
Unfortunately, hitch and towbar racks start out at the higher end of the price spectrum and as you add in features like built-in locks, lightweight materials, integrated repair stands, and tail lights, the price continues to climb.
Keep in mind that hitch racks also extend the length of your car considerably, so when you stop for a post-ride burrito take extra care backing up. 
Before you buy a hitch rack, make sure to double-check your local laws and regulations. In Australia for example, if the rack obscures your license plate, you'll need an official accessory plate from the RTA and your rack will also need to illuminate the plate so it can be seen from at least 20m away in poor light conditions.
In the eyes of the law, the classic photocopy or piece of cardboard with your plate number scribbled in sharpie will earn you a hefty fine and a stern talking-to from the boys and girls in blue. That's not all; you may also cop a fine for driving around with an empty hitch rack on the back of your car — the moral of the story is do your due diligence before you buy a hitch or towbar rack so you don't have a run-in with the 5-0.
 Trunk racks 
These racks attach the back of your car using straps, with feet stabilising the whole thing against the car. They are the lightest and least expensive options and also the least secure.
With trunk/boot racks, installing the rack correctly is paramount as if you don't have something in the right place or pulled tautly, it can damage your paintwork. These work best with bikes that have more traditional double triangle construction and can be an awkward fit for sloping top-tube-style full-suspension mountain bikes. 
Sign up to the Cyclingnews Newsletter. You can unsubscribe at any time. For more information about how to do this, and how we hold your data, please see our privacy policy
Thank you for signing up to Cycling News. You will receive a verification email shortly.
There was a problem. Please refresh the page and try again.