Campagnolo groupsets explained
Unsure of the differences between Chorus and Record? This detailed overview of the Campagnolo groupsets should explain all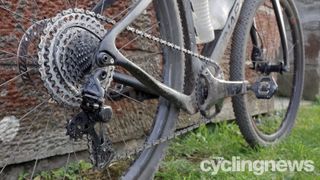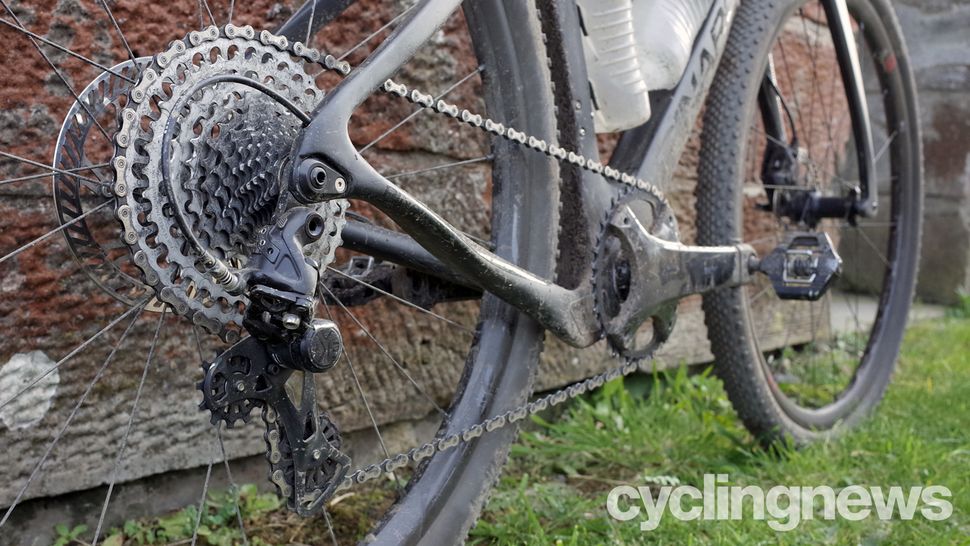 (Image credit: Graham Cottingham)
Founded in 1933 by Tullio Campagnolo, the quintessentially Italian cycling brand began after Campagnolo himself conceived a number of innovations while racing. Such ideas included the humble quick release and the derailleur, which we take for granted today. Campagnolo's continual desire to improve and innovate cemented the company as one of the pioneers in the sport.
Today, Campagnolo holds its position as an aspirational, premium brand, manufacturing a range of road and time-trial components, namely groupsets and wheelsets, as well as a collection of performance-orientated clothing. It's still active at the top tier of road racing as well, though not nearly to the degree it once was.
The Italian company has a dedicated gravel offering, the 13-speed Ekar groupset, which brings Campagnolo's archetypal ethos of style, durability and performance to the burgeoning gravel bike market.
Ekar is cable operated, but Campagnolo has also updated its Super Record EPS electronic groupset, which now operates wirelessly. Unlike Shimano Dura-Ace and SRAM Red AXS, there's still a mechanical option for Campagnolo's top spec groupset though, albeit the now previous version of it.
Scroll down to find all of the currently available Campagnolo groupsets to buy. You can also read our overview of the best Campagnolo wheelsets.
Campagnolo Groupsets
You can trust Cyclingnews Our experts spend countless hours testing cycling tech and will always share honest, unbiased advice to help you choose. Find out more about how we test.
Campagnolo Super Record Wireless
The ultimate in performance, but with a hefty price tag to match
Specifications
Shifting:
Electronic w/ Multi-Shift
Cranks:
165mm, 170mm, 172.5mm, 175mm
Chainrings:
50/34T, 48/32T, 45/29T
Cassette:
10-25T, 10-27T, 10-29T
Reasons to buy
+
Performance, adjustability
+
Aesthetics
+
Easy set-up
Reasons to avoid
-
Price
-
No thumb lever for the purists
Campagnolo's latest version of its 12-speed electronic groupset, which is currently only available at Super Record spec, has gone completely wireless. Like SRAM electronic groupsets, it uses a battery mounted on each derailleur to power the shifting, although unlike SRAM, these are not swappable - there's a different battery shape front and rear.
The bigger news is that Campagnolo has dispensed with its thumb shifter, in favour of two shifters mounted behind the brake lever, positioned above and below each other.
Again like SRAM, it's shrunk the cassettes, which now start with a 10T smallest sprocket rather than 11 teeth. This in turn has allowed Campagnolo to reduce chainring sizes and still offer a wide range with cassettes that have a 10-29T as the largest spread. The cassettes need a Campagnolo N3W freehub body on your wheels.
Despite the smaller components, Super Record Wireless is slightly heavier than its predecessor at just over 2.5kg.
The groupset is also disc brake only, with Campagnolo having ported over its already excellent disc brakes from the groupset's predecessor.
Another part that hasn't changed in spec is the crankset, which is made from carbon fibre with a titanium axle, which uses Campagnolo's Ultra-Torque system, essentially locking together the two halves of the axle in the centre with a single bolt.
The whole groupset is IP69K waterproof rated, meaning it can withstand being pressure washed. The shifters feature reach adjustment, although unlike Shimano Dura-Ace and SRAM Red AXS, there is no adjustment of brake lever free-throw.
The Super Record Wireless groupset also includes Bluetooth and ANT+ connectivity, allowing you to configure it and access diagnostics via the MyCampy app and interface to cycling computers.
Campagnolo Super Record
A world-class road groupset, more gear range and a sleek design
Specifications
RRP:
£2599.99 rim / £2859.99 disc
Shifting:
Mechanical w/ Ultra-Shift
Braking:
Disc, dual-pivot rim, direct-mount rim
Weight:
2014g rim / 2261g disc
Cranks:
165mm, 170mm, 172.5mm, 175mm
Chainrings:
53/39T, 52/36T, 50/34T
Cassette:
11-29T, 11-32T, 11-34T
Reasons to buy
+
Performance
+
Aesthetics
+
11-speed Campagnolo freehub compatible
The Campagnolo Super Record groupset was the first 12-speed groupset to hit the road cycling world. With it came a newly designed direct-mount rear derailleur, an updated 12-speed specific front derailleur, a new hollow carbon fibre four-arm crankset, updated shifter and flat mount disc brakes.
Campagnolo Super Record 12-speed features Ultra-Shift technology, which enables you to perform three downshifts (to larger sprockets) with a single throw of the lever, and five upshifts (to smaller sprockets) with a single press of the thumb-actuated lever - more than any of its mechanical competitors. You'll still feel each individual click and subsequent shift, so there's little chance of shift uncertainty. The option to trim the front derailleur position enables a smooth chain line and prevents chain rub, handy when cross-chaining.
The 12-speed cassette allows a wider gear range without creating gaps elsewhere on the block. The 6 biggest sprockets are made up of two triplets, which were each machined from a single block of steel, increasing stiffness. Set-up and modification is simplified by having just one rear derailleur option that will accommodate all available cassettes, complemented by the four-arm chainset with a single BCD (bolt circle diameter) for all three chainring configurations.
The Ergopower levers come with Campagnolo's Vari-Cushion rubber hoods which improve grip in all weather conditions. Using a small hex-key screw behind the brake lever, you can adjust the free-throw to ensure a comfortable ride for all hand sizes - a feature which is available down to Chorus level.
Campagnolo Record
Top-end mechanical shifting, saving money but with a few grams of added weight
Specifications
RRP:
£1764.99 rim / £1999.99 disc
Shifting:
Mechanical w/ Ultra-Shift
Braking:
Disc, dual-pivot rim, direct-mount rim
Weight:
2160g rim / 2389g disc
Cranks:
165mm, 170mm, 172.5mm, 175mm
Chainrings:
53/39T, 52/36T, 50/34T
Reasons to buy
+
11-speed freehub compatible
+
Super Record performance
Launched at the same time as the Super Record 12 speed mechanical groupset, Record is functionally very similar, but the difference in chosen materials - namely the omission of some titanium and carbon fibre - means it carries a bit of extra weight, whilst being a less expensive proposition.
Record borrows its cassette, chain and disc brakes from Super Record, meaning it gets the same 11-29, 11-32 and 11-34 tooth sprocket options, the same narrow 12-speed specific chain, and the AFS centre-lock rotors with a safety-inspired rounded external edge. It also includes ergonomically designed shifters with VariCushion hoods, which are designed to provide a secure grip in all weather conditions.
In redesigning the Record chainset, special attention has been paid to better cope with cross chaining and shifting during pedalling dead-spots. However, when compared to Super Record, the Ultra-Torque axle is steel rather than titanium, which adds 90 grams, and it relinquishes the low-friction ceramic bearings.
Campagnolo Chorus
The most affordable route into 12-speed Campagnolo road groupsets
Specifications
RRP:
£1199.99 rim / £1699.99 disc
Shifting:
Mechanical w/ Ultra-Shift
Braking:
Disc, dual-pivot rim, direct-mount rim
Weight:
2268g rim / 2511g disc
Cranks:
165mm, 170mm, 172.5mm, 175mm
Chainrings:
52/36T, 50/34T, 48/32T
Cassette:
11-29T, 11-32T, 11-34T
Reasons to buy
+
Choice of gear range
+
Price
+
12-speed range
+
11-speed freehub compatible
Reasons to avoid
-
No 53/39 chainset option
-
Weight
The first thing you notice with the Chorus groupset is the different choice of gearing options, with Campagnolo omitting the 53/39 standard chainring configuration in favour of a 48/32, and the third cassette option of 11-34 being added to the customary 11-29 and 11-32. Chorus looks set to bring 12-speed to the masses, especially those who enjoy a bit of unpaved adventure.
Chorus 12-speed is a mechanical groupset with a choice of hydraulic disc and mechanical rim brakes, offering both dual-pivot and direct-mount calipers for the latter, and takes on a similar aesthetic to 12-speed Record and Super Record. Most of Chorus' components are specific to the lower-spec groupset, besides the disc brakes and rotors, which are shared with its more premium stablemates.
In order to bring the cost down, the materials used tend to shy away from carbon fibre and titanium, in favour of aluminium and steel, although the crankset still benefits from a carbon fibre layup, retaining stiffness and providing weight savings.
While Chorus forgoes the ability to adjust the hydraulic brake levers' modulation, it does retain its ergonomic refinement, meaning lever reach can be amended as per your preference - perfect for those with smaller hands.
Campagnolo Centaur 11-speed
Campagnolo Centaur provides 11-speed shifting for rim brake bikes at a pocket-friendly price
Specifications
Shifting:
Mechanical w/ Power Shift
Braking:
Dual-pivot rim, direct-mount rim
Weight:
2453g rim brake only
Cranks:
170mm, 172.5mm, 175mm
Chainrings:
52/36T, 50/34T
Cassette:
11-29T, 11-32T, 12-32T
Reasons to buy
+
Budget-friendly
+
Campagnolo look and feel
Reasons to avoid
-
Rim-brake compatible only
Centaur is Campagnolo's entry-level groupset. It is an 11-speed, rim-brake-only mechanical groupset, available in both black and silver colourways. It is an example of how technology can trickle down from the more expensive offerings, providing great functionality at a more affordable price.
Centaur's shift levers are made from plastic reinforced with carbon fibre, while the brake levers are aluminium. The rear derailleur's design enables Centaur to be compatible with cassettes up to 32 teeth, removing the need to choose between short- and long-cage variants.
Centaur provides a choice of compact (50/34) or semi-compact (52/36) cranksets, with crank lengths ranging from 170mm to 175mm. There are three cassette configurations, which are 11-29T, 12-32T and 11-32T. Finally, Centaur is available with either standard or direct mount brakes.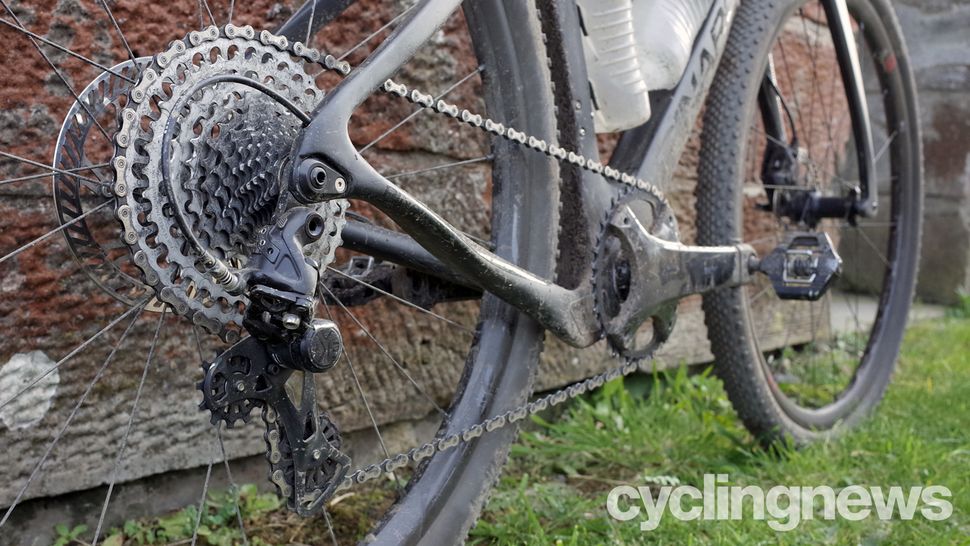 Ekar 13-speed groupset's dependable shifting and excellent braking performance brings Campagnolo into the age of gravel
Specifications
Shifting:
Mechanical w/ Power Shift
Cranks:
165mm, 170mm, 172.5mm, 175mm
Chainrings:
38T, 40T, 42T, 44T
Cassette:
9-36T, 9-42T, 10-44T
Reasons to buy
+
13-speed cassette range
+
Secure and controlled chain
+
Powerful yet controllable brakes
+
Dependable shifting
+
Comfortable hood shape
Reasons to avoid
-
Can't downshift while braking
-
Rubber hood material while grippy is rough on hands
-
No integrated left-hand gear shifter dropper post actuation
Campagnolo's 13-speed Ekar groupset offers immense benefits for gravel riders. The Italian component brand used extensive rider research to evaluate what gravel bikers need. In Campagnolo's comprehensive rider survey that totalled 4,500 gravel bike owners, durability and gearing range were identified as the most desirable attributes of any gravel drivetrain, with aesthetics and double-chainring compatibility deemed nonessential.
These rider-generated preferences served as a reference for Campagnolo's industrial designers and engineers, as they set about creating a dedicated 1x13 Ekar system. Although aesthetics were not a rider priority, Campagnolo's Italian heritage has delivered a 1x13 gravel bike drivetrain that is both robust and pleasing on the eye.
There's also novel 13-speed shifting, with cassettes starting with 9 or 10 teeth and heading up to 44 teeth in the largest sprocket offering the wide range that gravel riders need.
Campagnolo has also redesigned its thumb shifter, so that it's a bit easier to access if you're riding less smooth terrain.
Get The Leadout Newsletter
The latest race content, interviews, features, reviews and expert buying guides, direct to your inbox!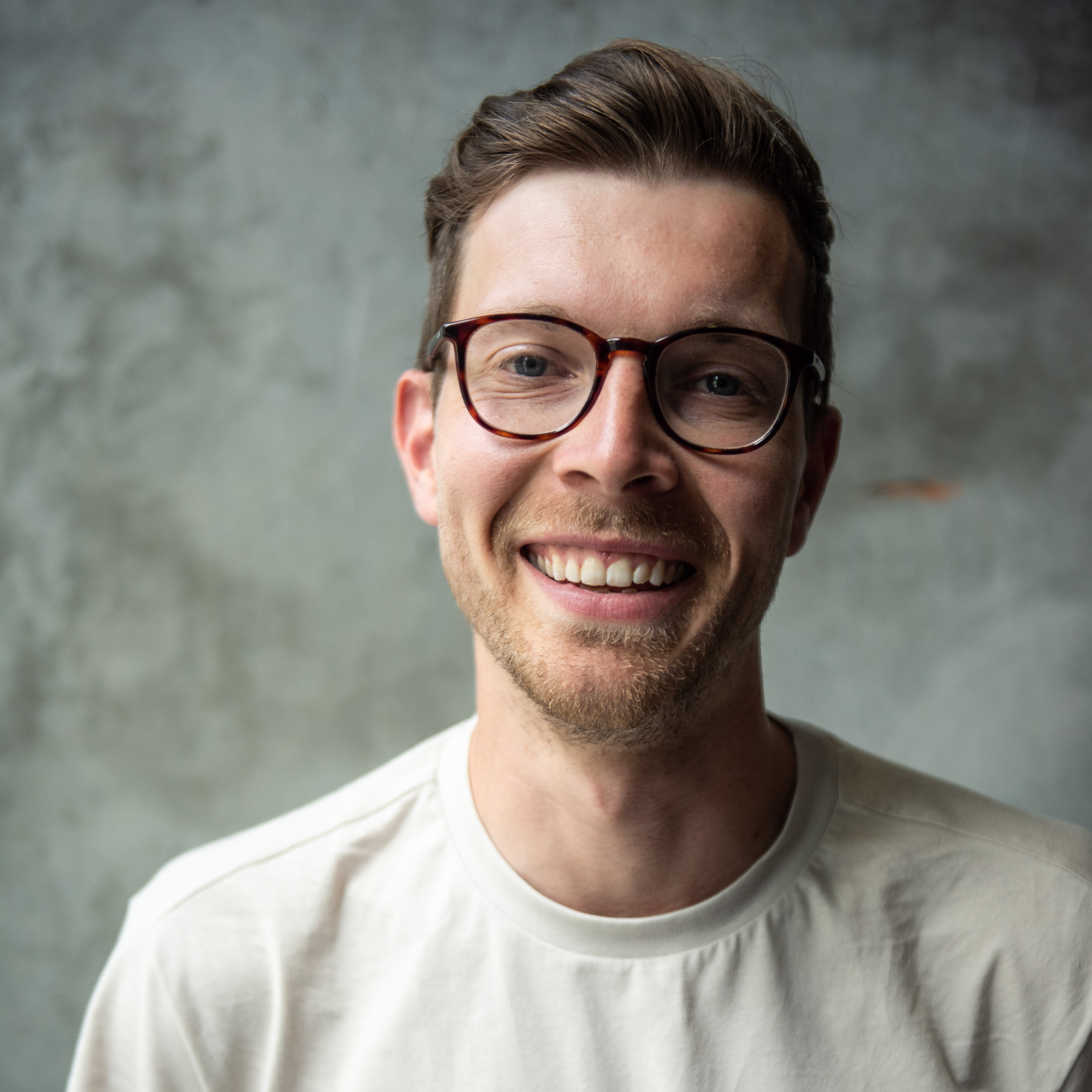 As the Tech Editor here at Cyclingnews, Josh leads on content relating to all-things tech, including bikes, kit and components in order to cover product launches and curate our world-class buying guides, reviews and deals. Alongside this, his love for WorldTour racing and eagle eyes mean he's often breaking tech stories from the pro peloton too.
On the bike, 30-year-old Josh has been riding and racing since his early teens. He started out racing cross country when 26-inch wheels and triple chainsets were still mainstream, but he found favour in road racing in his early 20s and has never looked back. He's always training for the next big event and is keen to get his hands on the newest tech to help. He enjoys a good long ride on road or gravel, but he's most alive when he's elbow-to-elbow in a local criterium.